4G Internet Balloons Take Off In Kenya, To Provide Internet Access To Remote Areas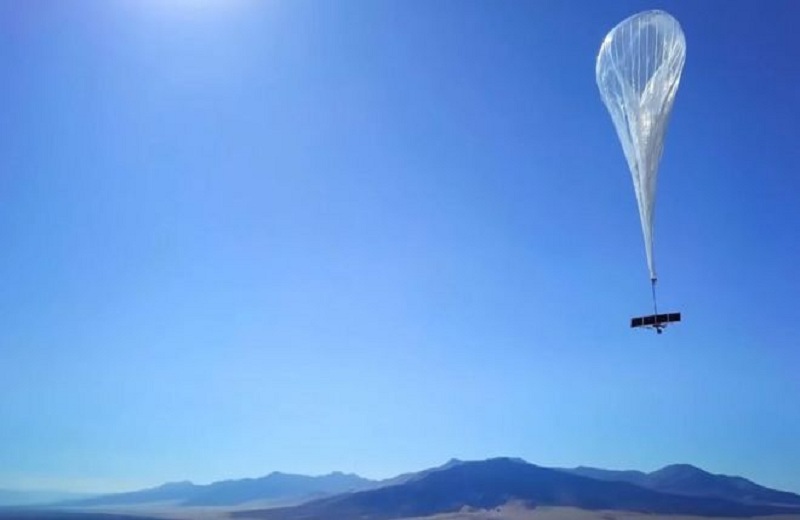 A network of giant internet-enabled balloons from Google's sister firm Loon is to provide internet access to remote areas of Kenya, according to a report by the BBC.
The balloons will provide 4G coverage so people can make voice and video calls, browse the web, email, text and stream videos.
The project was announced two years ago but final sign-off from the Kenyan government has only just been given.
It is now being fast-tracked to help improve communications during the coronavirus pandemic.
The balloons' 4G internet service has been tested with 35,000 customers and will initially cover a region spanning 50,000 sq km (19,000 sq miles).
Eventually, 35 solar-powered balloons will be in constant motion in the stratosphere above eastern Africa. They are launched in the US and make their way to Kenya using wind currents.
One field test of the service showed download speeds of 18.9Mbps (megabits per second) and upload speeds of 4.7Mbps.
Loon began as one of Google's so-called "'moonshot projects" in 2011.
In 2018, it teamed up with Telkom Kenya to provide a commercial service.
According to Loon's chief executive Alastair Westgarth, the spread of Covid-19 has meant both are "working as fast as we can to realise service deployment."
He added: "This is the culmination of years of work and collaboration between Loon, Telkom and the government."
Telkom Kenya's chief executive Mugo Kibati said it was "an exciting milestone for internet service provision in Africa."
"The internet-enabled balloons will be able to offer connectivity to the many Kenyans who live in remote regions that are underserved or totally unserved, and as such remain disadvantaged," he said.
Some critics said it would have been better in another African country because Kenya already has an estimated 39 million out of a population of 48 million people online.
Previously balloons from Loon have been used during an earthquake in Peru.
Smile Offers Customers Free Streaming Data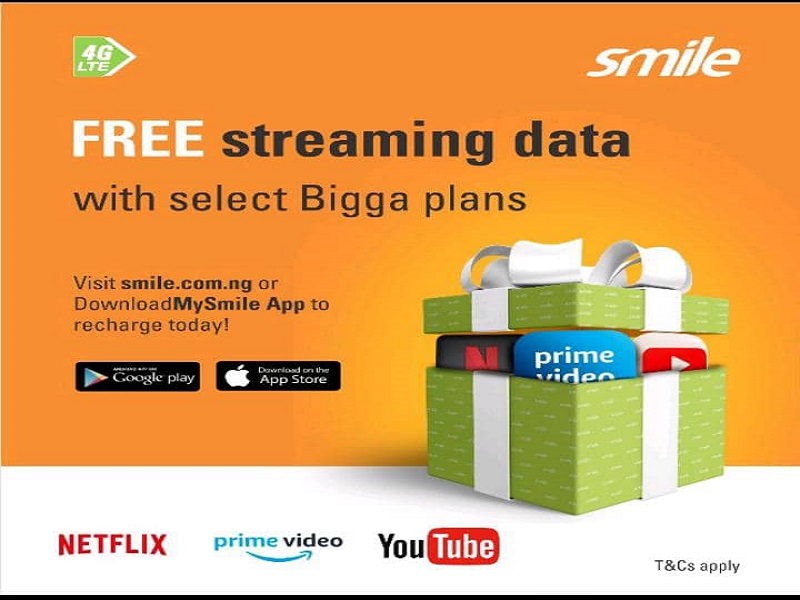 Smile Communications, Nigeria's foremost and leading mobile broadband provider has introduced a new offer to its teeming customers.
The new offer allows for FREE Streaming data for consumers to stream their favourite content on YouTube, Netflix, and Amazon Prime Video absolutely FREE.
Abdul Hafeez, Chief Marketing Officer, Smile Nigeria, said of the offer, "We are giving our customers so much more when they purchase any of our select Bigga plans with FREE streaming data, so they can have fun engaging with their favourite entertainment and social media services for longer."
All Smile customers who recharge a Bigga plan, from 1.5GB to 20GB, priced from N1,000 to N5,000, will get an additional 3GB to 5GB FREE streaming data to use between 11 pm and 6 am on YouTube, Netflix, and Prime Video.
Smile said in a statement that with this offer, consumers get access to FREE Youtube, FREE Netflix, and FREE Amazon prime video when they subscribe to any of the select Bigga plans from Smile.
"We are still a consumer-centric organisation that understands the huge financial responsibilities associated peculiarly with the first quarter globally and want to cushion these effects with extra value for our consumers while encouraging other Nigerians to get on the Smile network to enjoy this and many other goodies from Smile," Hafeez concluded.
Smile communications led in voice call acquisitions in the past year and are poised to enter new markets, as well as deliver several firsts within the telecommunications operating space as the year progresses.
Industry watchers are of the opinion that Smile is a brand to look out for in 2023.
Buhari Expresses Delight Over Unveiling Of Starlink In Nigeria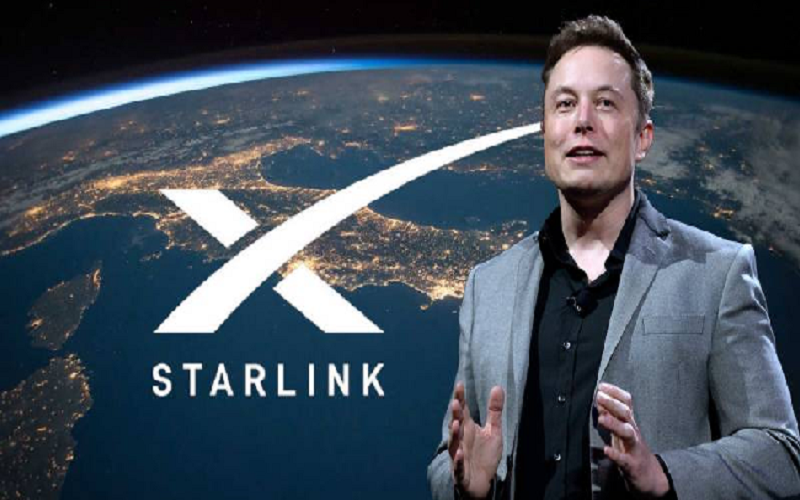 President Muhammadu Buhari has expressed delight over the unveiling of Elon Musk-owned SpaceX's broadband service Starlink in Nigeria.
The President noted that with the commencement of Starlink's operations in Nigeria, the country now has 100 per cent broadband penetration, adding that Nigeria is the first and only African country so far to enjoy Starlink rollout.
The President's position was contained in a post tweeted to his verified Twitter page Thursday night.
"We are delighted that Starlink services have been deployed in Nigeria, making us the first African country — and the only one so far — to enjoy this rollout. With this deployment of Starlink, we now have 100 per cent broadband penetration in Nigeria," Buhari said.
Recall that SpaceX confirmed the deployment of Starlink in Nigeria in a tweet on Monday, stating that Nigeria was the first African country to enjoy its services.
It tweeted, "Starlink is now available in Nigeria – the first African country to receive service."
Starlink seeks to deliver a global broadband network, using a constellation of Low Earth Orbit to provide high-speed internet coverage with the capacity to penetrate rural and geographically isolated areas.
Israel, Italy Record Lowest Mobile Internet Costs
Mobile internet traffic almost doubled in the last eight years, and today, more than 60% of all website traffic comes from people using mobile devices. But, as the global mobile data coverage gap continues to narrow, the price gap remains wide.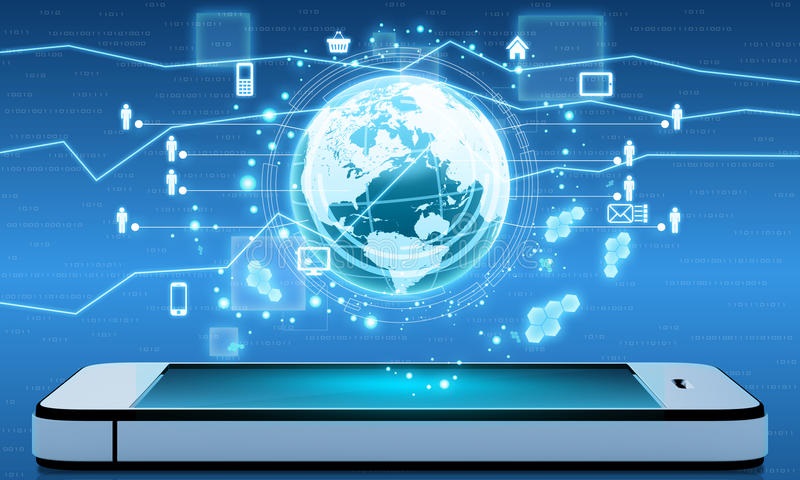 According to data presented by CasinosEnLigne.com, Israel and Italy have the cheapest mobile internet in the world, while Japan, the US, and Switzerland are among the most expensive countries globally.
Many of the cheapest countries have excellent mobile and fixed broadband infrastructure, which allows providers to offer large amounts of data at reasonable prices, reports ITOnline.
In some countries, economic outlooks also dictate the price, which has to remain low so people can afford it.
According to data from the UK-based price comparison website cable.co.uk, which analysed almost 5 300 mobile data plans across 233 countries, Israel has by far the cheapest mobile internet, with one gigabyte of data costing an average of $0.04 in 2022.
Italy placed second in the global ranking, with a low cost of $0.12 per 1GB. India, France, China, and Spain follow, with $0.17, $0.23, $0.41, and $0.60, respectively.
Although six times more expensive than Italy and almost 20 times more than Israel, the United Kingdom ranked somewhere in the middle of this chart with a cost of $0.79 per 1GB.
On the other hand, Japan, the US, and Switzerland have some of the costliest plans among developed countries.
For instance, 1GB of mobile data in the US costs an average of $5.62, which is seven times more than in the UK, 13 times more than in China, and 46 times more expensive than the average cost in Italy.
The price difference in Switzerland is even worse, with the average cost of mobile data being 61 times larger than in Italy and nine times the UK average cost.
Japanese mobile data plans are also much more expensive than in other countries. Last year, 1GB of mobile data in the country cost an average of $3.85, nine times the price the Chinese paid and 16 times the average cost in France.
Regionally, North America is the most expensive overall, with an average cost of $4.98 per GB, way above the global average of $3.12. Statistics show Canada is the most expensive country in the region, with a cost of $5.94, followed by the US.
The average cost of mobile internet in Western Europe was far below these figures. Last year, Europeans paid an average of $2.72 per 1G of mobile data, or 45% less than in North America and 12% less than the global average.
That is still far more expensive than the price seen in Asia, which had an average cost of only $1.47 in 2022.