Africa Data Centres Confirms Building 10MW Data Centre In Lagos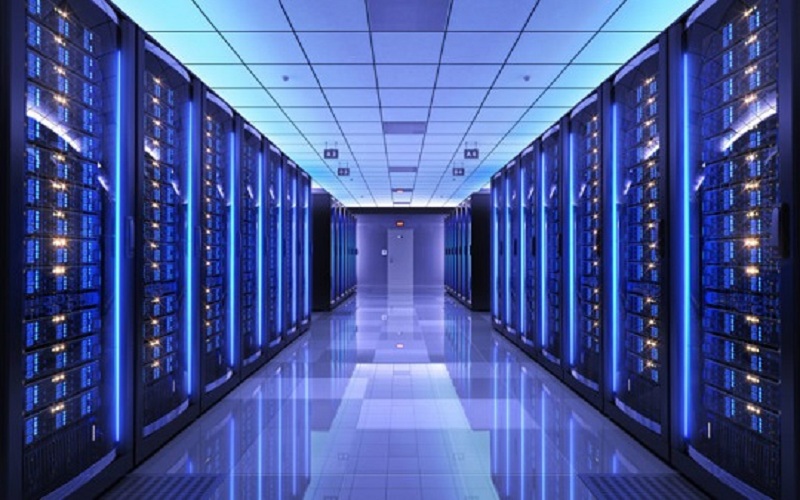 Even as South Africa is home to the largest concentration of data centres on the African continent, Nigeria has been described as a key African market, with the appeal of West Africa growing, and new developments planned for both Senegal and Nigeria.
Stephane Duproz, CEO of Africa Data Centres said of the West African region, "This region is hungry for digitisation and to pave the way for our hyperscale customers to deploy digitisation solutions to West Africa, Africa Data Centres' construction of a 10-megawatt data centre in Lagos is well underway."
The Lagos build marks a significant step forward in Africa Data Centres' ambitious long-term strategy to digitise Africa.  The Nigerian data centre will form Africa Data Centres' West African hub.
As interconnection remains a priority, the company will be adding it to its network of data centres, which at present includes Johannesburg, Nairobi, Cape Town, Harare, and Kigali.
"Our expansion into Nigeria marks one aspect of the company's growth on the continent," says Duproz. "In response to demand generated by hyper scalers, key cloud operators and multinational enterprises already making use of our data centres, we have purchased the Samrand facility in South Africa and our key build in Midrand is underway.
"These same clients, who have trusted us with their expansions into Kenya and other African territories, have expressed their interest in bringing digitisation at scale to West Africa. Our leadership and best practice in data centre operations have made us the obvious choice in their expansion strategies."
The creation of a digital hub is the beginning of digital transformation capabilities for the region. Naturally, says Duproz, multinational enterprises will wish to be housed under the same roof as our hyperscaler customers due to the lower latency enjoyed.
As such, the combination of cloud providers and enterprises make these data centres marketplaces of the ecosystem – and, most importantly, he says, the base for the country's digital and economic development.
Additionally, keeping African data on African soil is another key consideration driving the demand for local data centre facilities. "We are proud to be ensuring that African data stays in Africa," he says.
Africa Data Centres has indicated that the Lagos build will spur the economy – creating job opportunities in various sectors.
"The stimulus effect to the economy of digitisation is well documented and Nigeria is ready for this technology boon," says Duproz.
"Furthermore, our construction policy is to uplift the community as far as possible, employing local contractors and creating work opportunities within the communities we enter – so the job creation opportunities are realised at both grass-roots and high-tech levels."
Having secured premium land in Lagos, Africa Data Centres has designed its latest data centre facility in line with environmental best practice, using grey, or non-potable water for cooling and utilising solar energy to offset its reliance on the grid.
"Digitising the continent at the cost of the environment is not a sacrifice Africa Data Centres is prepared to entertain. Our strategy encompasses empowering and uplifting the people, the environment and the economy," he says.
In Senegal, the Morocco-based data centre company N+One, has said it is planning to build three data centres in the Senegalese capital Dakar.
Details of size and power density are not yet available, but it is understood that N+One has partnered with the Ministry of Digital Economy and Telecommunications, along with the General Delegation for Rapid Entrepreneurship of Women and Youth (DER/FJ) and the Digital Technologies Park of Senegal (PTN), as part of the country's Digital Senegal plan.
The Senegal Digital Technology Park in Dakar was first announced in 2015.
Part-funded by the African Development Bank, the 25-hectare site aims to promote the country as a base for international technology companies.
Bank Wars: Access Bank, Standard Chartered, FCMB Off To Winning Start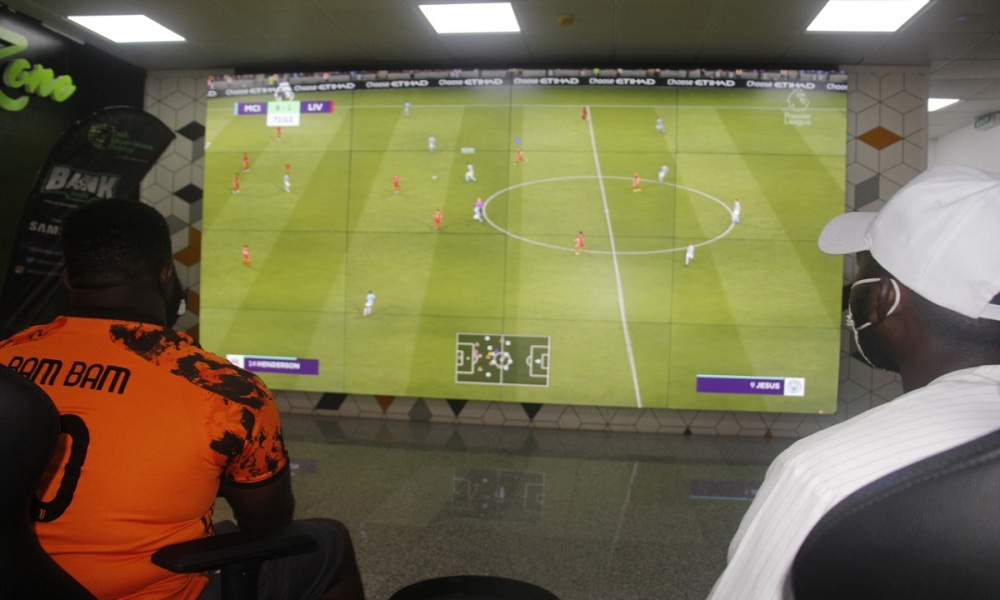 Visitors to the Tech Experience Centre, Africa's cutting-edge technology and lifestyle hub on Saturday, May 8, 2021, were treated to exciting, high-scoring matches on the opening day of Bank Wars, a FIFA 21 Gaming competition featuring leading Nigerian banks.
Sponsored by Samsung, a foremost Original Equipment Manufacturer (OEM), Banks Wars seeks to crown the best side among the competing banks for the FIFA 21 tourney.
The first day of the event, hosted at the Tech Experience Centre, saw a number of excited spectators converge on the impressive building located at Yudala Heights, 13A Idowu Martins Street, Victoria Island, Lagos, to witness the banks in action.
As expected, the competing teams did not disappoint, serving up goals-filled matches to the delight of attendees as hostilities in Group A got underway.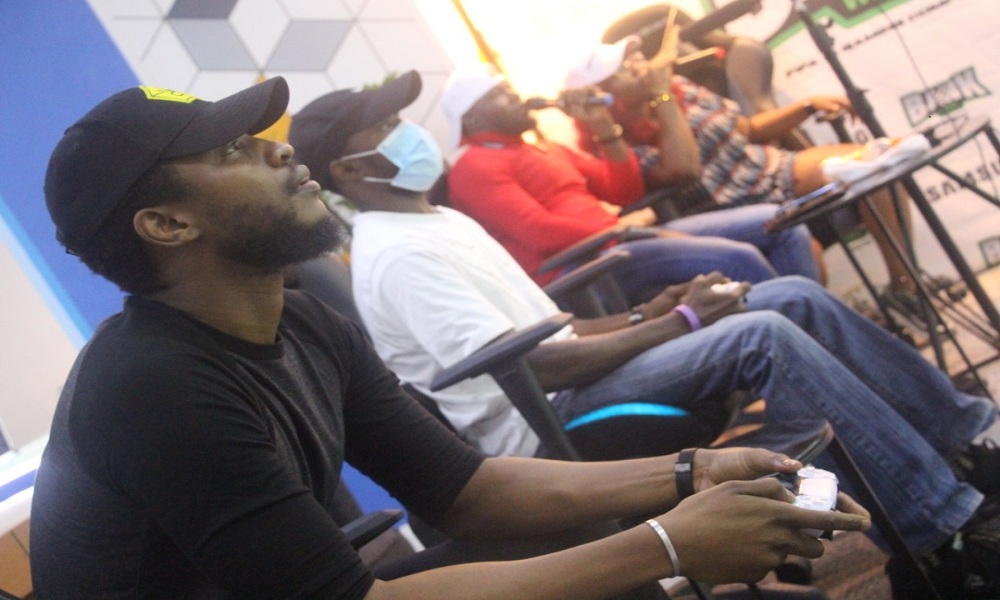 Access Bank got the ball rolling on the day with a 7-2 drubbing of First City Monument Bank (FCMB).
The match, which was played at 1 pm, saw Olabamaji Emmanuel Ojo, an Assistant Banking Officer dominate his opponent, Taiwo Oluwafemi of FCMB's Brand Management Unit to claim all three points at stake.
In the second game, Standard Chartered Bank pipped Zenith Bank 4-3. Representing the victorious team was Bajeh Israel, a Wealth Management Analyst, while Zenith Bank was represented by Abdulwahab Emmanuel, a Relationship Manager.
Taking to the FIFA 21 pitch in the third match in Group A, Access Bank cemented its place as one of the early favourites with an impressive 11-2 thrashing of Zenith Bank, while FCMB made up for its initial loss to Access Bank by beating Standard Chartered Bank 7-4.
From the results on the first day of the competition, Access Bank occupies the leadership position in Group A with six points, followed by FCMB and Standard Chartered Bank with three points each. Zenith Bank brings up the rear, with no point to its name after the first round of matches.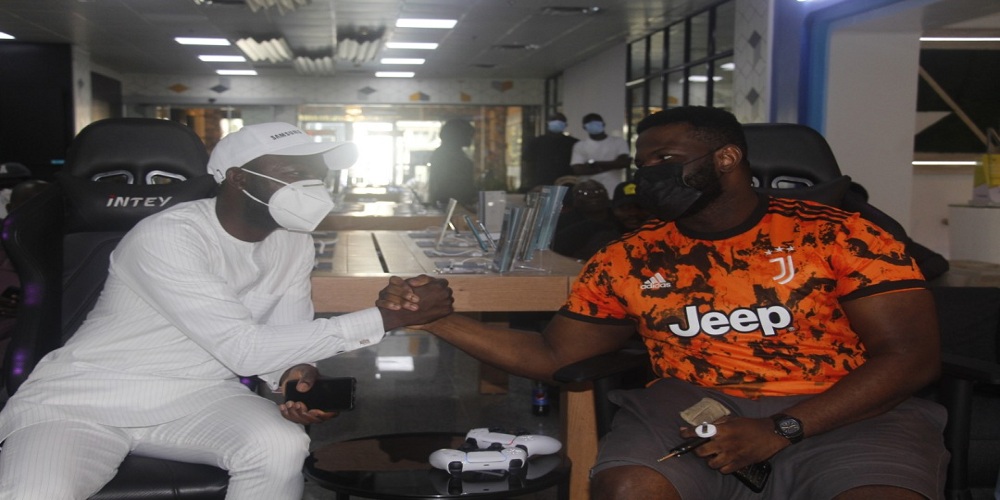 Meanwhile, all eyes will be on the quartet of Sterling Bank, Guaranty Trust Bank (GTB), Union Bank and Fidelity Bank in Group B on Saturday, May 15, 2021, which is billed as the second matchday of the competition.
In the day's opening match, Sterling Bank will trade tackles with Union Bank by 1 pm.
Also, GTB and Fidelity Bank will do battle in the second game by 1:30 pm while Sterling Bank and GTB will contest the third game by 2 pm. The day's action in Group B will come to a close when Fidelity Bank and Union Bank lock horns. The match is scheduled to kick off by 2:30 pm.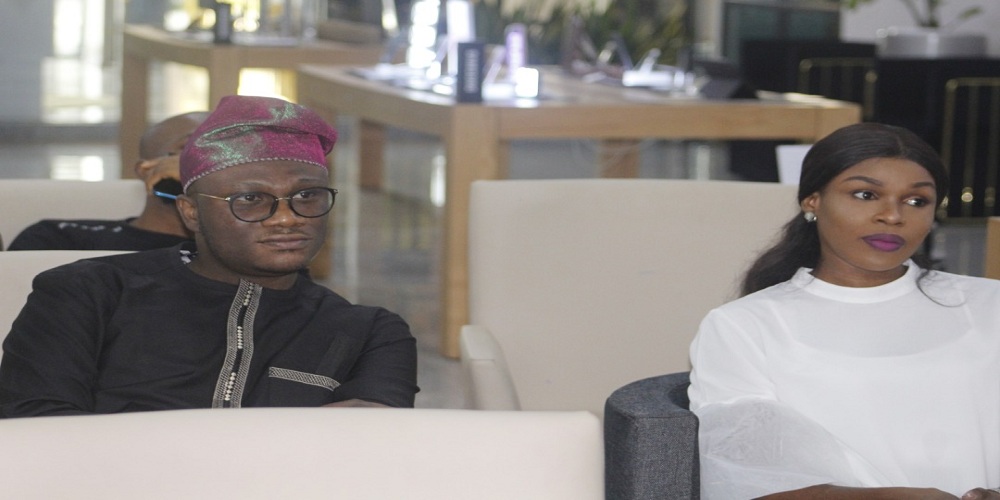 Bank Wars is expected to run for five Saturdays until June 5, 2021, with winners of the FIFA 21 Gaming competition expected to smile home with some mouth-watering prizes, courtesy of Samsung.
A Samsung 55-inch TV awaits the first prize winner while the runner-up will go home with a massive Samsung Refrigerator.
Also, the third-best team will claim a Samsung Washing Machine. In addition, there are prizes for individual representatives of the competing teams while the best goal of the competition (to be determined by votes) will fetch the scorer a Samsung 49-inch TV.
Wema Bank Unveils Hackaholic 2.0 Bootcamp Winners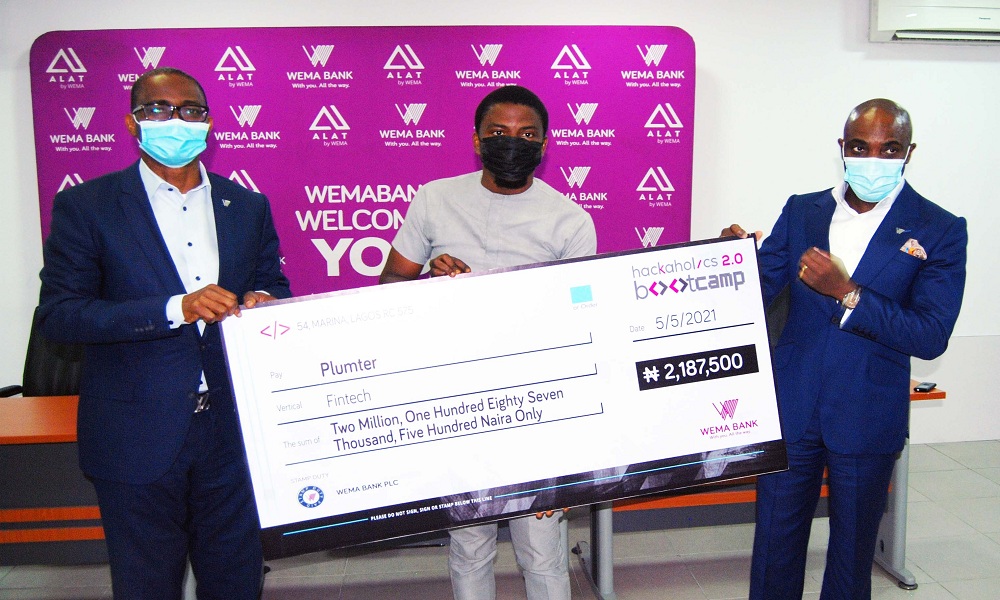 Wema Bank's Hackaholics 2.0, an acceleration aimed at helping startups scale and gain entrance into the market, came to an exciting end as the finalists were unveiled on Wednesday, May 5, 2021, at the Bank's corporate head office in Marina, Lagos.
Themed, "Connecting Worlds" the Acceleration Program was a two-day virtual pitch which ran from October 30 – 31, 2020, for 20 participants across five industry pillars – Fintech, Agritech, Edutech, Gaming, and Healthtech, who qualified from a pool of over 100 entries received.
The Bank presented four startups comprising two people each with N2,187,500.00 startup fund. The winners emerged across each industry after a four-week Bootcamp under the supervision of a best-in-class acceleration curriculum delivered by seasoned faculty and tech specialists from GreenHouse Capital, official partners of the event.
Managing Director/CEO of Wema Bank, Ademola Adebise congratulated the winners and expressed satisfaction with the quality of competition and the entire process.
"We are happy to see the winners emerge and are positive that you guys will be the unicorns of tech solutions in the next couple of years," he said.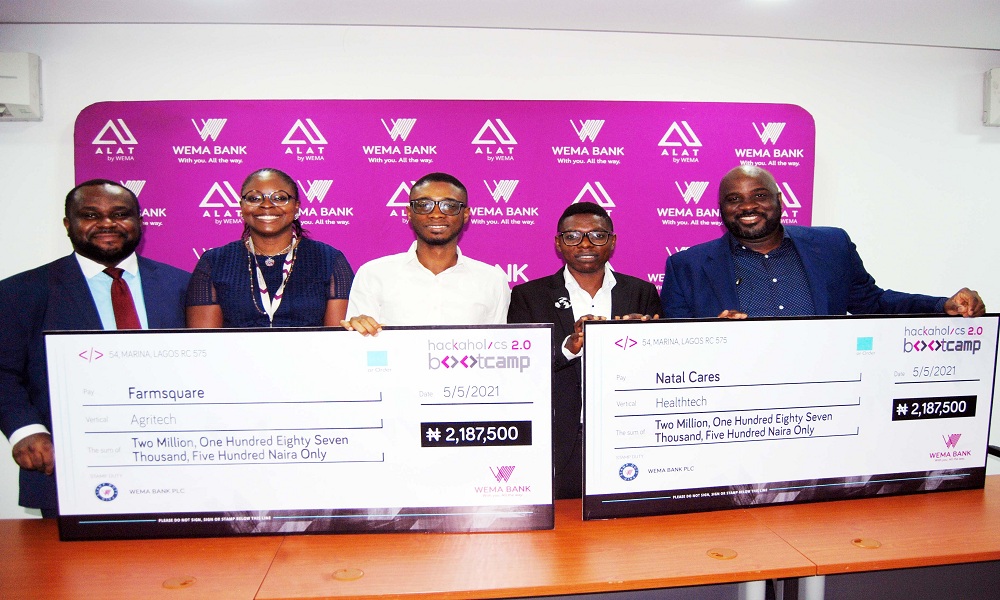 "For us at Wema Bank, we will continue to support innovations and innovative ideas, support our youths, and support our women to thrive. We believe that is the way to go and significantly grow and support the economy," Adebise said.
The winning start-ups include:
Fintech Category: Oladayo Awotukunbo of Plumpter, a Fintech brand that created a marketplace for secure payments to foreign parties and quick banking.
Gaming/Betting Category: Ernest Akinlola and Obayemi Okubajo of My Lotto Hub, a digital startup pioneering the aggregation of lottery operators and enabling lottery punters to manage all their operations in a single platform.
Agritech Category: Aderinola Amole and Olamide Oyinlola of FarmSquare, a brand that focuses on using the e-commerce model to simplify the demand and supply of Agricultural inputs in Nigeria.
Healthtech Category: Uche Udekwe and Joy Chioma of Natal Cares, a startup with a product that optimizes the healthcare value chain to reduce the high mortality rate for pregnant women and children.
Speaking at the event, Chief Financial Officer, Wema Bank, Tunde Mabawonku, reinforced the internal and external growth integration stance of the bank saying, "We realized very early that financial service delivery has moved beyond bricks and mortar physical interactions, hence, at Wema Bank, we repositioned internally, invested strategically and heavily in technology to drive Digital Optimization of our services."
"Second, we realized we can't innovate all from within, we need to drive innovation from outside. We then created "Hackaholics" the Wema Bank Hackathon. The idea is to bring fresh minds, fresh ideas, fresh insights, into solving day-to-day societal problems leveraging technology. We are also working with third-party resource providers we can invest in to grow the solutions for societal impact". Mabawonku added.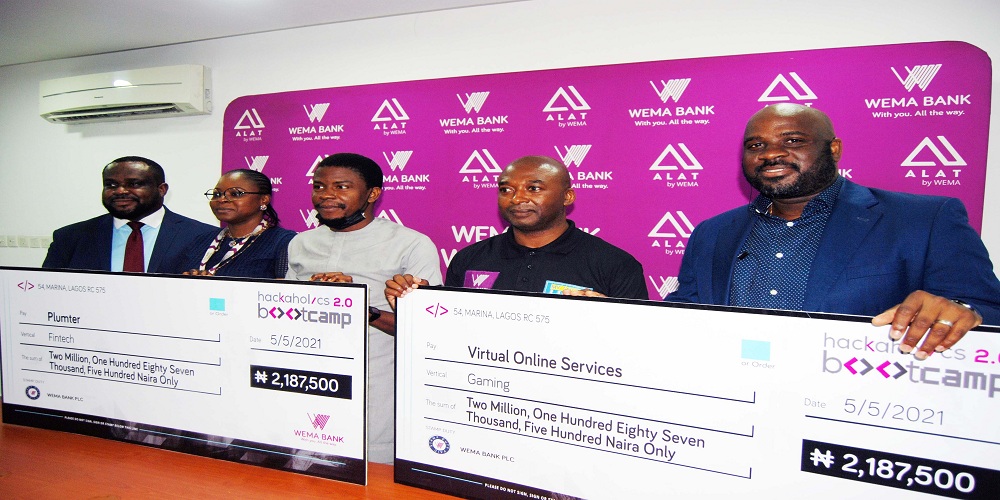 Chief Digital Officer, Wema Bank, Segun Adeniyi emphasized the importance of the Bank's sustainability footprints. "We aim this initiative at deepening the impact of innovation in the ecosystem and create an opportunity to drive that ecosystem. There is a plethora of start-ups and innovators out there who don't have the right environment to upscale those ideas into commercial value."
"What we have done is giving some seed to them in funding, and more importantly, we have given them advisory. We have helped them to look at the ideas they have, flesh them into commercial value, help them articulate the problem, identify unique areas where and how they can solve those problems, and identify their target market."
The winning startups all expressed gratitude to Wema Bank for the seed fund and commended the bank for the initiative. They said the Hackathon Bootcamp has broadened their horizon. They expressed that the seed funding from Wema Bank will help to upscale their businesses to the desired place.
"For us at Wema Bank, this is not just CSR. It is creative self-disruption. We are attuned to what is going on in the ecosystem, we are keen to be part of it, we are enthusiastic about sharing our own experiences with the start-ups. It is part of why we stay vibrant and relevant as an organization," Adeniyi concludes.
Vista Bank Taps Radar Payments To Drive Its Digital Payment Plans In West Africa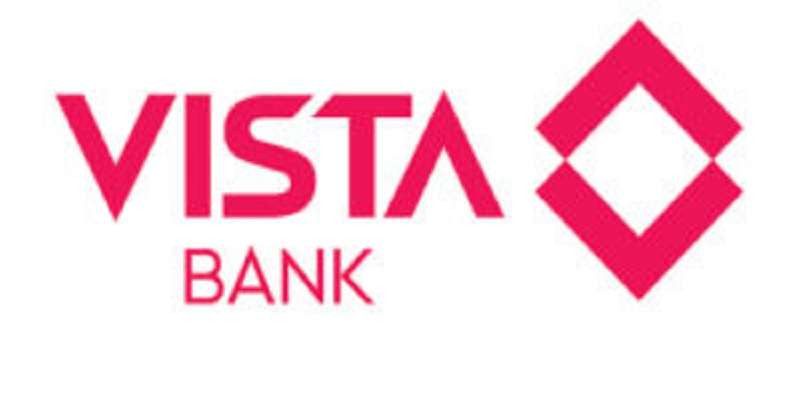 Vista Bank Group (Vista) has selected its paytech provider Radar Payments to drive its global payment processing activities in West Africa.
Vista is a Pan-African financial services company, which aims to contribute to economic growth and financial inclusion across Africa.
It has an ambitious agenda to challenge the status quo and deliver a superior experience to retail customers, large enterprises and MSMEs across West Africa.
The group is expanding rapidly through a series of successive strategic acquisitions that include First International Bank (FIB) Group in Gambia, followed by BNP Paribas' Subsidiaries, La Banque Internationale pour le Commerce et l'Industrie de la Guinée (BICIGUI) in Guinea and La Banque Internationale pour le Commerce l'Industrie et l'Agriculture du Burkina (BICIAB) in Burkina Faso.
Vista Bank is now the top bank in Guinea by assets and network coverage.
In response to its digital-first strategy, Vista has selected Radar Payments by BPC as its preferred partner to drive digital payment adoption in the region.
Radar Payments will centralise payment operations at Vista's tech hub located in Senegal, supervising Vista Bank's activities in Guinea, Gambia, Burkina Faso and Sierra Leone while leaving room for further banks to join its network.
It is part of the bank's growth agenda to expand to Burkina-Faso, Togo, Cote d'Ivoire, Senegal and Mali.
The agreement will see Vista Bank running on BPC's flagship payment suite, SmartVista, to manage card issuance and lifecycle management, payment switching, ATM and Point-Of-Sales management as well as providing digital channels such as mobile banking and e-wallet; personalised to both retail and corporate clients.
The bank is planning to accelerate the issuance of UnionPay International (UPI) branded cards including prepaid, debit, and premium cards, in addition to the acquisition in ATM, Point-of-Sales, Contactless, QR payment, and E-Commerce.
This announcement comes at a time where AfCFTA, the pan-African free trade agreement has become a reality. Since 1st January 2021, AfCFTA has set new business standards for 41 countries and 1.2 billion people to help accelerate economic growth across the continent.
The free trade programme promises a change in trading rules, with reduced import-export taxes making commerce more affordable for players in Africa. It also means that the volume of transactions will sharply increase and banks in the continent will have to gear up for a pan-African service.
"With AfCFTA, banks have to think pan-Africa first and realise that we need to step up the game in terms of ease of payment, a critical component to every banking and business experience.
"As a challenger bank, Vista Bank is taking bold decisions when it comes to its technology stack, forming alliances with the best partners in their own fields.
"By selecting Radar Payments, the paytech by BPC, we have chosen a leader with a solid reputation in delivering superior global payments processing." Simon Tiemtore, Group Chairman at Vista Bank, said.
Jane Loginova, CEO of Radar Payments, said "We are proud to join Vista Bank on their journey to transform the way people bank, pay, and get paid while making financial services more accessible to them.
"This partnership was born from our shared vision to successfully solve real-life payment problems with a high-end, globally proven digital solution that focuses on end customers."
"Together, with the help of cutting-edge digital payment solutions, we will provide easy, instant, and secure movement of money, thereby transforming Vista Bank into a trailblazing player within the continent," Jane added.