Ericsson Completes Acquisition Of Cradlepoint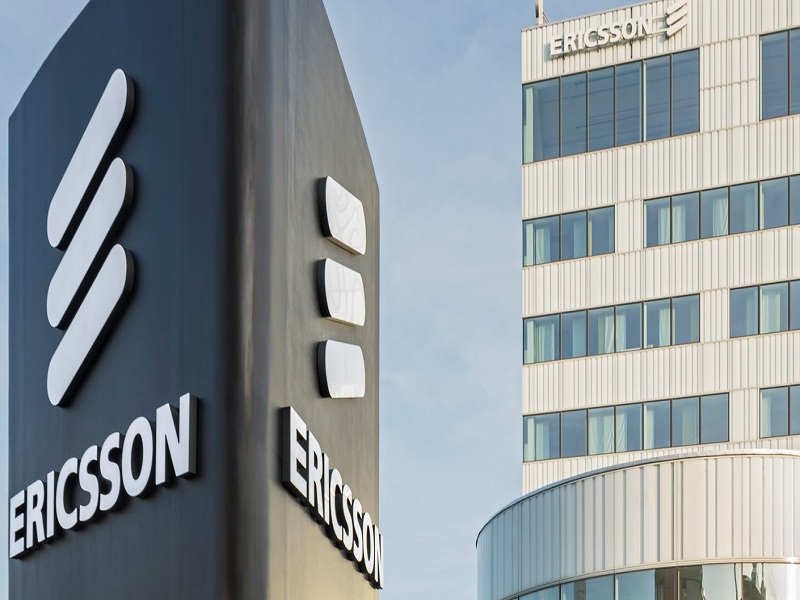 Ericsson has completed its acquisition of Cradlepoint, the US-based market leader in Wireless WAN Edge 4G and 5G solutions for the enterprise market.
Analysts say the investment is key to Ericsson's ongoing strategy of capturing market share in the rapidly expanding 5G enterprise space.
Closing of the acquisition follows the announcement on September 18, 2020, of Ericsson's intention to acquire Cradlepoint.
At closing, a consideration of around USD1billion was paid using Ericsson's cash-in-hand.
Cradlepoint's sales for 2019 were SEK 1.2b with a gross margin of 61%.
Ericsson's operating margins are expected to be negatively impacted by approximately 1% in 2021 and 2022 – where half is related to amortization of intangible assets arising from the acquisition.
Cradlepoint is expected to contribute to operating cash-flow starting in 2022.
Through Cradlepoint's solutions, companies can connect sites, vehicles, mobile workforces, and IoT devices in a simple and secure way of using cellular technology.
By leveraging the combined offering, Ericsson will be able to create valuable new revenue streams for its customers by supporting 5G-enabled services for enterprise and boost returns on investments in the network.
Ericsson's global presence and long-standing relationships with the world's leading service providers will also help accelerate Cradlepoint's international expansion.
Cradlepoint will operate as a stand-alone subsidiary within Ericsson and continue to build on the current market momentum as 5G is speeding up digital transformation and increasing the need for advanced connectivity services for enterprises.
Cradlepoint will be part of Ericsson's Business Area Technologies & New Businesses.
Åsa Tamsons, Senior Vice President and Head of Business Area Technologies & New Businesses, says: "I am very excited to welcome Cradlepoint to the Ericsson family.
"With Cradlepoint's market-leading solutions, we are strengthening our enterprise offering and taking an important step to lead the next wave of enterprise network transformation.
"Together, we will power solutions to the customer edge that help improve productivity and deliver real-time services, enabling us to drive faster adoption of 5G in enterprise segments.
"This is good news for our customers as it helps them to accelerate their returns on 5G investments."
Cradlepoint will continue to be headquartered in Boise, Idaho, USA.
In addition to the company headquarters, Cradlepoint operates a research and development centre in Silicon Valley, California, and international offices in the United Kingdom and Australia.
Obaro Lists Ways Innovation Can Transform Businesses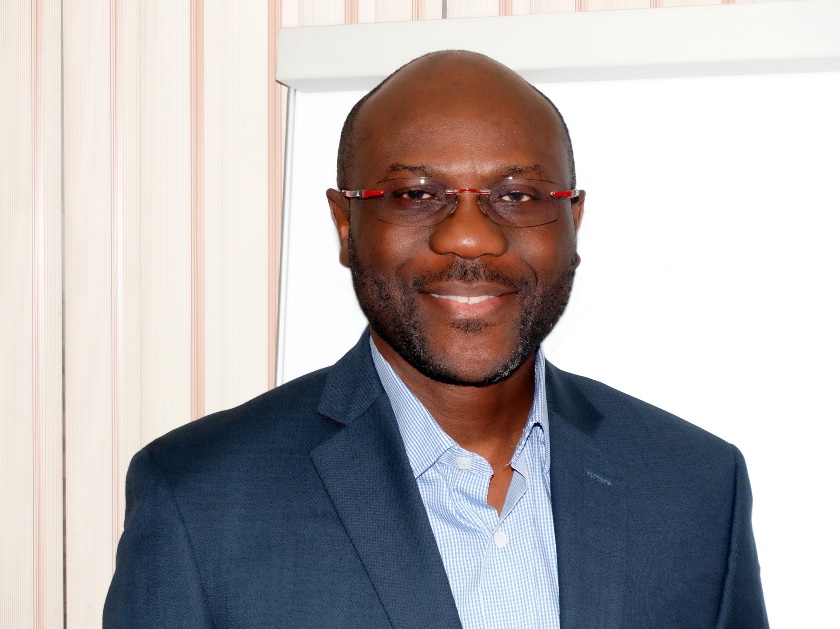 There have been increased calls for innovation in Nigeria in order to maximise the opportunities presented by digital transformation.
This is as the integration of digital technology in businesses continue to grow, and essentially changing how businesses operate and deliver value to their customers.
John Obaro, a renowned Nigerian ICT expert and Managing Director of foremost African technology company, SystemSpecs said digital transformation is the process of using technologies to create new or modify existing business processes, culture, and customers' experiences to meet dynamic business and market needs.
Obaro, who spoke at the recent virtual retreat organised by the Central Bank of Nigeria (CBN) Information Technology (IT) department, said more businesses have identified digital technology as a potential driver for growth and sustenance, especially after the pandemic.
He added that innovation in digital transformation as reflected in the successful emergence of SystemSpecs, a 28-year old technology company, has helped the firm evolve from a 5-man software firm to an African technology giant with ground-breaking solutions including Remita, HumanManager, and Paylink.
"Our innovation is business-led as it remains at the core of our operations. This implies that we continually evolve by adopting and harnessing tailor-made technology solutions to solve problems.
"We also ensure that we hire the best talent with top-notch competence and skills that can be inculcated into the business for growth and sustenance," Obaro added.
He charged Chief Information Technology Officers (CIOs) to up their games as they are expected to keep the organisation's infrastructure running and support business processes in line with present-day technology.
"To facilitate a successful digital transformation, the CIO must have clear objections, as well as take the front seat in driving organisational change, and ensure that relevant stakeholders are involved to achieve such set goals," he added.
On issues mitigating digital transformation, Obaro said employee pushback, lack of expertise, rigid organisational structure, and lack of a digitisation strategy can be tackled by regular sensitisation of staff, having an organisational structure that supports innovation, implementing changes in phases, and operating with a defined budget.
According to him, Nigeria's large youthful population constitute a strength that must be maximised coupled with the adoption of emerging technologies – AI, robotics, machine learning – to achieve digital transformation.
Day Of Glory For Digital Encode As Cybersecurity Giant Harvests Awards @BoICT 2020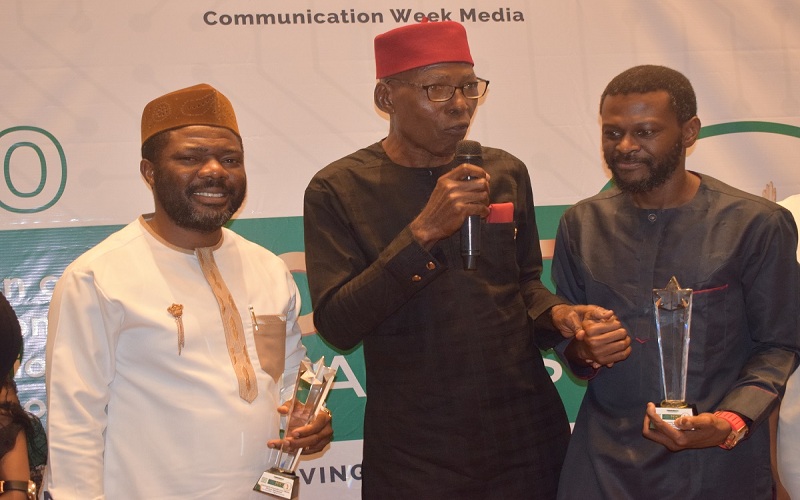 …Digital Encode named Cybersecurity Company of the Decade and Compliance Advisory Company of the Decade
…Co-Founders – Dr Adewale Peter Obadare & Dr Oluseyi Akindeinde win Cybersecurity Personalities of the Decade; Nigeria CommunicationsWeek Men of the Year Awards
Digital Encode, a leading consulting and integration firm, has received industry-wide accolades, for the specialities in the design, management and security of business-critical networks, telecommunications environment and other IT infrastructures, in Nigeria and indeed Africa.
After receiving massive votes, the team from Digital Encode received a standing ovation at the 2020 Beacon of Information Technology (BoICT) Lecture/Awards organized by Communications Week Media Limited, and held on Saturday, November 28, 2020, at Eko Hotel Suites, Victoria Island, Lagos.
Digital Encode was named the Cybersecurity Company of the Decade on a corporate level.
Organisers of the award also disclosed that Digital Encode was voted the Compliance Advisory Company of the Decade.
At Digital Encode, technology serves two purposes: to save money and solve a problem explaining why the company has been recognized in the industry for its vendor-independent perspective and expertise that lies in solving multifaceted, complex enterprise network security and audit problems.
Digital Encode is notable for its effective and successful methodology for achieving compliance to ISO 27001 (IMS); ISO 20000 (ITIL), ISO 22301 (BCM), ISO 9001 (QMS) and several other international compliance standards such as COBIT and PCI DSS compliance.
The founders, the duo of Dr Adewale Obadare and Dr Oluseyi Akindeinde received (joint) Nigeria CommunicationsWeek Man of the Year award.
Dr Obadare Peter Adewale, unarguably the most "Credentialed" and Multi-Award winning Pan- African Cybersecurity & GRC Thought Leader, is a Fellow, British Computer Society (FBCS), Fellow, Institute of Management Consultants (FIMC), Fellow, Institute of Information Management (FIIM), Fellow, Enterprise Security Risk Management (FESRM), and Fellow, Institute of Brand Management (FIBM).
He is also a Chartered Information Technology Professional (CITP), the first PECB Certified Data Protection Officer (CDPO) in Nigeria, the first Ec-Council Licensed Penetration Tester (LPT) in Africa, the first Ec-Council Certified Blockchain in Africa, and Second COBIT 5 Certified Assessor in Africa Payment Card Industry Data Security Standard Qualified Security Assessor (PCI DSS QSA).
He is a seasoned cybersecurity Expert and GRC Technopreneur with over 50 (Fifty) international professional certifications to his credit and was awarded Honorary Doctorate Degree in Cybersecurity from Trinity International University of Ambassadors Atlanta Georgia, United States of America.
Dr. Oluseyi Akindeinde has 18 years working experience in the IT and Information Security arena but has spent the better part of the last few years exploring the security issues faced by Electronic Fund Transfer (EFT) and the Financial Transaction Systems (FTS).
He has mostly presented the outcome of his research works at several conferences; including the Information Security Society of Africa Nigeria (ISSAN), the E-Payment Forum, the Electronic Payment Providers Association, the Forum of the Committee of Chief Inspectors of Banks in Nigeria (CCIBN), Chartered Institute of Bankers of Nigeria (CIBN), the apex bank – Central Bank of Nigeria (CBN), as well as the senior management of 17 top financial institutions in Nigeria.
Presenting the awards to the recipients, former President, Institute of Software Practitioners of Nigeria (ISPON) and the current MD of Mobile Software Solutions, Chris Uwaje, (Oracle), described Digital Encode as a 'fruitful seed' that has distinguished itself in the African cybersecurity space.
"I recall that the team- Dr Obadare and Dr Akindeinde were members of the Team Nigeria in 2012 CyberLympics. That team conquered Africa and won gold at the global level; they repeated the feat in 2015.
"Today, see how far Digital Encode has gone; they have demonstrated resilience, skills and understanding of that space. I am super-proud of the team. The future is even brighter," he said.
The Publisher/Editor-In-Chief, Nigeria CommunicationsWeek, Ken Nwogbo, said that the awards are testaments to Digital Encode's critical role in the Continent's cybersecurity space.
He said that the co-founders are well-recognized subject matter experts with numerous successful engagements to their credit in Africa.
Earlier in his keynote presentation titled: "Cybersecurity and its Critical Role in Nigeria Economy," Dr Obadare said that cybersecurity can take Nigeria out of recession.
According to him, Nigeria needs to engage the digital natives more as IT is, presently, the elephant in the house that cannot be ignored.
"Check Point has predicted that the next global crisis will be Cyber Pandemic. Much is at stake.
"Thus, Cyber Crime is currently the 3rd biggest economy after U.S. and China as can be deduced from the rising losses which are put at $10.5trillion by 2025; according to Cybersecurity Ventures," he said.
Obadare, who said that the keyboard is the new knife, stressed that Nigeria's software industry should be bigger than it is today.
"Therefore, there is a need to build capacity to compete internationally," he said while thanking Nigeria CommunicationsWeek for recognizing Digital Encode at this year's BoICT Lecture/Awards.
On his part, Dr Akindeinde said that while every well-meaning Nigerian must condemn cybercrimes in the strongest of terms, however, the Company is concerned about the need to harvest the talents of youngsters and transform them to become more productive to the economy and themselves.
"We have just been told that the global market needs 4 million skilled cybersecurity experts. Nigeria can benefit from this big time. So, we feel really honoured by the awards and testimonies shared here today. Our promise is to keep raising the bar," he added.
Also present at the award include President, Association of Telecommunication Companies of Nigeria (ATCON), Engr, Ikechukwu Nnamani; President, Nigeria Internet Registration Association (NiRA), Mr Muhammad Rudman; the President of ISPON represented by the GMD of Fintrak Software, Mr Bimbo Abioye, amongst other dignitaries.
LASG, Eko Innovation Centre Set To Hold Art Of Technology Lagos 2.0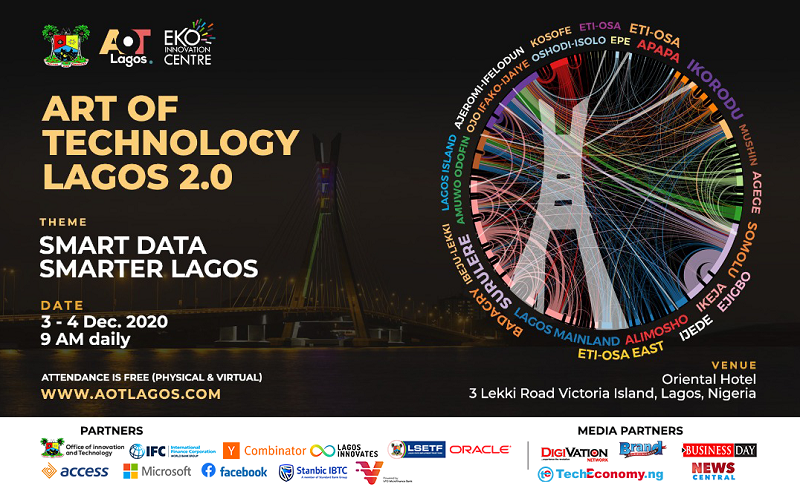 The Lagos State Government (LASG) through the Office of Innovation and Technology is organising the second edition of Art of Technology (AOT) Lagos 2.0. curated by Eko Innovation Centre.
The two-day conference which will bring together the best of tech minds from across the globe physically and virtually on the 3rd and 4th of December 2020 is in line with the government's SMART City agenda of making Lagos a 21st-century economy,
Themed: 'Smart Data, SMARTER Lagos,' organisers said the AOT Lagos 2.0 will facilitate multi-stakeholder discussions, exchanges and collaborations along the data value chain as an enabler of a SMARTER Lagos.
The conversation will centre on the fundamental role data plays in connecting the city with its citizens, with delegates expected to rub minds on how data can be collected, collated, analysed and deployed for governance, commerce and development.
Nigeria's Vice President, Prof. Yemi Osinbajo will deliver the Presidential address on 'Lagos, Driving a Smarter and Efficient Nigeria' while Dr Isah Ali Pantami, Honourable Minister of Communication and Digital Economy will speak on 'Nigeria in the eyes of the world: The data approach.'
Michael Seibel, CEO and Partner, Y-Combinator; Demola Sogunle, CEO Stanbic IBTC, Lisa Da Silva, Principal Investment Officer, International Finance Corporation and Tomi Davies, CEO, TVC Labs are keynote speakers.
Curator of Art of Technology Lagos 1.0 and Founder of Eko Innovation Centre, Mr Victor Gbenga Afolabi said the two-day summit will be building on the success of the maiden edition which held in 2019 and recorded over 2,000 participants in attendance.
He noted that one of the key successes was the launch of the Lagos Innovation Masterplan which has continued to guide the Lagos state government in achieving its SMART City agenda.
It will be recalled that the Lagos Master Plan was unveiled by Mr Babajide Sanwo-Olu, Governor of Lagos State, in the company of Dr Obafemi Hamzat, Deputy Governor, Lagos State; Mr Hakeem Popoola Fahm, Commissioner of Science and Technology, Lagos State and Mr Tunbosun Alake, Special Adviser, Innovation and Technology to the Governor of Lagos State.
In addition, the Governor announced a tech fund of N250 million to be managed by the Lagos State Science, Research and Innovation Council (LASRIC) headed by the Vice-Chancellor of the University of Lagos of which N100 million has already been disbursed.
The Open Government Initiative and Lagos State Solution Hub were also launched.
This year's conference, according to the organisers, will feature 60 industry speakers, 50 investors and 35 experience centres.
There will also be an ideathon tagged Collaborate Lagos where innovative policies and tech-driven solution aimed at achieving a SMARTER Lagos will be pitched by startups.
Also expected is the launch of a new tech product by Lagos State while interactive panel discussions led by experts will cover transportation, agriculture, environment, education and healthcare.
They will engage in the understanding of data economy, the opportunities it presents and the exponential change it could trigger.
Plenary sessions will focus on exploring collaborative platforms to facilitate the sharing of the best ideas and innovations to inform policy and inspire collective action for scale and global impact.
Art of Technology Lagos 2.0 is sponsored by Access Bank with support from International Finance Corporation, Y Combinator, Lagos Innovates, Oracle, Lagos State Employment Trust Fund.
Media partners include Brand Communicator and BusinessDay.
The hybrid event will happen through online VR experience [www.aotlagos.com], however, the physical 'limited edition' part will be hosted at Eko Hotel & Suites, Victoria Island, Lagos with attendance strictly by invitation.