(REVIEW): Behold Nokia C2, The Most Accessible 4G Nokia Smartphone Yet, Now In Nigeria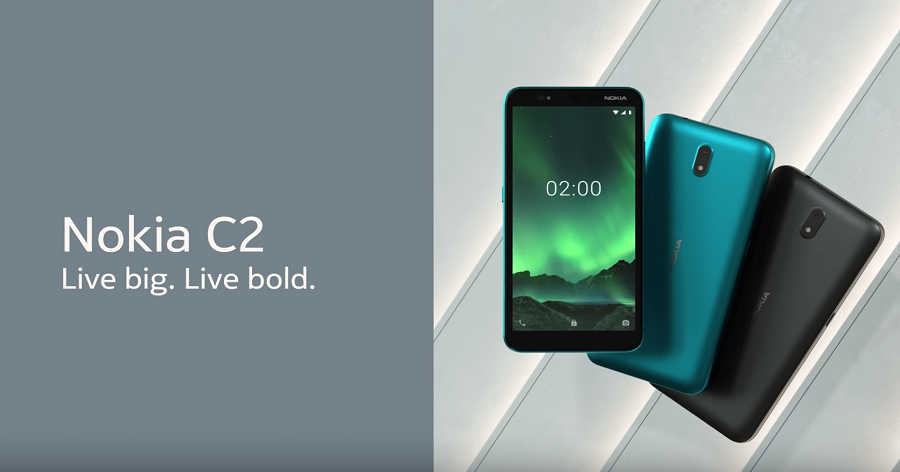 Stay connected while enjoying long-lasting and immersive entertainment with a stunning HD screen, share-worthy photography and the best Android (Go edition) apps
HMD Global, the home of Nokia phones, has announced the availability of Nokia C2 in Nigerian markets.
The device brings long-lasting entertainment and creative photography to fans, combined with 4G connectivity at the most affordable price point for a Nokia phone.
The Nokia C2 comes with a large 5.7" HD+ screen, a front-facing camera with flash and HDR photography to brighten up your selfies and enough battery life to last from sunrise to sunset.
Fans can watch YouTube videos offline with YouTube Go and keep their memories automatically organized, easy to find, edit and share with Gallery Go.
Joseph Umunakwe, General Manager, West, East and Central Africa, HMD Global said of the new phone: "One of our main objectives is to bring great smartphone experiences to as many fans as possible across markets and price points. We know that people are looking for a reliable way to upgrade to a 4G smartphone experience.
"Complementing the popular Nokia C1, with the Nokia C2, we deliver on our commitment to creating quality devices you can trust, while offering a more accessible path to 4G for selected markets.
"We've added features like the large HD+ screen, front camera with flash and HDR photography, to allow fans to fully explore creating and enjoying the content on a 4G-enabled device, optimized with Android™ 9 Pie (Go edition)."
HD entertainment and a battery that lasts from sunrise to sunset
Watch all your videos in stunning quality with the 5.7" HD+ screen. The Nokia C2 helps you discover a crisper, more immersive way to watch your favourite shows.
Introducing YouTube Go, a brand-new way to help you download, enjoy and share videos. The app is designed to work well even with limited storage or slower network speeds, so you can watch your videos offline.
The Nokia C2 lets you store up to 3000 songs or 13 hours of HD video thanks to lighter apps on Android (Go edition).
For those who want even more, just add a memory card to make room for even more photos, videos and music. Keep the chat and apps going from sunrise to sunset with the 2800mAh battery.
Snap the most share-worthy shot
Take your selfies to the next level with the Nokia C2's front camera and flash. Shoot shareable selfies even after sundown. HDR photography is made possible using the rear camera for that extra level of detail.
The Nokia C2 brings Gallery Go to benefits to even more people, so they can edit their favourite photos with just one simple tap. Plus, find and manage shots faster with the automatic organisation.
The best of Android (Go edition), with the new Google Assistant button
Discover more space for the things you love with Android Pie (Go edition) – enjoy YouTube Go, Google Go and millions of other helpful apps on the Google Play Store.
The Nokia C2 also comes with the Google Assistant button – the fastest way to your Google Assistant. You can ask questions, see your schedule and even dim the lights.
Pricing and availability
The Nokia C2 is available from purchase from Jumia and Konga and comes in Cyan and Black at a retail price of N29, 400.
NiRA, EFCC Sign MoU To Train Personnel On Cyber Security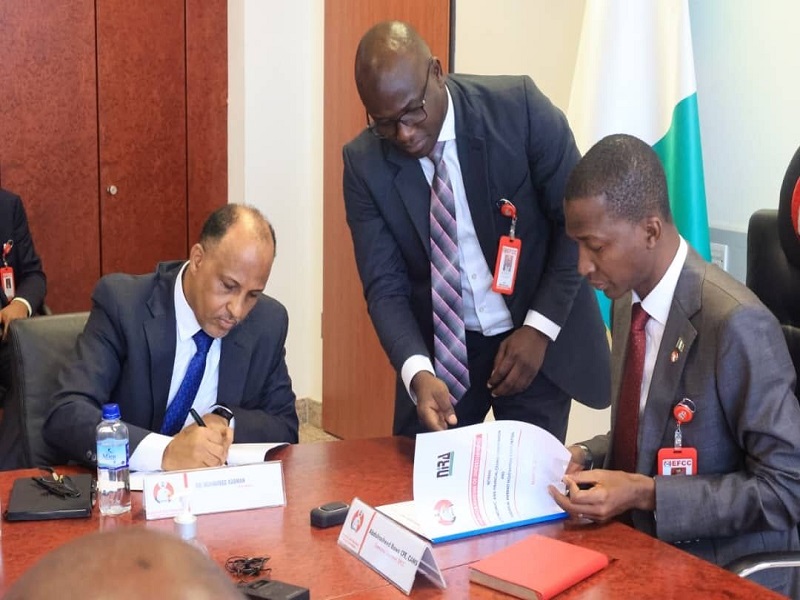 The Nigerian Internet Registration Association (NIRA) has signed a Memorandum of Understanding (MoU) with the Economic and Financial Crimes Commission (EFCC), to provide cyber security training for the personnel of the EFCC and other national security organisations.
NiRA is the registry for .ng Internet Domain Names, responsible for and maintaining the database of names registered in the .ng country code Top Level Domain.
The Executive Chairman of the EFCC, Abdulrasheed Bawa, speaking during the MoU signing ceremony at the EFCC Head Office, Jabi, Abuja, reiterated the resolve of the Commission to build the capacity of the personnel to effectively combat the emerging trends in cyber security.
The Nigerian Internet Registration Association, NIRA delegation to the ceremony, was led by its President, Muhammed Rudman.
Bawa said the MoU would further boost the understanding of his personnel on the modern trends in cyberspace and assist the Commission's investigations.
"We are very proud to collaborate with you because we realize that part of our mandate is collaboration. We need relevant stakeholders whether in government or private sector to achieve our mandate," he said.
The EFCC boss, while expressing delight over the collaboration, said that the EFCC had a well-equipped Academy to sustain the training.
---
"I find this MoU very appealing. I accept your collaboration and we are ready to start as soon as possible.
"We have a well-equipped Academy to carry out this training and I advise that the training is not only onsite but also online so that many people can join, and even other agencies can benefit from this using the same platform," he added.
Earlier, the President of NIRA, Muhammed Rudman while providing some insight into the goals of NiRA, stated that the purpose of the MoU was to strengthen collaboration between his Association and the EFCC.
According to him, there was a huge gap between NIRA and law enforcement agencies, which needed to be bridged.
"We have law enforcement agencies locking up for Registrars when there are cyber security issues in terms of websites, based on the crimes perpetrated by end users.
"So, to protect our Registrars from having challenges with law enforcement, we identify EFCC as the right partner to provide capacity building to address these gaps in terms of cybersecurity awareness and general knowledge of ICT," he said.
He added that when the MoU was fully implemented it would benefit not only the EFCC but other agencies as well.
"To be honest with you, we want to kick-start this project as soon as possible to give high-level capacity building on the internet and how it works, to address the needs of Law Enforcement Agencies, using EFCC as an umbrella body to bridge the cybersecurity gap," Rudman said.
NITDA, World Bank Train 200 Women On Content Creation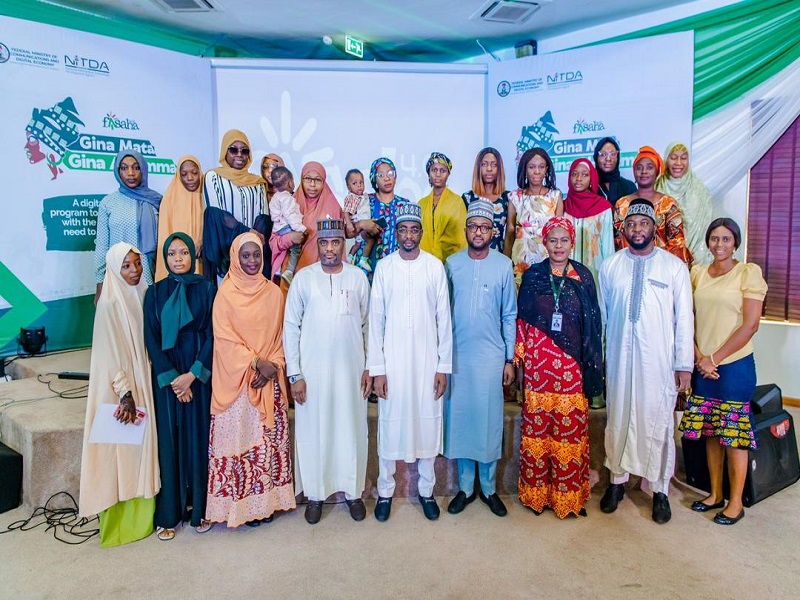 The National Information Technology Development Agency (NITDA) in collaboration with NATVIEW and World Bank has successfully rounded off a pilot digital skills development programme called "Gina Mata, Gina Al-Umma", designed to identify, prepare, and connect disadvantaged girls and young women with emerging skills in the knowledge economy.
The programme which is part of activities to celebrate International Women's Day and given the dire need to position young women for global participation in the Gig economy is geared towards integrating gender-intentional learning outcomes focused on technical training, soft skills, and right-based learning for young women interested in the tech ecosystem.
At the closing ceremony of the four-day event, the Director-General of NITDA, Kashifu Inuwa, noted that the training programme which is hinged on creating potential economic opportunities, increasing livelihoods, and access to better lives through the Gig economy is in line with the Agency's mission to place Nigeria on the path to attaining 95% digital literacy by 2030, in alignment with the National Digital Economic Policy and Strategy (NDEPS) 2020–2030.
The DG who recognised the fact that women are underrepresented in the technology sector avowed that with programmes like the Gina Mata, Gina Al-Umma programme, NITDA aims to bridge the gap by providing young women with the skills and knowledge needed to succeed in the digital economy.
"At NITDA, we are very excited about this partnership with the World Bank, which is in line with our initiative of one million software developers and skills by the end of 2023; Our core mandate is to develop and regulate the information technology sector in Nigeria because we believe that the future of our nation lies in the development of its human resources, and as such, we are committed to providing access to training and development opportunities for all Nigerians," Inuwa stressed.
Inuwa who seized the opportunity to thank the World Bank for driving the initiative and the implementation partner, Natview Technology, acknowledged the importance of partnerships in achieving the organisation's goals, noting that Natview Technology has a proven track record of delivering quality digital skills development programmes, and expressed thanks for the execution of the pilot training programme.
"Ladies and gentlemen, as we round off this pilot today, let us remember that the digital economy holds vast opportunities for economic growth and development. However, to fully realize these opportunities, we must ensure that all Nigerians, regardless of gender, have access to the necessary skills and knowledge," he said.
The NITDA Boss urged all the young women who participated in the training to take full advantage of the opportunity to make significant contributions to the digital economy and Nigeria's development.
Inuwa reiterated NITDA's commitment to ensuring that the entire citizenry is empowered with information technologies through the development of a critical mass of proficient and globally competitive IT manpower.
According to him, NITDA remains poised to actualise its mandate through strategic and inclusive stakeholder management, local and international partnership, and efficient utilisation of resources in the interest of Nigeria.
The Director-General who later presented certificates to the participants congratulated them and expressed the hope of seeing the positive impact of the programme on the lives of young women in Nigeria.
Meanwhile, the Executive Director, Natview Technology, Nuradeen Maidoki who earlier welcomed everyone to the closing ceremony described the Fasaha: Gina Mata, Gina Al-umma ("Building Women, Empowering Communities") being implemented by Natview Technology as part of the firm's contribution towards driving digital literacy and skills across Nigeria.
While appreciating NITDA and the World Bank for delivering digital competency beyond Nigeria, Maidoki said through the initiative, Natview hopes to create a pipeline of highly skilled female technologists who can contribute to innovation and growth in Nigeria's technology industry as the firm believes that by empowering young women with digital skills, it can create a more inclusive and diverse technology industry that reflects the richness and diversity of the society.
"During the 4-day launch, 200 young women were selected to participate in the digital content creation training. Beyond the digital content creation training, these young women also received skills training that will enable them to participate in the gig economy, which creates a platform for them to earn income from home," Maidoki noted.
"The goal of the programme is to train and equip at least 800 girls and young women with digital skills and competencies to be globally competitive in the remote workplace. The pilot launch focuses on training 200 women around digital content creation and marketing while in the future, an additional 600 young women will be integrated from four Northern Nigeria states (Borno, Gombe, Kano, Zamfara) with high FCV cases," Maidoki added.
UK-Nigeria Tech Hub And Google Collaborate For Startups
-To Award $3 Million Cloud Credit To Women Founders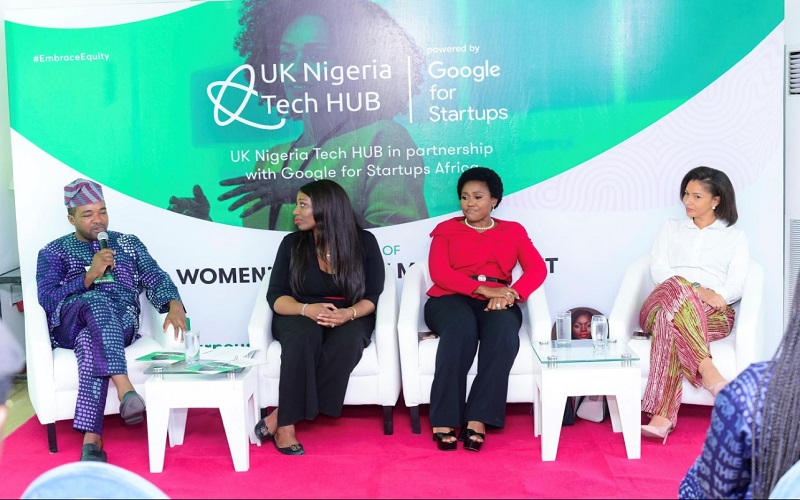 The UK-Nigeria Tech Hub, a pillar of the UK government's broader Digital Access Program (DAP), has announced a collaboration with Google for Startups, Africa.
This collaboration will see the two entities award $3 million in Google Cloud credits to women founders in Nigeria.
This support will subsidise cloud technology-related costs for startups, allowing them to focus on innovation, customer acquisition, and growth.
The joint effort by UK-Nigeria Tech Hub and Google for Startups Africa will help promote digital inclusion and jointly support technology businesses run by women founders.
To commemorate International Women's Day in March, the two organisations co-hosted an event in Lagos, on Friday, bringing together women founders, investors, and ecosystem stakeholders.
The event aims to help women founders understand the technology funding landscape and position themselves to secure funding for their startups.
Country Director, UK-Nigeria Tech Hub, Justina Oha said, "We are thrilled to announce our collaboration with Google for Startups, which comes at a time when the world is celebrating International Women's Day.
"This partnership is a testament to our commitment to supporting women founders and helping them reach their full potential. Partnerships like this are one of the great ways that stakeholders can come together to advance Nigeria's tech ecosystem at an accelerated pace."
Head of Startup Ecosystem Google Africa, Folarin Aiyegbusi speaking on the collaboration, said: "We are excited to partner with the UK-Nigeria Tech Hub to empower women entrepreneurs in Nigeria. This collaboration is a unique opportunity to provide women founders with the support and resources they need to scale their businesses and contribute to the growth of Nigeria's tech ecosystem.
"At Google for Startups, we are committed to supporting startups and entrepreneurs around the world, and we believe that empowering women founders is key to building a more diverse and inclusive tech industry."