Samsung Demonstrates New Drone-Based AI Solution To Optimize 5G Network Performance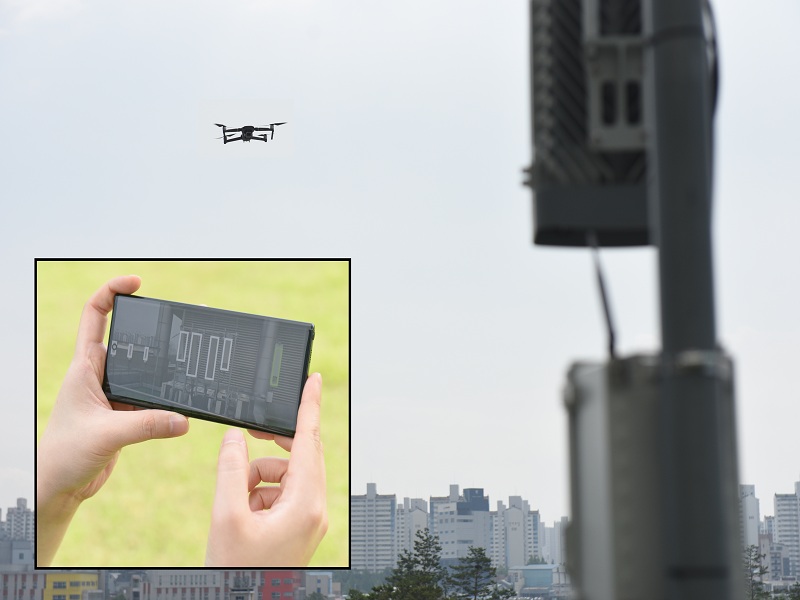 New solution automatically measures antenna rotation and tilt at the touch of a fingertip using a mobile device; improves tower climber safety and efficiency in network maintenance
Samsung Electronics Co., Ltd. Monday announced a successful demonstration of its new drone-based antenna configuration measurement solution for 4G and 5G networks in the company's campus.
This automated solution will offer operators a simplified way to more efficiently manage cell sites, improve employee safety, and ultimately optimize network performance.
In the demonstration, an engineer on the ground used a smartphone with a remote control application to fly a camera-equipped drone that captured photos of the antennas installed on a building's rooftop.
The visual data was viewable via the engineer's smartphone and then was transmitted to a cloud server within seconds.
The deep learning-based artificial intelligence (AI) solution instantly verified the rotation and tilt of the antennas, so that the engineers could determine if the antennas were installed correctly at predefined optimal angles.
It took less than a minute to transmit the data and process the results, enabling the engineer to view results on-site in real-time on the smartphone screen.
The demonstration verified that Samsung's solution can accomplish the task within 15 minutes – starting from flying the drone to the delivery of measurement results.
This compares to the several hours it can take for a tower climber to prepare, climb up and down a cell tower, and measure antenna configurations.
In conjunction with this new solution, Samsung will continue to add additional features, which will allow the engineers to remotely adjust the antenna tilts to its optimal position from a mobile device and PC.
Cellular antennas are typically installed at significant heights on sites such as cell towers or rooftops, in order to ensure optimal mobile coverage.
Operator field engineers ordinarily carry heavy and expensive equipment as they climb up cell sites to measure the antenna configurations.
With Samsung's drone-based AI solution, operators will have a new approach for reinforcing the safety of their employees.
The solution's safety benefits will be especially helpful during site audit and maintenance in the U.S., which often requires two field personnel to be dispatched to a site to audit or adjust the antenna angles — and requires climbs that use more advanced safety training.
"As the number of 5G network sites grows, there has been a heightened focus on network performance by operators, and we are seeing an increased market demand for intelligent solutions for site maintenance," said Sohyong Chong, Vice President and Head of Network Automation, Networks Business at Samsung Electronics. 
"Once this solution launches globally later this year, it will offer a safer, more cost-effective and convenient way to satisfy market demands, leveraging our unique capabilities in combining the latest technologies—drones, AI and 5G."
Samsung Networks is a pioneer in the successful delivery of 5G end-to-end solutions ranging from chipset, radio and core network to cloud platform for both mid-band (2.5GHz/3.5GHz) and mmWave (28GHz/39GHz) frequencies.
The company has been supporting 5G commercial services in leading markets, including Korea, the U.S. and more recently Japan, where the majority of worldwide 5G subscribers are currently located.
Google Strengthens Africa-Wide Programmes To Keep Internet Users Safe Online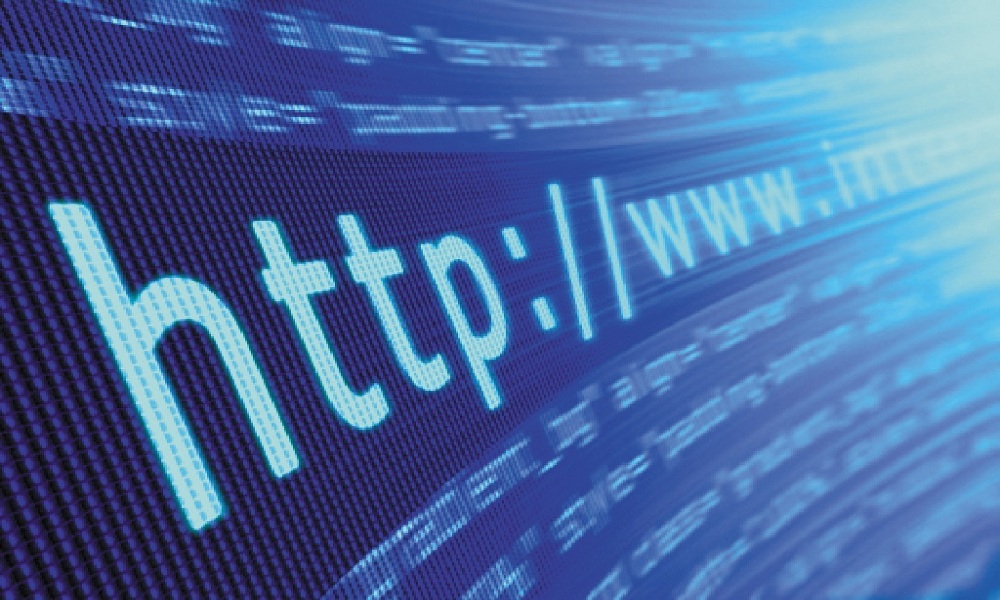 Google has announced a number of initiatives across Kenya, Nigeria and South Africa, bolstering its continued efforts to keep children, young people and families safe online.
Aligning with the theme of this year's global Safer Internet Day, "Together for a better Internet", Google has teamed up with several organisations across the continent to boost education efforts and develop programmes around online safety.
"With an estimated 346 million internet users that came online for the first time in the last year, and 376 million new social media users, there is no better time for us to help people stay safe online," says Juliet Ehimuan, Country Director, Google Nigeria.
"We are working with nonprofits and social enterprises to advance their work through Google.org's Africa Online Safety Fund, while also working with educational institutions and governments across sub-Saharan Africa in order to have a greater impact."
Administered as part of the Africa Online Safety Fund, Google.org gave a grant to Impact Amplifier and the Institute for Strategic Dialogue, to run an open call across the continent to find the most innovative and impactful nonprofit organisations operating in this space.
26 social impact organisations across nine African countries have been selected to receive grants of up to $100,000 each. The five selected in Nigeria include Epower, LagosMums, Velma Foundation, Hive Creative Guild and Teens Can Code.
This funding will be used to boost projects that work to combat online vulnerabilities, disinformation and extremism aimed at children, the youth, families, schools and small and medium-sized businesses (SMBs).
Google has also collaborated with Nigerian author Nomthi Odukoya to create the children's online safety book 'How to be Safe Online'. Physical copies of the book will be distributed to 30,000 learners in Kenya, Nigeria and South Africa this month, which is also available online on the Read-Along app.
"With more children, young people and families increasingly using the internet to learn and work in the face of the COVID-19 pandemic, online safety is a priority for everyone," continues Juliet Ehimuan.
"We look forward to the continued empowerment of teachers, parents and guardians with tools to keep children safe online. Continued collaboration with government bodies like Kenya's Communications Authority, Nigeria's Public and Private Development Centre, and South Africa's Department of Social Development, among others, will ensure that we have the necessary backing to make the internet better for all users, especially young children and families across the continent."
SURVEY: Smile Leads In Unlimited Data Plans Among Nigeria's Telecom Service Providers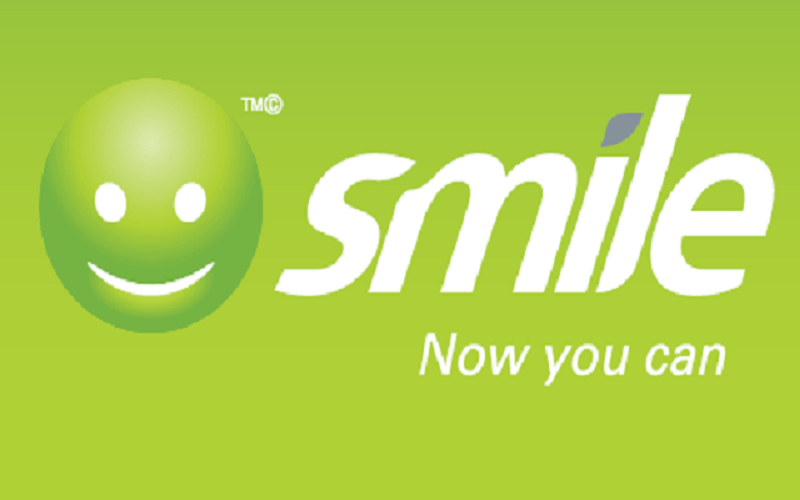 A couple of telcos are claiming to offer unlimited data plans and subscribers are giving them kudos.  Often, the claim is a focus of intense campaign blitz targeted at winning customer loyalty. The question to ask is – are these telcos really offering unlimited data plans?  If they are, what are the definite benefits to the subscriber? This is important because subscribers must get value for their money and seen as such.
In the early days of telecom revolution in early 2000, some telcos brazenly exploited Nigerians in a manner that made informed observers cringe. A particular telco was said to have boasted that what they raked in within six months in Nigeria exceeded what they earned in a particular African country in three years!  Today, this same telco claims to be offering an unlimited data plan, and innocent subscribers are falling for it. Is this thriving in anomaly?
In these hard times, telcos are expected to show demonstrable empathy towards their subscribers. It is part of their corporate social responsibility to offer service commensurate with what the consumer pays for. It, therefore, suffices that unlimited data plan is not a rhyme that everyone must join in reciting. Unlimited data plan must have something significantly beneficial to the subscriber. Yes, nothing with value is free; but consumers' needs and expectations should be met in a manner that gives value for the money spent.
As an avid user of data and determined to know which unlimited data plan would best suit my purpose, I sought to shop around in the major retail outlets in metropolitan Lagos. High on my ranking were the major telcos: Airtel, MTN, Glo, 9mobile, Swift, Smile, Spectranet and ntel. These operators are offering unlimited data plans but most are limited in many ways thereby detracting from the true meaning of unlimited.
Buoyed up by the findings of my limited exercise, a more elaborate survey was conducted in which people who use data plans were surveyed. The outcome was a further affirmation that Smile's unlimited data plans are about the only genuine unlimited data plans, which offer value for money, unlike what obtains with other telcos because of the unique ingredient. The findings also indicated that Smile's unlimited data plans are affordable relative to what other telcos offer.
According to our findings, Smile unlimited data plans provide uninterrupted data connectivity, although they do comply with a Fair Usage Policy as per NCC regulation, there is no data cap and customers can use as much data as they want until the unlimited data plan validity expires.
In comparison to that, Airtel claims to offer unlimited data plans. However, their unlimited data plans have a data cap. Other telcos lay claims to offering unlimited data plans but to varying degree as our findings show that as at today, the only truly unlimited data plan in Nigeria is that currently offered by Smile.
A snapshot of the various Top-of-the-line Unlimited Data Plans by some telcos
Pros and Cons of Telco Unlimited Plans
Top 30-day Unlimited plan Comparison by Operator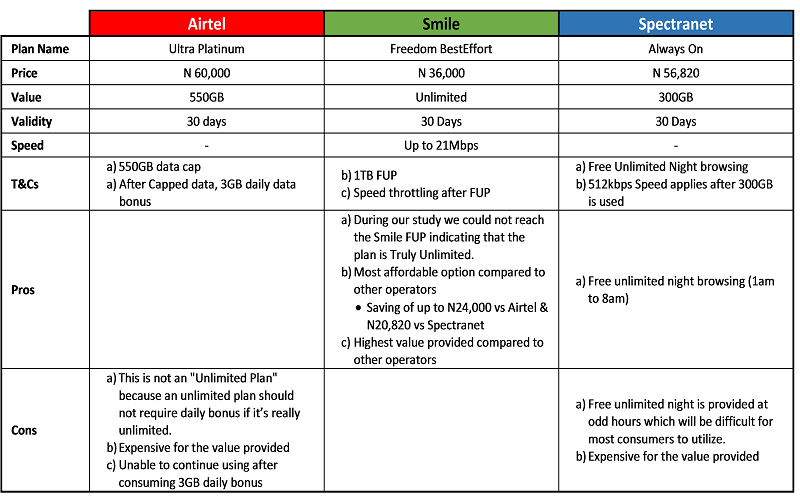 The above table compares the top 30-day Unlimited plans from various operators.
One important note about Airtel Ultra Platinum is when customers exhaust the 550GB before 30 days, they will get 3GB daily bonus.
For instance, if the customer finishes the 550GB on the same day of purchase, they get 3GB daily for next 30 days, which sums up to 90GB. Hence the total value provided is 640GB for N60,000. Herein lies the deficiency of this Ultra Platinum and a clear indication that it is not "Unlimited" because an unlimited plan should not require daily bonus if it's really unlimited.
This is the same for Airtel's other Ultra offerings.
Midrange 30-day Unlimited plan Comparison by Operator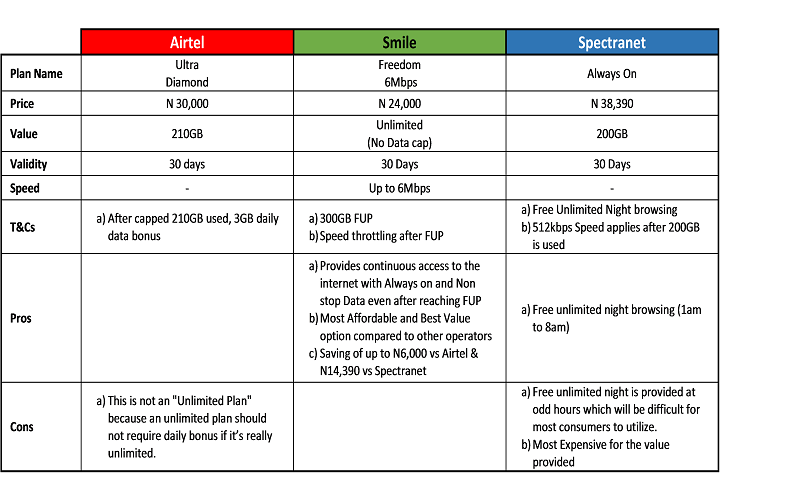 The above table compares the mid-range Unlimited 30-day plans from various operators.
Airtel's Ultra Diamond plan cost N30,000 and has an FUP of 210GB, 3GB daily bonus with a validity period of 30 days. The 3GB daily bonus sums up to 90GB over a 30  day period making a total of 300GB data available for use on that plan after which customers will no longer have Internet access.
Cheapest 30-day Unlimited plan Comparison by Operator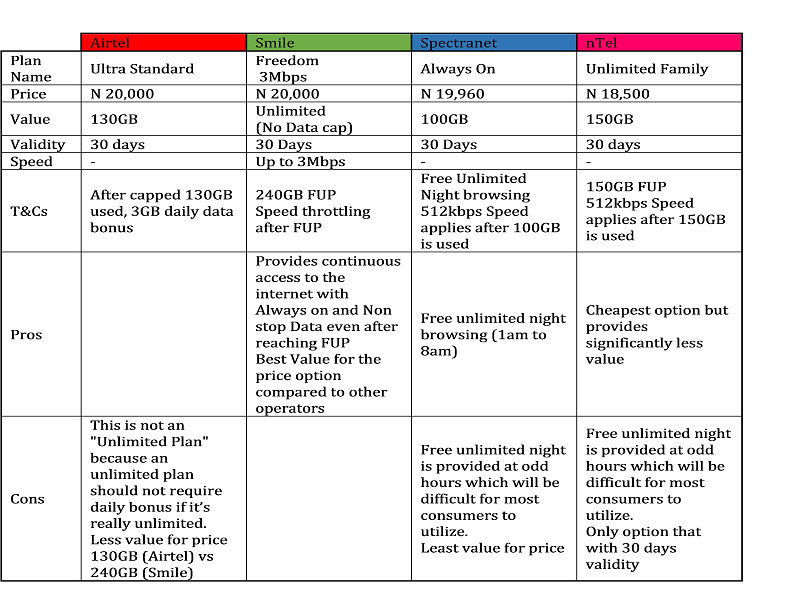 The above table compares the cheapest Unlimited 30-day plans from various operators.
The Unlimited Family from Ntel, their only option for subscribers with a validity of 30 days having 150GB FUP; despite being the cheapest unlimited plan at the cost of N18, 500 gives the customer about 8.1GB per N1, 000 cost as against the 12GB per N1, 000 cost on related Freedom3Mbps plan from Smile. So, the subscriber gets more data for going with Freedom3Mbps plan from Smile. The customer also gets more speed up to 3Mbps on the Smile's option than on the Ntel's Unlimited Family whose FUP speed is just 512kbps.
The Freedom3Mbps plan from Smile with speed up to 3mbps and no data cap when put side by side with the Spectranet Always On 100 at the cost of N19,960, shows a more data offering of 140GB on the N40 extra cost from Smile, not minding the unlimited night browsing from Spectranet. This is an additional benefit to the customer in terms of data value.
Apparently, Smile's unlimited data plan products are designed to serve the purpose of cost-effectiveness, speed and affordability. With the Smile's Freedom plans revolution, the customer enjoys seamless internet for 30 days and remains always connected.
It is, therefore, safe to conclude that Smile offers Unlimited plans that are truly unlimited. That cannot be said for Airtel Unlimited plans for instance. Evidently, only Smile is actually offering unlimited plans via its Freedom plans. A notable drawback is just that Smile's Freedom plans are available in the 8 major cities in which Smile operates (Lagos, Ibadan, Abuja, Kaduna, Benin, Port-Harcourt, Asaba and Onitsha).
Overall, it became apparent from the survey and direct customers' experience that the most pocket-friendly unlimited data plans in the Nigerian market are those offered by Smile Communications. Also, in terms of utilitarian value, the Smile unlimited data plans offer the most and therefore the best value to the customer. Next in the pecking order in terms of price is Ntel, which offers the cheapest unlimited plan while Airtel is the first runner up in terms of value to the customer. The other networks, in spite of their respective strong showing, bring up the rear both in terms of price and value.
Smile Completes Latest Upgrade, Strengthens Network Capability For Optimum Service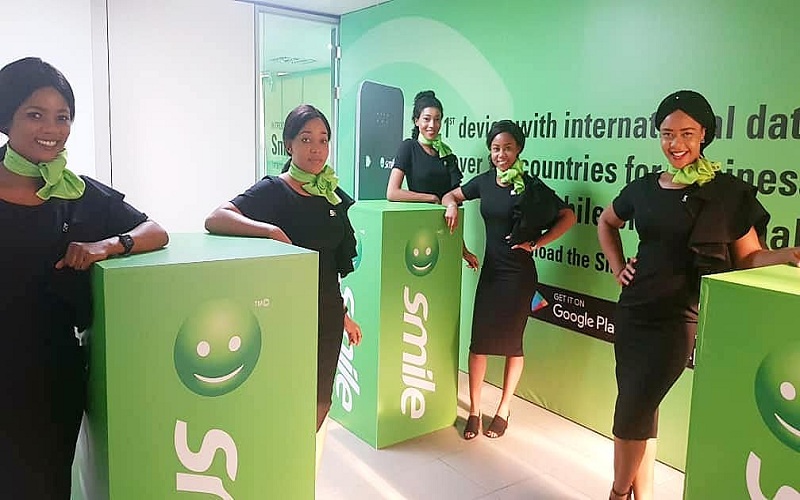 Smile Nigeria, a premier 4G LTE Broadband service provider, has just completed the latest upgrade of its Core Network ExpansionEvolved Packet Gateway (CNEEPG) aimed at giving vent to the practice of regular upgrade of its network capability.
DigitalTimesNG understands that this upgrade is significant in its far-reaching modernization of the Smile Network leading to increased capacity which will enable Smile to serve more customers and improve the experience of existing customers' usage experience.
Akinola Alayoku, Chief Technical Officer of Smile, while throwing more light on the upgrade, stated that the Radio Network Expansion commenced in January 2021 and added that the expansion will greatly improve the internet experience of customers on the Smile network giving them SuperFast internet experience.
Abhulime Ehiagwina, acting Managing Director of Smile Nigeria said, "the upgrade was strategically timed to coincide with the period of high traffic on the network," disclosing that the CNEEPG aligns with Smile's global vision and mission to be the mobile broadband provider of choice in its all markets, whilst enabling its customers to do and achieve more."
He further enthused that having the best network in its class "is something we have a passion for, and we are excited about this latest upgrade as it will enable us to redouble efforts towards providing continued access to SuperFast, SuperReliable and affordable 4G LTE services to all Nigerians."
Abdul Hafeez, Chief Marketing Officer of Smile, noted that the network upgrade reaffirms "Smile's commitment to creating opportunities that will enable our customers to enjoy the best broadband internet experience by providing differentiating solutions that will enrich their lives."
Explaining further, Hafeez said that the upgrade was done "partly with the aim of enhancing the overall quality of service on the Smile network, to extend connectivity and access to the internet to more Nigerians, and to make quality internet access more affordable and empower our customers to do more and succeed in their respective endeavours."
Delighted by the development, a cross-section of Smile subscribers have confirmed the remarkable improvement that the upgrade has engendered.
John Okosun, a Lagos- based Company Executive, is among the numerous Smile subscribers pleased by the upgrade.
He confirmed being on the Smile Network for about five years and applauded the company for "lots of new ideas and new ways to deliver what customers really need- super-fast internet that you can manage and use to improve your business or your experiences at home."
Hassan Umaru, an Abuja- based Civil Servant is happy with the "fast pace and reliability of the Smile network."
To Dagogo Whyte, an entrepreneur in Port Harcourt, Smile's constant upgrade of this network continues to set it apart from the others. To him, "it is thumbs up for Smile for always thinking right and doing the right thing."
Acclaimed as the pioneer of 4G LTE technology in West Africa, Smile Nigeria is famous for continuously enhancing services to beat the existing industry benchmark and expand on the existing market offers in a bid to provide real value-adding products and services.
Smile launched the first 4G LTE network in West Africa in Nigeria in 2014, revolutionizing the way people access the internet.
It was the first to launch VoLTE on its network and has continued with its innovation, having introduced SmileVoice, which is a free mobile app that enables customers with any Android or Apple handset (including those which are not VoLTE-enabled) to make SuperClear voice calls over Smile's 4G LTE networks.