2023 Africa's Beacon Of ICT Merit & Leadership Awards Opens Voting Portal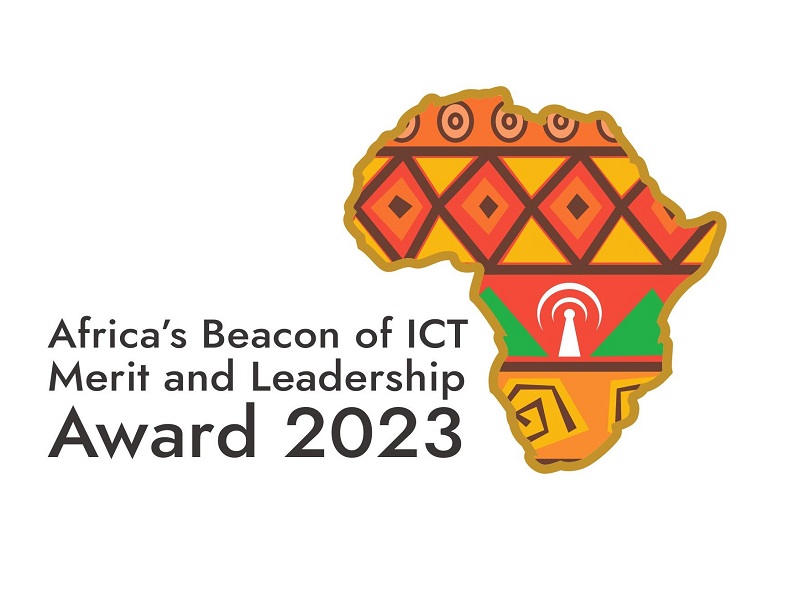 The board and management of Communication Week Media Limited, publishers of Nigeria CommunicationsWeek, has opened its portal to the public to vote for nominees of their choice for this year's Africa's Beacon of ICT Merit and Leadership Awards.
Formerly known as the Beacon of Information and Communication Technology Awards, the event is widely regarded as the most prestigious annual event available in the ICT industry in Nigeria,
Ken Nwogbo, Chief Executive Officer/Editor-in-Chief, CommunicationsWeek Media Limited, said the awards ceremony reward best practices and recognize outstanding contributions to the growth of the sector.
Organisers are imploring Business leaders and readers to cast their votes via https://boictawards.icreationsent.com/
Nwogbo added that this year's lecture would be delivered by Dr. Krishnan Ranganath, Regional Director, Africa Data Centres FZE Nigeria with the theme: "Digital Transformation and Cloud Services as New Order."
"The awards are free, and awardees are chosen by ICT stakeholders and readers of Nigeria CommunicationsWeek through a transparent voting process," Nwogbo said.
Now in its fourteenth year, the award is the highlight of the event which starts with the distinguished lecture series.
The lecture and award are slated for Saturday, May 27, 2023, at the Oriental Hotels, Lekki, Lagos.
Africa's Beacon of ICT Merit and Leadership Distinguished Lecture is designed to explore efforts to put Nigeria on the global Information and Communications Technologies map.
The lecture series, however, is reserved for distinguished achievers in the ICT sector.
Past lecturers include Dr. Ernest Ndukwe, then executive vice chairman, Nigeria Communications Commission (NCC); Engr. Yomi Bolarinwa, former Director-General of National Broadcasting Commission (NBC); Dr. Jean Luc Fort, CEO at OR System France and a specialist in Counterparty Risk; and Professor Chris Nwagboso, Chairman, Knowledge Factory International, United Kingdom.
Others are Uche Orji, managing director/chief executive officer, Nigeria Sovereign Investment Authority (NSIA); Biodun Omoniyi, Managing Director/CEO, VDT Communications; Ayotunde Coker, Managing Director, Rack Centre Limited; and Peter Adedayo Arogundade, managing director and chief executive officer, Sidmach Technologies Nigeria Limited.
They also include Dr. Adewale Obadare, Chief Visionary Officer, Digital Encode; and John Obaro, CEO/founder of Systemspecs; Prof. Isa Pantanmi, Minister of Communications and Digital Economy, among others.
Lagos Govt, FirstBank Partner To Boost Healthcare Delivery In Ije-Ododo Community
…Over 10,000 residents to benefit from new primary healthcare centre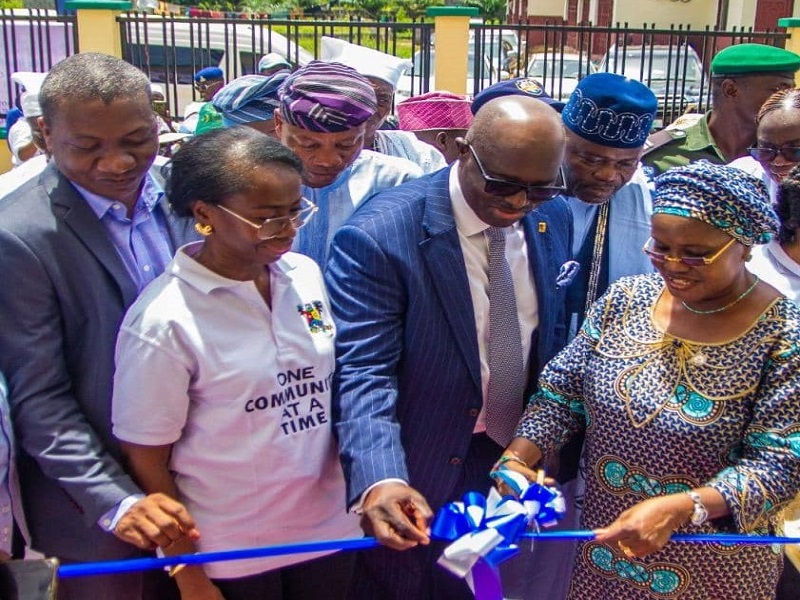 The Lagos State Government has built and unveiled a new Primary Healthcare Centre (PHC) in Ije-Ododo Community, Iba Local Council Development Area (LCDA), under the Ojo Council Area of the state.
The facility, which has been under construction since 2021 in partnership with First Bank of Nigeria Limited, was unveiled in the community in an opening ceremony attended by the Lagos State Governor, Babajide Olusola Sanwo-Olu, representatives of the state government, the state Primary Health Care Board, community leaders, as well as traditional rulers of Iba, Ije-Ododo and Ijagemo, among others.
The governor, who was represented by Secretary to the State Government (SSG), Mrs. Folashade Sherifat Jaji, said in his welcome address that the opening of the health facility under the SSG's One Community At A Time (OCAAT) initiative, formed part of activities to herald the inauguration of his second term in office on Monday, May 29, 2023.
Maintaining that the attention being paid to the healthcare sector was deliberate to ensure a healthier populace, he said the state government under his watch would deploy more resources to the health sector for easier access to health services, especially in underserved communities.
The governor enjoined members of the community to take full advantage of the health benefits that will be provided in the facility and charged them to take ownership and always protect the assets and the facility.
The Permanent Secretary, Primary Healthcare Board, Dr. Ibrahim Mustapha, commended First Bank of Nigeria Limited and the contractor for completing the project within the stipulated time frame, but also requested more assistance to make the facility functional by providing equipment and other necessary medical gadgets.
On his part, Chief Executive Officer of FirstBank, Dr. Adesola Adeduntan, who was represented by Mr. Seyi Oyefeso, expressed satisfaction at the successful completion of the project, adding that it was gratifying to know that no fewer than 10,000 residents of Ije-Ododo and neighbouring communities will have access to primary healthcare services in the facility.
He said as a responsible corporate social organisation, the bank's intervention in the primary healthcare sector aligned with its Corporate Social Responsibility (CSR) approach anchored on citizenship, impact management, strategic education, as well as the health and welfare of the immediate and remote communities of Lagos State and other parts of the country.
In his words: "The completion and opening of the primary healthcare centre are to ensure that Ije-Ododo community will become healthier and wealthier since health is wealth."
In his goodwill message, the Baale of Ije-Ododo, Dr. Abu Jelili Ododo, who spoke in the company of the Oba of Iba and Baale of Ijagemo, applauded Governor Sanwo-Olu for the timely completion of the healthcare centre and appealed for the construction of the Ijegun-Ije-Ododo-Abule-Ado road to link the Badagry Expressway, adding that it was high time the Ije-Ododo Community was provided with a motorable road to ease the sufferings of residents.
Responding to the request for the road, Jaji assured that the Lagos State government under Sanwo-Olu was poised to build the road but that the project suffered some setbacks due to agitations by some members of the community over the location of the project, adding however, that as soon as the governor settles down for his second tenure, construction work will begin on the road.
Excitement As Konga Mid-Year Shopping Festival Kicks Off Today
Konga guarantees same day delivery for Mid-Year Shopping Festival
Konga, Nigeria's leading composite e-commerce giant, has pledged huge savings and more importantly, same-day delivery for shoppers in the second edition of the much-anticipated Mid-Year Shopping Festival.
The Konga Mid-Year Shopping Festival widely regarded as the biggest discount sale in the first half of the year, kicks off formally on Tuesday, May 30, and will run through Friday, June 30, 2023, online at www.konga.com  and offline in every Konga store nationwide.
An annual promotion, the month-long fiesta coincides with the celebration of Konga's 11th anniversary, with the management of the e-commerce giant also seizing the opportunity to roll out KongaNow, its same-day delivery initiative through which shoppers can get their verified items delivered within one to six hours.
All products tagged KongaNow on the Konga website are available for immediate delivery, provided orders are placed before 2 pm daily. Alternatively, shoppers can access www.konga.com/konga/now to select from a wide array of genuine high and medium-value items across categories.
Meanwhile, a variety of exciting offers have been lined up for shoppers throughout the month-long duration of the Konga Mid-Year Shopping Festival.
In addition to mouthwatering price crashes of up to 70% across multiple product categories including Computing, Electronics, Mobile Phones, Fast-Moving Consumer Goods (FMCG), Home & Kitchen Appliances, Wine & Spirits, Fashion, etc., Konga has equally lined up a suite of budget offerings tailored for every pocket, including Under 5k Shop, 10k Shop, 20k Shop and Under 30k shop, among others.
Shoppers are also in for a treat, with treasure hunts, live auctions and flash sales on specific days of the campaign.
In partnership with leading financial institution, Access Bank, Konga is also offering an extra 10% discount off all purchases made by Xclusive Plus subscribers who shop with their Visa Signature Card.
Also on offer are app-only deals for Konga App users, early bird discounts, special deals for walk-in customers to Konga stores, free delivery for Konga Prime subscribers, special bulk deals for heavy shoppers, business owners, corporate/religious organizations, cooperatives, and educational institutions, among others.
In line with its mandate of helping shoppers save money, prospective travelers will also enjoy special deals on visa and passport processing, summer flight packages to major destinations as well as flexible installment payments via Konga Travels & Tours.
These offers are available simply by emailing travel@konga.com or WhatsApp: 08112114488.
KongaPay users are also set to benefit from attractive discounts and bonuses on daily transactions, airtime, and data recharge, among others during the Mid-Year Shopping Festival.
Konga Mid-Year Shopping Festival runs from Tuesday, May 30 till Friday, June 30, 2023.
Institutionalising SMEs, Catalyst For Wealth Creation, Prosperity- NITDA DG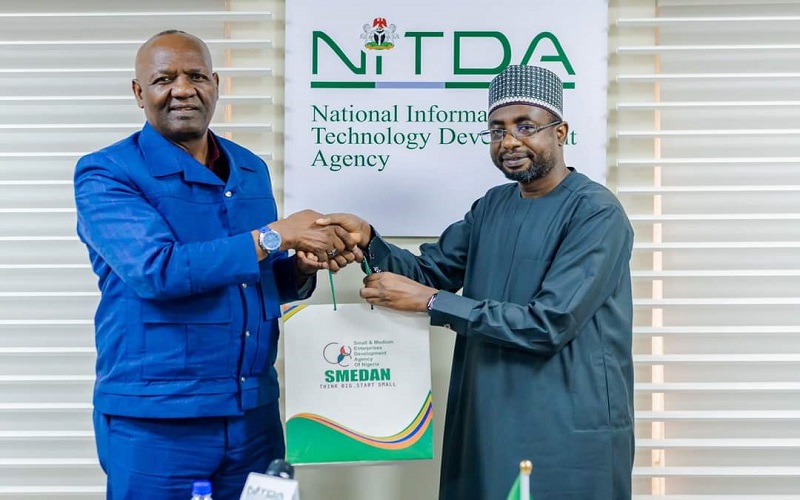 Director General of the National Information Technology Development Agency (NITDA), Kashifu Inuwa has said that institutionalising Small and Medium Enterprises (SMEs) would serve as a catalyst for creating wealth and prosperity.
Inuwa's statement followed a proposed agreement between the National Information Technology Development Agency (NITDA) and the Small and Medium Scale Enterprises Development Agency of Nigeria (SMEDAN) to institutionalise the activities of the Small and Medium Enterprises, (SMEs) in the country.
Digital TimesNG gathered that the proposed agreement was revealed at a meeting between NITDA's Director General, Kashifu Inuwa, and his SMEDAN counterpart, Mr. Olawale Fasanya, held at NITDA's Corporate Headquarters, Abuja.
According to Inuwa, "We have between 60-90 per cent of our businesses under SMEs. But operating informally, how can we formalise them so that even the government can benefit by collecting taxes and have a structure in place to capture the GDP correctly?
Inuwa noted that most of the Startups the Agency deals with are SMEs who are also trying to solve a real-life problem.
"We see Startups as our babies, while for you anybody trying to start any business, you see them as your babies. We have startups solving problems in agric, commerce, education, logistics and so on," he said.
The NITDA DG added that the world is moving to smart manufacturing whereby you can design anything on your system and print it using a 3D printer.
"We have Digital Fabrication Lab in our Centre, the National Centre for Artificial Intelligence and Robotics (NCAIR), where you can design all these and manufacture them or prototype them and do mass production," he further stated.
He also announced that plans are underway to have facilities everywhere as the goal is for every Nigerian to have access to these kinds of facilities.
Enumerating some of the initiatives which the Agency is undertaking and the collaboration is into with the big techs including NITDA Learning Management System Online Academy, the Director General assured SMEDAN that their SMEs will be onboarded into some of the programmes.
"We are also looking beyond SMEs today; we have what we call IDEs (Innovation Driven Enterprises) which is a process where you start with a mindset that you are solving the immediate problem. But the bigger picture is to go global, and Information Technology is making it possible for you to reach anywhere in the world," he said.
Citing the recent research conducted by the Lagos Business School on the booming nature of the Gig economy, the Director General said that as of last year, there were over 2 million Nigerians earning a living through the Gig economy who receive training and work from anywhere using IT, like those doing Bolt and online digital marketing.
Describing the roles of the two agencies as common, Inuwa said they both exist to develop and help Nigerians create wealth using IT.
"IT is pervasive, anywhere you think of today, you need IT to enable it. Our lives revolve around technology," he noted.
"This kind of collaboration is what can help us have structure to even protect the Gig economy as well," he concluded.
Earlier in his remark, Mr. Fasanya said that they were in the Agency to intimate NITDA of their readiness to further enter into other collaborative areas that will be more impactful to society.
The SMEDAN's Director General revealed that they have identified about 70 youths in all 36 states of the Federation who were trained on different skills, particularly on how to market their products digitally.
While disclosing that his organisation wants their SMEs to take advantage of the digital space, Mr. Fasanya said that would give them the required knowledge on e-learning platforms, e-marketing and so on.