Access Bank To Buy BancABC Botswana
The Nigerian lender would buy over 78% of BancABC Botswana for an undisclosed cash amount of about 1.13 times the book value plus a two-year deferred payment.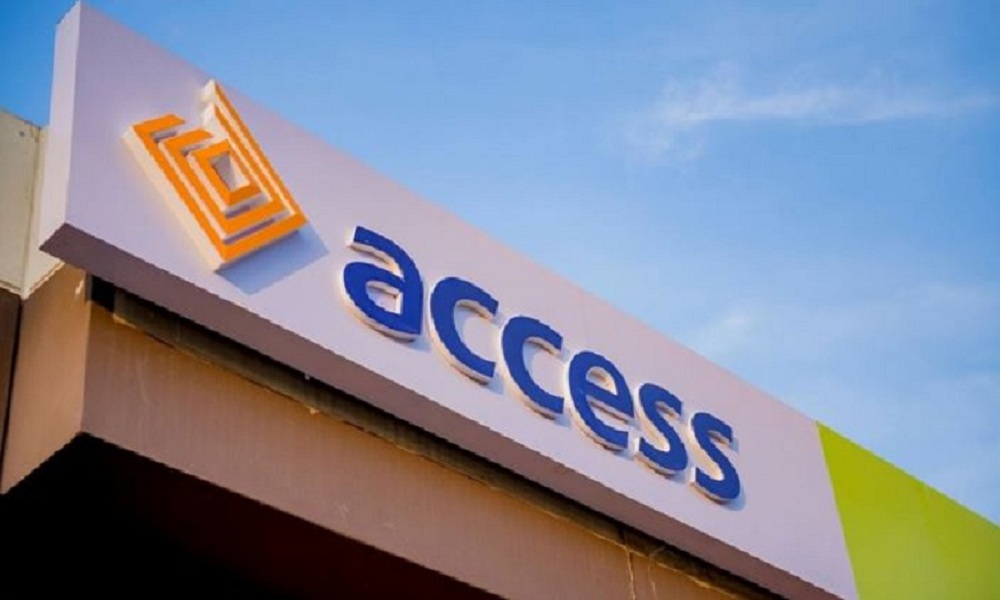 Access Bank, Nigeria's largest lender, has agreed to buy a majority stake in African Banking Corporation of Botswana for cash, just a month after buying South African Grobank in a $60m deal, according to a memo released on Monday.
Atlas Mara said in a statement on Monday that the Nigerian bank would buy just over 78% of BancABC Botswana for an undisclosed cash amount of about 1.13 times the book value plus a two-year deferred payment.
Access Bank now has a presence in ten African countries thanks to the agreement with ABC Holdings, a local subsidiary of Atlas Mara, a London-listed company that owns the largest share in Union Bank of Nigeria.
The deal is expected to be completed by the end of the second quarter.
"BancABC Botswana is the fifth-largest bank in Botswana and is a very well-capitalised banking institution poised for growth and success in its local market," Access Bank said.
"The bank has been perennially profitable, given an existing high-quality retail loan book with opportunities and scope for diversification and further expansion into corporate and SME lending.
"We remain committed to a focused and deliberate expansion strategy in Africa, which we believe will generate solid, long-term returns," the bank said.
Herbert Wigwe, Access Bank Group Managing Director said, "The establishment of Access Bank through this acquisition in the Republic of Botswana will position the bank to deliver a more complete set of banking solutions to its clients active in across the SADC and COMESA regions."
Access Bank said BancABC is Botswana's fifth-largest bank, with a strong retail loan portfolio and plans to expand into corporate and small-to-medium-sized business lending.
For some time now, Nigerian lenders have been looking for new ways to increase profits in the face of slowing domestic inflation, falling government bond yields, and an increase in restructured loans as a result of the COVID-19 pandemic.
Analysts say stagflation and dollar shortages in Nigeria have frustrated industries and shrunk the lending sector, prompting Access Bank to extend across the African continent.
Access Bank paid $60 million for a majority stake in South Africa's Grobank in March, making it the first Nigerian bank to enter the country. It has also recently signed agreements in Zambia and Mozambique.
Access Bank is restructuring into a holding firm to drive its international growth with more than $16 billion in reserves and an emphasis on corporate and retail banking.
FirstBank Dedicates Month Of March To Celebrate Women
-Reinforces Its Commitment To Empowering Women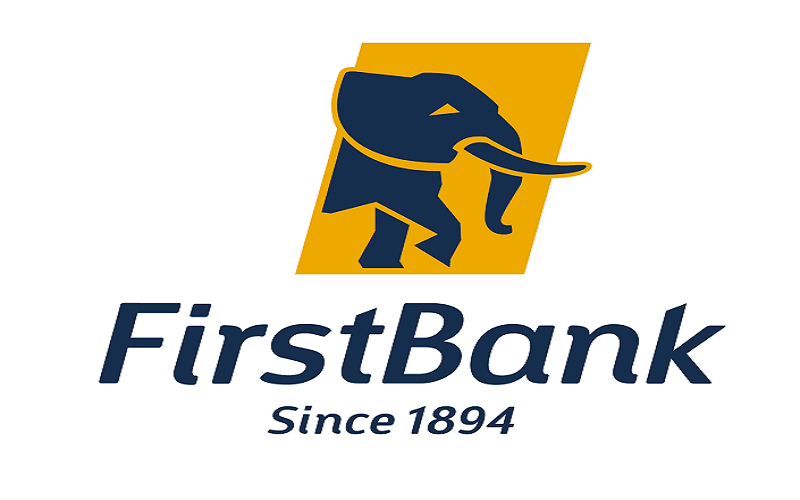 First Bank of Nigeria Limited, Nigeria's premier and leading financial inclusion services provider, has announced its dedication of the month of March to the celebration of women across the world, as it commemorates the globally celebrated International Women's Day, scheduled for 8 March 2023.
Kicking off the series of internal activities designed to celebrate women is The First Women Network (FWN), Mentoring, Coaching, and Sponsorship Pillar Webinar scheduled to hold on Friday, 3 March 2023.
The event is organized by the Bank's First Women Network, an initiative that seeks to address the gender gap and increase the participation of women at all levels within the organisation.
On Wednesday, 8 March 2023, the Bank will join the rest of the world to celebrate the 2023 International Women's Day themed: "Embrace Equity" as it convenes its International Women's Day 2023 event.
As a member of UN Women, FirstBank employs the relevant women empowerment tools including the Women Empowerment Principles (WEPs) Gender Gap Analysis Tool in the process of assessing its performance and provides progress reports that feed into the WEPs performance indicators.
FirstBank has a ratio of about 39%:61% female to men employees while 32% women in management driving a deliberate policy consistent with the WEPs – Equal Opportunity, Inclusion, and Nondiscrimination.
In line with this commitment, FirstBank is partnering with UN Women on 15 March 2023 and is set to play a key role in a scheduled event driven by UN Women that will showcase young women and men between the ages of 18-35 in Nigeria who are using technological innovations and tools to promote gender equality, women's empowerment and inclusion.
This is in line with the UN International Women's Day theme for 2023 which is "DigitALL: Innovation and technology for gender equality."
The conversation on ''Embrace Equity'' as well as ''DigitALL: Innovation and technology for gender equality'' will be reinforced on Twitter Spaces with notable speakers including Foluso Gbadamosi, the Executive Director of Junior Achievement Nigeria.
Amongst the activities scheduled to round off the Women's Month commemoration is the Bank's support of the Heroism of Erelu Ota – a play that aligns with the Bank's First@arts goal of supporting the arts and women.
Heroism of Erelu Ota is an untold story of a legendary goddess in Ikorodu Kingdom who travels on the sea with a mat, and her ability to see what the enemies of Ikorodu are planning in their town played a huge role in assisting the people of Ikorodu during the Agbala war.
Speaking ahead of the events, Folake Ani-Mumuney, Group Head, Marketing & Corporate Communications, FirstBank said that "we remain committed to diversity and inclusion as well as women empowerment through digital education and the provision of opportunities for women to access digital tools to bridge the gender digital divide and achieve gender equality.
"Therefore, as in previous years, FirstBank has dedicated March 2023 as a month set aside to celebrate women and all their remarkable achievements over the years which include their leadership roles and pace-setting standards in Science Technology Entrepreneurship, Arts, and Mathematics (STEAM).
"We are deliberate about partnering to ensure more impact – ensuring that we touch as many women as possible in Women's Month and beyond."
Umba, Nigeria's Digital Bank Begins Operations In Kenya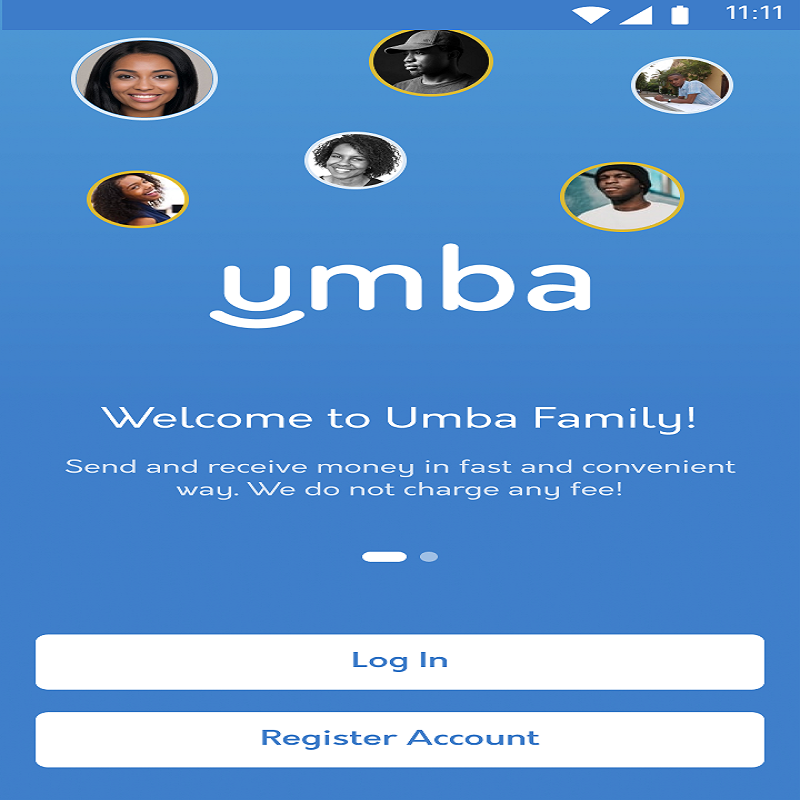 Pan-African digital bank, Umba which acquired Kenya's Daraja Microfinance Bank last year, has officially launched its operations in the country.
The financial institution has been operating only in Nigeria but has its eyes set on several African markets.
The move now enables Umba to offer full banking services in Kenya, including current accounts insured by the Kenya Deposit Insurance Corporation (KDIC), interest-bearing savings accounts, fixed deposit accounts, lending, and payments.
Umba was founded in 2018 by Irish entrepreneur Tiernan Kennedy and former Munster rugby player Barry O'Mahony.
The startup aims to make it easier for consumers and SMEs to interact with banks and mobile money networks, providing a transparent, low-fee service that allows users to take control of their financial lives.
Users get a no-fee current account, low-cost payments, bill pay, and loans.
The lender leverages the proprietary data generated by customers to offer credit products and generate revenue where customers can receive and repay credit products through their mobile phones.
Umba CEO Tiernan Kennedy said: "It's a fantastic opportunity we have been given to bring Umba to the Kenyan market.
"It's been an extremely challenging and lengthy process to make this acquisition but the ability to stand on our own two feet and grow the bank into a serious player in the market is absolutely worth it."
The fintech has the backing of leading VC investors, including Lachy Groom, Lux Capital, Palm Drive Capital, and strategic angels such as Monzo founder Tom Blomfield and executives from NuBank.
Chandaria Capital has also invested in the bank and strongly supported the Kenya launch.
"Kenya needs a great digital bank to offer the services that customers want, without the massive fees they have been paying to the legacy players.
"The winners here will be who provides the best services and we're confident in our Team's ability to deliver," Kennedy said.
Valentine: Access Bank Unveils "Love is More" Campaign For Customers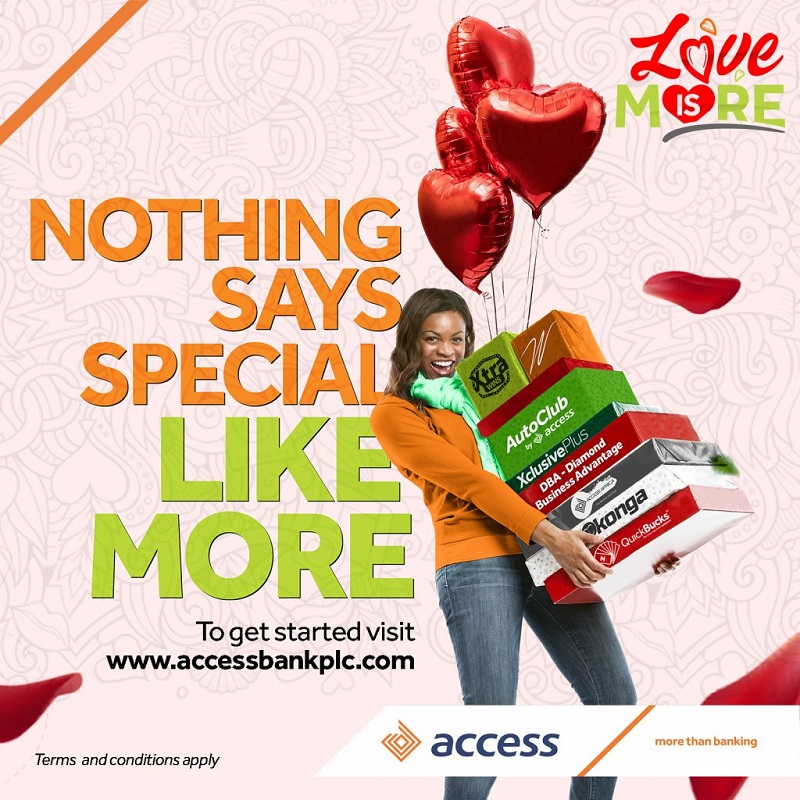 Customers of Access Bank are in for a treat this Valentine season, as the retail giant is offering several discounts and mouth-watering freebies on its retail products and services to celebrate customers in this season of love.
Tagged "Love is More," the Valentine season campaign will run from February 1 through March 11, 2023.
Throwing more light on the new campaign, Access Bank Senior Retail Advisor, Retail Banking, Robert Giles said "Valentine season provides us with another opportunity to demonstrate our love and appreciation for our customers for the years of loyalty and support for the bank.
"We are using this opportunity to thank our customers for their commitment to Access Bank. We value our customers and non-customers who rely on our services and products to conduct seamless banking activities, and we wish everyone the best of this season."
Group Head, Consumer Banking, Access Bank, Njideka Esomeju, said, "In the spirit of the season of love, we have unveiled several amazing offers to appreciate our customers during this month of love. Our customers who sign up for the XclusivePlus annual plan this month of February will not only receive a 10GB of data to share great moments with loved ones but will also get a 10 per cent discount off their total purchases on Konga.
"Small and Medium Scale Enterprises (SMEs) who open a Diamond Business Advantage Account (DBA) and grow their balance to N1, 000,000 (DBA Trader Lite and DBA Basic) or N5, 000,000 (DBA Growing to Prestige) and perform at least 2 transactions on the AccessMore app before February 28 stand a chance to win a free business protection bundle, a gift box, or a one-month fee waiver.
"This season, when our women use their "W" branded debit card at Beacon Health Diagnostics, they will receive a 20 per cent discount on cervical cancer screening. Ladies, you can get your "W" debit card today from any Access Bank branch close to you.
"Customers who transact five times every week this February on AccessMore or *901# will qualify to win a N500 top-up on *901# and N1000 worth of data on AccessMore. In addition, we will provide our customers with free vehicle registration when they acquire a brand-new or pre-owned vehicle from one of our registered dealers nationwide.
"Our salary account holders with Access Bank are not left out, as they can access a bouquet of loan offers and enjoy a 5per cent interest rate reduction in the first month of the loan repayment. We are offering these and so much more to show how much we appreciate our customers' consistent patronage."
Access Bank advises customers willing to join the reward train to dial *901# or download and log onto the accessmore app to open a new account.
They can also visit any Access Bank branch near them to reactivate their account, and then start transacting immediately to enjoy the Valentine season campaign benefits.