AFG Launches 2022 Africa@Scale Summit In Cape Town
Call For Registrations to Attend 4th Edition of Africa@Scale Summit in Cape Town, South Africa Officially Opens
AFG (Africa Foresight Group), the tech talent platform with the largest network of freelance consultants in Africa, has officially announced the launch of its 4th annual Africa@Scale Summit for 1 – 2 December 2022.
To be held at the Mount Nelson Hotel in Cape Town, South Africa, this year's exclusive event brings together visionary business leaders from across Africa to forge strategic connections and innovative strategies, which will be leveraged to pursue global growth opportunities from the continent.
With the Africa@Scale Summit initially launched in 2019, previous editions have featured a number of Africa's leading business figures as speakers including Aliko Dangote, Herbert Wigwe and Dr. Obiageli "Oby" Ezekwesili.
This year's theme is entitled 'Reconstructing The Future' and will be uncovering emerging trends and ideas that can generate massive value for Africa.
It will also feature a host of curated conversations about the future positioning of African people and businesses in the world with honoured participants including Kuseni Dlamini, Chairman of Massmart Holdings and Aspen as well as Moky Makura, Executive Director of Africa No Filter.
Yasmin Kumi, Founder and CEO at AFG, says "With the dynamics of economic and political power shifting by the hour across the globe, we are living in unprecedented times and Africa's position in the world is constantly evolving. For the continent's business leaders, there is little time for much-needed reflection and strategy on the long-term implications of these changes on their companies.
"However, through this year's edition of Africa@Scale, we're providing an open forum for these leaders to form strong partnerships and exchange ideas on not only how African businesses can accelerate the pathway towards economic recovery, but also establish catalytic, long-term growth which will power the continent forward for years to come."
Rasheeda Seghosime, Co-Founder and COO at AFG, adds "This year, we're prioritising thought-provoking and purposeful interactions on a range of topics including Africa's representation on the Fortune 500 list, the global positioning of locally produced goods and the continent's portrayal in international media. Our goal is for all our attendees to establish strong personal connections with each other and key action points for their 2023 business agendas."
Over the last four years, Africa@Scale has become a leading forum for high-level African leaders, investors and policymakers to find innovative pathways for top companies from the continent to develop into global champions and strengthen the positioning of African people.
This will be the first in-person edition of the Summit since the global pandemic in 2020.
Launched in 2016, AFG is spearheading the future of freelancing through its proprietary, ML-powered tool 'Peralta' – a digital market network training top consulting freelancers and intelligently connecting them with businesses to accelerate growth in emerging markets.
With its clients including leading African companies, investment funds and development agencies, the startup plans to create over 250,000 jobs in an estimated $175bn global market.
2022 E-Waste Dialogue: ITREALMS, EPRON, Ecofeld Collaborate On Small E-Waste Collection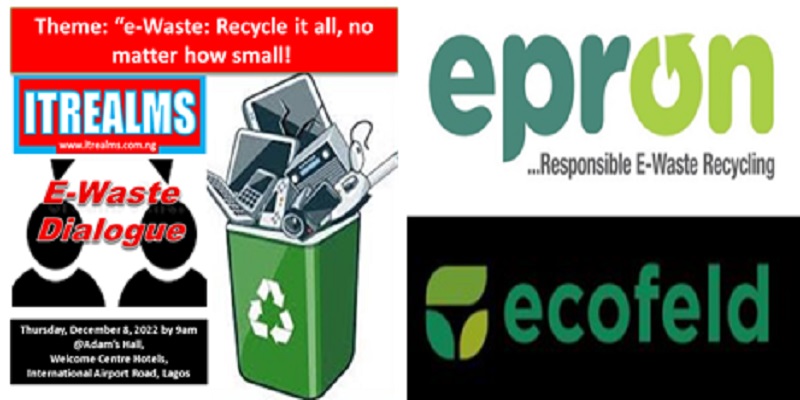 The management of ITREALMS Media is partnering E-waste Producer Responsibility Organization of Nigeria (EPRON) and Ecofeld Nigeria Limited, for a day-long collection scheme of small electronic waste on Thursday, December 8, 2022.
The event is part of the activities marking the 2022 ITREALMS E-Waste Dialogue in commemoration of the 2022 International E-Waste Day (IEWD) with the theme "e-Waste: Recycling it all! No matter how small" billed to hold at Welcome Centre Hotels, International Airport Road, Lagos.
Group Executive Editor, ITREALMS Media, the organisers of the 2022 ITREALMS E-Waste Dialogue, Mr. Remmy Nweke, who disclosed this, encouraged mobile device enthusiasts to come along with their devices that have reached their end-of-life to the venue for proper disposition by professionals who would also be on ground to address some topical issues.
He said, the collection of small electronic wastes especially mobile phones and like-devices, would be carried out by EPRON member organisation, Ecofeld Nigeria Limited as facilitated by ITREALMS Media group as part of this year's ITREALMS E-Waste Dialogue on Thursday, December 8.
The exercise, he also said, would commence at Welcome Centre Hotel by 9 am till the close of work hours the same day.
Nweke revealed that the collection of small e-waste items would include mobile phones, pointers mouse, earpieces, rechargeable torches, and phone chargers, to name a few.
He further said that this initiative has become expedient because some people may have missed the earlier opportunity in October and since this awareness on e-Waste has to be continuous, ITREALMS came up with this scheme.
Nweke enjoined Nigerians especially mobile phone users to leverage the opportunity in disposing of their mobile devices they no longer use, of course in exchange for a voucher or gift item.
Reacting to the collaboration, EPRON Executive Secretary, Mrs. Ibukun Faluyi, described the initiative as a great idea, capable of deepening the collection of end-of-life devices for proper disposition.
She also urged Nigerians to take advantage of this opportunity being made available by ITREALMS Media.
Faluyi recalled that last October, EPRON partnered with SLOT alongside some UN agencies for the collection of small e-waste items in Lagos, including the United Nations Information Centres (UNIC), United Nations Industrial Development Organization (UNIDO), International Labour Organisation (ILO), Lagos Waste Management Authority (LAWMA) and Lagos State Environmental Protection Agency (LASEPA).
Meanwhile, the Director-General of the National Environmental Standards and Regulations Enforcement Agency (NESREA), Prof. Aliyu Jauro, has been confirmed as the keynote speaker at the 2022 ITREALMS E-Waste Dialogue slated for Thursday, December 8, in Lagos.
Appzone Rebrands To "Zone"
–To Power Global Payments With Its Regulated Blockchain Network
–Zone becomes Africa's first Layer-1 Blockchain infrastructure and protocol with a focus on enabling payments and acceptance of digital currencies.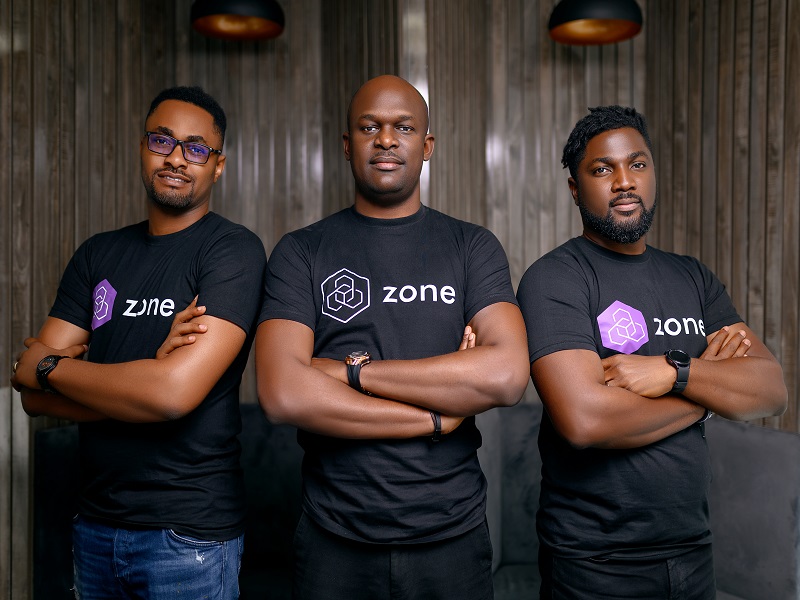 Appzone, one of Africa's leading Fintech Software Providers, has rebranded to "Zone", a regulated blockchain Payment Infrastructure company.
By building Africa's first layer-1 blockchain network, Zone will enable payments and the acceptance of digital currencies for Financial Service Providers globally.
Zone's regulated blockchain network enables direct transaction flow between financial service providers without an intermediary, bringing reduced transaction costs, instant dispute resolution, and absolute reliability across Africa's payment borders and beyond.
As part of its evolution, Appzone is pivoting from its cloud-based SaaS infrastructure to offer payments processing services that support both fiat money and digital currencies, with the intention to enable a hybrid interim period in finance where TradFi and DeFi will coexist seamlessly.
In the case of fiat payments, Zone connects some of Africa's most prominent Banks and Fintechs within and across countries and utilises a native stable coin to provide real-time settlement for cross-border transactions.
In 2022, Zone was issued a 'payment Switching and Processing Licence' by the Central Bank of Nigeria, making it the first payment infrastructure company based on Blockchain to be licensed in Africa.
Following the rebrand, Appzone's Banking-as-a-Service business has been carved into a separate standalone company, known as Qore, so it can continue serving existing clients and growing the SaaS platform's reach.
This new standalone business will be led by some members of its elite leadership team, including Emeka Emetarom, Co-founder & Executive Director of Appzone and Mudiaga Umukoro, Co-founder & CEO of Appzone's subsidiary, Appzone Core.
Appzone's products currently process over $2 billion annually for 500+ banks, Fintechs and MFIs in seven countries – this includes payments processing for six of Africa's top 25 banks.
Speaking on the rebrand, Zone Co-founder and CEO Obi Emetarom said, "We have led Africa's fintech sector in global firsts for over a decade. At Appzone, we launched the first core banking and omnichannel software on the cloud as well as the first multi-bank direct debit service based on single global mandates.
"With this transition to Zone, we are utilising the power of blockchain technology to connect every monetary store of value and enable reliable, frictionless, and universally interoperable payments. In doing this, we are building one global network to pay anyone through any means, in any currency, which will ultimately maximise financial inclusion and accelerate economic prosperity for Africa and the rest of the world."
Co-founder and CTO for Zone, Wale Onawunmi, added, "At Zone, we've always been early adopters of innovative technology with the potential to transform industries – in this case, the finance industry.
"Our next-generation decentralised payment technology, which is the first of its kind, will challenge the status quo and become the future of payments for the world. We are encouraged by the pace of adoption we have seen so far and remain passionate about enabling financial services providers to reach their full potential."
According to the United Nations, Africa's population will grow to approximately 1.7 billion in 2030, with a potential for $91 billion in cross-border payments and a retail value of over $1.5 trillion.
But at an $8.97 fee per transaction, cross-border payment within sub-Saharan Africa still has one of the most expensive remittance structures. In addition, beneficiaries typically cannot have value delivered instantly to their Bank accounts or mobile wallets.
Zone's Layer-1 blockchain network will allow payments initiated from one country in one currency to be received instantly in another country and currency at a fraction of prevailing costs.
Blockchain is a digital ledger of transactions that provides users with traceability and security without the need for middlemen. Using blockchain, Zone is working on completely digitising and decentralising payments, thereby paving the way for a cashless society where payments transcend borders.
Formerly known as Appzone, the Google for Startups Accelerator alumnus, now known as Zone, is on a mission to connect every monetary store of value using blockchain.
MDXi Appolonia Achieves Tier III Constructed Facility Certification (TCCF)
-Now Most Certified Data Centre in Ghana
-With this new milestone, MDXi Appolonia becomes the leading data centre provider in Ghana with the top 4 certifications in the industry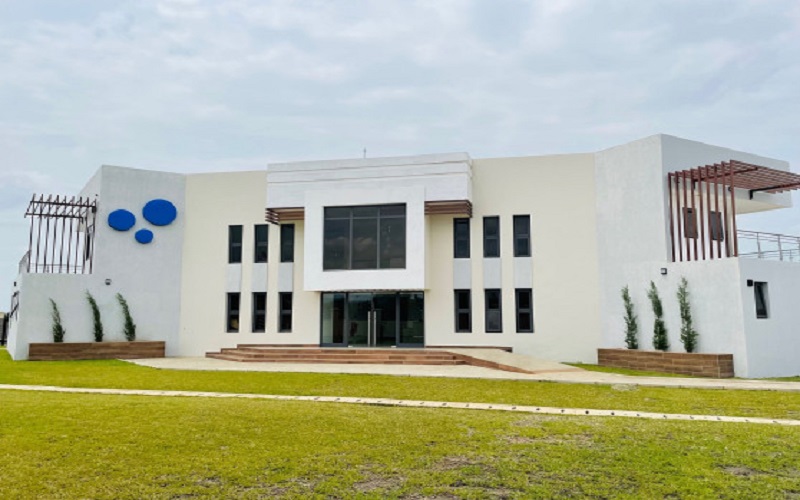 MDXi Appolonia, the data centre subsidiary of MainOne, an Equinix company in Ghana, has just received its Tier III Constructed Facility certification (TCCF) from the Uptime Institute.
With this new milestone, MDXi Appolonia becomes the leading data centre provider in Ghana with the top 4 certifications in the industry; the Tier III Constructed Facility certification, TCCF; the PCI-DSS certification which certifies the Data centre to process payment card information; ISO 27001 and ISO 9001 certifications which assures information security and quality management at the MDXi Appolonia Data Centre.
This further reinforces MDXi's position as the leading data centre provider in West Africa.
The MDXi Appolonia facility received this TCCF following onsite testing by the Uptime team and is a progression from the Tier Certification of Design Documents (TCCD) that was issued by uptime following the review of designs of the facility during construction.
"MDXi Appolonia Data Centre receiving this certification just a year after launch provides assurance of the quality of the data centre infrastructure and ability to manage disruptions even under unprecedented circumstances," stated Emmanuel Kwarteng, Country Manager, MainOne Ghana.
The data centre which features private data centre suites, enterprise-grade 24×7 multi-level security and video surveillance, precision cooling, safety and fire suppression systems with multiple redundancies built into the power, cooling and security infrastructure has maintained 100% uptime since launch and is managed by highly trained, best-in-class engineers operating from a state-of-the-art Operations Centre matching international standard.
MDXi Appolonia data centre offers open access connectivity options to all the leading telecom networks in Ghana and direct access to MainOne and other submarine cable systems.
It offers access to various Internet Exchanges including the GIX (Ghana), IXPN (Nigeria), LINX (London), DECIX (Frankfurt/Lisbon), and Cote d'Ivoire Internet Exchange (CIVIX), as well as the West Africa Internet Exchange (WAF-IX).