(APPLY): NCC Invites Proposals For Telecoms-Based Research Innovation 2020
……Proposal Open To Academics In Nigeria Tertiary Institutions
Nigeria's telecoms regulator, the Nigerian Communications Commission (NCC), is inviting proposals from academics in tertiary institutions that have feasible research ideas, capable of replacing or enhancing foreign technologies in the country's telecommunications industry.
The Commission said in a Request for Proposal released on Friday and signed by Prof. Umar Garba Danbatta, Executive Vice Chairman of the NCC that it is envisaged that the initiative will help build capacity in the tertiary institutions and promote Nigeria's contribution to the pool of technologies in use in the communications industry.
"The Nigerian Communications Commission, the Regulator of the telecommunications industry in Nigeria, supports amongst other things, telecommunications-based innovations and research from tertiary institutions in the country that are practical, locally realizable and have the clear potential of developing the telecommunications industry.
"Pursuant to this objective, the Commission invites proposals from academics in tertiary institutions that have feasible research ideas, capable of replacing or enhancing foreign technologies in the telecommunications in Nigeria," the NCC said in the Request.
Areas of Research
The Commission listed the areas of Research to include: Innovative clean energy Technology; 5G deployment in Nigeria; IoT Low Power Wide Area Network (WAN) Technology; Advanced method of Quality of Service (QoS)/Quality of Experience Management and test mechanism; and Monitoring and localisation of drones.
Requirements
Interested researchers are required to submit their proposals which must among other things, come from teaching Academics in Nigeria's tertiary institutions; and have a one-page executive summary of the research proposal to include the relevance of the research to the telecommunications industry, deliverables, novelty of the concept, methodology, team experience, project timeline and detailed cost schedule.
Evaluation Criteria
The NCC noted that the criteria for the evaluation of the research submissions include the following: The area must fall within the specified areas of research; Adherence of proposal to stated requirements above; Novelty of the research proposal (comprehensive literature review to bring out clearly the novelty of the research); and Clear statement and explanation of the problem.
Criteria for the evaluation will also include a Proposed solution to the problem; Proposed approach and methodology; Each project including prototype development must be concluded within 2 years; and the project cost should not exceed a maximum of twelve million naira (N12, 000,000.00) only. (The Commission reserves the right to review this maximum amount).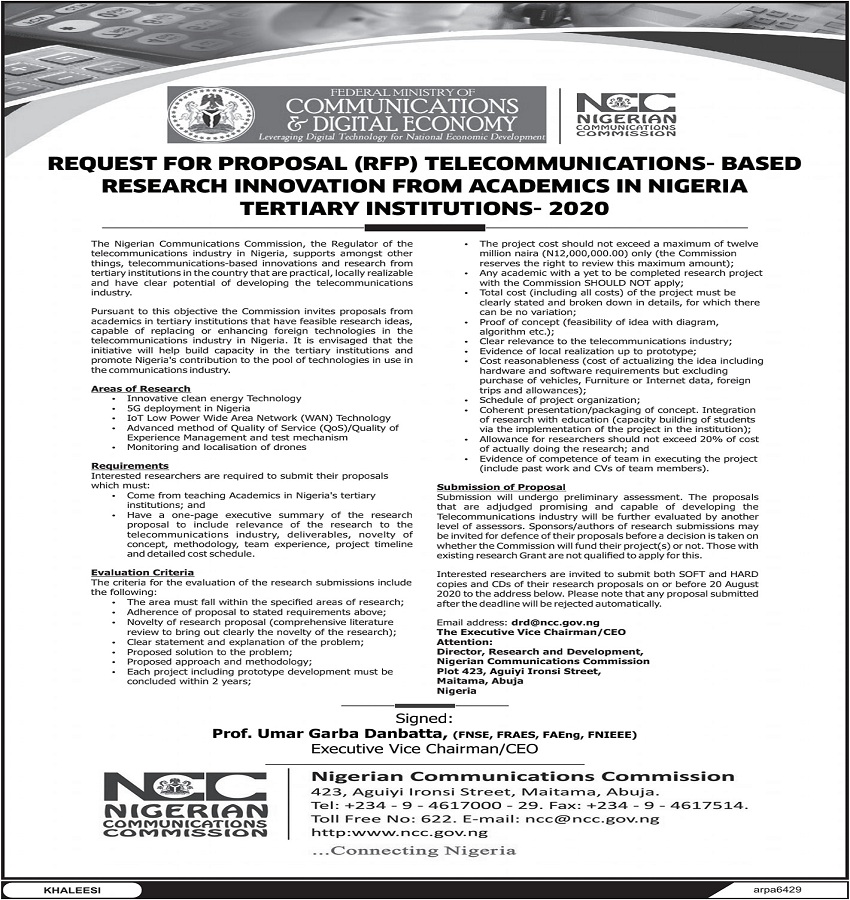 Furthermore, any academic with a yet to be completed research project with the Commission should not apply; Total cost (including all costs) of the project must be clearly stated and broken down in details, for which there can be no variation; Proof of concept (feasibility of idea with diagram, algorithm etc.); Clear relevance to the telecommunications industry; and Evidence of local realization up to prototype.
The criteria will also include Cost reasonableness (cost of actualizing the idea including hardware and software requirements but excluding purchase of vehicles, Furniture or Internet data, foreign trips and allowances); Schedule of project organization; and Coherent presentation/packaging of concept. 
It will also include the integration of research with education (capacity building of students via the implementation of the project in the institution); Allowance for researchers should not exceed 20% of the cost of actually doing the research; and Evidence of competence of the team in executing the project (include past work and CVs of team members).
Submission of Proposal
The NCC noted in the Request for Proposal that submission of proposals will undergo preliminary assessment, stating that the proposals that are adjudged promising and capable of developing the Telecommunications industry will be further evaluated by another level of assessors.
"Sponsors/authors of research submissions may be invited for the defence of their proposals before a decision is taken on whether the Commission will fund their project(s) or not. Those with existing research grant are not qualified to apply for this," the NCC said in the Request.
The Commission asked interested researchers to submit both SOFT and HARD copies and CDs of their research proposals on or before 8 September 2020 to the address below:
Email address: drd@ncc.gov.ng
The Executive Vice Chairman/CEO
Attention:
Director, Research and Development,
Nigerian Communications Commission
Plot 423, Aguiyi Ironsi Street,
Maitama, Abuja
Nigeria
The NCC warned that any proposal submitted after the deadline will be rejected automatically.
Tizeti Rolls Out High-Speed 4G LTE In Edo State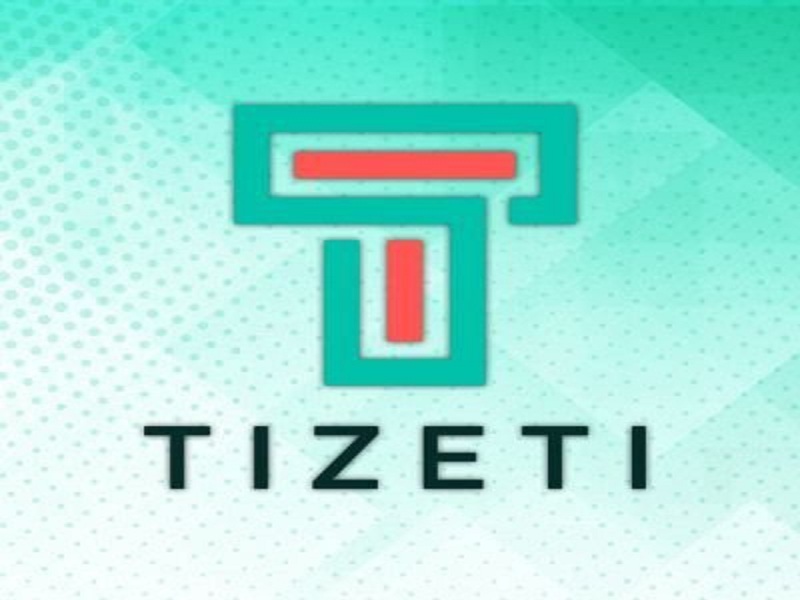 As part of its commitment to ensuring access to affordable broadband connectivity in Africa's underserved populations, Tizeti, West Africa's pioneer solar-based internet service provider is rolling out its 4G LTE network in Edo State, with monthly fixed broadband costs pegged at N4000.
With this move, millions of people in Edo State previously outside the broadband envelope can now take advantage of high-speed broadband internet from Tizeti.
Chief Executive Officer of Tizeti, Kendall Ananyi, while announcing the rollout of its new low-cost unlimited 4G services in Edo, said that this 4G broadband internet will empower more Nigerians in Edo State, stimulate economic activities and provide unlimited access to affordable and reliable broadband services as well as complement the Edo State Government's efforts in driving investment promotion and building a robust technology ecosystem in the state.
"Rolling out 4G LTE broadband internet in Edo at the cheapest fixed broadband prices in Nigeria, and possibly Africa is a strategic decision for us. We have been building brand-new, solar-powered, 4G-capable towers in Edo, starting with Benin City, which leverages Edo State's expansive fibre-network built by some of our partners, MainOne and Facebook.
"Edo State has a large population of vibrant, young people and a high number of higher institutions, which provides a foundation for a robust and thriving ecosystem to enable digital leadership.
"And the Edo State Governor, Mr Godwin Obaseki, is implementing reforms in investment promotion and determination to build a robust technology ecosystem in the state, with an agenda that prioritizes Information Communication Technology (ICT)-compliant pedagogy in primary schools, improves digital skills for students and graduates and revamps technical education to increase productivity.
"This has created a perfect environment for us to roll out our low-cost broadband service, starting in Edo State, but with plans to expand across the country over the next few months," Ananyi said.
Corroborating Ananyi, Tizeti's Chief Operating Officer, Ifeanyi Okonkwo, states, "The launch in Edo State is personal to us as founders of Tizeti because we are alumni of the University of Benin. At 4,000 Naira monthly costs with a one-off installation cost of 4,000 Naira, we believe the plan is affordable, especially to undergraduate students.
"This provides a huge opportunity for people in Edo to benefit from unlimited broadband internet for use in online learning, eCommerce and entertainment, especially interactive games, video consumption, and music."
Tizeti currently has 1.7 million unique users, with broadband services which include a new Skype-like personal and business enterprise communications service — WiFiCall.ng, and access to video streaming sites and services.
9mobile Appoints New CTO, Deputy CTO, And Director Of Strategy
Nigeria's telecommunications giant, 9mobile, has announced a new Chief Technical Officer (CTO), Deputy Chief Technical Officer, and Director of Strategy within its Senior Management team.
The company said in a statement on Monday that Juergen Peschel has been appointed as the New CTO, Baqi Salihu, Deputy CTO, and Karn Gulati as Director of Strategy.
As CTO, Peschel, an experienced professional with an international executive track record within the IT, Managed Services & Telecommunications Industry, including expertise in a wide variety of industry verticals and markets, will oversee the evolution and integration of the company's technical functions.
Peschel has over 25 years of extensive international and operational experience as a technology and business leader.
Over the years, he has led Information Technology teams, built VAS Services, IP, and transport networks for Vodafone across all European markets, and engaged with emerging markets across the world for subsea, carrier, and satellite services.
He successfully launched the mobile payment service, Mpesa in Kenya.
As Deputy CTO, Salihu will support the CTO to drive technology decisions in line with current trends and align the technical and transformation initiatives of 9mobile.
A seasoned professional with over 18 years of Mobile Telecoms Engineering, Operations, RF Planning & Optimization and Digital Services experience, Salihu led the Network QoS and Support Department of 9mobile as the Director Network Quality of Service since June 2018.
Salihu who joined 9mobile in December 2008, executed the LTE re-farm solution using 1800MHz spectrum, achieving wider mobile broadband coverage, slashing the number of sites, and reducing carbon emissions while ensuring high-quality data service.
This project significantly reduced TCO, enhanced users' mobile broadband quality of experience, increased brand value for 9mobile while saving about $152m in spectrum fees.
Gulati, the new Director of Strategy, will be responsible for developing strategic, tactical, and operational initiatives.
He is a long-serving Management Consultant with over 12 years of experience in the telecom and technology sector.
He has led Advisory services teams focusing on Telecom, Media & Technology (TMT) industry and has worked across India, Africa, and South East Asia for various telecom clients.
Gulati also took a break and founded a tech & food start-up during his entrepreneurial stint for three years.
His accomplishments include programme management of large-scale projects, achieving operational excellence with digitization and process engineering, customer strategy, and greenfield launches.
In their roles, the trio will lead decisions in line with current trends and strategic vision within their respective areas and will provide hands-on leadership in ensuring that the 9mobile plans are fully aligned and structured to deliver its business goals.
Commenting on their appointments, Chief Executive Officer, 9mobile, Alan Sinfield said: "9mobile remains fully committed to executing its business strategies with the help of a high-performing team of dedicated, hardworking employees.
"The collective knowledge, expertise, and experience that Juergen, Baqi, and Karn bring to the Organisation further strengthen our business. It reinforces our position at the forefront of delivering excellent products and services to over 13 million customers.
"These promotions continue to consolidate the leadership of our Organisation and are evidence of the great career opportunities that employment with 9mobile offers."
NCC Dispels Rumours Of Mass Disconnection Of Telephone Subscribers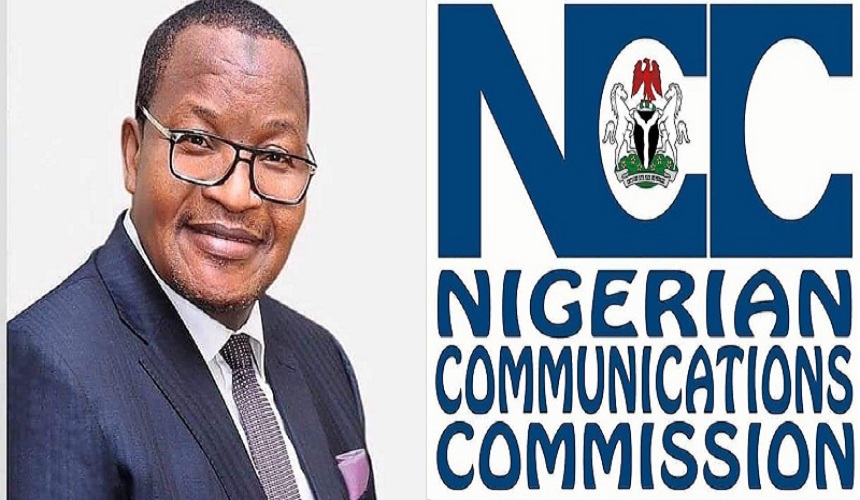 The Nigerian Communications Commission (NCC) has said that its attention has been drawn to numerous publications in both print and electronic media regarding the unfounded fears of mass disconnection of telephone subscribers as a result of the ongoing linkage of SIM Registration Records with the National Identity Number (NIN).
The Commission said in a statement signed by its Director of Public Affairs, Dr Ikechukwu Adinde that it was necessary for the Commission to make clarifications in this regard in order to allay the fears of subscribers and the general public.
According to the NCC, "Most of these publications are based on the erroneous assumption that for every network or SIM connection, there is one unique human subscriber.
"However, with the advent of social media and App-driven digital environment, network subscription went beyond human subscribers to include machines like PoS, Routers, Wi-Fi devices, electricity meters, CCTV, tracking devices etc."
The NCC recalled that in a recent survey conducted in Nigeria, it was evident that on average, there are now approximately 4 to 5 SIMs to every human subscriber, explaining the basis of allowing the linkage of up to 7 SIMs to 1 unique NIN in the recently launched Federal Government Portal.
"Thus, if there are 43 million Nigerians with NINs, this could account for about 172 million SIMs already linked to NINs. It is very important to emphasize that the current exercise of linking NIN to SIM(s) is for the common good of all Nigerians, as it has far-reaching benefits," the NCC said in the statement.
It noted that apart from enhancing the general safety of the people, this will help in such vital exercises like National Budgeting, Policy Planning, Social Intervention programs and many more.
It further stated that the Honourable Minister of Communication and Digital Economy has assured that the Government will continue to review the exercise in the light of experiences to ensure its smooth implementation.
"We call on all our media partners, publishers and reporters to always endeavour to seek clarification from the Commission before going to the press, especially on sensitive issues," the NCC said in the statement.