Danbatta Highlights Place Of Broadband In Addressing Nigeria's Socio-Economic Challenges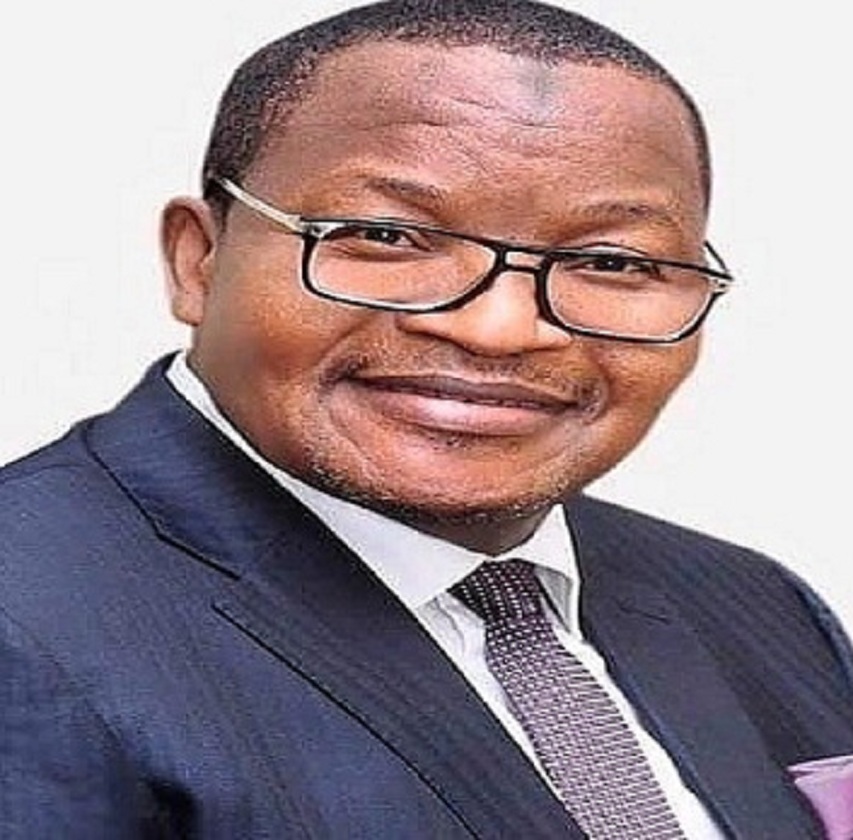 Executive Vice Chairman of the Nigerian Communications Commission (NCC), Prof. Umar Garba Danbatta Thursday, June 4, 2020, reechoed the importance of broadband availability in Nigeria's effort at building a sound digital economy saying that it will be used to address the country's socio-economic challenges.
Speaking in a virtual meeting with the theme: Socio-Economic and Political Impact of COVID-19 on Telecom and ICT Sector in Nigeria, organized by the Association of Telecommunication Companies of Nigeria (ATCON), Prof. Danbatta stated that broadband played a major role (and is still playing) in containing the effects of the COVID-19 pandemic.
"Broadband is facilitating the provision of palliatives in this era of COVID-19. It is helping people work remotely, and it is helping in the online distance education programmes of educational institutions," Danbatta said.
The EVC said in readiness for a post-COVID-19 Nigeria, the telecoms sector is poised to provide affordable, accessible and available broadband services to Nigerians, and reiterated NCC's commitment to the actualization of this.
"Broadband will be used to streamline transportation. It can be leveraged on to better manage our environment. It will also be used to address our socio-economic challenges," he said.
Prof. Danbatta noted that some of the exciting developments and unprecedented changes in the telecoms sector, such as the harmonization of the right-of-way charges in some states and the recent approval by President Buhari of telecom-facilities as Critical National Infrastructure, attest to the values attached to telecom services in the country.
While thanking the President Buhari-led administration for listening to the cries of telecom services providers by issuing a directive for the protection of telecom facilities as Critical National Infrastructure, the EVC said the stage is now set for the era of telecom services to thrive.
He said that the post-COVID-19 era calls for reevaluation and reassessment of the services being provided by telecom service providers as the demand for their services will be huge after the pandemic.
In response to some questions by Mr. Olusola Teniola, President of the Association of Telecommunication Companies of Nigeria (ATCON), Prof. Danbatta admitted the congestion issues and inadequacies in the telecoms sector but commended telecom operators for the wonderful services they are rendering to Nigerians amid the COVID-19 pandemic.
"It is now clear that with the congestion in the networks and inadequacies in the sector, there is an infrastructural deficit in the country. We, therefore, need to move fast, roll out fast and close the gap by providing infrastructure through the licensed InfraCos.
"We have done a lot in this regard. All is now set for the InfraCos to-roll-out services across the country. Soon the Honourable Minister will announce the kick-off of the projects.
"We are making a statement that finally, this country is ready to provide robust telecom services. We want to prove that we are a country that has deployed fibres without borders.
"This is the time for leveraging the redundancies in order to contain the challenges of network congestion. By network redundancies, I mean infrastructure redundancies," Danbatta said.
Smile Offers Customers Free Streaming Data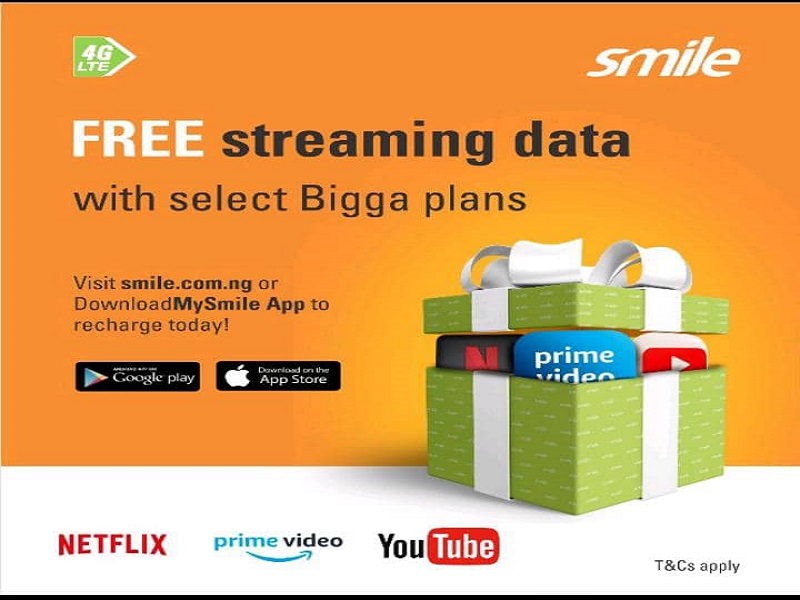 Smile Communications, Nigeria's foremost and leading mobile broadband provider has introduced a new offer to its teeming customers.
The new offer allows for FREE Streaming data for consumers to stream their favourite content on YouTube, Netflix, and Amazon Prime Video absolutely FREE.
Abdul Hafeez, Chief Marketing Officer, Smile Nigeria, said of the offer, "We are giving our customers so much more when they purchase any of our select Bigga plans with FREE streaming data, so they can have fun engaging with their favourite entertainment and social media services for longer."
All Smile customers who recharge a Bigga plan, from 1.5GB to 20GB, priced from N1,000 to N5,000, will get an additional 3GB to 5GB FREE streaming data to use between 11 pm and 6 am on YouTube, Netflix, and Prime Video.
Smile said in a statement that with this offer, consumers get access to FREE Youtube, FREE Netflix, and FREE Amazon prime video when they subscribe to any of the select Bigga plans from Smile.
"We are still a consumer-centric organisation that understands the huge financial responsibilities associated peculiarly with the first quarter globally and want to cushion these effects with extra value for our consumers while encouraging other Nigerians to get on the Smile network to enjoy this and many other goodies from Smile," Hafeez concluded.
Smile communications led in voice call acquisitions in the past year and are poised to enter new markets, as well as deliver several firsts within the telecommunications operating space as the year progresses.
Industry watchers are of the opinion that Smile is a brand to look out for in 2023.
Buhari Expresses Delight Over Unveiling Of Starlink In Nigeria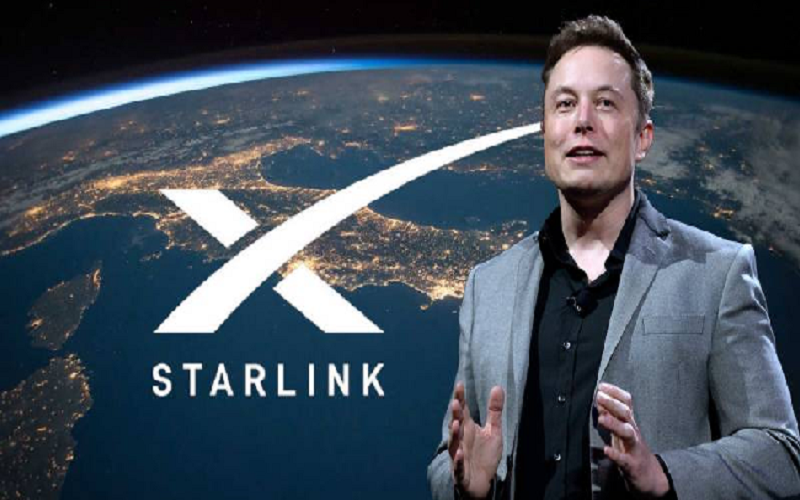 President Muhammadu Buhari has expressed delight over the unveiling of Elon Musk-owned SpaceX's broadband service Starlink in Nigeria.
The President noted that with the commencement of Starlink's operations in Nigeria, the country now has 100 per cent broadband penetration, adding that Nigeria is the first and only African country so far to enjoy Starlink rollout.
The President's position was contained in a post tweeted to his verified Twitter page Thursday night.
"We are delighted that Starlink services have been deployed in Nigeria, making us the first African country — and the only one so far — to enjoy this rollout. With this deployment of Starlink, we now have 100 per cent broadband penetration in Nigeria," Buhari said.
Recall that SpaceX confirmed the deployment of Starlink in Nigeria in a tweet on Monday, stating that Nigeria was the first African country to enjoy its services.
It tweeted, "Starlink is now available in Nigeria – the first African country to receive service."
Starlink seeks to deliver a global broadband network, using a constellation of Low Earth Orbit to provide high-speed internet coverage with the capacity to penetrate rural and geographically isolated areas.
Israel, Italy Record Lowest Mobile Internet Costs
Mobile internet traffic almost doubled in the last eight years, and today, more than 60% of all website traffic comes from people using mobile devices. But, as the global mobile data coverage gap continues to narrow, the price gap remains wide.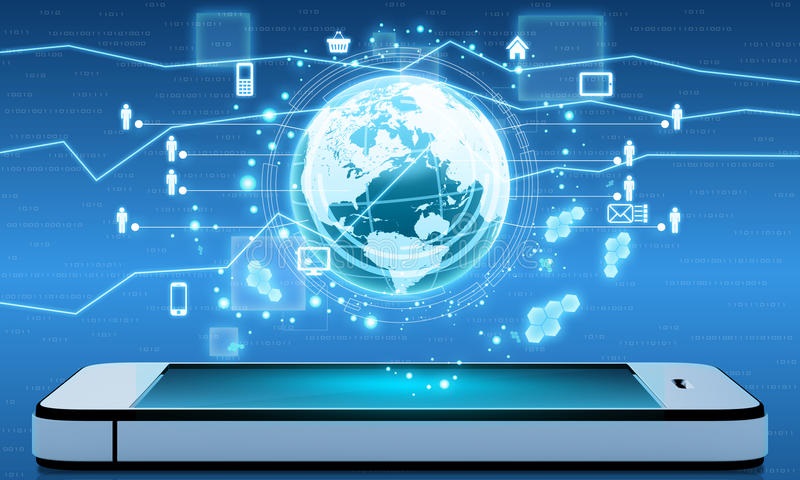 According to data presented by CasinosEnLigne.com, Israel and Italy have the cheapest mobile internet in the world, while Japan, the US, and Switzerland are among the most expensive countries globally.
Many of the cheapest countries have excellent mobile and fixed broadband infrastructure, which allows providers to offer large amounts of data at reasonable prices, reports ITOnline.
In some countries, economic outlooks also dictate the price, which has to remain low so people can afford it.
According to data from the UK-based price comparison website cable.co.uk, which analysed almost 5 300 mobile data plans across 233 countries, Israel has by far the cheapest mobile internet, with one gigabyte of data costing an average of $0.04 in 2022.
Italy placed second in the global ranking, with a low cost of $0.12 per 1GB. India, France, China, and Spain follow, with $0.17, $0.23, $0.41, and $0.60, respectively.
Although six times more expensive than Italy and almost 20 times more than Israel, the United Kingdom ranked somewhere in the middle of this chart with a cost of $0.79 per 1GB.
On the other hand, Japan, the US, and Switzerland have some of the costliest plans among developed countries.
For instance, 1GB of mobile data in the US costs an average of $5.62, which is seven times more than in the UK, 13 times more than in China, and 46 times more expensive than the average cost in Italy.
The price difference in Switzerland is even worse, with the average cost of mobile data being 61 times larger than in Italy and nine times the UK average cost.
Japanese mobile data plans are also much more expensive than in other countries. Last year, 1GB of mobile data in the country cost an average of $3.85, nine times the price the Chinese paid and 16 times the average cost in France.
Regionally, North America is the most expensive overall, with an average cost of $4.98 per GB, way above the global average of $3.12. Statistics show Canada is the most expensive country in the region, with a cost of $5.94, followed by the US.
The average cost of mobile internet in Western Europe was far below these figures. Last year, Europeans paid an average of $2.72 per 1G of mobile data, or 45% less than in North America and 12% less than the global average.
That is still far more expensive than the price seen in Asia, which had an average cost of only $1.47 in 2022.