Econet, Mastercard Collaborate On Fintech Solutions For COVID-19 Response In Africa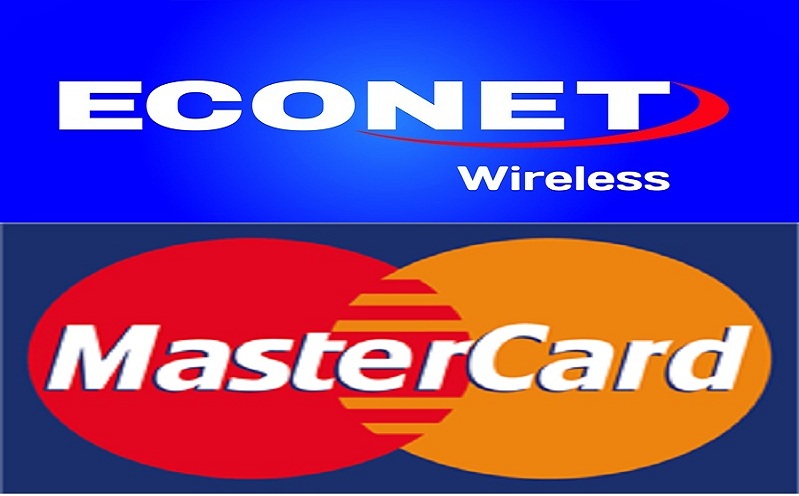 The Econet Group through its subsidiary Cassava Fintech International and Mastercard have entered into a strategic partnership to advance digital inclusion across Africa.
The two will also collaborate on a range of initiatives including the expansion of the Africa CDC TravelPass.
TravelPass is a digital health pass developed by Cassava Fintech and offered in conjunction with the Africa Centres for Disease Control and Prevention (Africa CDC).
It is accessible to users of Cassava Fintech's Sasai SuperApp and is recognized as one of the leading initiatives in the fight against the cross-border spread of Covid-19 in Africa.
Mastercard is partnering with Cassava Fintech to enhance the security of TravelPass through Mastercard's Community Pass platform.
Mastercard Community Pass is an interoperable digital platform facilitating service delivery for marginalised individuals and communities, including access to critical health services like patient care plan tracking for Covid-19.
The joint initiative between Mastercard and Cassava Fintech seeks to offer a unified solution with greater convenience and enhanced security that is expected to promote safe cross border travel in Africa in response to the Covid-19 pandemic.
The partnership will also allow the two organizations to explore collaboration such as the further integration of the Community Pass with Cassava Fintech's mobile and financial services, acquiring and processing of card payments across the continent, along with the introduction of a virtual or physical card on the Sasai SuperApp.
Cassava Fintech's CEO, Darlington Mandivenga said the partnership with Mastercard would pave the way for both companies to jointly tackle the challenges facing African economies as they re-open post the COVID-19 pandemic.
"We are excited to work with Mastercard to explore solutions that will, among other things, mitigate the risk of falsified presentation of a third party's Travel Pass at access and transit points," Mandivenga said, adding that the same technology could also be used in payment solutions.
Cassava Fintech uses an integrated model to provide financial and digital services to ensure a "financially inclusive future that leaves no African behind."
"We look forward to joining hands with Cassava Fintech in exploring new solutions that will make a difference and benefit the continent. In addition to digital innovation for future travel, Cassava will also leverage our secure payments network to advance access to financial services," said Mark Elliott, Divisional President, Southern Africa, Mastercard.
Mastercard is a leading global technology company focused on building an inclusive, sustainable digital economy that benefits everyone, everywhere, by making transactions safe, simple, smart and accessible.
Luno Hits 8m Milestone, Records 1.2m New Customers Every Quarter
Luno, the leading global cryptocurrency company on a mission to upgrade the world to a better financial system, has announced it has hit a major milestone in its growth, with eight million customers (wallets), achieved in just 12 weeks.
This follows an earlier announcement in April after it reached seven million customers in just seven weeks.
With a major surge in customers from 4mn in December 2020 to 5.1mn in May 2021, Africa accounts for Luno's largest user base and the platform's recent figures reinforce the huge appetite for cryptocurrencies across the continent.
Last month, the platform announced it recorded trading volumes of $7bn in Africa alone and installs of the Luno app have soared by 271% on the continent since January 2020.
Marius Reitz, Luno's General Manager for Africa, commented: "Across Africa, we're witnessing a huge wave of retail investors step into the crypto market for the first time and that's potentially due to easier access or the lower minimums required to purchase crypto.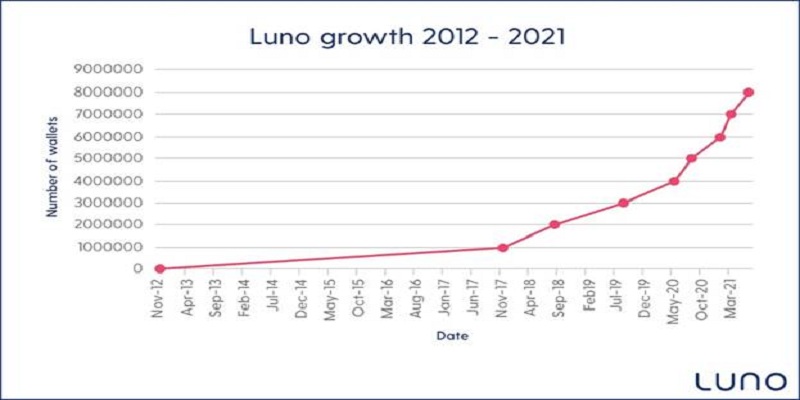 "However, this isn't just a trend that's been taking off in Africa, it's something that's being replicated across all of our emerging markets but what sets the continent apart is a rapidly growing awareness of how crypto could be the ideal solution for Africa's unique challenges."
"Our research last year found 54% of Africans are ready to adopt a global digital currency compared to 41% in Asia and 35% in Europe. This growing demand stems from an understanding that crypto can effectively solve major problems in Africa such as volatile currencies, costly payments and high inflation.
"At Luno, we believe the core utility of cryptocurrencies to address these issues not only has the potential to completely upgrade Africa's financial system but will be a key driver in transforming cryptocurrencies from a niche technology to an essential feature of everyday life for all Africans."
Luno's global business has also grown rapidly due to the simplicity of its online and mobile platforms, offering education, bank-grade security and self-regulation. It is actively working with regulators and banks to safely increase access to cryptocurrencies.
In recent months, the platform has launched a host of new products and features for its global user base. Earlier this year, Luno announced the launch of USDC – arguably the most secure stable coin on the crypto market known as the "digital dollar".
Pegged to the US dollar, it marks a major breakthrough specifically for African users through not only enabling them to hedge against the volatility of local currencies but also delivering an upgrade on the functionality of the US dollar by being faster and easier to move across the world.
In March this year, Luno also launched USDC on its Savings Wallet alongside Ethereum, delivering a fresh opportunity for its users to earn up to 7.6% and 4% interest respectively on both coins.
With Luno users already afforded the opportunity to earn up to 4% on their Bitcoin savings, the launch marked the latest drive from the company to deliver alternatives for customers looking to make meaningful savings on their money.
Polaris Bank Nigeria Unveils VULTe, A New Digital Bank
•Non Customers to Use Platform
•Offers free giveaways on transfers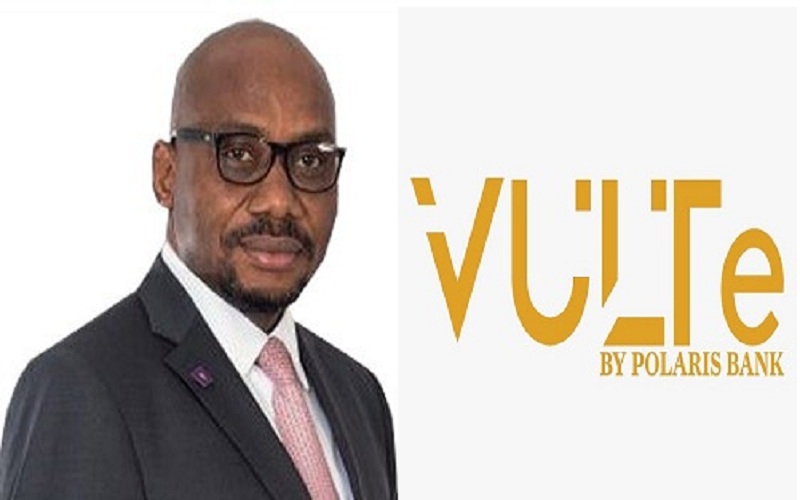 Polaris Bank, one of Nigeria's leading retail banks, has launched a digital bank called VULTe at a well-attended ceremony held in Eko Hotel, Lagos.
Chairman of the Bank, M.K. Ahmad (OON) disclosed that the corporate goal of Polaris is to offer customers and non-customers of the Bank, a 24-hour seamless service using VULTe.
"This is a milestone in our pursuit of a strong and digitally-led retail brand. When we started the Polaris journey almost three years ago, we were very clear on the type of Bank we must build and the direction we must go.
"This was largely informed by the fast pace of change in financial service provisioning and the apparent technology-defined outlook of our business.
"We are, therefore, bringing VULTe to the marketplace today. And this is not another mobile App, but one with a world of difference, a mobile digital bank.
"This is your Bank in your hand, affording you total Control of your financial service needs. With VULTe, you serve yourself, the way you want to be served," the Chairman explained.
Acting Managing Director/CEO of the Bank, Mr. Innocent C. Ike, said the newly-launched banking platform, is returning all powers to the customer as king and noted that customers are now at liberty to enjoy unhindered, contactless and refreshing banking experience all at the tip of their fingers thanks to the newly launched VULTe app.
"With VULTe, we affirm our resolve to serve the customer better and make their banking experience, more pleasurable. Therefore, we will continue to launch an array of banking products to cater to the varying needs of our diverse customers."
Explaining the premium value the Bank places on its customer with the VULTe, Ike said, "Ultimately, VULTe represents our bold declaration to hand over control of banking services to our customers and allow them to serve themselves as they would want to be served.
"As a Polaris Bank customer, you are at liberty to determine your banking experience since we have put the Bank in your hand 24/7. You now have total control to serve yourself; it's no more customer service but customer self-service.
"Are you opening an account, setting limits on your account, verifying your identity documents, registering your biometrics, making inquiries, taking an instant loan? You are in total control – you do it at your time, at your convenience, and on your terms – you determine how delightful your banking experience will be."
The highlight of the launching was the practical demonstration of the uniqueness of the VULTe application by the Bank's Chief Digital Officer, (CDO) Mr. Bamidele Adeyinka to the excited guests.
Adeyinka said, "The Digital Banking Platform, VULTe, will change everything that happens in the 'brick & mortar space (i.e. branches) to clicks and buttons."
Continuing, he stated, "VULTe comes in mobile (Android and iOS) and Web Applications and it allows customers with either of the options, to access banking services at the click of the button."
The CDO explained that all bank customers in the country can take advantage of VULTe to carry out their banking transactions including account opening, bills payments, transfers, balance enquiry, airtime recharge and quick loans.
He further stated that on-boarded customers will be able to access PayDay Loan on both mobile and web digital platform where eligibility will be displayed to the customer within the VULTe application.
Also, onboarded customers will be enabled to pay taxes and levies for different government parastatals in addition to several other benefits such as the ability to perform intra-bank and inter-bank transfers.
"To onboard, customers with BVN will input their BVN and take a selfie (photo of their face) which will be compared automatically with the photo on their BVN profile (via Facial Recognition – an advanced cognitive and artificial intelligence facial recognition technology)," the CDO disclosed.
In the meantime, the bank has also announced special reward packages for early users of the VULTe App.
Reeling out giveaways and free gifts, Mr. Muhammed Abdullahi, Executive Director, Abuja and Northern Region of the bank said, "For your loyalty and positive acceptance of VULTe and all other banking services offered by Polaris Bank, on behalf of the Board, Management and Staff, I'm happy to announce some mouthwatering offers to everyone following us to mark this occasion.
"Consequently, please note that the first 2000 persons who download VULTe from Appstore or Play Store and make a transfer on the platform, stand to win a collection of beautiful mementoes like  Mugs, Michael Cable Charger, Key Rings, Pop Socket among other collection of gifts."
The launch event had in attendance representatives of Central Bank of Nigeria (CBN), key Financial Technology (FinTechs) industry players and strategic partners of Polaris Bank who all in their goodwill messages attested to the bank's unwavering determination to ensuring quality customer satisfaction at all times.
FIS, Flutterwave Unite To Boost eCommerce In Nigeria, South Africa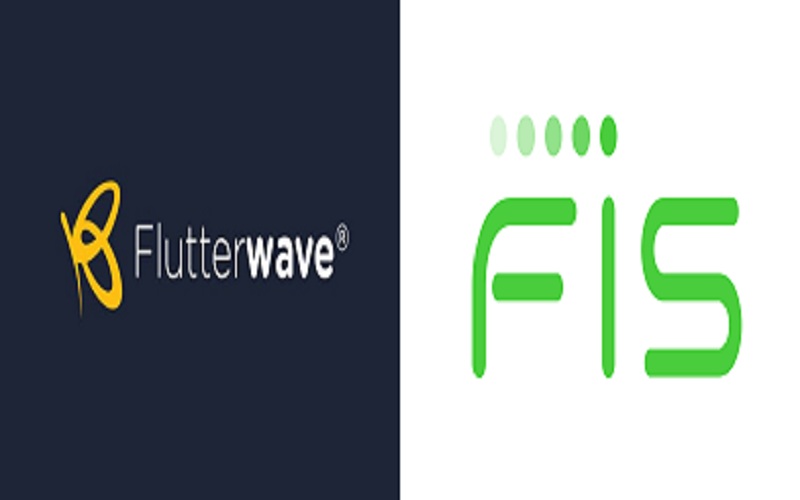 FIS, a financial technology company, has announced that it is expanding its payment processing capabilities into the rapidly growing markets of Nigeria, South Africa and Malaysia in continuation of its efforts at building its footprint as a global acquirer.
In South Africa and Nigeria, FIS is offering domestic payment processing services through its previously announced agreement with the payments technology company, Flutterwave, a 2016 graduate of the FIS Accelerator program.
Through its Worldpay product portfolio, FIS processes billions of transactions annually across 146 countries and more than 300 payments types in 126 currencies.
As part of its growth strategy, FIS aims to enhance its merchant acquiring a presence in additional markets,—enabling the company to offer its world-class payment services to local companies with global ambitions as well as rapidly growing enterprises looking to expand in these regions.
"The COVID-19 pandemic has accelerated the adoption of digital technology and fueled the growth of eCommerce around the world," said Jim Johnson, Head of Merchant Solutions at FIS.
"Emerging markets across Southeast Asia and Africa present fresh opportunities for global businesses. These new markets are also home to a new generation of ambitious high-growth regional brands looking to expand their footprint. Our goal at FIS is to be a true partner to these enterprises, passporting them to success wherever in the world they want to be."
The recently published 2021 Global Payments Report by Worldpay from FIS projected that Malaysia's eCommerce market will increase 71 per cent by 2024, driven by mobile shopping.
Over the same period in Nigeria, online commerce via mobile devices is projected to more than double. In South Africa, the eCommerce industry is projected to be worth $9 billion by 2024 with mobile accounting for a third of the spend.
Merchants doing business in these countries will be able to take advantage of Worldpay's advanced acquiring capabilities which include authorization, clearing and settlement, dispute management and data insights.
Merchants will also benefit from a seamless payments experience through a single point of integration—helping to increase acceptance, improve customer experience, and reduce fraud.
FIS complements its acquiring and payment processing capabilities in these countries with a growing network of regional payments consultants that provide merchants with in-country expertise, helping them tailor their payments offerings to the local audience.
In addition to Africa and Malaysia, FIS has recently added new consultants in Germany, Iberia, the Nordics, and other European locations.
"We understand that payments are personal, and merchants need a local understanding of consumer behaviour to ensure success," Johnson said. "That's why we continue to invest in deepening our global capabilities to support the growth of our merchants and fuel smarter commerce across the world."