#EndSARS: Smile Nigeria Urges Safe Conduct, Introduces New Online Recharge Channels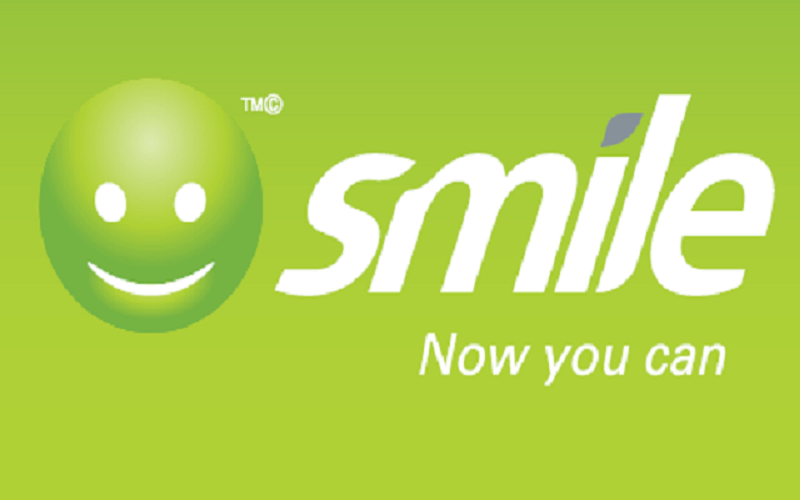 Smile Nigeria has urged Nigerians especially the youths to remain steadfast in their quest for a better society but to always eschew violence.
The company noted in a statement that it is the responsibility of everyone to ensure that peace and progress reign.
It, therefore, reiterated its commitment to be of service to Nigerians at all time.
Towards this end, Smile Nigeria has unveiled different platforms and e-channels through which customers can always recharge.
The platforms include MySmile App, Smilevoice app, Quickteller and a host of other banks e-channels.
To recharge via MySmile app, the customer needs to Launch "MySmile App", Click
"Recharge "at the bottom of the App, Select your preferred mode of recharge, "Data Voice or Airtime", Browse and "Select "your preferred "Data plan, Voice Plan or Airtime Amount", Click "Pay now."
Select your Payment Method via available channels, Enter your card details, 4 digit card PIN and One Time Password, Confirm the successful transaction and View your balance on "Home Screen."
For recharge via website xpresscharge, type www.smile.com.ng on your browser, Click on Recharge, Click XpressRecharge, Select the preferred bundle from the list of available bundles.
Enter a registered email address, click 'Show my Account'  and select account to be recharged then Click on proceed to payment, Enter card details, 4 digit card PIN and One Time Password for payment and Confirm the successful transaction.
To recharge via MySmile, launch  a browser and type www.smile.com.ng/scp, log in with your username, SmileVoice number or email address and password, Select preferred account and Click "Recharge."
For Airtime purchase, select Smile Airtime, Enter  Airtime amount, For bundle purchase, select preferred bundle, Select payment via any of the available gateways, Redirect  Page to complete payment, Enter card details, 4 digit card PIN and One Time Password and Confirm the successful transaction.
For purchase via Airtime, select the amount to be debited, Confirm selected bundle and Make a payment.
To recharge via Smilevoice App, launch Smile voice app and click the three horizontal lines, Select "Recharge", Select the intended bundle to recharge, Type your registered email address with smile and click "submit and go to payment."
Then enter card details, 4 digit card PIN and One Time Password for payment and Confirm the successful transaction.
Quickteller  www.quickteller.com recharge entails typing "Smile" in the Search Bar or Select "pay bills", "Internet services" and "smile", Enter email address, smile account ID and preferred bundle. In the Next page, enter Card details and Card PIN and One Time Password followed by Transaction confirmation.
For those desirous to recharge via Access bank formerly Diamond bank, launch your Diamond bank app, log in with your ID and password and click Continue, Click on the "HOME' symbol at the top left, Select Airtime and Bill Payment.
Select Internet Services, Select SMILE, Click Bundle and continue, Select your preferred bundle, Enter Smile Account number to recharge then Enter PIN then click  continue and you will have the Transaction notification
Customers who prefer to recharge via Guaranty trust bank only need to launch your GT bank mobile app, log in with your ID and password, Select "Airtime and Data."
For Airtime purchase, click Mobile To-Up, Select "Smile" and manually enter "Airtime amount".
For Bundle, select "Data bundles" then Select Smile Account ID and mobile number and click "Continue", Confirm all the details and click "Continue", Enter your GTB app transaction PIN and Transaction notification
To recharge via Paga (www.mypaga.com), log in with your registered credentials (email or phone number), click on "Pay bill or merchant", On select Merchant, Select Smile, Enter your smile account number, select the bundle of your choice/airtime, and your name and click on continue, Click on "pay" and select either to pay via Paga wallet or Mastercard.
For recharge via FCMB MOBILE APP, launch your FCMB " Mobile app", Log in with your "ID and password", Click the menu bar "three horizontal lines" at the top left corner of your screen, click "Pay bills", Select" Internet services", Select "Smile bundles", Select "Debit account" and enter Smile account details, click on the "drop-down arrow" on "Select product", Select your "preferred bundle" and Click on "make payment".
Recharge via UBA mobile app will include the launch of UBA APP, log in with your password, Select PAYMENTS, Select Pay bills, Choose SMILE, Select the preferred Bundle, Enter Smile account Number and Confirm payment with your bank PIN/TOKEN.
To recharge via FIRST BANK MOBILE APP, launch First Bank app, log in with ID and password, Select Pay bills, Select Internet services, Select Smile Bundle, Select bundle of choice and enter Smile account number and submit.
NITDA Supports ASF France On Digital Rights Protection In Nigeria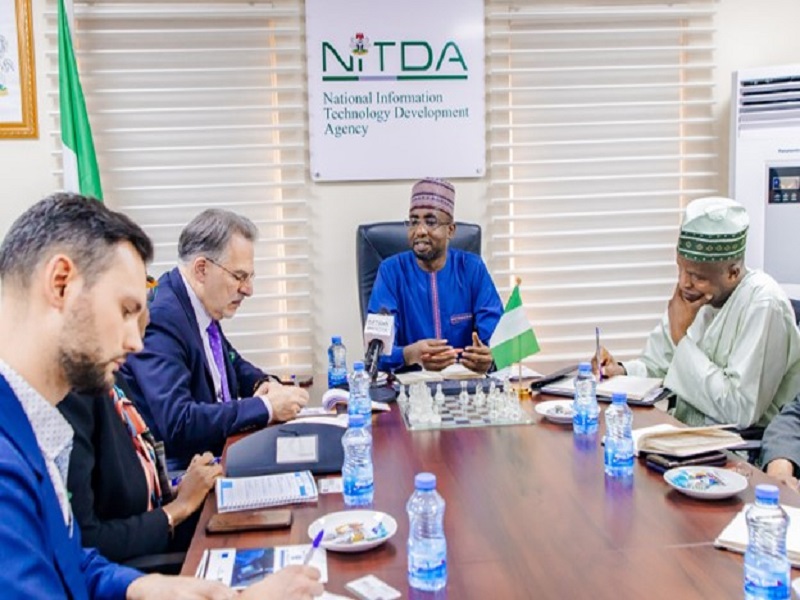 The National Information Technology Development Agency (NITDA) has thrown its weight behind the Avocats Sans Frontiers (ASF) France, on its move towards enhancing digital rights in Nigeria.
Formally known as the e-RIGHTS, the project also enjoys the support of the European Union which also tallies with one of the pillars of the National Digital Economy Policy and Strategy (NDEPS), aimed at achieving a safer cyberspace.
Director General of NITDA, Kashifu Inuwa, while welcoming the delegation led by Ivan Paneff in his office, affirmed that regulations need to evolve just as technology is evolving in order to establish an enabling environment for the enjoyment of digital rights in Nigeria.
Inuwa expressed the alarming rate of risk and threat humanity is exposed to through the advancement of technology, noting that technology is manipulating and controlling everything; and has become the human compass.
According to Inuwa, "Data are being gathered on our lifestyles and choices are being profiled by the search engine we employ on the internet. This in turn is used to project options for our further searches."
He argued further that big techs are more powerful than sovereign nations which is a threat to democracy.
"When the former President of the United States of America, Benjamin Franklin was asked after a convention, what kind of government was agreed on? He said, "call it a republic if you can protect it."
"What he meant by a republic is not the Republican Party ideology, because at that time there wasn't the Republican Party, but republic from the Greek means of ideology which is against a group of people having unaccountable powers over others," he added.
He further stated that today, big techs have an unaccountable power over us because of the data they accumulate to influence decisions and actions, and opined that cyberspace cannot remain an ungoverned space, they need to be regulated.
According to the DG, connectivity should be a right, not a luxury, because if you are not connected, you will be forgotten. Therefore, it is the right time to have all the digital rights or e-Rights, which means human rights in the internet era.
"NITDA is focusing more on how it can provide regulatory instruments that will help increase accountability. This is why we have the code of practice for interactive platforms," he said.
Earlier, Ivan Paneff, elaborated on the project stating that the e-RIGHTS project is aimed at promoting the rights of Nigerians in the digital space, harnessing opportunities, and addressing challenges provided by new technologies.
He said there are expectations that the project will respond directly to the needs of Nigerian youths, activists, journalists, online news platforms, bloggers, social media influencers, human rights defenders, and active citizens to access the free and open internet.
He further noted that digital rights are human rights that are applicable in the Digital Sphere. He agreed with the NITDA boss that government, businesses, and individuals must demonstrate the utmost respect for Human Rights offline and online.
"The e-Right will provide a safe online platform for human rights defenders to report and monitor issues of digital right breaches including data privacy breaches, cyber threat, internet shutdown and threat to social media space and to ensure prompt response to cases reported," he added.
Ivan disclosed that the e-RIGHTS project would be implemented in partnership with Spaces for Change and Centre for Information Technology Development (CITAD), and the action will take place in four (4) implementation areas including the Federal Capital Territory- Abuja, Lagos, Kano, and Imo States.
NiRA, EFCC Sign MoU To Train Personnel On Cyber Security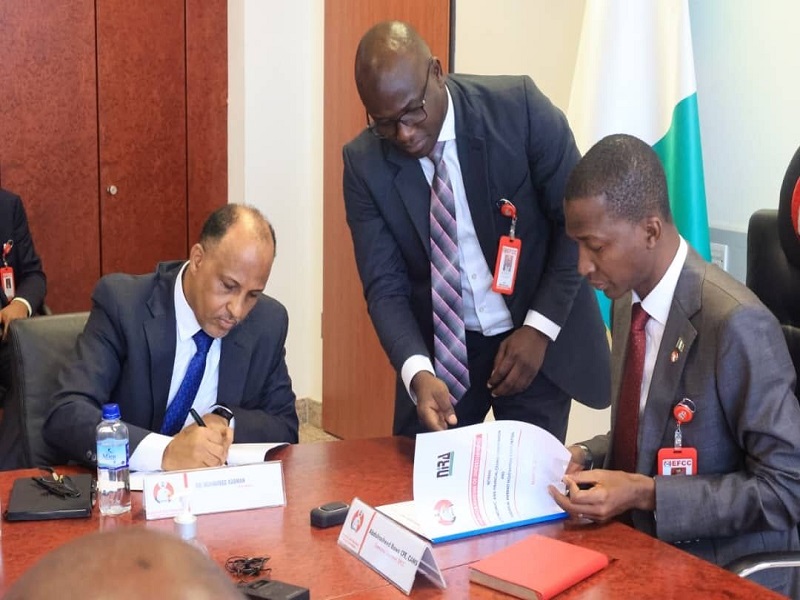 The Nigerian Internet Registration Association (NIRA) has signed a Memorandum of Understanding (MoU) with the Economic and Financial Crimes Commission (EFCC), to provide cyber security training for the personnel of the EFCC and other national security organisations.
NiRA is the registry for .ng Internet Domain Names, responsible for and maintaining the database of names registered in the .ng country code Top Level Domain.
The Executive Chairman of the EFCC, Abdulrasheed Bawa, speaking during the MoU signing ceremony at the EFCC Head Office, Jabi, Abuja, reiterated the resolve of the Commission to build the capacity of the personnel to effectively combat the emerging trends in cyber security.
The Nigerian Internet Registration Association, NIRA delegation to the ceremony, was led by its President, Muhammed Rudman.
Bawa said the MoU would further boost the understanding of his personnel on the modern trends in cyberspace and assist the Commission's investigations.
"We are very proud to collaborate with you because we realize that part of our mandate is collaboration. We need relevant stakeholders whether in government or private sector to achieve our mandate," he said.
The EFCC boss, while expressing delight over the collaboration, said that the EFCC had a well-equipped Academy to sustain the training.
---
"I find this MoU very appealing. I accept your collaboration and we are ready to start as soon as possible.
"We have a well-equipped Academy to carry out this training and I advise that the training is not only onsite but also online so that many people can join, and even other agencies can benefit from this using the same platform," he added.
Earlier, the President of NIRA, Muhammed Rudman while providing some insight into the goals of NiRA, stated that the purpose of the MoU was to strengthen collaboration between his Association and the EFCC.
According to him, there was a huge gap between NIRA and law enforcement agencies, which needed to be bridged.
"We have law enforcement agencies locking up for Registrars when there are cyber security issues in terms of websites, based on the crimes perpetrated by end users.
"So, to protect our Registrars from having challenges with law enforcement, we identify EFCC as the right partner to provide capacity building to address these gaps in terms of cybersecurity awareness and general knowledge of ICT," he said.
He added that when the MoU was fully implemented it would benefit not only the EFCC but other agencies as well.
"To be honest with you, we want to kick-start this project as soon as possible to give high-level capacity building on the internet and how it works, to address the needs of Law Enforcement Agencies, using EFCC as an umbrella body to bridge the cybersecurity gap," Rudman said.
NITDA, World Bank Train 200 Women On Content Creation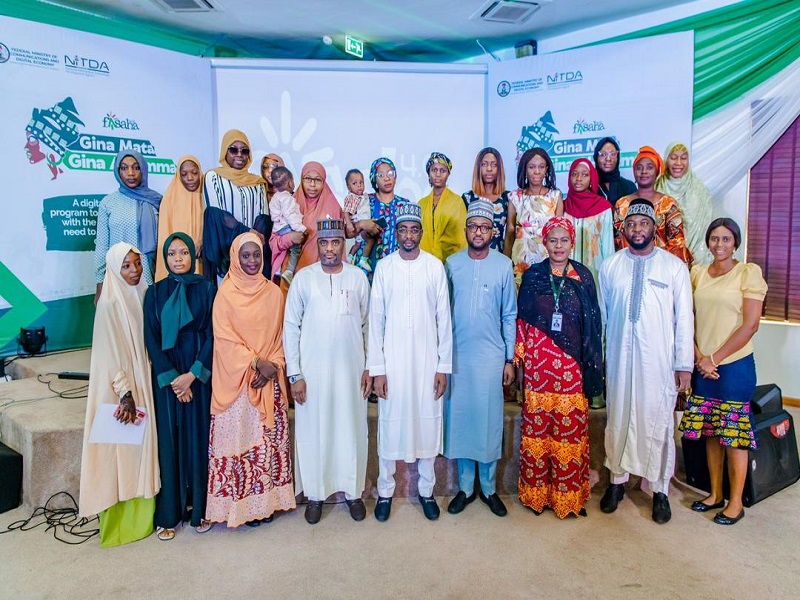 The National Information Technology Development Agency (NITDA) in collaboration with NATVIEW and World Bank has successfully rounded off a pilot digital skills development programme called "Gina Mata, Gina Al-Umma", designed to identify, prepare, and connect disadvantaged girls and young women with emerging skills in the knowledge economy.
The programme which is part of activities to celebrate International Women's Day and given the dire need to position young women for global participation in the Gig economy is geared towards integrating gender-intentional learning outcomes focused on technical training, soft skills, and right-based learning for young women interested in the tech ecosystem.
At the closing ceremony of the four-day event, the Director-General of NITDA, Kashifu Inuwa, noted that the training programme which is hinged on creating potential economic opportunities, increasing livelihoods, and access to better lives through the Gig economy is in line with the Agency's mission to place Nigeria on the path to attaining 95% digital literacy by 2030, in alignment with the National Digital Economic Policy and Strategy (NDEPS) 2020–2030.
The DG who recognised the fact that women are underrepresented in the technology sector avowed that with programmes like the Gina Mata, Gina Al-Umma programme, NITDA aims to bridge the gap by providing young women with the skills and knowledge needed to succeed in the digital economy.
"At NITDA, we are very excited about this partnership with the World Bank, which is in line with our initiative of one million software developers and skills by the end of 2023; Our core mandate is to develop and regulate the information technology sector in Nigeria because we believe that the future of our nation lies in the development of its human resources, and as such, we are committed to providing access to training and development opportunities for all Nigerians," Inuwa stressed.
Inuwa who seized the opportunity to thank the World Bank for driving the initiative and the implementation partner, Natview Technology, acknowledged the importance of partnerships in achieving the organisation's goals, noting that Natview Technology has a proven track record of delivering quality digital skills development programmes, and expressed thanks for the execution of the pilot training programme.
"Ladies and gentlemen, as we round off this pilot today, let us remember that the digital economy holds vast opportunities for economic growth and development. However, to fully realize these opportunities, we must ensure that all Nigerians, regardless of gender, have access to the necessary skills and knowledge," he said.
The NITDA Boss urged all the young women who participated in the training to take full advantage of the opportunity to make significant contributions to the digital economy and Nigeria's development.
Inuwa reiterated NITDA's commitment to ensuring that the entire citizenry is empowered with information technologies through the development of a critical mass of proficient and globally competitive IT manpower.
According to him, NITDA remains poised to actualise its mandate through strategic and inclusive stakeholder management, local and international partnership, and efficient utilisation of resources in the interest of Nigeria.
The Director-General who later presented certificates to the participants congratulated them and expressed the hope of seeing the positive impact of the programme on the lives of young women in Nigeria.
Meanwhile, the Executive Director, Natview Technology, Nuradeen Maidoki who earlier welcomed everyone to the closing ceremony described the Fasaha: Gina Mata, Gina Al-umma ("Building Women, Empowering Communities") being implemented by Natview Technology as part of the firm's contribution towards driving digital literacy and skills across Nigeria.
While appreciating NITDA and the World Bank for delivering digital competency beyond Nigeria, Maidoki said through the initiative, Natview hopes to create a pipeline of highly skilled female technologists who can contribute to innovation and growth in Nigeria's technology industry as the firm believes that by empowering young women with digital skills, it can create a more inclusive and diverse technology industry that reflects the richness and diversity of the society.
"During the 4-day launch, 200 young women were selected to participate in the digital content creation training. Beyond the digital content creation training, these young women also received skills training that will enable them to participate in the gig economy, which creates a platform for them to earn income from home," Maidoki noted.
"The goal of the programme is to train and equip at least 800 girls and young women with digital skills and competencies to be globally competitive in the remote workplace. The pilot launch focuses on training 200 women around digital content creation and marketing while in the future, an additional 600 young women will be integrated from four Northern Nigeria states (Borno, Gombe, Kano, Zamfara) with high FCV cases," Maidoki added.