Experts Charge Nigerian Women To Take Up ICT-Related Roles
Nigerian women have been charged to equip themselves and take up roles and responsibilities in the country's Information and Communications Technology space both in the public and private sectors.
The charge was made last week by ICT experts at the maiden edition of the 'Women Entrepreneurs & Executives in Tech Summit' which was held in Lagos.
Themed: 'Future Tech Trends, Challenges and Opportunities for Women Entrepreneurs,' the experts also argued that women can only take up roles by participating in ICT skill training and retraining.
Executive Vice Chairman of the Nigerian Communications Commission (NCC), Dr. Umar Danbatta charged women to upskill themselves as it is critical to removing social and economic barriers.
"Women should be bold enough to take on entrepreneurship opportunities as well as leadership positions in other to play active roles in the evolving Digital Economy," Danbatta said.
Represented by Olatokunbo Oyeleye, Director, New Media and Information Security at NCC, Danbatta noted that for women to get the empowerment needed to compete favourably among their global peers, they must invest in digital skills.
He stressed that digital literacy improves family incomes, trade and creates job opportunities for mothers, saying that "Investing and supporting the younger generations digital development is critical, especially since females face disproportionate social impediment."
Google Nigeria Country Manager, Ms. Juliet Ehimuan, charged women to be inspired, think big and spot the opportunity, insisting that there's no sympathy and sentiments, as a result, women should create value for them to be recognized.
"The point is that becoming an entrepreneur is all about problem-solving. Women should not go into entrepreneurship if they are not ready to solve societal challenges," she posited.
While charging established women entrepreneurs to take up mentorship roles and mentor at least 10 other women entrepreneurs in order to build a pool of tech entrepreneurs in Nigeria, the Google Nigeria boss urged women to show up and be known, stressing that it is the only way they can contribute to policies that can grow and change society.
She gave examples of several women in Nigeria and indeed across the world who are leveraging ICT skills to build businesses that are in turn making a lot of money and ultimately, contributing to the economy of their homes and countries.
The 'Women Entrepreneurs & Executives in Tech Summit,' which was organized by TechLife Media and Communications Limited and powered by TechLife with Ugo, was well-attended by several stakeholders from both the government and the private sector.
The Summit, according to the organiser was put together to brainstorm on the place of Nigerian women in the emerging world of technology and how they have fared in the recent time while expanding new ideas in ICT and Telecoms.
#AfriTECH2021: ICT Stakeholders Seek Urgent Steps To Drive Inclusive Digital Economy
Stakeholders in the ICT industry comprising of C-Suite executives, founders, presidents of companies/organisations, presidents of industry associations, startups/entrepreneurs and government officials, etc., have unanimously agreed that accelerating innovation remains the best path to drive inclusive growth.
The Stakeholders who stressed this at the 2021 Africa Tech Alliance Forum (AfriTECH2021) held in Lagos on Wednesday, October 13, 2021, also highlighted that building infrastructure to extend internet access in underserved areas will drive digital transformation across the board.
The Executive Vice Chairman of the Nigerian Communications Commission (NCC), Prof. Umar Garba Danbatta, focusing his presentation on "NCC as a Digital Transformation Crusader and Nigeria,'s in-Road to 5G Deployment," stated that, following the advent of COVID-19 pandemic, there has been a change in the dynamics of people's interaction, especially on the Internet.
Represented by Engr. Oluwatoyin Asaju, Director, Spectrum Administration at the NCC, Danbatta said that almost every means of communication has become virtual in one way or the other.
"Already, we are set for the auction of some spectrum slots in the 3.5GHz band. The other day I was at the National assembly, I informed the senate that we were 95 per cent ready for 5G. Today as we speak, I am delighted to tell you that we are already at 97 per cent completion," Danbatta said at #AfriTECH2021.
"The Committee set up to auction the Spectrum has already developed an Information Memorandum (IM) which is already published for inputs and comments from all industry stakeholders. Prior to this, a 5G deployment plan was developed and we have since secured Federal Government's approval," he said.
Director-General, National Information Technology Development Agency, (NITDA), Mallam Kashifu Inuwa Abdullahi said that with the advent of new technologies occasioned by the fourth industrial revolution, it has become imperative to increase Africa's level of preparedness and develop the capacity of the youth.
Abdullahi who was represented by Dr. Usman Gambo Abdullahi, Director IT Infrastructure Solutions at NITDA, spoke on 'Reskilling Africa's Youth for Future Jobs from NITDA's perspective' adding that the fourth industrial revolution will continue to fundamentally alter the way human beings live, work, and relate to one another.
"We need to look at the educational sector and focus more on skills and research that can be used to develop the economy. People should not see education as the end but means to the end. We need to look for ways to disabuse people's mind on paper qualification and inculcate in them those skills required for the imminent industrial revolution and also focus more on science and technology," Inuwa said.
In her keynote address anchored on the Forum's theme: 'Embracing Change and Digital Transformation in the New Normal,' Olatomiwa Williams, the Country Manager, Microsoft Nigeria, said that COVID-19 has happened with different experiences, but there are a lot of opportunities for the Continent.
She said leveraging technology to ensure that the continent is actually accelerating the digital economy potentials cannot be over-emphasised
"Looking at the impact of COVID-19 and how it has accelerated digital transformation and based on research and engagements globally, two years of digital transformation was achieved within two months.
"What does that tell us? It tells us that because we were able to embrace the change that COVID brought, we were able to make those changes happen. These changes continue to accelerate. So, it means that an organization can no longer do business as usual. Everyone needs to embrace digital transformation at a fast reach," the Microsoft Country Manager said.
Zoho Corporation also hosted a workshop during AfriTECH2021.
Andrew Bourne, Regional Manager at Zoho Africa, said that for organisations large and small, the year 2020 was the longest year ever however, the quick lesson is the urgent need to reorient the workforce to a new way of working.
"It came swiftly with playbooks being written and rewritten depending on what leaders were learning from government authorities, medical professionals, and from their own employees," he said.
With a reference to Forbes' report, he said: "Millennials currently hold the largest purchasing power, but Gen-Z is close behind. The group, which was born between 1996 and 2010, already holds $44 billion buying power ($600 billion when considering their influence on their parents' spending) and will hit the workforce and become powerful consumers in the next few years.
"In the next year, they will account for 40% of all U.S consumers. To succeed, companies need to know how to tailor a great consumer experience for Gen-Z".
Bourne also demonstrated how to drive customer loyalty through a CRM system. Through this means new customers get introduced to the company through 'promoting' customers which could be triggered by word of mouth, social media recommendations or customer testimonials.
In his part, Prof. Muhammed Abukakar, the Managing Director and CEO, Galaxy Backbone Limited, had expressed the company's preparedness to provide ICT infrastructure and services to public institutions and the underserved communities in Nigeria.
Abukakar who spoke on 'Boosting Cloud Infrastructure for Digital Economy through Partnerships' via a representative, Mr. Timi Fadeyi, head, DataCentre at Galaxy Backbone, said  "We need to work smarter, faster and simpler – a combination of a hybrid mode of working and harnessing relationships; virtual, physical, both.
"Artificial Intelligence is reshaping value chains, industries, communities, countries and the works entirely. You also need to secure your data; secure your entire digital experience, a combination of technology and you.
Other key industry stakeholders participated at the one-day Forum, which also featured an exhibition by some sector players such as Zoho Corporation, Medallion Communications, Layer3 and Notion Technology Limited (representatives of American #1 Technology company – Comway – and Hsv Products)
The AfriTECH2021 had Zoho as the lead sponsors and received support from the Nigerian Communications Commission (NCC); the National Information Technology Development Agency (NITDA); Galaxy Backbone Limited, as partners, also sponsored by Rack Centre, Digital Encode, Cloudflex Computing Services Limited, Zinochrome International, Layer3, Notion Technology Limited and Medallion Communications.
Mr. Peter Oluka, Editor of TechEconomy.ng and the convener of AfriTECH said that Africa must play a leading role in the fourth industrial revolution by embracing emerging technologies such as 5G, Internet of Things; Cloud Computing; Quantum Computing Augmented/Virtual Reality which is also playing a critical role in improving remote communication over the internet with great user experience.
He said that the recent events around COVID-19 Pandemic demonstrated why the government and the private sector must embrace digital transformation.
Zinox, Global Accelerex, H+K Strategies Support NITDA Capacity Training For ICT Journalists
ICT journalists under the aegis of the Nigeria Information Technology Reporters Association (NITRA), will on Monday, October 18, 2021, commence a 5-day capacity training with partner companies indicating interest to align with the project that promises to infuse more drive into ICT reporting in the country.
Hill+Knowlton Strategies, a marketing communications firm; Global Accelerex, a financial technology company and Zinox Group have pledged their support for the training, which they acknowledge is very critical in the media industry, especially as ICT evolves.
The 5-day Capacity Building Training, which is at the behest of the National Information Technology Development Agency (NITDA), with full support from the Ministry of Communications and Digital Economy, is meant to equip ICT journalists with the requisite skills to effectively report the fast-evolving trends in the global ICT field.
Chairman of NITRA, Mr. Chike Onwuegbuchi, said the training which forms part of his administration's empowerment promises, will enable NITRA members to further sharpen their skills and be well-equipped to deliver in reporting new technologies such as AI, machine learning, Cloud deployment, Fintech, among others.
NITDA's intervention is part of the implementation of the Agency's Strategic Roadmap and Action Plan (SRAP 2021-2024) which is also in line with the application of the National Digital Economy Policy and Strategy (NDEPS). The policy document promotes the use of digital technology to expand and diversify Nigeria's economy, especially as it pertains to employing digital literacy and skills strategy.
The training will among other areas cover Digital Literacy, Emerging Technologies, Cybersecurity and journalism as a social engineering tool.
Technology Remains A Vital Tool For National Security –NITDA DG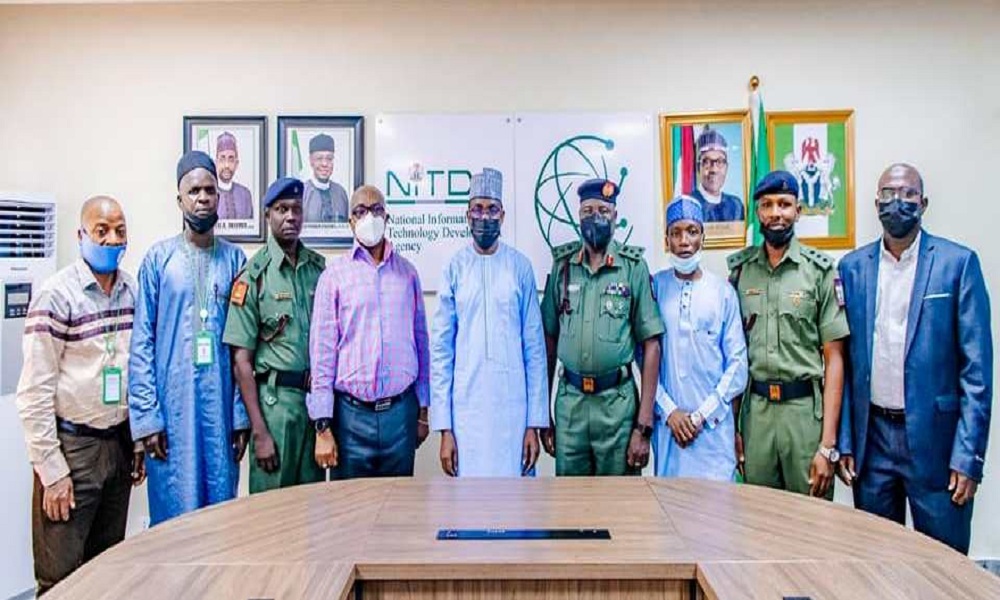 Director-General, National Information Technology Development Agency (NITDA), Mallam Kashifu Inuwa Abdullahi has said that with the advent of artificial intelligence, automated vehicles and drones amongst many other hi-tech innovations in fighting wars, the use of technology in combating insecurity in the country can never be overemphasized.
The DG made this known when he played host to the Rector of the Nigerian Army College of Environmental Science and Technology (NACEST) Makurdi, at the Agency's Headquarters in Abuja.
According to Abdullahi, "It is important to know how to use technology not just as an enabler but as a strategic design for your strategy in general which will inspire you to do more.
"NITDA Strategic Roadmap and Action Plan (SRAP 2021-2024) is built on seven pillars with their respective goals and objectives, which are; Developmental Regulations, Digital Literacy and Skills, Digital Transformation, Digital Innovation & Entrepreneurship, Cybersecurity, Emerging Technologies, and Promotion of Indigenous Content."
Abdullahi noted that the Agency's focus is improving how things are being done using technology and innovation, by creating an enabling environment and an innovation ecosystem that will allow a smooth digitized process, adding that the Agency is ready to collaborate with NACEST to deploy technologies to combat and proffer solutions to the country's rising issue of insecurity.
He averred that innovation does not happen in isolation but rather, with proper alignment and positioning in a relevant ecosystem which necessitates the proposed collaboration between the two parties, adding that there is cross-pollination between ICT and the Nigerian Army College of Environmental Sciences and Technology (NACEST).
"The National Centre for Artificial Intelligence and Robotics, a subsidiary of the Agency is fostering the development of emerging technologies in preparing Nigeria for the Fourth Industrial Revolution in which NACEST can partner in research, development of technologies like drones, robotics, Artificial Intelligence etc as a veritable tool in combating National insecurity," he elucidated.
The Rector Nigerian Army College of Environmental Science and Technology (NACEST) Makurdi, Brigadier General Yahaya Abdulhamid in his remark noted that the school is one of the Polytechnics that run Diploma Programme in Technical and Vocational Education and Training.
He said the College is regulated by National Board for Technical Education (NBTE), a National body mandated with the responsibility to ensure the quality of all Diploma certificated programmes in Nigeria.
He further disclosed that the school employs Information Communications Technology (ICT) in the Computer Engineering Laboratory, Computer Science Laboratory, E-Library, ICT centre, Management Information System (MIS), editing and Advertising Laboratory, Resource centre, Television and Radio Studios among others.
"We cannot have the best in what we are doing until we link our activities, operations and processes to Information and Communication Technology (ICT) which will provide us with a pathway towards achieving our goals and objectives, which everything we do technology drives in achieving it.
"Nigerian Army College of Environmental Sciences and Technology is diverting from the theoretical process and focusing more on the practical aspects to enable us to provide solutions to our problems," he stated.
Abdulhamid commended NITDA for the various IT interventions deployed across the country towards the growth and development of IT which plays a critical role for the advancement of the country and also towards National security.