MultiChoice CEO, John Ugbe Emerges BON Chairman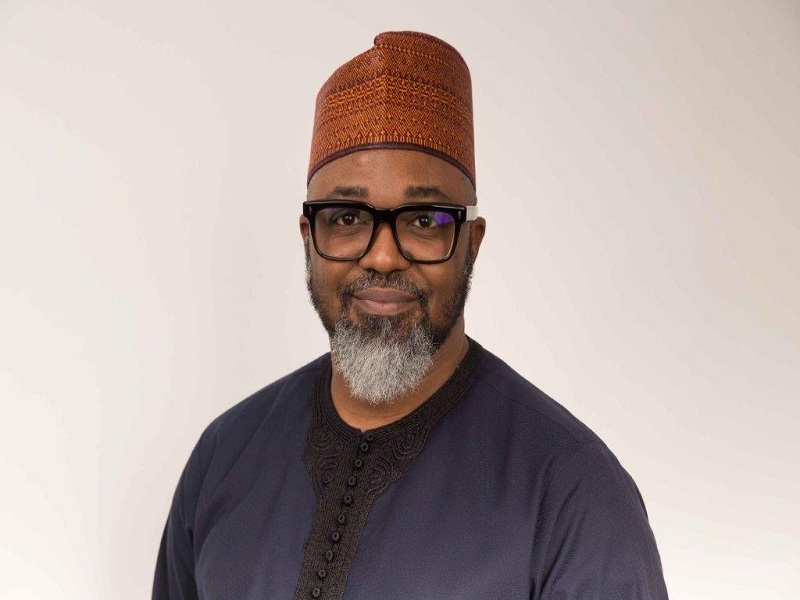 Chief Executive Officer, MultiChoice Nigeria, John Ugbe, has been elected the Chairman of the Broadcasting Organisations of Nigeria.
Ugbe defeated Sir. Godfrey Ohuabunwa of Multimesh Limited by 63 to 35 votes in a keenly contested election at the Coronation Hall of the Kano State Government House, Kano.
The election was part of the 75th General Assembly and 20th Annual General Meeting (AGM) of BON.
The Broadcasting Organisations of Nigeria (BON) is a broad coalition of public and private broadcasters as the nation's umbrella Union of Terrestrial Radio Television (Tv) Direct-To-Home (DTH) Digital Terrestrial Television (DTT) Multimedia Distribution System (MMDS)".
BON is said to have been established in 1973.
The organisation also reportedly comprises "over 100 members and they collectively own over 250 radio and television stations," with a vision "to foster a future-proof environment for radio, TV and new media broadcasters to serve their audiences and contribute to the development of our society."
NBC UNIVERSAL Formats & Showmax Take The Real Housewives To Lagos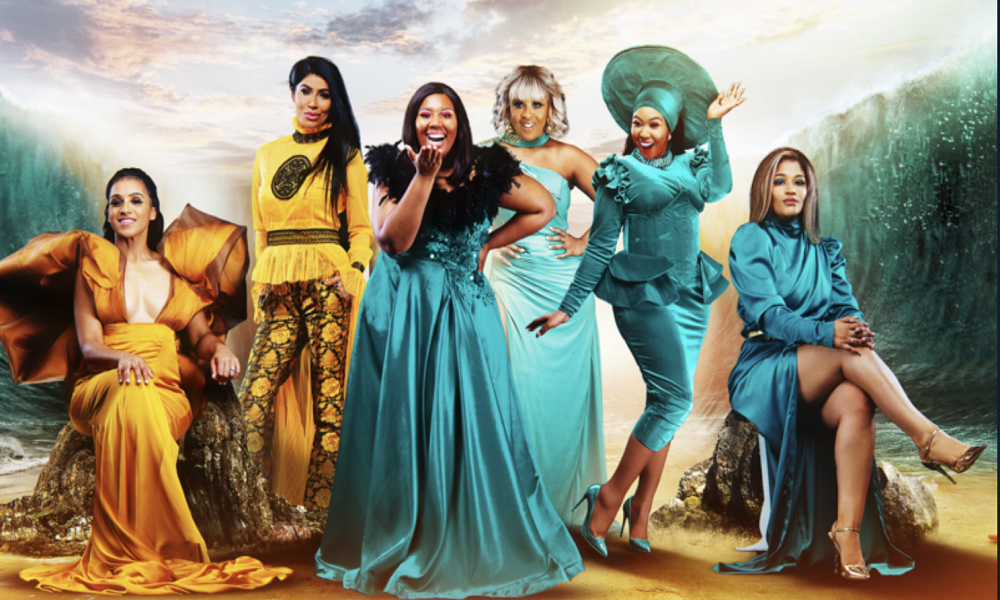 We've seen what The Real Housewives of Atlanta, Jersey, Durban and Melbourne get up to. Now it's time to take a peek inside the opulent lives of some of the most affluent women in Lagos. 
The Real Housewives of Lagos (RHOL) will be the first Nigerian instalment of the award-winning franchise, which is distributed internationally by NBC Universal Formats, a division of Universal Studio Group.
This also marks the 16th international version of The Real Housewives format and the third to be adapted in Africa.
RHOL will build on the success of the first two African editions.
The Real Housewives of Johannesburg was one of the 10 most streamed local series on Showmax in 2019, while The Real Housewives of Durban (RHOD) broke records when it launched on the African streaming service in January 2021.
RHOD has since launched with success in 50 countries across Africa, as well as in 27 territories internationally, including Canada, UK, Ireland, Spain, France, Germany, the Netherlands, Singapore and the Philippines.
Season 2 of the hit show will return to Showmax early next year.
"We've seen audiences across Africa devour The Real Housewives of Johannesburg and The Real Housewives of Durban," says Candice Fangueiro, Showmax's head of content.
"The Real Housewives franchise lends itself to localisation and we know our audience is going to love seeing the show reinvented Naija-style. We can't wait to show the continent – and the world – another side of Lagos, with all the drama, high fashion and luxury you'd expect from The Real Housewives franchise."
"We are so proud to build on the international success of The Real Housewives of Johannesburg and Durban with our partner Showmax," added Ana Langenberg, SVP, Format Sales & Production, NBCUniversal International Formats.
"The vibrancy of Lagos and its rich culture, fashion and opulence make for the perfect setting for the show. We also can't wait to see the second season of Durban come to life and deliver fans all over the world even more extravagance and entertainment."
RHOL will be produced by Livespot 360. RHOD is produced by Let It Rain Films, with Thumeka Hlotshana attached to direct Season 2 and Emmy winner Lee Doig (Survivor USA) creative directing.
RHOL and RHOD S2 will be available first on Showmax in more than 40 African countries in early 2022.
RHOL will be the second Showmax Original reality series in Nigeria, following on from the success of I Am LAYCON, starring Big Brother Naija S5 winner Lekan Agbeleshe, which set a Nigerian first-day record for Showmax when it launched in February 2021.
Audiences can relive the drama and excitement of Seasons 1-2 of The Real Housewives of Johannesburg on Showmax here and S1 of The Real Housewives of Durban here.
Watch and embed the RHOD S1 trailer here: https://youtu.be/eY9XwT-hbx8.
MultiChoice Talent Factory Class of 2022 Set For MTF West Africa Academy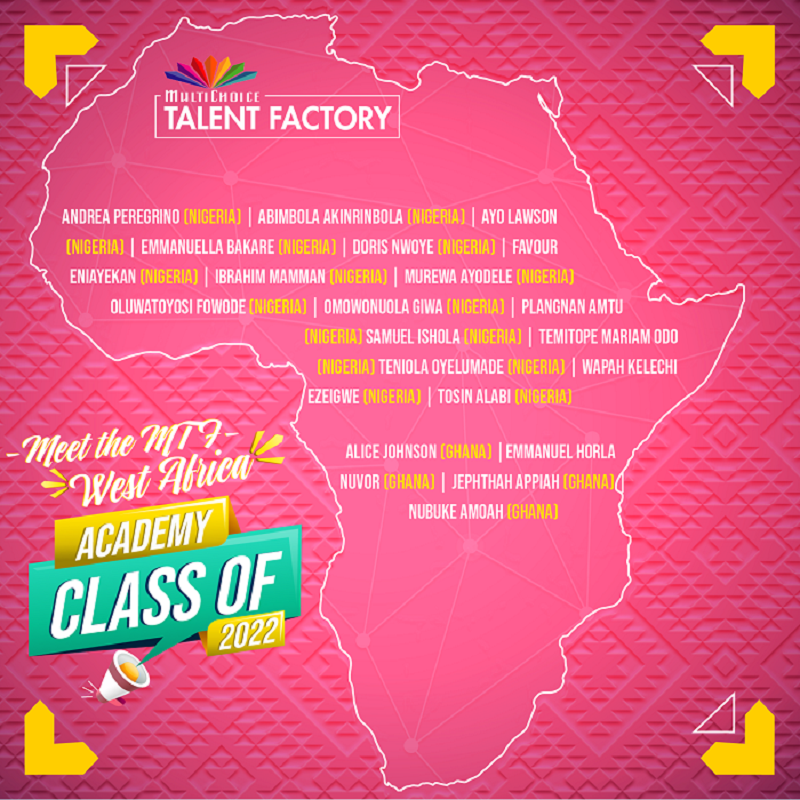 MultiChoice has announced the admission of the third set of passionate young film creatives comprising the Class of 2022 to the MTF West Africa Academy.
After a 6-week selection process, 20 aspiring filmmakers representing Nigeria and Ghana will begin their 12-month training programme in October at the MTF Academy in Lagos.
The final candidates were selected after a rigorous interview process by the judging panel, which consisted of film and television experts including representatives of the Directors' Guild of Nigeria (DGN).
On the judging panel were pioneer MTF Academy Director – Mr Femi Odugbemi, Film Director and representative of the DGN – Mr Lancelot Imasuen, Film Director and Producer – Ms. Tope Oshin, Film Director – Mr James Omokwe and Director and representative of the DGN – Mrs Patricia Oghre Imobhio.
At the onset of the pandemic, MTF sought ways to ensure the optimum delivery of its curriculum and critical to this, was leveraging relationships with its strategic partners.
This led to even greater opportunities as the Class of 2021 benefited from an intensive 3-week New York Film Academy (NYFA) online training course.
Formulated in partnership with NYFA, this course is now part of the MTF curriculum and the new cohort will learn how to produce micro-documentaries, public service announcements, television commercials and music videos.
This type of training broadens their skillset and allows them to be economically active in various sectors, other than the film industry.
The success of any academic programme can be measured by the contribution made by alumni in the industry.
A survey was carried out to ascertain how MTF academies are igniting Africa's creative industries and the findings revealed that from the inaugural class of 2019, 92% are economically active in the industry.
According to John Ugbe, CEO MultiChoice Nigeria, this is exactly what the industry needs and why MTF was founded.
"As Africa's most loved storyteller, our commitment is not only to tell authentic African stories but to also invest in them. This is why some of our alumni are working on M-Net and Showmax productions.
"They are helping us realise the vision of taking African stories to the world with a 'hyperlocal' approach, producing relevant content within the respective regions of our continent, as opposed to a one-size-fits-all strategy," says Ugbe.
The academy's curriculum is tailored in partnership with the prestigious Pan-Atlantic University in Lagos, which will confer the course qualification upon completion of the academy programme.
In addition, The Henley Business School offers an orientation intervention to the students at the beginning and end of the 12-month programme as well as workshops on Business for Creatives focusing on entrepreneurship.
In addition to the academy, MTF also provides resources for industry professionals across Africa.
The second pillar, the MTF Masterclass, aims at upskilling industry professionals and emerging creatives alike by offering exclusive access to practical, expert-led industry workshops across the continent.
Through these masterclasses, MTF has trained over 1000 creatives since 2019. The third pillar, the MTF Portal is a pan-African digital marketplace for the over 40,000 creatives who are registered and provides access to free online masterclasses and profiling opportunities.
Spotify Announces Kenyan Rapper Ssaru For Its EQUAL Music Program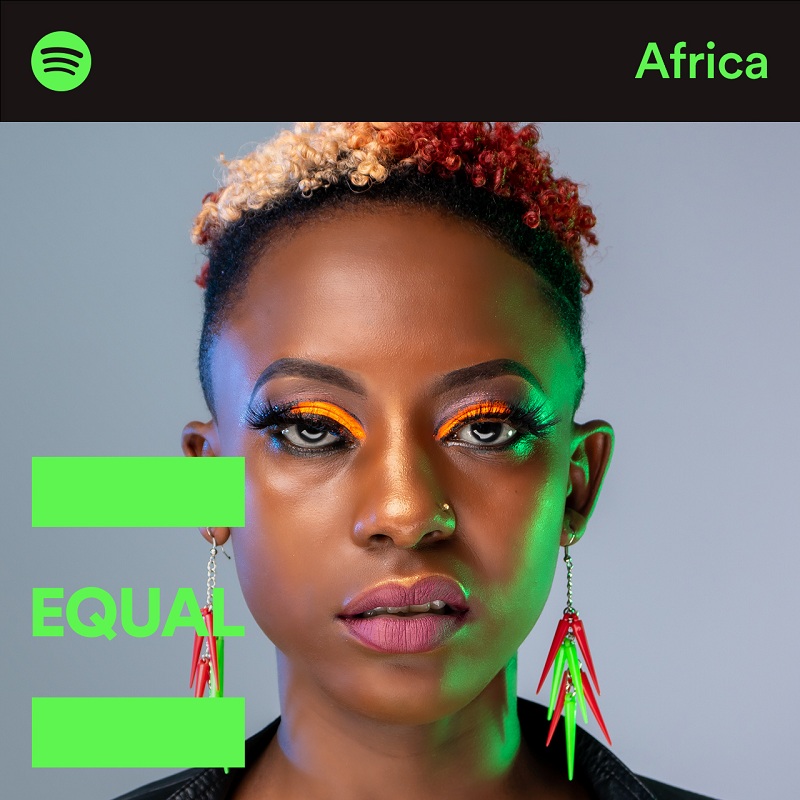 Spotify has introduced Sylvia Saru, popularly known as Ssaru, as the latest artiste to join its EQUAL Music Program.
EQUAL is Spotify's global initiative to cultivate gender equality in music and support female artistes and podcast creators both locally and internationally.
At just 19 years old, the Kenyan-born rapper and singer-songwriter is the youngest artiste to join the program. Ssaru first made her mark in the industry after her rap freestyle went viral.
Following that, she released her first video 'Nyama' and has since worked with the likes of Benzema of the Ochungulo Family, one of the music crews instrumental in pioneering the Gengetone genre in Kenya.
The rapper originally worked on several dancehall projects that she has put on hold to cut her teeth in what is currently one of Africa's most popular genres – Gengetone, making her one of the first women to venture into the genre.
Ssaru also currently features on Spotify's flagship playlist, Gengetone Fire that highlights the hottest artistes and tracks of the genre coming out of Kenya.
"Ssaru is breaking barriers and owning her voice in a space that is predominantly male-dominated. She is a young, independent female artiste who has fast become one of the female faces of a genre that is gaining massive international appeal.
"We launched EQUAL with the aim to upend the disparities faced by female creators and Ssaru is a primary example of an artiste who is doing just that, it only makes sense that we have her on board," says Phiona Okumu, Head of Music, Sub Saharan Africa.
Ssaru adds, "Being an EQUAL artiste grants me tools to project positive vibrations to the entire human race the best way I know how, which is limitless."
Ssaru joins the program's stellar roster of local and international creators who will be spotlighted through global partnerships, activations, new content experiences, and on and off-platform support.