MultiChoice Cushions COVID-19 Impact On DStv, GOtv Customers With 'We've Got You' Offer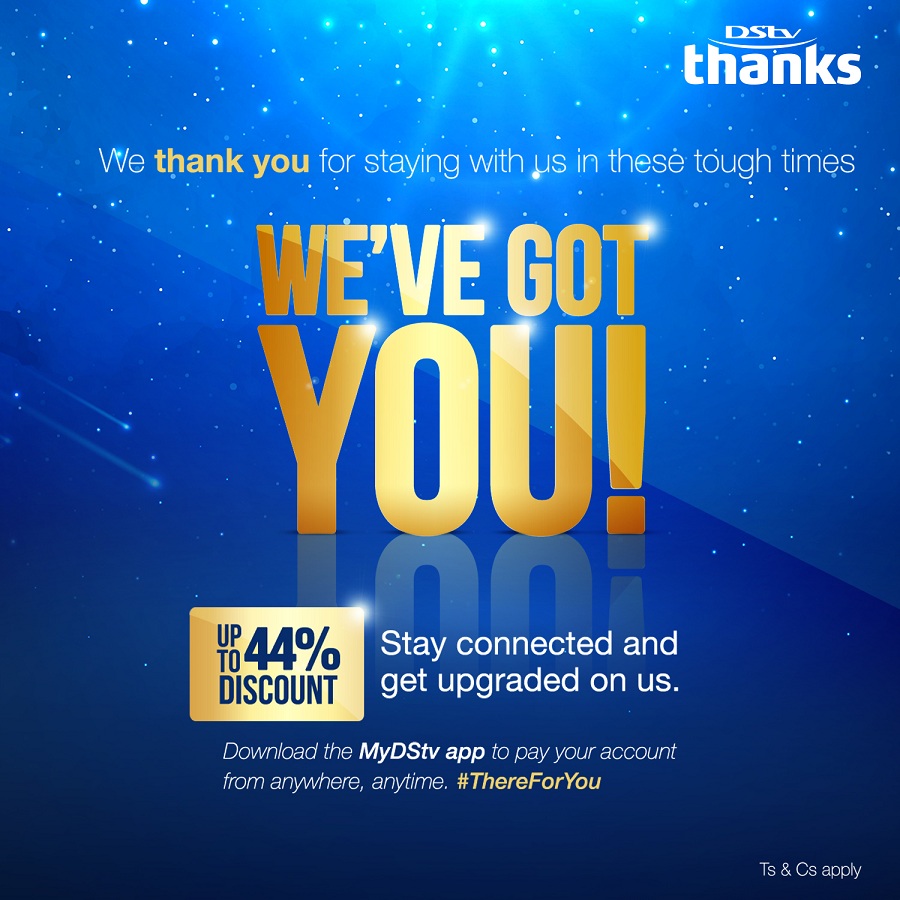 As Nigerians are being encouraged to remain at home following the outbreak of the Coronavirus pandemic, MultiChoice has decided to reward its customers with mouth-watering discounts on their subscription to ensure customers on DStv and GOtv remain connected during this period.
With the novel Coronavirus (COVID-19) pandemic ravaging the world currently, the global populace is being inundated with a new forced reality. Loved ones have fallen ill with some, sadly, passing away, businesses have been shut and social movement and interaction have been greatly limited.
But despite all these uncertainties, MultiChoice Nigeria, operators of DStv and GOtv, has continued to operate and serve its customers during this unprecedented period. The flow of information is very essential at this time and all customers need to remain updated on the current reports and trends across the world.
MultiChoice campaign, tagged: We've Got You, which runs from 20 April to 30 June, offers active and disconnected DStv and GOtv customers the opportunity to enjoy discounts of up to 44 per cent for DStv customers and 75 per cent for GOtv customers, and get upgraded to the next viewing package when they pay on their current package.
It is an opportunity for customers to pay their subscription now and even get wider access to the best of the latest news, local movies, sports, drama series, kiddies and general entertainment on -television.
Martin Mabutho, Chief Customer Officer, MultiChoice Nigeria, said the offer is the company's way of showing appreciation to loyal subscribers for their support and patronage during these challenging times and to also cushion the impact of the economic disruption triggered by the pandemic.
"It is our priority to put customers at the heart of everything we do, and in line with our mission to make great entertainment available, even during the most trying of times, we are giving our loyal and valued customers amazing discounts, so they can have the opportunity to experience a wider range of the quality content on our other packages. This is our token of appreciation for their continued support," Mabutho said.
For this campaign, active and disconnected DStv customers on Compact Plus, Compact, Confam, Family, Yanga and Access packages will be rewarded during this campaign via DStv Thanks once they renew their subscription.
DStv Compact Plus customers get to pay their current subscription fee of N10, 650 and will be upgraded to DStv Premium, the platform's top package. Content available to these subscribers include a brand-new movie on M-Net (channel 101), great talk shows on Comedy Central and free access to Showmax to view the best of series. 
For DStv Compact subscribers, they will be elevated to DStv Compact Plus package when they pay their current subscription rate of N6,800. Upon upgrade, subscribers in this category will be able to access Insecure on 1Magic (Channel 103) and the new reality television shows, Mercy and Ike and Judging Matters, on Africa Magic Showcase.
Local series such as Unbroken will be available to DStv Confam subscribers when they pay their subscription fee of N4, 500 and get upgraded to DStv Compact. Customers on DStv Family package who pay their current subscription rate of N4, 000 will be given DStv Confam package. On offer for these subscribers include movies and TV shows on TNT Africa and international dramas on BET.
DStv Yanga customers who pay their current N2,500 fee will, in turn, get DStv Confam package. Quality African entertainment is provided for these subscribers as brand-new local shows and series on TNT Africa and international dramas on BET will be aired.
For DStv Access customers who pay N2,000, they will be boosted to DStv Yanga to view the finest of Nollywood on Africa Magic Epic, ROK 2 & Ebony Life.
Similarly, GOtv has got it covered for all its active and disconnected customers on Jolli, Plus, Jinja, Value and Lite packages.
Customers on GOtv Jolli will be upgraded to GOtv Max, the platform's premium package, and get access to over 75 channels when they pay their current subscription rate of N2,400.
These subscribers will view programmes such as Halita and Mercy and Ike on Africa Magic Family, and fascinating programmes on Discovery ID, Cartoon Network and more.
GOtv Plus subscribers will also benefit when they pay their current fee of N1,900 and get boosted to GOtv Jolli. Channels available to these subscribers include CBS Reality, Fox and Da Vinci.
Programmes on channels such as CBS Reality, Fox and Da Vinci will be available to GOtv Jinja customers when they renew their subscription fee at N1,600 and get upgraded to GOtv Jolli.
Also, customers on GOtv Value and GOtv Lite packages will get upgraded to GOtv Jinja when they pay their current subscription rates of N1,250 and N400 respectively. On offer for these subscribers include programmes on Africa Magic Epic, Real-Time and PBS Kids.
MultiChoice continues to appreciate all its customers for their patronage, especially during these trying times, with the We've Got You campaign. DStv remains #ThereForYou and #GOtvDeyYourSide, providing the whole family with quality and exciting content lined up on higher packages at reduced costs.
MultiChoice says the offer is open to all active or disconnected customers on any of these DStv packages: DStv Compact Plus, Compact, Confam, Family, Yanga and Access. Also, customers on these GOtv packages: GOtv Jolli, GOtv Plus, GOtv Jinja, Value and Lite packages, are eligible for this offer.
Africa 24 Group Joins The African Union Of Broadcasting (AUB)
The Africa 24 Group will actively participate in all the activities of the African Union of Broadcasting, particularly in the broadcasting, distribution and sharing of its contents to all members of the AUB

The Africa 24 Group has become a member of the African Union of Broadcasting (AUB), the biggest media professional organization in Africa with over 80 members.
The AUB is also the only African organization, member of the World Broadcasting Union (WBU).
The Africa 24 Group will actively participate in all the activities of the African Union of Broadcasting, particularly in the broadcasting, distribution and sharing of its contents to all members of the AUB across the continent and its associate members around the world.
The continent's leading audiovisual brand, Africa 24 Group has had a total of 4 full HD television channels since November 2022, each, leader in their segment:
Africa 24: Leader of information in French on the Continent, published by Amedia
Africa 24 English: Leader of African Information exclusively in English
Africa 24 infinity, the channel of creative talents dedicated to music, art, culture, fashion
Africa 24 Sport: first channel of sports information and competitions of the Continent.
According to Mr. Grégoire Ndjaka, Director General of the AUB, "the Africa 24 Group, which has been the official media partner of the African Union since 2019, joins the big family of the AUB, its 80 members and partner institutions to share a common vision of promoting the continent's media.
"We will develop a dynamic platform with Africa 24 to reinforce a positive narrative of Africa's past, present and future potential. The Africa 24 Group is a real continental success, thanks to its ability to develop content at the local level on the major themes of current Africa.
"We must work together to promote, strengthen the influence and consolidate the position of the countries of the continent on African and global issues."
For the Africa 24 Group, which will celebrate its 15th anniversary in February 2024, joining the AUB is a major step that marks a new dynamic in its development.
From being the continent's leading French-speaking news channel, Africa 24 is now a leading publisher with a unique reputation among the African population, senior executives and decision-makers.
The solid development prospects of the Africa 24 Group are in line with the partnership signed between Africa 24 and the African Union and its member countries like the Republic of Cameroon, which is a reference institutional partner of the Media Group.
For Mr. Constant Nemale, founder of the Africa 24 Group, membership with the AUB marks a new direction that is part of the "Attractive Africa" ​​vision, the objective of which is to see African institutions and business enterprises support and promote the development of the continent through innovative local content.
"Becoming a member of the AUB is the greatest professional reward for the Africa 24 Group. This membership will enable our media through its 4 channels to collaborate more effectively with all the media on the continent, to strengthen the quality of productions, develop synergies, and be part of a dynamic of cooperation to initiate content in the official languages ​​of the continent, namely French, English, Portuguese, Arabic, but also in the various African local languages."
Through its "AUBVision" content exchange platform, the AUB makes available to its African members and partners (European Broadcasting Union – European Radio-Television Union (EBU), Radio-Television Union Arab States (ASBU) and the Asia-Pacific Broadcasting Union (ABU), etc., contents of Africa 24 Group.
The African Union of Broadcasting and the Africa 24 Group will initiate a joint development program in sports, and the creative industries, in the training of media professionals and also towards institutional and corporate partners to promote African creative genius in all fields.
BON Postpones TNBA, Extends Deadline For Entries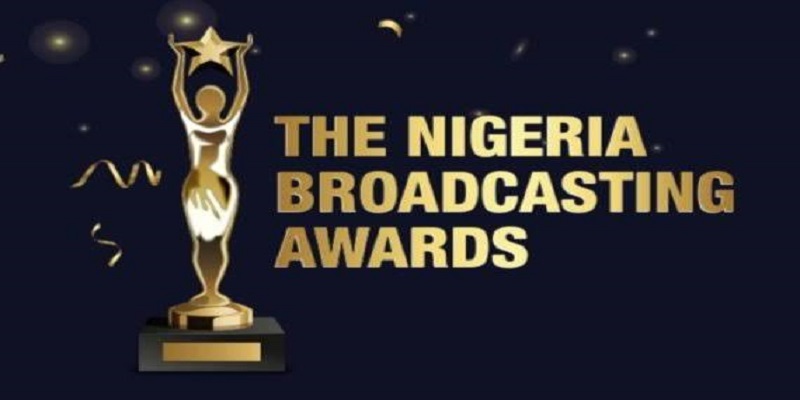 The Broadcasting Organisations of Nigeria (BON), organisers of The Nigeria Broadcasting Awards (TNBA), have postponed the awards ceremony to April 2023 and extended the deadline for the submission of entries into the various award categories.
The postponement decision was reached during a review meeting held on Tuesday 18th October 2022 between the Steering Committee, the Consulting firm, and BON Secretariat.
According to the committee, headed by Mr. Guy Murray-Bruce, President, Silverbird Group, the postponement became necessary in view of the number of broadcast professionals hindered from meeting the 23 September deadline for submission of entries by technology and courier companies, adding that the new deadline is 15 January 2023.
"We received 471 entries at the expiration of the deadline for submission. But we kept receiving pleas for an extension.
"After considering the reasons given by prospective entrants, who could not meet the original deadline, we resolved to extend the deadline, so as to have a really competitive process and ensure that we do not marginalize people, whose bids to file entries were thwarted by poor internet connectivity and delays by courier companies.
"We realized that both factors were beyond their control and felt it would be unfair to exclude them from the awards process on such bases. We have, therefore, extended the deadline to 15 January 2023," the statement said.
The Steering Committee also extended the time span of entries eligible for consideration by the judges' committee, headed by Mr. Emeka Mba, former Director-General of the National Broadcasting Commission (NBC), to 31 December 2022.
This implies that entries must be original copies of work undertaken between August 1, 2021, and 31 December 2022, as against the previously announced date of 31 August 2022.
Entries are also required to be accompanied by entrants' resumes and are to be submitted either as an MP3 audio file for radio or an MP4 video file for TV.
TNBA, according to BON, is a platform for the recognition and celebration of professional excellence in the Nigerian broadcasting industry. The award has 12 competitive categories in radio and television and is open to broadcast platforms licensed by NBC.
NBC Fines DSTV, Trust TV, 2 Others N20m For 'Terrorism Glorification'
-Says Fine Must Be Paid On Or Before August 30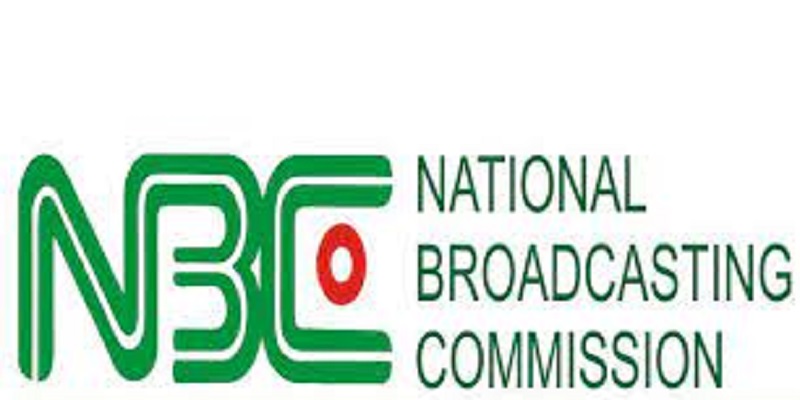 The National Broadcasting Commission (NBC) has imposed a fine of N5 million each on Multichoice Nigeria Limited, owners of DSTV, TelCom Satellite Limited (TSTV), and NTA-Startimes Limited for broadcasting a documentary by the BBC Africa Eye titled, "Bandits Warlords Of Zamfara".
Also fined the sum of N5 million was Trust Television Network (Trust TV) for the broadcast of another documentary titled, "Nigeria's Banditry: The Inside Story", which was aired by the station on March 5, 2022.
NBC made this disclosure in a statement titled: 'NBC Sanction PayTV Platforms' which was issued on Wednesday. August 3, 2022, and signed by its director-general, Balarabe Shehu Illela.
DigitalTimesNG recalls that last week Thursday, the Minister of Information and Culture, Lai Mohammed, noted that the Federal Government would sanction Trust TV and BBC for "terrorism glorification" in their documentaries.
Mohammed said the federal government was aware of the "unprofessional" documentary by the BBC Africa Eye, where interviews were granted to bandit warlords and terror gangs, thereby promoting "terror" in the country.
While acknowledging the need of educating, informing, and enlightening the public on issues bordering on developments and happenings within and outside the country, the Commission in the statement, advised broadcasters to be circumspect and deliberate in the choice and carriage of contents deleterious to Nigeria's national security.
Consequently, NBC said the airing and carriage of these documentaries, contravened the provisions of the Nigeria Broadcasting Code, Sixth edition.
The relevant sections cited include "3.1.1: No broadcast shall encourage or incite to crime; lead to public disorder or hate, be repugnant to public feelings or contain an offensive reference to any person or organization, alive or dead or generally be disrespectful to human dignity;
"3.12.2: The broadcaster shall not transmit a programme that incites or likely to incite to violence among the populace, causing mass panic, political and social upheaval, security breach and general social disorder; and
"3.11.2: The Broadcaster shall ensure that law enforcement is upheld at all times in a manner depicting that law and order are socially superior to, or more desirable than crime or anarchy."
NBC said the imposed penalties on the broadcast media platforms and station were to be remitted not later than August 30, 2022.
While warning that failure to comply with this directive will lead to the imposition of a higher sanction as provided in the Code, the NBC enjoined broadcasters to be instruments of national unity and desist from falling into antics of using their platforms to promote and glamorise subversive elements and their activities.
"Please note that every broadcast station or platform is responsible for the content it transmits or transmitted on its platform, and shall be held liable for any content in violation of the Nigeria Broadcasting Code," the Commission added.