NCC Partners eBusinessLife On Girls In ICT Campaign 2021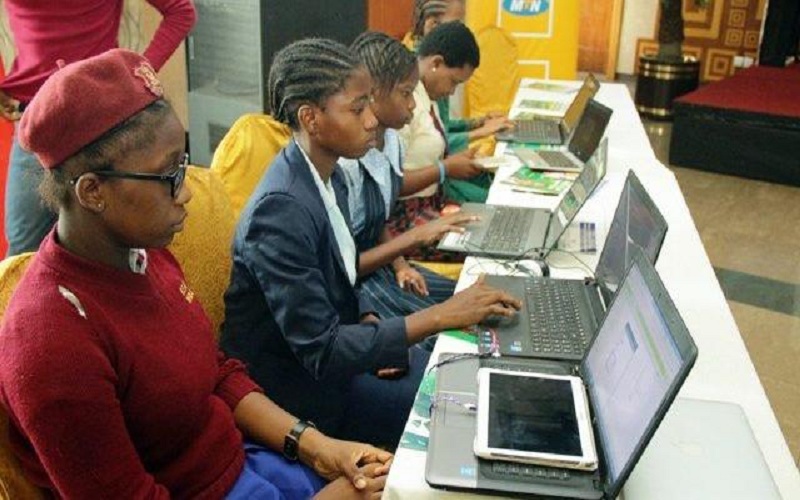 The Nigerian Communications Commission (NCC) has thrown its weight behind eBusiness Life Communication Limited in the campaign to sensitize young girls on the imperatives of pursuing ICT-related careers.
In this vein, the NCC will partner with the media organisation in its upcoming event, eBusinesslife International Girls in ICT Day Celebration, scheduled for April 22, 2021, at the Oriental Hotel in Lagos.
The organisers said in a statement that the NCC noted its willingness to partner with eBusinesslife to ensure that the gender disparity in ICT-related careers is addressed to motivate young girls to contribute their quota in the industry.
DigitalTimesNG understands that the International Girls' in ICT Day Celebration is an initiative launched through the International Telecommunications Commission (ITU) Resolution 70 with the idea of creating a global environment that will empower and encourage girls and young women to consider careers in the field of information and communication technologies (ICTs).
In the past nine years, eBusiness Life had organised the event annually in Nigeria, gathering young girls from different schools, to educate and sensitize them on the opportunities inherent in professions in ICT, and providing a platform for organisations to synergise on complementary ways to further the cause.
Also, the girls had been made to go through hands-on training on various aspects of ICT and gone on facility visits to ICT companies to get the first-hand experience of the intricacies of these ICT firms. However, the 2020 edition was botched by the COVID-19 pandemic.
Chief Executive Officer of eBusiness Life Communication and convener of the event, Mrs Ufuoma Emuophedaro, while speaking on the partnership, said the need to sensitise young girls is premised on the fact that the society has unconsciously relegated the female gender and delegated careers in technical fields, especially in ICT, to their male counterparts, and that the support from NCC will further lend credence to the campaign.
She called on corporate bodies and the society at large to recommit to supporting every girl to develop her skills, enter the workforce on equal terms and reach her full potential.
"We need to equip the girls with transferable and lifelong skills such as critical thinking, creativity and digital awareness. Having role models will also be critical, especially in the sciences and other fields where the presence of women is sparse."
She further noted that efforts should be made to introduce young girls to career opportunities in technical fields in both the public and private sectors to help them have a wide range of options and contribute their quota in the industry.
Emuophedaro stated that pursuant to the International Girls in ICT Day celebration and the subsequent campaign will further open up opportunities for girls in the ICT sector.
Speaking further, she noted that supporting the global Girls in ICT movement empowers girls and young women, giving them the confidence to pursue ICT studies and careers. "Girls and young women have the potential not only to become ICT users but also to become ICT creators. "
As part of this year's edition of the event, students from select secondary schools will receive practical training on an aspect of ICT and compete on the same on the D-Day. Also a roundtable discussion, interactive and motivational talk from renowned women ICT professionals, will be part of the events lined up for the day.
The campaign, which continues after the D-Day, will see young girls take part in facility tours to ICT facilities; participate in seminars that promote ICT development and undergo training in ICT.
At the end of the event, it is expected that young girls and students should be able to introspect and pursue any desired career path in ICT without bias, or gender consciousness.
Awards will also be given to deserving female ICT practitioners and institutions as part of the celebration while severe COVID-19 safety protocols will be observed at the venue.
e-Business Life Magazine is a monthly Information and Communications Technology (ICT) Magazine incorporated to bring better information that would link users and service providers as well as enable Nigeria to take its pride of place among the comity of nations in the new global economy.
"The mission at e-Business Life Magazine is to inform and educate ICT users on trends and developments both locally and internationally; to provide a platform on which to build ICTs in Nigeria and also to be a voice for ICT consumers in the country.
"In addition, we are poised to create a world where Nigerian youths have a better understanding of modern technologies and can easily deploy these technologies in developing their communities," the organisers said in the statement.
How LG Is Leading Next Generation Of ACs With ThinQ Technology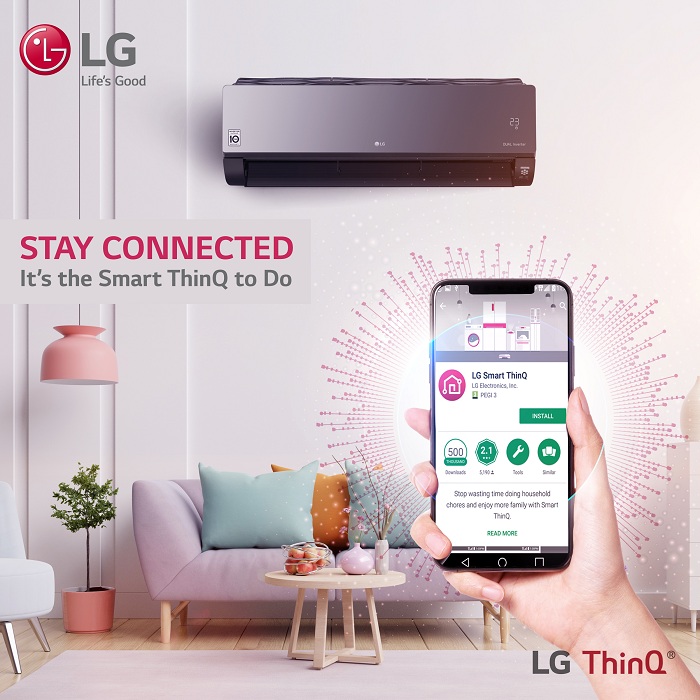 With the recent increase in the number of people working from home, the demand for energy-efficient and powerful cool air conditioners has risen exponentially across Africa due to unbearable heat caused by the weather, especially during the dry season.
But LG Electronics has remained one company that has been at the forefront of the next generation of innovative Residential Air Conditioning (RAC).
With a vision to provide differentiated customer value, LG over the last 20 years, has pursued earth environment preservation, sustainable social advancement, and improved the quality of life of all its stakeholders.
Based on customer needs, the electronics giants have varieties of Air Conditioner namely: GenCool, ArtCool and DualCool Premium Air Conditioners.
A few years ago, LG introduced its GENCOOL Inverter V that can work efficiently with small capacity generators. Specially designed for the Nigerian market, the AC comes with benefits such as affordability, energy efficiency and durability.
Unlike the conventional AC (i.e. ON/OFF types) which requires a big-sized generator to start the AC due to their high start-up electric power, LG's GEN COOL AC can be started with smaller generators due to LG's innovative inverter technology.
According to LG, for the normal mode, 1HP AC needs a 1.5 KVA generator while 1.5 HP requires 1.7KVA and 2HP needs 2.2KVA.
Thus, the LG GEN COOL Air Conditioner comes with the GEN Mode which allows for the use of a small capacity generator in areas where electric supply is insufficient, eliminating the need for a large generator. So with the AC's GEN Mode feature, you can minimize startup electric requirements.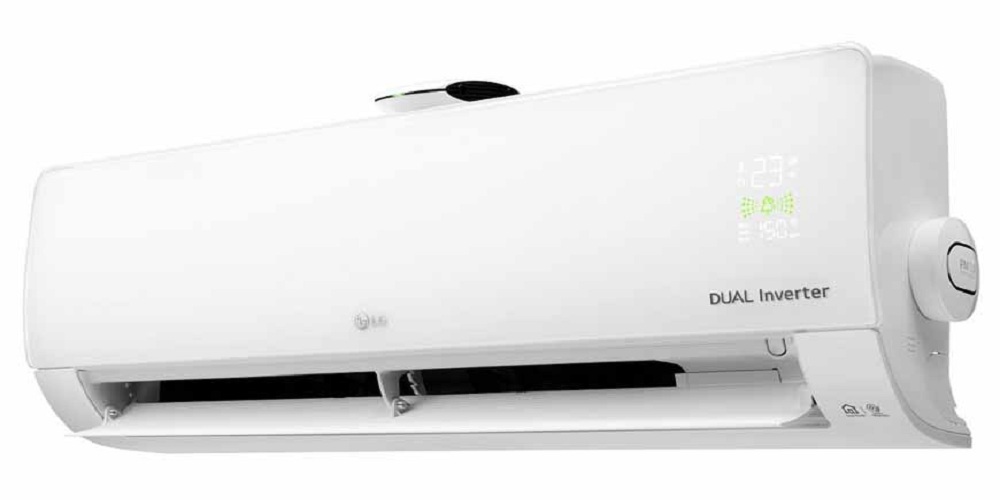 LG Smart AC features
The electronics giant has equipped its ACs with Smart ThinQ technology, which, as per the company, allows the users to control and monitor ACs at any time and from anywhere with an app on the phone. Apart from control, consumers also get filter cleaning notification and control multiple home appliances through smart ThinQ.
Hari Elluru, Head of Corporate Marketing, LG Electronics, West Africa Operations, said, "We have more number of future-ready ACs with Smart ThinQ (Wi-Fi) along with Amazon's Alexa and Google Assistant compatibility.
"We aim to offer the best air conditioning solutions to our consumers through a robust product portfolio supported by effective after-sales service. Which gives us the confidence to continue our last year's and the industry's first initiative of same-day installation."
Energy efficiency coupled with powerful cooling
The GenCool AC comes equipped with a Smart and Dual Inverter Compressor which reduces energy consumption by up to 60 and 70 per cent respectively.
The Dual Inverter Compressor motor has a wide rotational frequency and a higher speed cooling range than a conventional compressor, allowing the Air Conditioner to cool more quickly, last longer and run more quietly.
So no matter how high the temperature, the Air Conditioner distributes cool air immediately to every corner of the room. The unit has a 25 per cent larger skew fan which expels powerful blasts of air through its large outlet, optimally designed to fill spaces with cool air faster and farther.
Due to their twin-rotor, there is a faster cooling at a wider operating frequency or 'broader tonnage'. Hence, a dual inverter offers better cooling in terms of precision in temperature control due to variable tonnage and speed of cooling.
Optimal comfort and health care
Powerful cooling does not come at the expense of the user's comfort. With just a click of the "Comfort Air" remote button, the GenCool AC adjusts the vane angle to ensure that the out-flowing air does not blow directly to the user and cause sudden drops in body temperature.
The disturbance is also not an issue as the Air Conditioner operates at the world's lowest noise level thanks to LG's unique BLDC motor, skew fan technology and Active Low Vibration Control (ALVC) feature. It also maintains an incredible capacity for dehumidification to provide the most comfortable environment.
Health is one of LG's core considerations when creating new products. The Art Cool AC offers top-quality features in favour of the user's health and sanitation. Plasmaster Ionizer Plus, which disseminates over three million ions to sterilize and deodorize not only the air going through the AC but all surrounding harmful substances.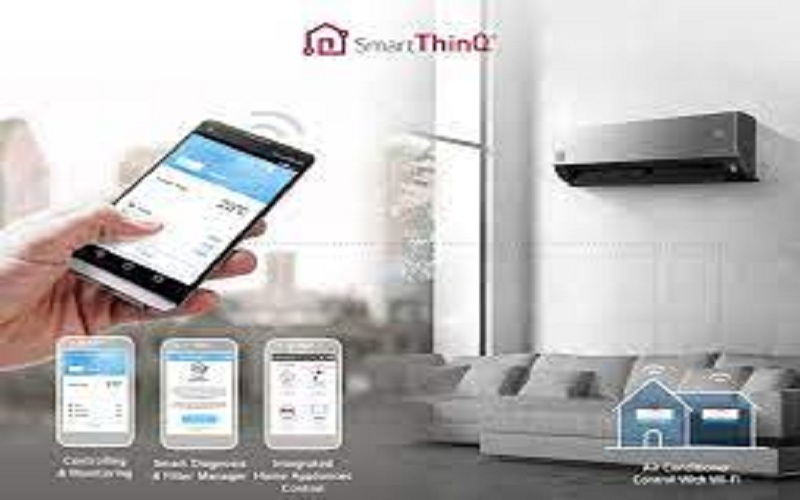 Next-level convenience
The installation has never been easier with the delicately designed installation elements of LG's Air Conditioner: simple packaging, installation plate improvement, installation support clip, wider tubing space, detachable bottom cover and a quick button for running tests.
Less Noise
Ordinary inverter AC uses a single cylinder-shaped rotary compressor. Since the operation of a single compressor requires high-speed rotation, it tends to generate a lot of vibration. This increases noise levels, especially when the shaft of the AC is whirring at full capacity.
The twin-rotary compressors in dual inverter ACs turn with a phase difference of 180 degrees, which promotes more stability when they are operating at full capacity. More stability means fewer vibrations and whirring and ultimately lesser noise.
Consistent with this strategy, LG provides a wide range of products for heating, ventilating and air conditioning. The company's industry-leading variable refrigerant flow (VRF) technology minimizes efficiency losses, provides sustainable energy savings and offers some of the lowest life cycle cost of any system on the market today.
NITDA Celebrates World Backup Day, Urges Nigerians To Back Up Their Data Regularly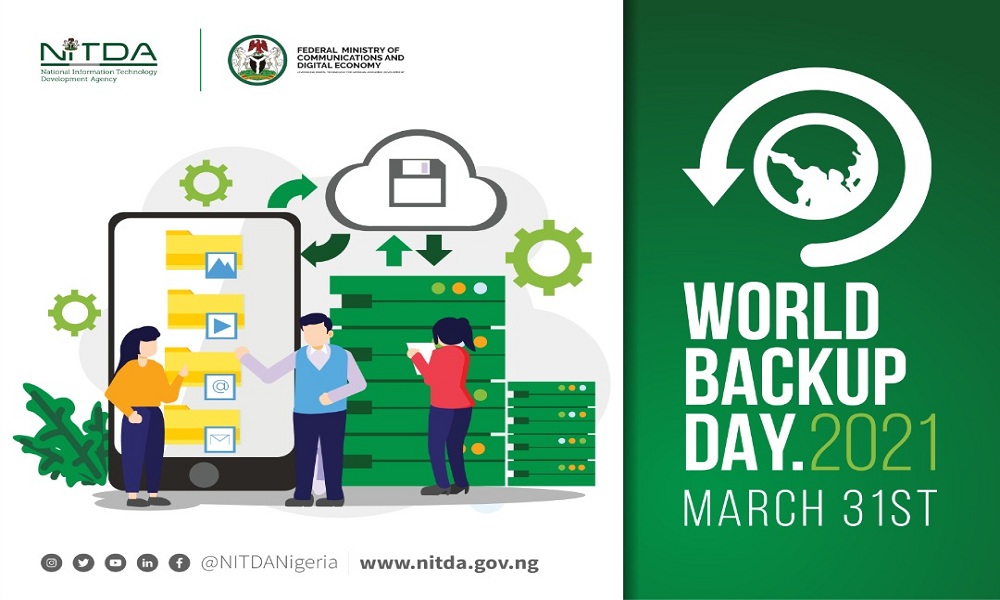 As the National Information Technology Development Agency (NITDA) joins the public in celebrating WORLD BACKUP DAY, Nigerians have been urged to be sure to back up their data regularly and encourage their family, friends, and colleagues to do the same.
World Backup Day (31st March each year) which originally began as World Backup Month was initiated by a hard drive company (Maxtor), which was later acquired by Seagate Technology.
Mrs Hadiza Umar, Head, Corporate Affairs and External Relations of the National Information Technology Development Agency (NITDA) said in a statement Tuesday night that this year's event is timely because reminders of data protection are needed more than ever due to the sudden global shift to work-from-home.
"Furthermore, World Back-up Day aims to raise awareness concerning the role of data in our lives and consequently the importance of undertaking regular data backup.
"Data backup is the process of keeping a clean second copy of any important digital content to guarantee availability; even when a computer crashes, cell phones or tablets get lost, data becomes corrupted, or gets destroyed by a virus," Umar said.
She said that with Nigeria's drive for a vibrant Digital Economy, which intends to encourage both Public and Private Institutions to promote their services online, there is potential to generate a massive amount of data.
"Therefore, making a backup copy of your valuable data can make all the difference when data loss or a compromise occurs.
"NITDA encourages the public to safely store backup copies of all valuable data from servers, personal electronic devices such as computers, smartphones, and tablets regularly," she stated.
NITDA, therefore, advised individuals and indeed the general public to back up data daily to an external storage device like Flash Drive, Memory Card, HardDisk Drive (HDD) or Solid State Drive (SSD), or Cloud Storage.
They should also follow the 3/2/1 backup rule with three copies of their data, two on different media types, and one remote copy (cloud storage).
GSMA Says Mobile Money Accounts Grew To 1.2 Billion In 2020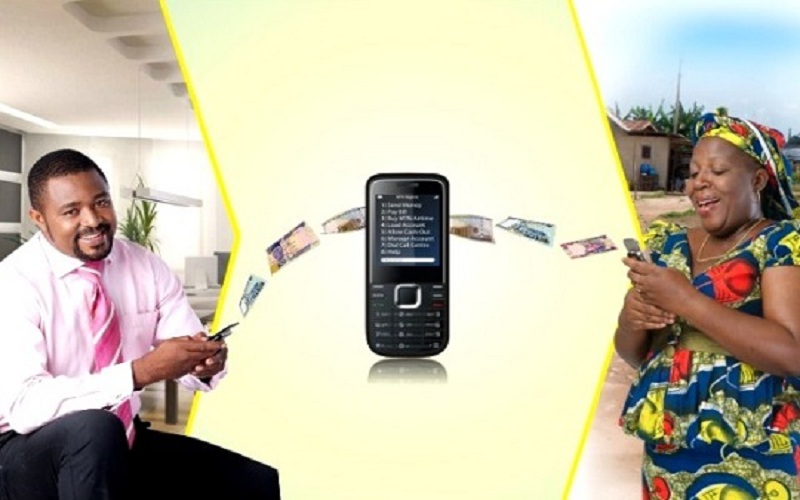 GSMA has published its annual 'State of the Industry Report on Mobile Money' which revealed a dramatic acceleration in mobile transactions during the COVID-19 pandemic as lockdown restrictions limited access to cash and financial institutions.
The report found that the number of registered accounts grew by 13 per cent globally in 2020 to more than 1.2 billion – double the forecast.
The fastest growth was in markets where governments provided significant pandemic relief to their citizens.
To minimise the economic toll of COVID-19, many national governments distributed monetary support to individuals and businesses.
The value of government-to-person payments quadrupled during the pandemic, with the mobile money industry working hand-in-hand with administrations and NGOs to distribute social protection and humanitarian payments quickly, securely, and efficiently to those in need.
Facilitating this type of direct income support payments is one example of how mobile money provides a financial lifeline to underserved communities.
Mobile money providers have also provided in-kind support, including the distribution of personal protective equipment (PPE) and hand sanitising gel at agent counters.
"We see that mobile money is a powerful tool for expanding the financial inclusion of women in low- and middle-income countries," said John Giusti, the GSMA's Chief Regulatory Officer.
"This year's report, however, found that across markets, women are still 33 per cent less likely than men to have a mobile money account. The GSMA and its members are committed to closing this gender gap by addressing the barriers that prevent women from accessing and using mobile financial services."
Closing the gap requires a collaborative and concerted effort. Many providers have committed to increasing the proportion of female customers. One example of an innovative approach to this is launching micro-entrepreneur products that can be used in markets where women represent the majority of vendors and customers.
For the first time, more than $1 billion was sent and received in the form of remittances globally every month via mobile money.
Despite early fears that transactions would decline as people worldwide suffered job losses and income cuts during the pandemic, it remains clear that diasporas continue to support family and friends back home.
As a result, the total value of transactions increased by 65 per cent to an annual total of $12.7 billion in 2020.
In working towards achieving the Sustainable Development Goals (SDGs), the GSMA remains committed to reducing inequalities among countries when sending money internationally.
According to GSMA's research, mobile money provides an affordable channel for connecting people to vital financial resources.
The mobile money ecosystem has been strengthened by an increasing number of strategic partnerships established between money transfer organisations and mobile money providers.
As the COVID-19 pandemic negatively impacted people's lives and weakened economies, regulators responded with a variety of measures aimed at reducing the impact.
The research found that the pandemic gave fresh urgency to the need for regulatory change to facilitate greater digitalisation. In many markets, transaction limits were increased to allow more funds to flow through mobile money.
Additionally, as demand rose for non-physical payments, some regulators classified mobile money agents and their supply chains as essential services.
Over 50 per cent of mobile money agents were continuously active throughout the pandemic, which was crucial for service continuity and maintaining liquidity.
While some of the regulatory reforms made in response to the pandemic have been positive for customers and providers, the implementation and extension of fee waivers have had a negative impact on mobile money providers' core revenue stream.
Mobile Money providers depend mainly on transactional revenues to sustain their business. Regulators are strongly encouraged to work closely with the industry to ensure sustainability going forward.