NITDA, CISCO Sign MoU To Promote Digital Transformation, Literacy
…as NITDA bags Golden Bridge Award
The National Information Technology Development Agency (NITDA) has signed a Memorandum of Understanding, (MOU) with the Computer Information System Company (CISCO) aimed at promoting digital transformation as well as bridging the digital skills gap in the country.
This development is part of the government's efforts to achieve a mandate of 95 per cent digital literacy by 2030 and power the economic resilience of Nigeria through effective collaboration with relevant stakeholders.
The agreement which was signed at the CISCO Networking Academy for Europe Middle East Africa (EMEA) Partner Conference in Paris, France, was sanctioned by the NITDA Director General, Kashifu Inuwa, and the Vice President of CISCO Middle East & Africa, Reem Asaad in the presence of other industry stakeholders in the world.
In strengthening the Agency's efforts in bridging the digital skills gap in the country, the MOU signed between the two organisations is expected to support the nation's digital transformation agenda and contribute to digital skills training and development.
The CISCO Networking Academy is an IT skill-to-jobs programme that ensures collaboration between public-private partnerships in offering digital skills training through high-quality curriculum and inclusive workforce development programmes.
The signed MOU forms part of CISCO's Country Digital Acceleration (CDA) program, which will ensure that the CISCO Networking Academy program is promoted and expanded to benefit the country and its citizenry.
The strategic collaboration between the two organisations would ensure sustainability to other elements of the national digital agenda and create exceptional value for the country, its industries, and its citizens.
Inuwa, who was represented by the Agency's Acting Director, Digital Literacy and Capacity Development Department, Dr. Amina Sambo, said that "by collaborating with industry leaders like CISCO, we can empower and equip Nigerians with the knowledge and resources they need to participate in the national and global digital economies".
In addition to the various infrastructural and innovative initiatives deployed by NITDA in the country, the MOU would ensure that CISCO deploys initiatives that will enable entrepreneurs in the country to gain new skills, innovate and build customer connections.
The CISCO Incubation and Innovation Centre known as the CISCO Earn, Design, Go to Market, Earn (EDGE) will be used to stimulate innovation and support digitization initiatives thereby providing a space where entrepreneurs in the country can showcase technologies.
It will further provide resources and tools to indigenous innovators and entrepreneurs in the country to help them develop more secure, intelligent, and connected solutions.
Expressing her excitement at working with NITDA in accelerating digitisation in Nigeria, Reem asserted that CISCO has a responsibility to its customers and the global community to help them solve challenges impacting lives.
"Cisco Networking Academy is a powerful force for change. This initiative will unlock equitable opportunities for education and career connections to diverse communities. The focus on networking and cyber security will place learners at the forefront of innovation, equipping them with in-demand skills to develop ideas that will power the future," she added.
The highlight of the programme was the conferment of the prestigious CISCO Golden Bridge Award on NITDA in recognition of the extraordinary contributions of the Director General, Kashifu Inuwa.
Institutionalising SMEs, Catalyst For Wealth Creation, Prosperity- NITDA DG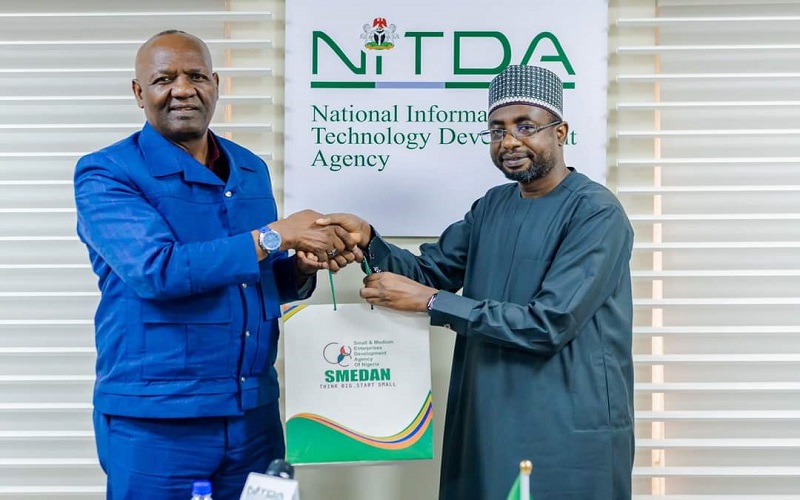 Director General of the National Information Technology Development Agency (NITDA), Kashifu Inuwa has said that institutionalising Small and Medium Enterprises (SMEs) would serve as a catalyst for creating wealth and prosperity.
Inuwa's statement followed a proposed agreement between the National Information Technology Development Agency (NITDA) and the Small and Medium Scale Enterprises Development Agency of Nigeria (SMEDAN) to institutionalise the activities of the Small and Medium Enterprises, (SMEs) in the country.
Digital TimesNG gathered that the proposed agreement was revealed at a meeting between NITDA's Director General, Kashifu Inuwa, and his SMEDAN counterpart, Mr. Olawale Fasanya, held at NITDA's Corporate Headquarters, Abuja.
According to Inuwa, "We have between 60-90 per cent of our businesses under SMEs. But operating informally, how can we formalise them so that even the government can benefit by collecting taxes and have a structure in place to capture the GDP correctly?
Inuwa noted that most of the Startups the Agency deals with are SMEs who are also trying to solve a real-life problem.
"We see Startups as our babies, while for you anybody trying to start any business, you see them as your babies. We have startups solving problems in agric, commerce, education, logistics and so on," he said.
The NITDA DG added that the world is moving to smart manufacturing whereby you can design anything on your system and print it using a 3D printer.
"We have Digital Fabrication Lab in our Centre, the National Centre for Artificial Intelligence and Robotics (NCAIR), where you can design all these and manufacture them or prototype them and do mass production," he further stated.
He also announced that plans are underway to have facilities everywhere as the goal is for every Nigerian to have access to these kinds of facilities.
Enumerating some of the initiatives which the Agency is undertaking and the collaboration is into with the big techs including NITDA Learning Management System Online Academy, the Director General assured SMEDAN that their SMEs will be onboarded into some of the programmes.
"We are also looking beyond SMEs today; we have what we call IDEs (Innovation Driven Enterprises) which is a process where you start with a mindset that you are solving the immediate problem. But the bigger picture is to go global, and Information Technology is making it possible for you to reach anywhere in the world," he said.
Citing the recent research conducted by the Lagos Business School on the booming nature of the Gig economy, the Director General said that as of last year, there were over 2 million Nigerians earning a living through the Gig economy who receive training and work from anywhere using IT, like those doing Bolt and online digital marketing.
Describing the roles of the two agencies as common, Inuwa said they both exist to develop and help Nigerians create wealth using IT.
"IT is pervasive, anywhere you think of today, you need IT to enable it. Our lives revolve around technology," he noted.
"This kind of collaboration is what can help us have structure to even protect the Gig economy as well," he concluded.
Earlier in his remark, Mr. Fasanya said that they were in the Agency to intimate NITDA of their readiness to further enter into other collaborative areas that will be more impactful to society.
The SMEDAN's Director General revealed that they have identified about 70 youths in all 36 states of the Federation who were trained on different skills, particularly on how to market their products digitally.
While disclosing that his organisation wants their SMEs to take advantage of the digital space, Mr. Fasanya said that would give them the required knowledge on e-learning platforms, e-marketing and so on.
TGI Cares Foundation Partners Jigawa iLearn Scholars
…Provides laptops and internet to Jigawa Scholars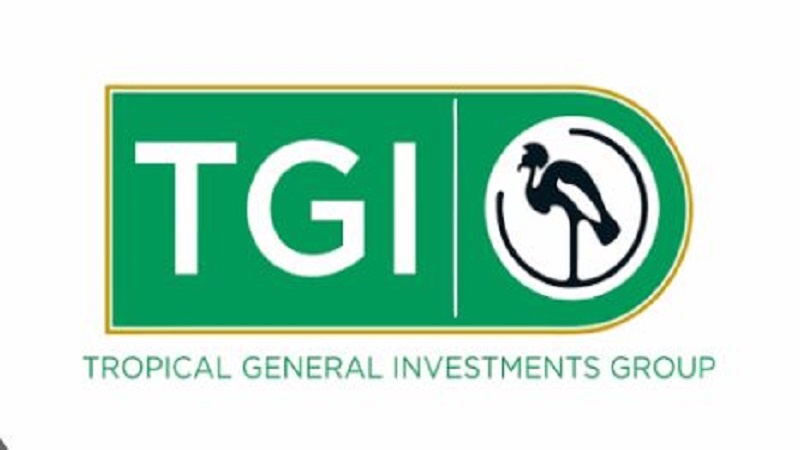 The TGI Cares Foundation, a philanthropy arm of TGI Group has partnered with Jigawa iLearn Scholars, an NGO, to provide tech work tools to several students as they commence their BSc, MSc, and MBA programs at prestigious Indian universities under the e-VBAB Network Project.
The e-VBAB project, which is an initiative of the Government of India, under the Third India-Africa Summit commitments, was created to offer 15,000 scholarships to African students and professionals to pursue courses offered by premier Indian institutions in emerging areas.
The initiative offers certifications, diplomas, as well as undergraduate and postgraduate degree courses.
The TGI CARES Foundation supported the 29 beneficiaries enrolled in the e-VBAB project under the Jigawa iLearn Scholar's platform with laptops and pocket MiFi to enable them to attend classes, and access learning materials independently.
Farouk Gumel, Executive Director and Vice Chairman, Africa, of the Tropical General Investments (TGI) Group, revealed that the TGI Cares Foundation's causes are centered around guaranteeing food security by supporting appropriate education, championing social interventions and providing relief in times of disasters.
"Supporting these scholars sits well within the focus areas of our foundation. The role of education cannot be downplayed in food security, it empowers the individual who will then go on to support their family. This creates a situation where, as more people get empowered, more people are pulled out of poverty," he said.
Salim Ibrahim, a trainer with the Jigawa iLearn Scholars, acknowledged the tremendous impact of the equipment on their education.
"These tools will enable them to access online resources, participate in virtual classes, and complete assignments on the go. It has allowed our Jigawa iLearn Scholars to remain connected with their teachers and peers, keeping their academic progress on track," he added.
iLearn is a complete Education Management Platform explicitly designed for Higher Institutions by providing full automation for managing online learning and content authoring with multimedia.
TGI Cares Foundation is the charitable foundation of TGI Group companies and its Promoter – Mr. Cornelis Vink MFR.
Tropical General Investments (TGI) Group is a global conglomerate with most of its investments in emerging markets.
TGI's investments focus on driving inclusivity and value addition using locally sourced raw materials, state-of-the-art manufacturing facilities, and a highly skilled workforce to produce world-class products consumed locally and exported to global markets.
LG Electronics, Fouani Nigeria Limited Partner RelianceHMO
-Partnership To Provide Medical Insurance To Over 100 Dealers, Families
LG Electronics, a leading consumer electronics company, and Fouani Nigeria Limited, their authorized distributor in Nigeria, have teamed with RelianceHMO, a leading health insurance provider, to provide medical cover for its over 100 dealers and their families in Nigeria.
The electronic giant made the announcement at its Lekki Showroom on Saturday, May 20th, 2023, amid unprecedented excitement from all the beneficiaries.
Hari Elluru, Head of Corporate Marketing at LG Electronics said this initiative reflects LG's commitment to the well-being and happiness of its Dealers and aims to provide them and their families with medical insurance and peace of mind.
"We recognize that our Dealers are our most valuable asset, and their health and well-being are of utmost importance. With the new medical insurance plan, we are significantly expanding our coverage to ensure our Dealers and family members have access to quality healthcare services when they need it the most," he said.
Digital TimesNG gathered that the company's decision to partner with RelianceHMO was to give more support to its dealers and their families.
"As a socially responsible company, we want to offer more value to our dealers and to appreciate them for promoting the LG brand. We are committed to enriching lives not just through our products, but by promoting healthy living through initiatives such as the insurance cover we are offering today," he stated.
Elluru revealed that all beneficiaries would have a year of health insurance sponsored by LG Electronics and Fouani Nigeria Limited.
Mohammed Fouani, Managing Director and Chief Executive Officer of Fouani Nigeria Limited, the authorized distributor of LG Electronics in Nigeria, described the development as "another attestation of LG's unwavering commitment to bettering the lives of everyone, including its existing and potential customers.
"By implementing this enhanced medical insurance plan, LG Electronics and Fouani Nigeria Limited aim to foster a healthy and supportive work environment, reinforcing our commitment to the welfare of our dealers and their families.
"We firmly believe that this investment in their well-being will not only contribute to their personal happiness but also enhance their productivity and job satisfaction" and advised dealers to keep promoting the LG brand in the Nigerian market.
Ogheneovo Abere, MD, Reliance HMO, said the health tech company's goal is to make quality healthcare accessible and affordable to all.
"Without health insurance, many of you will be forced to dip into your savings to cover the costs of seeking medical attention," he said.
"You cannot be both financially and mentally drained; a health care plan allows you to cover medical bills without having to dive into your resources. We are proud to bring comprehensive health insurance to LG Electronics' key stakeholders."
Abere added that RelianceHMO employs an integrated method to provide health insurance and telemedicine through partnerships with hospitals and healthcare facilities to alleviate the load of thousands of Nigerians and ensure exceptional customer experiences for all beneficiaries.
He also applauded LG Electronics for always going above and beyond to provide its stakeholders with an excellent experience.
Responding to this kind gesture, Mr. Sanyaolu Adegboyega, MD, Paypoints Electronics, on behalf of the dealers, commended both LG Electronics and Fouani for always putting the dealers first in every aspect of their business.
He said this medical insurance is needed at this point in time and prayed for more business for the organization.
During the event, dealers went home with several gifts including Microwave Oven, Soundbar, and XBOOM Audio.