Smile Thrills Customers With DOUBLE DATA WEEKEND, As Christmas Beckons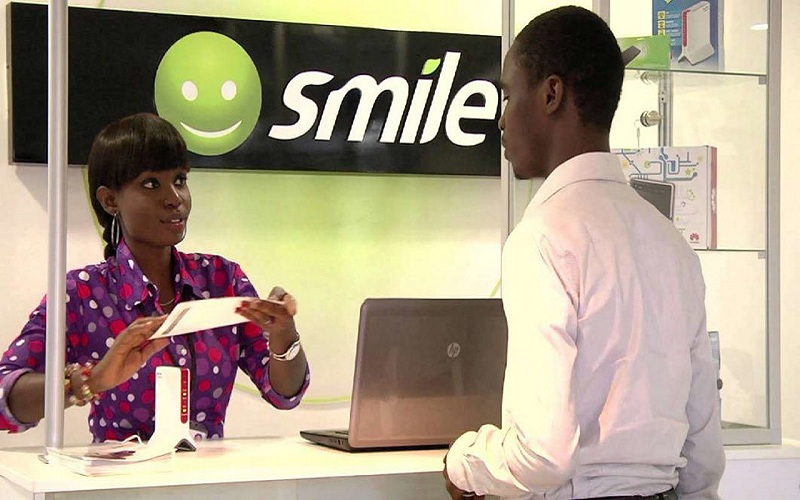 Smile Communications has activated an effective plan to make every weekend from now until 31st December, 2021, exciting and memorable.
With Christmasand its attendant jollity about to come early for subscribers of Smile Communications, the company said in a statement that the satisfaction of its customers is it's priority.
The offer; Double Data Weekend (SuperFast internet from Friday – Sunday), will ensure that when customers use the MySmile App from Friday to Sunday to recharge their Bigga plan, they get 100% BONUS data that is valid for 14 days.
With the 100% BONUS data, customers are assured of more connection time on the Smile network.
The Bigga plans with 30 days' validity come in various options however, the applicable ones for this particular offer are the 15GB (N5,000), 20GB (N6,000), 30GB (N8,000), 40GB (N10,000), 60GB (N13,500), 75GB (N15,000) and 100GB (N18,000) data plans.
Abdul Hafeez, Chief Marketing Officer, Smile Nigeria, noted that the offer is principally for Smile customers who have downloaded the MySmile App, and are recharging their data plans through it.
He disclosed that the three basic requirements of Where, How, and When entails; Having the downloaded MySmile App; subscribing through the MySmile App for the N5,000 and above Bigga plans; and doing so during the weekend days of Friday to Sunday respectively.
All these, he shared, are geared at delighting Smile customers.
"Customers", Hafeez reiterated, "are at the centre of everything we do, and with this in mind, we created easy-to-use channels for you to manage and use your Smile services and engage with us."
He enjoined Smile customers to empower themselves more by installing the MySmile App on their Android and iOS mobile phones as with the MySmile App, customers can manage their Smile services wherever and whenever they want.
Among the Smile services available on the MySmile App is Recharging Airtime, Data and Voice services; Sharing Data and Airtime; Redeeming Airtime vouchers as well as Checking balances for Data, Voice, SMS, and Airtime service.
Others are Checking history of usage, purchases, and shares of Data, Voice, and Airtime; Viewing personal information and KYC status; Updating NIN in one easy step as required by regulations; Connecting with Smile on all Social Media platforms with one click and Chatting with a Smile Customer Care consultant whenever you need to.
The MySmile App is a free App that can be downloaded on any Android or iOS mobile phone.
Customers can log into the MySmile App, using the same credential as they use to access the MySmile Portal (SmileNumber/Username and Password).
Over Half World's Population Now Using Mobile Internet- Report
GSMA Research Shows 3.4 Billion People Do Not Use Mobile Internet Despite Living in Areas with Mobile Broadband Coverage
On Tuesday at the MWC Africa in Kigali, Rwanda, the GSMA launched its global State of Mobile Internet Connectivity Report 2021 showing that, despite the COVID-19 pandemic, more than half of the world's population is now using the mobile internet.
Mobile internet usage translates to just over 4 billion connected people,  225 million more compared to 2019, and up from a third of people globally just six years ago.
Even with this impressive growth in mobile internet connectivity, both in terms of mobile internet coverage and usage, the report highlights that work must accelerate to bridge the digital divide.
Of the 3.8 billion people who remain unconnected, only 450 million people do not live in areas with mobile broadband coverage, ("the coverage gap"). The coverage gap represents a significant improvement year on year.
The far bigger challenge is the 3.4 billion people who live in areas that are already covered by mobile broadband, but are not using it, ("the usage gap").
The report examines trends in the coverage and usage of mobile internet over the last six years and identifies the key barriers to mobile internet adoption.
It also looks at the early impacts of the COVID-19 pandemic and the most significant regional effects.
Finally, it makes recommendations to help close the digital divide and ensure greater access to mobile internet connectivity.
"The COVID-19 pandemic made clear the importance of mobile internet access to people's lives and livelihoods and has accelerated the digital transformation around the world.
"Mobile is the primary and often the only way to access the internet in low- and middle-income countries. While more people than ever are now using the mobile internet, some fundamental barriers stop far too many people from using mobile internet.
"To close this usage gap, all of us – government and industry – need to do more," says the GSMA's Chief Regulatory Officer, John Giusti.
"In particular, we must address the key barriers to usage of mobile internet services, most notably literacy and digital skills, as well as affordability. Only through targeted and collaborative action can we bridge the digital divide."
2Africa Extends To the Arabian Gulf, India, And Pakistan
– Now the Longest Subsea Cable System in the World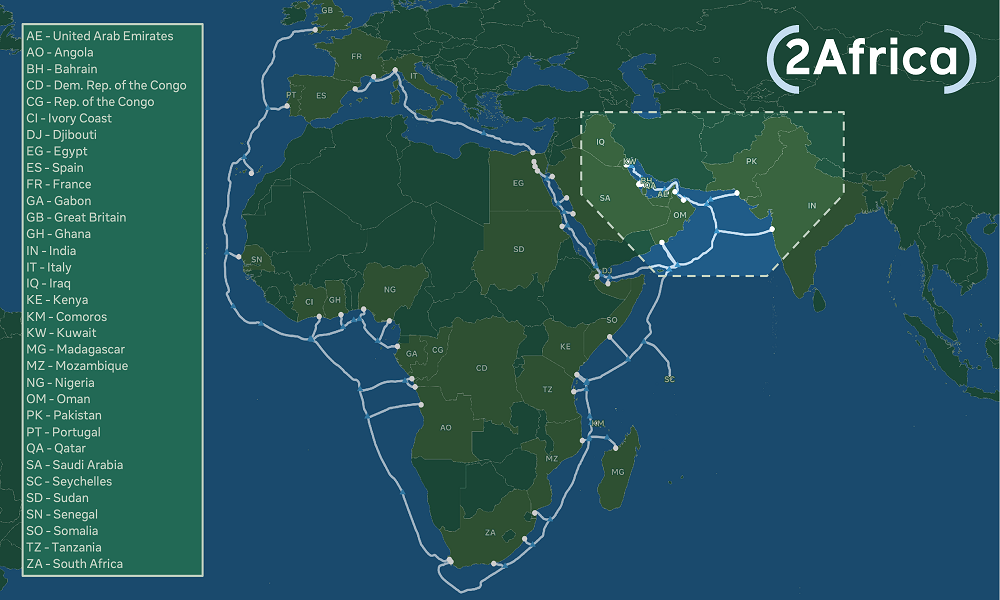 The 2Africa consortium, comprised of China Mobile International, Facebook, MTN GlobalConnect, Orange, stc, Telecom Egypt, Vodafone and WIOCC has announced the addition of a new segment – the 2Africa PEARLS branch – extending to the Arabian Gulf, India, and Pakistan.
This extension will bring the total length of the 2Africa cable system to over 45,000 kilometres, making it the longest subsea cable system ever deployed.
Now connecting three continents, Africa, Europe and Asia terrestrially through Egypt, 2Africa creates unique connectivity by adding vital landing locations in Oman (Barka), UAE (Abu Dhabi and Kalba), Qatar (Doha), Bahrain (Manama), Kuwait (Kuwait), Iraq (Al-Faw), Pakistan (Karachi), India (Mumbai), and a fourth landing in Saudi Arabia (Al Khobar).
The new 2Africa branch joins recently announced extensions to the Canary Islands, Seychelles, Comoros Islands, Angola, and a new landing to southeast Nigeria.
As with other 2Africa cable landings, capacity will be available in PEARLS landings at carrier-neutral facilities or open-access cable landing stations on a fair and equitable basis, encouraging and supporting the development of a healthy internet ecosystem.
To further support a burgeoning global digital economy, the expanded system will serve an even wider range of communities that rely on the internet for services from education to healthcare, and businesses, providing economic and social benefits that come from increased connectivity.
As announced in May 2020, 2Africa was planned to directly bring seamless international connectivity to 1.2 billion people.
Today, with 2Africa PEARLS, 2Africa will be providing international connectivity to an additional 1.8 billion people–that's 3 billion people, representing 36% of the global population.
Alcatel Submarine Networks (ASN) will deploy the new system utilizing new technologies such as SDM that allow the deployment of up to 16 fibre pairs, double that of older technologies and bringing greater and more cost-effective capacity.
2Africa Consortium Lands In South-East Nigeria, As It Announces New Cable Branches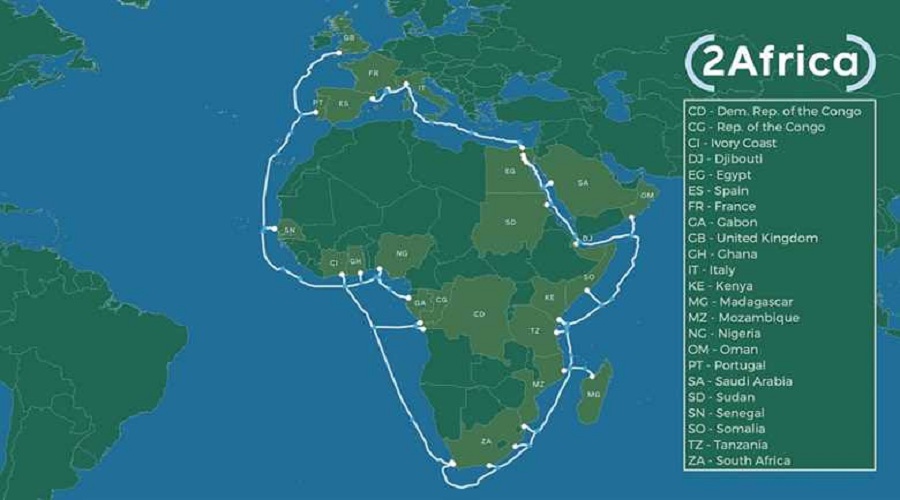 The 2Africa consortium has announced the addition of four new branches to the 2Africa cable.
The branches will extend 2Africa's connectivity to Seychelles, the Comoros Islands, and Angola, and bring a new landing to south-east Nigeria.
The new branches join the recently announced extension to the Canary Islands.
2Africa consortium comprises of China Mobile International, Facebook, MTN GlobalConnect, Orange, STC, Telecom Egypt, Vodafone and WIOCC.
2Africa, which will be the largest subsea cable project in the world, will deliver faster, more reliable internet service to each country where it lands.
Communities that rely on the internet for services from education to healthcare, and businesses will experience the economic and social benefits that come from this increased connectivity.
Alcatel Submarine Networks (ASN) has been selected to deploy the new branches, which will increase the number of 2Africa landings to 35 in 26 countries, further improving connectivity into and around Africa.
As with other 2Africa cable landings, capacity will be available to service providers at carrier-neutral data centres or open-access cable landing stations on a fair and equitable basis, encouraging and supporting the development of a healthy internet ecosystem.
Since launching the 2Africa cable in May 2020, the 2Africa consortium has made considerable progress in planning and preparing for the deployment of the cable, which is expected to 'go live' late 2023.
Most of the subsea route survey activity is now complete. ASN has started manufacturing the cable and building repeater units in its factories in Calais and Greenwich to deploy the first segments in 2022.
One of 2Africa's key segments, the Egypt terrestrial crossing that interconnects landing sites on the Red and the Mediterranean Seas via two completely diverse terrestrial routes, has been completed ahead of schedule.
A third diverse marine path will complement this segment via the Red Sea.