Stanbic IBTC Discontinues BDC Business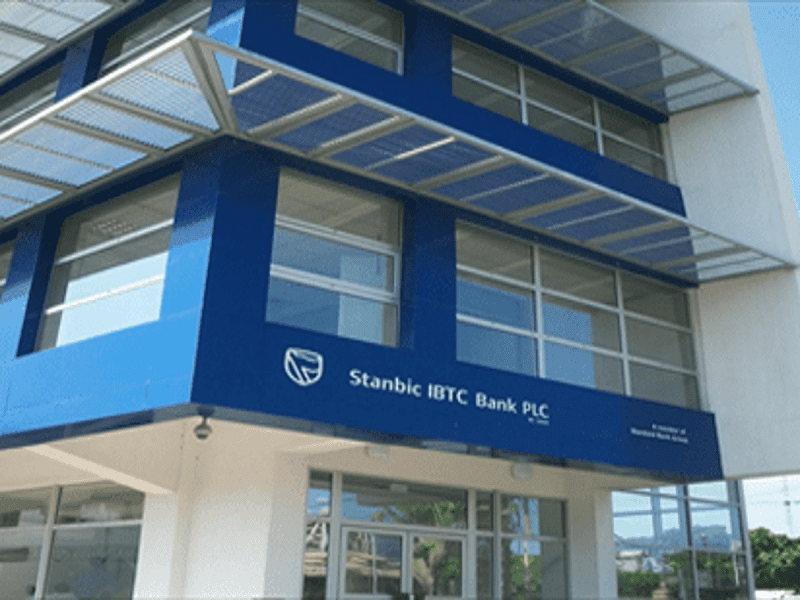 Stanbic IBTC Holdings PLC, has announced that its Bureau De Change Subsidiary, Stanbic IBTC Bureau De Change Limited has discontinued its Bureau de Change business with effect from 01 January 2021 by relinquishing its operating license.
The discontinuation of operations of the BDC business was primarily driven by changes in regulations, which now affords customers with the opportunity of purchasing foreign exchange (PTA and BTA) directly from Stanbic IBTC Bank at any of its branches nationwide.
The company said in a statement that the intention is to repurpose this subsidiary for other business venture in the near future, and stakeholders would be duly notified when all engagements have been concluded in this regard.
Stanbic IBTC Holdings PLC, a member of Standard Bank Group, is a full-service financial services group with a clear focus on three main business pillars – Corporate and Investment Banking, Personal and Business Banking and Wealth Management.
The group's largest shareholder is the Industrial and Commercial Bank of China (ICBC), the world's largest bank, with a 20.1% shareholding.
Also, Standard Bank Group and ICBC share a strategic partnership that facilitates trade deals between Africa, China and select emerging markets.
Standard Bank Group is the largest African financial institution by assets. It is rooted in Africa with strategic representation in 21 countries on the African continent.
The Bank has been in operation for over 158 years and is focused on building first-class, on-the-ground financial services institutions in chosen countries in Africa; and connecting selected emerging markets to Africa by applying sector expertise, particularly in natural resources, power and infrastructure.
Titan Trust Bank, IFC Partner To Train Over 200 Entrepreneurs On Digital Marketing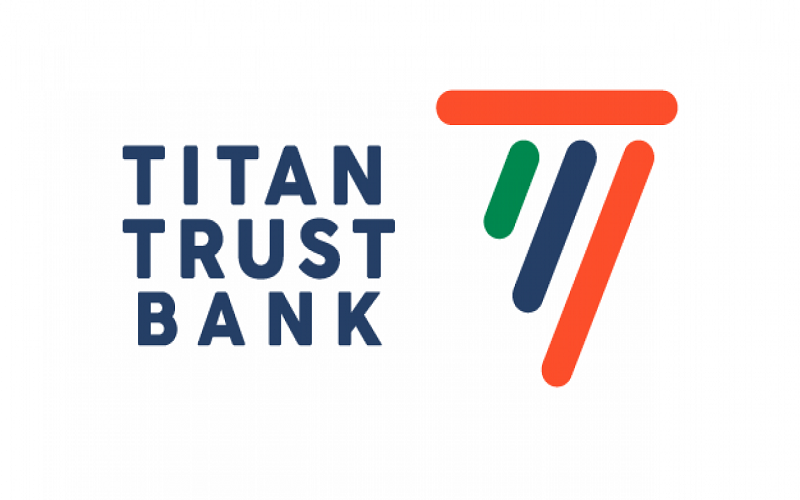 Titan Trust Bank Limited in collaboration with the International Finance Corporation (IFC), last week, launched an online platform to empower business owners with the knowledge to manage and grow their businesses amid the COVID-19 pandemic.
The move is part of the bank's initiative to continuously support entrepreneurs in the country by providing financial and advisory services for the growth of their businesses.
The bank said in a statement that the programme tagged, "Doing Business Online", is aimed at helping business owners cope with the operational stress of the current pandemic and also serves as an enabler for them to create an active online presence, digitalize their products and services and find new ways to connect with their customers.
"The sustainability of businesses in the private sector is paramount as they are important contributors to the economy and are a source of job creation and global economic development. Nigeria is no exception to the private sector dominating the business landscape in the Nigerian economy.
"The wave of the global pandemic had a significant impact on not only economic activity but also the way of doing business and both large and small businesses had to develop coping mechanisms to survive in the 'new normal'.
"Titan Trust Bank recognized an opportunity to add value to a segment that may sometimes be ignored and leveraged on its relationship with the International Finance Corporation to provide an interactive knowledge session for its customers," the bank said in the statement.
Participants at the first virtual edition of the initiative held on February 18, 2020, gave positive testimonials on how relevant and rewarding they found the training.
Participants at the training, numbering over 200 were taken through series of webinars by business and digital experts on how to use social media and online tools to transform businesses from the traditional space to an online digital marketplace.
They were also taken through how to set up an online business, identifying the best ways to make product offerings available online and finding the target market.
Others included understanding how online payments work, how to deliver purchased goods and services to clients, and other value-adding business tools to improve business branding, visibility, profitability and easy connectivity with customers.
Dr Adaeze Udensi, Executive Director, Titan Trust Bank, said during a remark at the event that the bank recognises the needs of businesses and is focused on delivering simple digital and non-digital banking solutions to its customers.
"With the emerging trends, it is either a business goes digital or it dies," she said.
Mudassir Amray, Managing Director/Chief Executive Officer of Titan Trust Bank, who also attended the webinar noted that the current pandemic and its untold impacts have caused a lot of panic in the business scene all around the world and Nigeria is not left out.
"And as a financial service provider that is passionate about the future and committed to tomorrow, it is important we constantly update our customers with knowledge of current trends for them to excel, promote and grow their businesses," he said.
Amray further added that other interesting sessions have been lined up for the coming weeks which will be delivered in partnership with seasoned business experts and promises to be relevant during the pandemic and beyond.
Titan Trust Bank was recognized on the global stage by the New York-based Global Finance Magazine, as the 'Best Trade Finance Provider in Nigeria for the year 2020', an award previously won by only the first-tier banks in Nigeria.
This comes in just 15 months of its commercial operations.
Access Bank's W Initiative Partners Lagos State Govt For Empowerment Of Female Entrepreneurs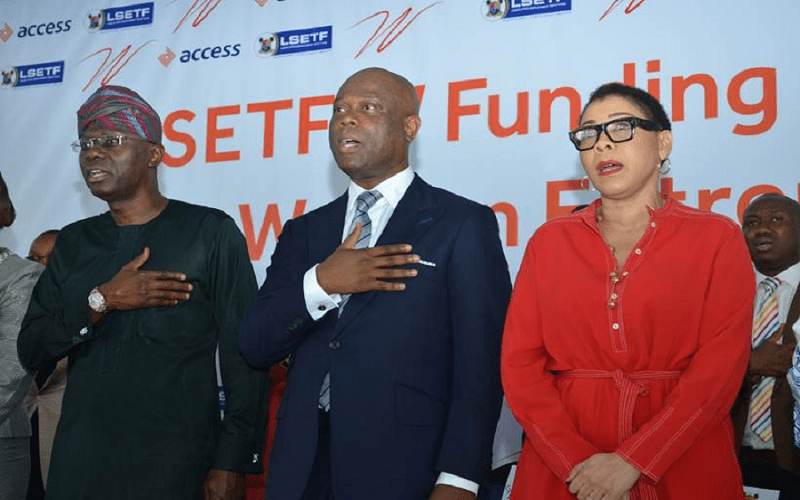 The Access Bank W Initiative program is partnering with the Lagos State Employee Trust Fund (LSETF) to provide low-interest loans for female businesses to flourish in the state.
With this development, female entrepreneurs now have more reasons to smile and succeed with a discounted financing solution known as the "LSETF-W Initiative Loan."
The "LSETF- W Initiative loan" is a financing scheme for female traders/MSME's operating in Lagos state regardless of their state of origin.
This means applications from non-indigenes who are resident in Lagos and own at least 50% ownership in either start-ups, micro-enterprises, or small and medium enterprises will be accepted for consideration.
Teju Abisoye, Executive Secretary-LSETF, commended the efforts of Access Bank's W Initiative for collaborating with the Lagos State Employment Trust Fund (LSETF) on this laudable funding scheme.
"The LSETF was set up in 2016 to address unemployment in Lagos State. It does this strategically by providing affordable financing to MSMEs in the State to increase their productivity and expand in such a way that they can employ more people.
"With the LSETF-W Initiative loan, we will not only be able to tackle financing gaps for female businesses but also make it affordable for them to thrive in the state," Abisoye said.
Ayona Trimnell, Group Head- W Initiative, Access Bank Plc., expressed her delight on the launch of this special intervention fund by LSETF and Access Bank.
According to her, "many individuals especially women have encountered challenges in doing business which includes limited access to funding. This funding challenge has deepened with the pressure of the pandemic situation on the economy.
"Our response to this plight is to make available the LSETF- W Initiative loan which is rightly positioned to tick all the boxes for our female entrepreneurs. The LSETF-W Initiative loan is highly competitive at 10% per annum, requires no collateral (fixed property), and can be repaid over a period of 24 months".
"This is an amazing opportunity for women-led businesses and we can't wait to support over 4,000 female businesses with this fund. Interested applicants can apply through the LSETF loan portal via apply.lsetf.ng", she concluded.
There is so much more Access Bank is offering MSMEs which include business support services, digital payment solutions etc.
Ayodele Olojede, Group Head Emerging Business, Access Bank Plc., shares her thoughts on what female entrepreneurs can enjoy in addition to this fund.
"We understand the nitty-gritty of doing business which goes beyond just having capital hence, many businesses require proper structure, online presence, mentors, access to market and networking opportunities to survive in the first 5 years of business operations.
"Access Bank desires to take the pressure off you in so many ways to enable you grow and succeed in your desired business path," Olojede said.
Access Bank is a one-stop-shop for exciting offers on free trainings, business clinics, discounted website support services, registration services, verified payment links, discounted professional advisory services on bookkeeping, taxation, legal needs and so much more.
Access Bank Customers Can Now Receive Int'l Remittances In Dollars Nationwide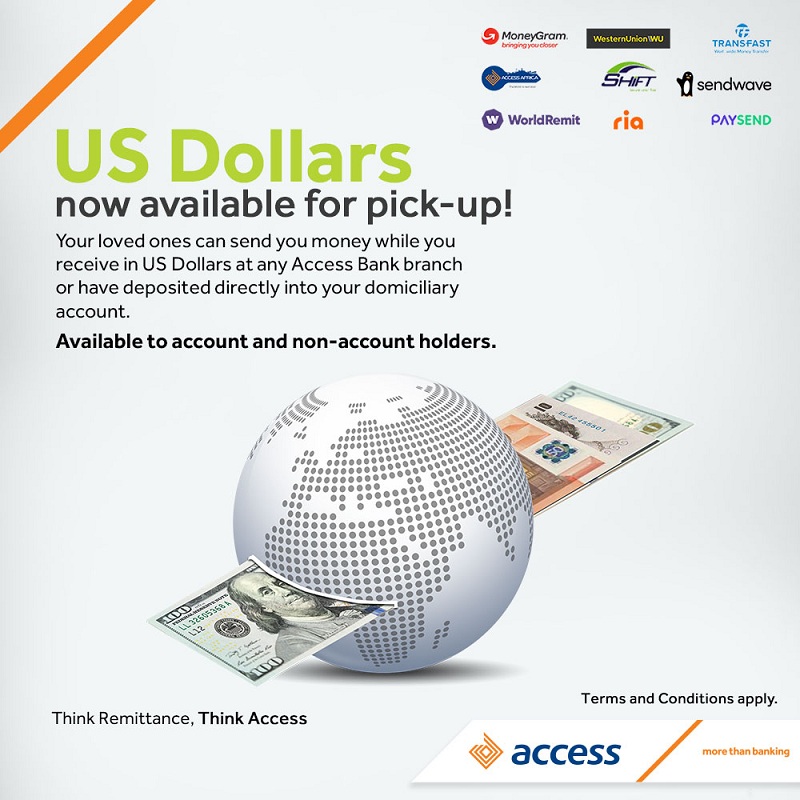 In response to the recent announcement by the Central Bank of Nigeria (CBN) that recipients of international remittances can now receive their funds in Dollars or to have funds paid directly into their domiciliary accounts, Access Bank plc has announced that customers can visit any of their branches nationwide to receive funds sent from family and friends abroad in US Dollars effective immediately.
Victor Etuokwu, Executive Director, Retail Banking, Access Bank plc, in a statement made available to DigitalTimesNG said, "As part of our promise to create value and meet the needs of our customers, we are happy to announce that our customers can now receive funds sent from the diaspora in Dollars at any of our branches nationwide.
"The funds will be available as a cash pick-up or direct transfer into customers' domiciliary accounts.
"The bank's promise to deliver "More than Banking" services is even more critical at this time as customers are looking for convenient products and services that facilitate their lifestyle and our remittance services are available to both customers and non-customers of Access bank.
"We encourage Nigerians in the diaspora to take advantage of this season of giving, to send funds home for their loved ones, who in turn can receive either by opening an Access bank domiciliary account or reactivate their inactive domiciliary account and the funds will be paid directly to their accounts or visit any of our 500 branches nationwide to receive their funds in USD cash.
"We maintain a strong relationship with our remittance partners: Western Union, MoneyGram, Ria, WorldRemit, Transfast, Paysend, Shift, Sendwave and other international money transfer services and we are committed to delivering excellent service to all our customers."
Access Bank, over the years, has leveraged technology including advanced analytics, cloud computing, artificial intelligence, machine learning and robotics process automation to reform business operations and drive performance to improve customer experience.