Strides Ahead: How 5G Will Become The New Frontier Of Sports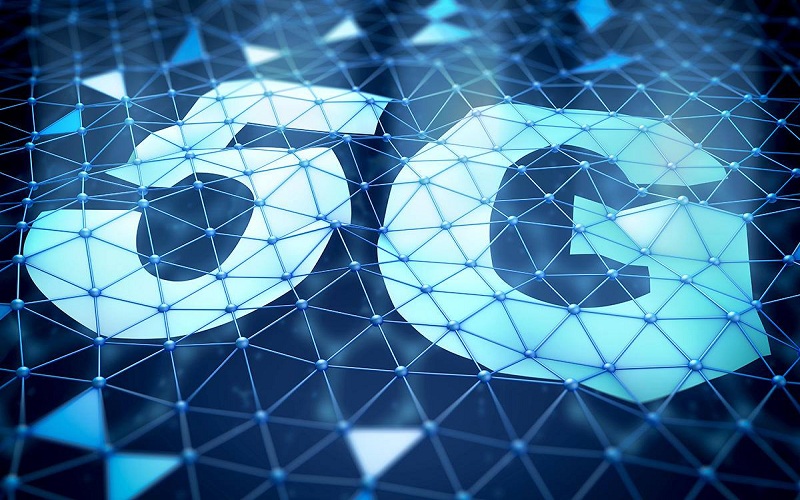 By Kevin MURPHY
Sports fans are a passionate breed and whether they're at the match or on their couches, they demand the full experience. For fans, and athletes alike, leading technologies enrich the sporting experience, bringing people closer to the action, and creating new immersive ways to showcase the commitment, excitement, and teamwork of sports.
The COVID-19 pandemic has led to a growth in digital experiences which may become permanent. The increase in virtual events is raising the bar for the quality and design of the experience, with audiences becoming increasingly sophisticated, demanding a more social, innovative and engaging event.
To transform the digital experience for fans, players and support staff alike, three main types of support is required: a sports performance information system; a digital experience backend system; and technology consulting and innovation services.
The combination of 5G, Augmented Reality (AR) and Virtual Reality (VR) supports completely new user experiences in sports – pushing boundaries and taking the consumer to the heart of the game itself. For a team playing before a packed stadium or a lonesome runner on a forest track, connectivity and mobility enable new values in an emerging internet of sport.
This is where 5G can be a vital tool for the sports sector, as it seeks to re-invent the fan experience at home and at the sports arena. Sporting events could better serve both the travelling fan attending every game in person and the die-hard fan catching the game remotely.
In this age of digital and mobile consumption, fans expect an experience boosted by their mobile devices. Through live-streaming video, mixed reality experiences and real-time access to information about the game, the next generation in mobile wireless technology can create an enhanced experience, reinventing how fans participate in sports.
Immersive Sporting Experiences at Home
Sports fans today are looking for new ways to connect to the sporting experience digitally. There is potential to create more immersive fan experiences with the introduction of 360-degree cameras, virtual and augmented reality. Fans can walk the sideline, see what the goalkeepers are seeing or join the victory celebration in the locker room – all serving the purpose of bringing fans closer to the action at the venue from home.
What's more, the trend of increased solitary viewing due to the development of personal screens and on-demand viewing could be reversed thanks to the capabilities and promises of Virtual Reality (VR). It can provide a way to connect with friends watching the game at different physical locations, creating a "virtual hangout" for the times you can't be there in person.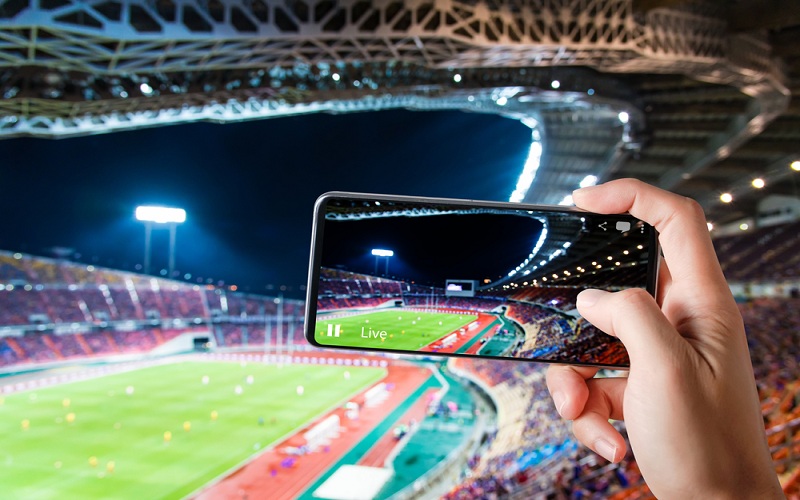 VR also brings an exciting prospect to the table: the ability to watch 4K/UHD content without owning a big physical screen and allowing on-demand viewing to become more of a social activity than it is today. Soon, friends and people with similar interests can watch content together in a VR living room, viewers will have the freedom to look anywhere in every scene of a movie and consumers can experience a football match with other fans in a VR arena, as if they are actually there.
And for sports fans in areas that don't have access to fibre coverage, 5G enables fixed wireless access applications for very high-quality video streaming in 4K video, 360 or AR/VR formats.
This means that you get to watch the 4K video on your mobile device. But 5G is also so fast and so reliable that it will make fixed wireless a real challenger in the broadband market, streaming 4K video wirelessly to your big screen TV as well. And it's not just the quality either. You'll be able to choose what camera angles you like, or if you want information overlaid on the screen, or if you want to watch in VR or not.
Creating the Connected Stadium
A great experience at the arena is fundamental to enjoying live sports. Where fans today see broadband connectivity to their smartphone for social media posts as table stakes, there is so much more that could be done digitally to connect fans to the action. This is an area where 5G can improve the overall experience, compared to standard WIFI solutions.
5G can expand the experience for fans at the game, creating new possibilities by connecting sensors in balls, goals, and even players – all in real-time with extremely low latency. The next-generation technology can deliver enough capacity to the stadium for fans to stream high-quality video and share the views from their seats with others at the same match.
Other future changes coming to the fan experience with 5G connectivity include the ability to experience matches from new vantage points, using phones to switch between different 360-degree, ultra-high-definition virtual reality cameras filming all around the stadium.
The introduction of 5G at a stadium also creates a horizontal platform to serve additional applications. Fans would be able to monitor and track athletes' performance during practise and competition in real-time, for example. This represents a major opportunity for service providers to deliver enhanced networks in stadiums and arenas to ensure their subscribers are well connected.
Kevin MURPHY is Vice President and Head of Ericsson Levant Countries and Global Customer Unit Ooredoo
Making Sense Of A Manual 'Digital' Directive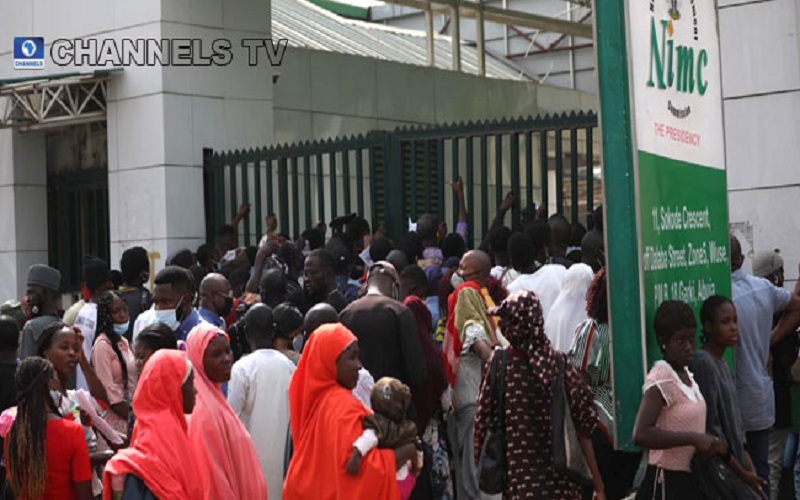 By Elvis EROMOSELE
The COVID-19 pandemic is not letting up. It continues to race and rage across the globe. With 92 million cases and almost two million deaths, one expects every hand to be on deck to curb the spread. 
The World Health Organisation (WHO) advises that if COVID-19 is spreading in your community, stay safe by taking some simple precautions, such as physical distancing, wearing a mask, keeping rooms well ventilated, avoiding crowds, cleaning your hands, and coughing into a bent elbow or tissue.
Yet, in Nigeria, where the second wave is blossoming, crowds have besieged National Identity Management Commission (NIMC) Offices across the country. The very thing that we are supposed to avoid – a crowded place.
The Minister of Communications and Digital Economy, Dr Isa Pantami is directly responsible for this crowd. In December 2020, he issued a directive that made it compulsory for all SIM cards to be linked to the National Identity Number (NIN). So, Nigerians from all walks of life who are yet to get the NIN are forced to visit NIMC offices in an attempt to get it.
The minister initially gave telecoms operators two weeks to link subscribers' registered SIM cards on their networks to their NIN, which is currently being issued by the NIMC.
The directive stated that the submission of NIN by subscribers must take place within two weeks, December 16, 2020, and end by December 30, 2020 – it has since been extended by six weeks following the public outcry. It also stated that after the deadline, all SIMs without NINs are to be blocked from the networks.
Well-meaning Nigerians have questioned the wisdom of the directive. Some have asked, "Must it be done right now in the midst of a global pandemic whose second wave is proving deadlier than the first?"
Clearly, the answer is No! It can wait. In fact, it should wait.
Some people have taken to blaming those who are rushing to obey the directive. They are missing the point. Nigerians are afraid of being cut off, of losing their lines and of being deprived of the link to the world. They have a right to be afraid. Today, connection is the currency of the information society, the lifeblood of the digital economy and the heart of the social age.
Naturally, any threat to cut off that connection would produce the crowd we are experiencing at the NIMC centres. Nobody wants to be cut off.
There is no surprise here. Today, nearly everything rides on the phone. Contacts, financial services, internet connection and even health care apps are all available on the smartphone.
Nobody wants to be cut off.
In over two decades of democracy in Nigeria, the most direct benefit to the masses of the country is access to mobile telephony. The liberalization of the telecommunications industry and the subsequent success of the auction of digital mobile licenses made telephone a thing for everyone.
Think about this, from less than 400, 000 connected lines in the year 2000, we now have over 200 million lines. The progress has been massive. Nearly everyone that wants can get a telephone line. Today, Nigeria has one of the largest telecom markets in Africa. Nobody wants to be cut off.
In addition, the sector continues to generate humongous investments both foreign and domestic. Indeed, telecommunications investment has been identified as one with a strong potential to spur economic growth and create employment.
Within two decades, the telecom sector contribution to GDP grew from less than one per cent to over 10 per cent. The sector is resilient, capital intensive and tightly interwoven with every other sector. This interconnectedness is precisely why nobody wants to be cut off.
The good book says that "the law is made for man and not man for the law." The Minister of Communications and Digital Economy is insisting otherwise. He appears bent on carrying on with the exercise even though it is now obvious that the timing is wrong. The risk rises every single day the directive is in place. It is time to put it on hold.
Some have made excuses on the minister's behalf. They say that before issuing the directive, he met with the CEOs of telcos and none raised any objection. This excuse is lame.
Who doesn't know how Nigeria works? Nigerians are aware that you can't contradict a 'Nigerian big man' unless you are ready for the backlash.
The telcos had little choice in the matter. This is all on the Minister of Communications and Digital Economy. He gave the directive and has refused to reconsider it
The whole idea of the digital economy is not only about nomenclature it is about agility. According to Wikipedia, "Business agility refers to the rapid, continuous, and systematic evolutionary adaptation and entrepreneurial innovation directed at gaining and maintaining competitive advantage."
Since the change of name of the ministry, it has shown little or no understanding of agility. This must change. The ministry should focus rather on a national database or establish the framework for the harmonization of the existing databases – SIM Registration, Voter Cards, NIN, BVN, Drivers' License, International Passport.
The NIN and SIM link directive has today become a monster, a coronavirus super spreader. The Chinese say that "the best time to plant a tree is 20 years ago and the next best time is today." The whole exercise ought to have been suspended two weeks ago, today is the next best time.
Dr Pantami, Stop the NIN and SIM link directive now!
It has become a travesty. Is the linking of NIN and SIM important? Yes, by all means!
Must it be done now? No!
It is not a matter of life and death. Verification and harmonization can wait.
Coronavirus infection doesn't give notice. It won't wait. The crowd at NIMC Centres is not helping.
Suspend the directive. Put the process on hold. Let this COVID-19 wave blow over. For genuine progress, directives must make sense in this digital economy.
**Elvis Eromosele, a Corporate Communication professional and public affairs analyst lives in Lagos. 
Making The Difference: The Many Firsts Of Smile Nigeria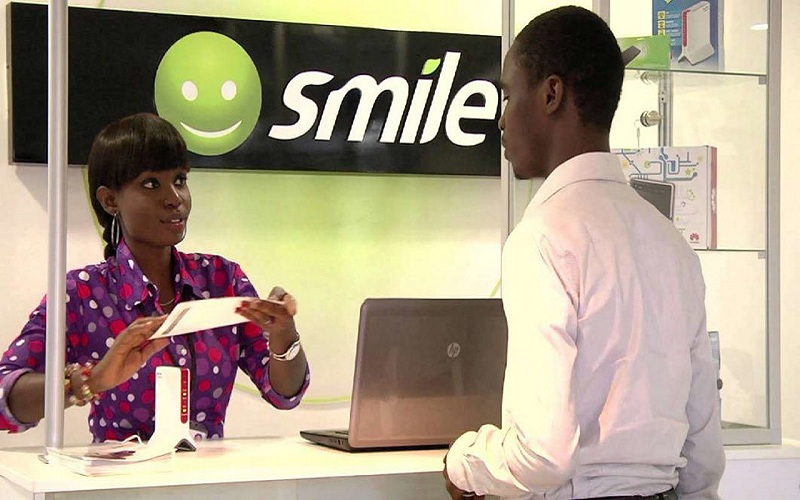 The pioneering work and series of innovations introduced by Smile Nigeria into the nation's telecommunications sector have continued to set it apart among its peers.
Smile had from the inception created a network that outperforms the existing benchmark in the Nigerian market.
In 2013, it launched the first 4G LTE network in West Africa in Nigeria, in Ibadan, thereby revolutionising the way people access the internet.
It deployed the 4G LTE radio network in partnership with Ericsson, which enabled Smile to provide the most advanced telecommunications technologies and standards available anywhere in the world using the 4G LTE network technology.
Smile is also the first in Nigeria to launch Voice over Long Term Evolution (VoLTE) in 2016 on its 4G LTE network.
Compared to traditional 2G and 3G networks, VoLTE enables consumers to benefit from superior quality voice, video and data services on a single device and a single data plan.
Another first from Smile Nigeria is the SmileVoice App launched in March 2016. With the SmileVoice App, customers experience SuperClear voice, with data and voice over LTE on their mobile phones.
Again, Smile Nigeria pioneered 4G roaming with SmileKonnect in partnership with Nuu Mobile. Smile was the first operator in Africa to launch SmileKonnect in April 2019.
This service enables International 4G data roaming and empowers consumers to automatically access data services to send and receive e-mails, download and send business documents and much more.
In December 2019, Smile launched eSIM in Nigeria. The Smile eSIM is a downloadable application, and when activated the consumer can enjoy 10 FREE minutes' local calls, unlimited on-net calls and SMSs.
In March 2020, Smile unveiled UnlimitedPlatinum, which offers unlimited internet with no data limit. This is sequel to its earlier launch of Unlimited plans in 2016.
The UnlimitedPlatinum comes in handy for all data consumers, especially heavy data users. Anyone who subscribes to the Smile UnlimitedPlatinum, will for a period of one month, enjoy the luxury of unlimited downloads of everything desirable.
Very recently, Smile Nigeria introduced the Smile VoTLE smartphone. This first of its kind saw Smile introducing the first entry-level, dual-SIM, Voice Over 4G LTE-enable smartphone.
The smartphone gives customers quick and easy access to the best quality 4G LTE network in Nigeria, at a more affordable rate.
The SmileVoLTE dual SIM smartphone comes pre-loaded with applications including the SmileVoice App, WhatsApp, twitter, skype, Instagram, YouTube, music and FM radio and includes innovative features like fingerprint and face recognition for smartphone private access and security.
Evidently, Smile uses the best and most innovative technologies to offer its customers fast, reliable, high quality, easy-to-use and affordable communication services.
In doing all these, it remains a pacesetter.
Africa In Motion: Accelerating Africa's Digital Future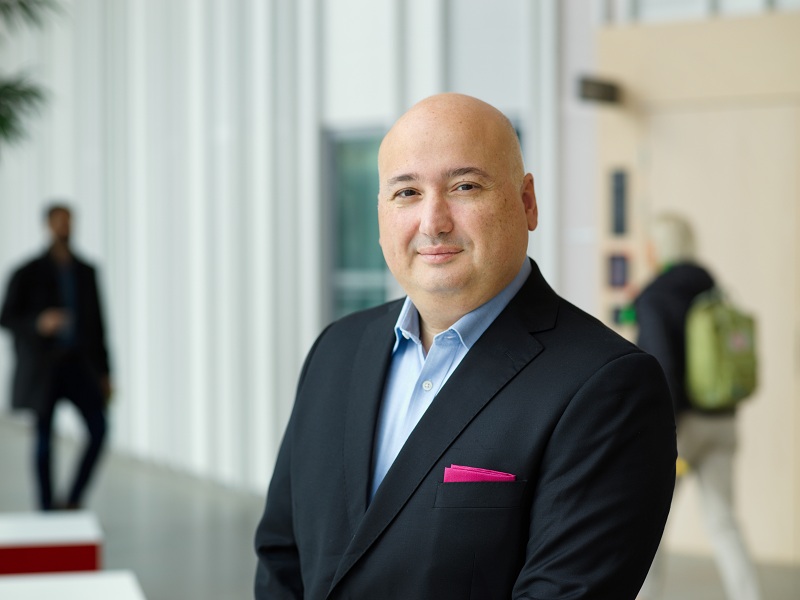 By Fadi PHARAON
As a continent with very high potential for growing economies, how can African countries accelerate their digital adoption and leapfrog into a new era of socio-economic prosperity?
This could be achieved by leveraging new technologies that make it easier to conduct business, raise productivity and efficiency while encouraging an inclusive society. Embracing new ways of enabling positive change will boost livelihoods, promote financial inclusion and improve access to health, education, government services and more.
With the ambition of supporting the acceleration of Africa's digitization journey, we are working jointly with our customers – the service providers – and other stakeholders across the continent to enable #AfricaInMotion.
Digitization Boosting Economies
We believe that Information and Communications Technology (ICT) is the catalyst for digital transformation, with mobile networks being the crucial ingredient in increasing Africa's economic competitiveness in the global arena. While we have witnessed impressive market developments in recent years, Africa's ICT sector still has growth potential compared to leading economies.
As digital infrastructure and transaction become increasingly impactful to the development of the African societies and economies, affordable broadband access will need to be extended to over a billion individuals to bridge the "digital divide" and enable them to reap the benefits of the digital economy.
The Ericsson Mobility Report shows us that, by 2025, 77% of subscriptions in the Middle East and North Africa are expected to be for mobile broadband, while in Sub-Saharan Africa mobile broadband subscriptions will increase to reach around 72% of mobile subscriptions. Mobile broadband connectivity not only offers great potential to transform cities and industries, but it enables connectivity as a basic human right; fostering inclusion and making a positive, sustainable economic impact.
With our commitment to innovation and a long history of engaging in Africa's telecom industry, we at Ericsson are driven to deliver the next-generation technology solutions to Africa. These can enable sweeping changes to industrial production, allowing seamless access to social services and provide people with ways of living harmoniously with their environment.
Sustainability Through Connectivity
Bridging the "digital divide" is a demanding journey both for the public sector and the telecoms industry. This carries the significant potential to contribute to the United Nations Sustainable Development Goals (SDGs) in Africa. In order to achieve that, we have a continuous ongoing journey serving several parameters.
And the story just begins here. We strongly believe in the importance of education for the economic development of Africa by building the right foundation to propel a steady eco-system. Our efforts to support education in Africa are a continuous determination and for that, we are proud to launch our three-year global partnership with UNICEF that will help map school connectivity in 35 countries by the end of 2023. Our partnership will support the UN's Giga initiative, a global program led by UNICEF and the International Telecommunications Union (ITU) that aims to connect every school to the Internet.
Another key example in supporting education is our "Connect to Learn" program, an initiative that implements Information and Communications Technology (ICT) in schools often in resource-poor settings to enhance the quality and access to teaching and learning resources in a safe, cost-effective, and user-friendly way. The program uses the power of mobility, broadband and cloud solutions. Since 2008, we have helped to connect over 500,000 people, students and teachers at remote villages across 10 sub-Saharan countries with technology tools, digital learning resources and new interactive forms of teaching pedagogies.
Furthermore, another testimony that reiterates our efforts in supporting education, is our recently announced "Ericsson Educate" initiative with UNESCO.  In response to how the global COVID-19 Pandemic, UNESCO and Ericsson have  launched a new portal for teaching Artificial Intelligence (AI) to children. Teaching AI is a learning program, which includes a free, multi-lingual artificial intelligence (AI) skills portal that can be accessed globally by parents and teachers, enabling them to support children and students in-home learning environments to learn about AI.
Additionally, we have also launched recently our Digital Lab program in South Africa. The program represents Ericsson's commitment to supporting the UN Sustainable Development Goals – especially Goal #4, with the aim of ensuring inclusive and equitable quality education and promoting lifelong learning opportunities for all. The Ericsson Digital Lab program is an innovative education program targeted towards older children to support them in their first encounters with the world of programming and new technologies.
The program started in Gothenburg, Sweden, as a collaboration with Universeum, a public science centre based in Gothenburg. During 2019-20 the program was expanded to South Africa. We partnered with "Wot-If? Trust" to bring this innovative digital skills program to the youth in Diepsloot, Johannesburg, South Africa and our ambition is to expand this initiative to more young students across Africa.
On the other hand, we also focus on another fundamental goal and that is financial inclusion through the use of digital technology which is an essential element in furthering the economic development of Africa. Mobile money services have become an essential, life-changing tool across the continent, providing access to safe and secure financial services but also to energy, health, education and employment opportunities. One key example to showcase our efforts in that area is our Ericsson Wallet Platform that allows users to store, transfer and withdraw money; pay merchants and utility providers, and use financial services such as savings and loans.
With connectivity acting as a critical enabler of social and economic change, sustainable technologies that support the SDGs are the need of the hour. According to Ericsson research, ICT solutions could help to reduce greenhouse gas (GHG) emissions by up to 15% by 2030, amounting to around ten gigatons of CO2e—more than the current carbon footprint of the EU and US combined. Examples of areas where the savings can be enabled by ICT solutions are transportation, energy, industries and agriculture. This is reflected in our initiatives such as Ericsson Weather Data and Mixed Reality for Urban Design.
Clearly, the SDGs provide a unique opportunity for interesting discussions that will lead to more multi-sectoral partnerships and opportunities that will help spur progress towards meeting the goals.
Partnerships and Collaborations for Societal Impact
What is now needed is a framework that facilitates harnessing the power of ICTs to foster inclusive socio-economic development across Africa. However, this bridging of the digital divide – which promises to level the global playing field so Africa can achieve its full potential – requires a well-planned policy and regulatory environment.
A conducive, enabling policy environment that generates regulatory certainty is key to encouraging market development through partnerships, entrepreneurship, job creation and knowledge sharing. Factors like:
Timely availability of ample, cost-effective and harmonized spectral resources
Support of long-term stable network regulations that uphold the principle of technology neutrality, stimulate investments and foster infrastructure competition
Provision of a free flow of data, while ensuring data protection, privacy and security regulation
We at Ericsson Middle East and Africa are constantly looking for opportunities to collaborate and engage with partners across the board to facilitate such policy development to fast-tracking digitization across the African continent and our recent collaboration with the African Telecommunications Union is one clear example.
Fostering and Empowering Local Talents
At Ericsson, we strongly believe in the great competencies of the local talents in each market where we operate and for that, we continue to offer our employees opportunities that guide and supports them from knowledge, competence, and skill development perspective — to foster an innovative, high-impact learning culture focused on continuous development.
Additionally, coaching and mentoring are critical elements of career development at Ericsson. We have best-in-class mentors who guide our people in Africa through every stage of their career, empowering them to seek more learning and growth opportunities.
One of the initiatives we launched in-light of our efforts to supporting young talents is our "Ericsson Graduates Program ", a program that will offer fresh graduates a chance to join experienced Ericsson staff for on-the-job, online and classroom learning followed by recruitment to join the Ericsson world. The program also engages with young talents from Africa -the Change makers-to explore and identify innovative ideas that reflect and capture the needs of the continent with an ambition to accelerate the African markets' digitalization journey.
The Changemakers attend multidisciplinary sessions with Ericsson specialists spanning across technology, business and entrepreneur to empower and enable them to ideate and work on their ideas in a well-rounded approach. Our ambition is to continue with this program and train and hire more fresh graduates in the coming period.
When it comes to empowering young talents and innovation, we can proudly mention the Ericsson Innovation Awards (EIA), a global competition that gives university students the opportunity to turn their ideas into reality by collaborating with EIA mentors. In 2018, a team from Senegal has been selected as the overall winner of the Ericsson Innovation Awards winning an amount of 25,000 Euros for their idea that addresses lack of school labs in Africa. This year we are excited to launch the same competition very soon and we look forward to receiving ideas from young students from Africa and across the world.
Accelerating the Future
As we look ahead, it's clear that Africa shows significant promise for economic, technological and infrastructure growth over the coming years. Yet, there are still many challenges we must overcome if we are to deliver real sustainable change for all.
While there are parts of the continent trialling 5G services, majority of countries remain to focus on 3G and 4G as smartphone affordability improves year on year. The development of advanced wireless digital infrastructure is an integral part of Africa's growing economy. Mobile broadband access has proved to be an essential driver of an inclusive information society that integrates digitization in all critical aspects of life, such as education, transport, health, energy and even homeland security. Never has this been more evident than during the current COVID 19 pandemic.
Ericsson focuses on assuring best-performing networks in Africa, while also offering the best digital services and solutions to our customers. Our aim is to create a unique customer experience evolving from networks adopting automation, artificial intelligence and analytics. One of our focus areas also is reducing time-to-market and flexibility in launching services for our customers towards their subscribers. From an operations perspective, we emphasise driving service delivery efficiency through the adoption of advanced tools. We will continue our purposeful growth of mobile broadband, fixed wireless access and fintech services so that our service provider partners reach out to further communities across the continent.
Our promise to Africa
Tackling the digital divide, continuing to build a robust ICT infrastructure, promoting sustainability, innovation, education and entrepreneurship will be critical for maximizing the role of technology in boosting resilience and inclusive growth in Africa.
By achieving that, Africa will experience a paradigm shift on all levels with new game-changers as e-health, e-government and e-education; the African society will accelerate into a much economically advanced nation. However, a collaboration between the different stakeholders in the ecosystem becomes even more important than ever to achieve this vision.
Our promise and commitment towards Africa are to always support a world where digitalization is transforming the eco-system; enabling sustainable growth, economic development and opening up opportunities for all.
To accelerate our promise to Africa and achieve a true impact, we are looking forward to supporting our customers in their quest, bringing our latest innovation, leveraging our global skill and scale to the benefit of Africa's digital development.
Fadi Pharaon is President of Ericsson Middle East and Africa