SURVEY: Smile Leads In Unlimited Data Plans Among Nigeria's Telecom Service Providers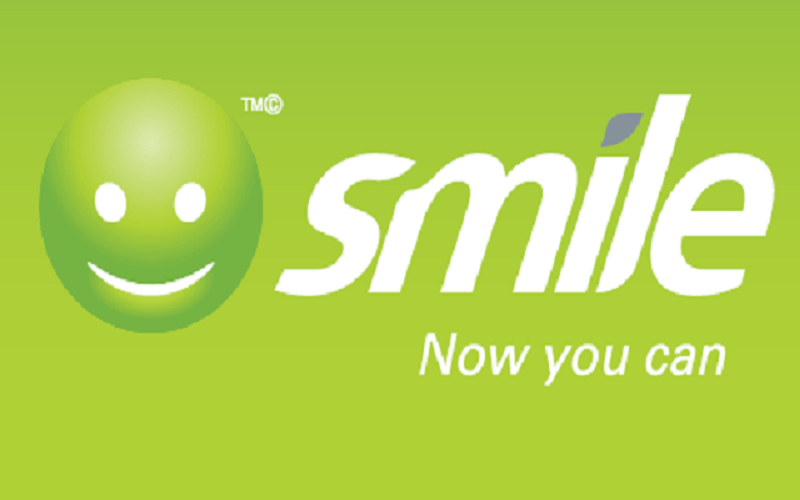 A couple of telcos are claiming to offer unlimited data plans and subscribers are giving them kudos.  Often, the claim is a focus of intense campaign blitz targeted at winning customer loyalty. The question to ask is – are these telcos really offering unlimited data plans?  If they are, what are the definite benefits to the subscriber? This is important because subscribers must get value for their money and seen as such.
In the early days of telecom revolution in early 2000, some telcos brazenly exploited Nigerians in a manner that made informed observers cringe. A particular telco was said to have boasted that what they raked in within six months in Nigeria exceeded what they earned in a particular African country in three years!  Today, this same telco claims to be offering an unlimited data plan, and innocent subscribers are falling for it. Is this thriving in anomaly?
In these hard times, telcos are expected to show demonstrable empathy towards their subscribers. It is part of their corporate social responsibility to offer service commensurate with what the consumer pays for. It, therefore, suffices that unlimited data plan is not a rhyme that everyone must join in reciting. Unlimited data plan must have something significantly beneficial to the subscriber. Yes, nothing with value is free; but consumers' needs and expectations should be met in a manner that gives value for the money spent.
As an avid user of data and determined to know which unlimited data plan would best suit my purpose, I sought to shop around in the major retail outlets in metropolitan Lagos. High on my ranking were the major telcos: Airtel, MTN, Glo, 9mobile, Swift, Smile, Spectranet and ntel. These operators are offering unlimited data plans but most are limited in many ways thereby detracting from the true meaning of unlimited.
Buoyed up by the findings of my limited exercise, a more elaborate survey was conducted in which people who use data plans were surveyed. The outcome was a further affirmation that Smile's unlimited data plans are about the only genuine unlimited data plans, which offer value for money, unlike what obtains with other telcos because of the unique ingredient. The findings also indicated that Smile's unlimited data plans are affordable relative to what other telcos offer.
According to our findings, Smile unlimited data plans provide uninterrupted data connectivity, although they do comply with a Fair Usage Policy as per NCC regulation, there is no data cap and customers can use as much data as they want until the unlimited data plan validity expires.
In comparison to that, Airtel claims to offer unlimited data plans. However, their unlimited data plans have a data cap. Other telcos lay claims to offering unlimited data plans but to varying degree as our findings show that as at today, the only truly unlimited data plan in Nigeria is that currently offered by Smile.
A snapshot of the various Top-of-the-line Unlimited Data Plans by some telcos
Pros and Cons of Telco Unlimited Plans
Top 30-day Unlimited plan Comparison by Operator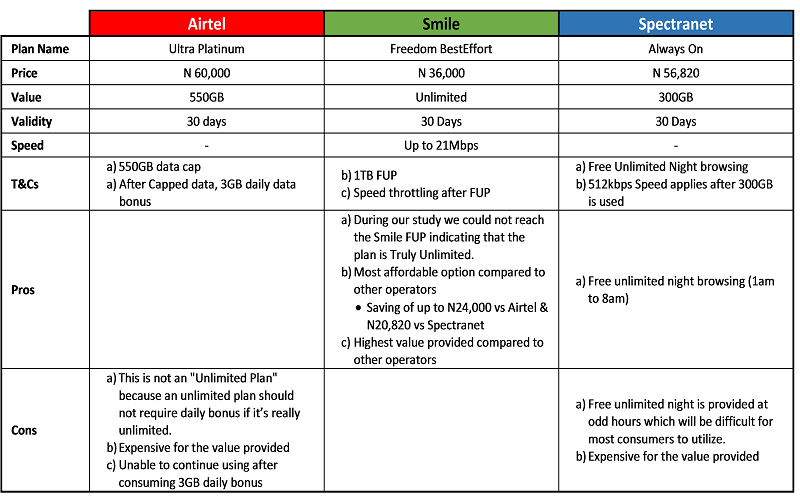 The above table compares the top 30-day Unlimited plans from various operators.
One important note about Airtel Ultra Platinum is when customers exhaust the 550GB before 30 days, they will get 3GB daily bonus.
For instance, if the customer finishes the 550GB on the same day of purchase, they get 3GB daily for next 30 days, which sums up to 90GB. Hence the total value provided is 640GB for N60,000. Herein lies the deficiency of this Ultra Platinum and a clear indication that it is not "Unlimited" because an unlimited plan should not require daily bonus if it's really unlimited.
This is the same for Airtel's other Ultra offerings.
Midrange 30-day Unlimited plan Comparison by Operator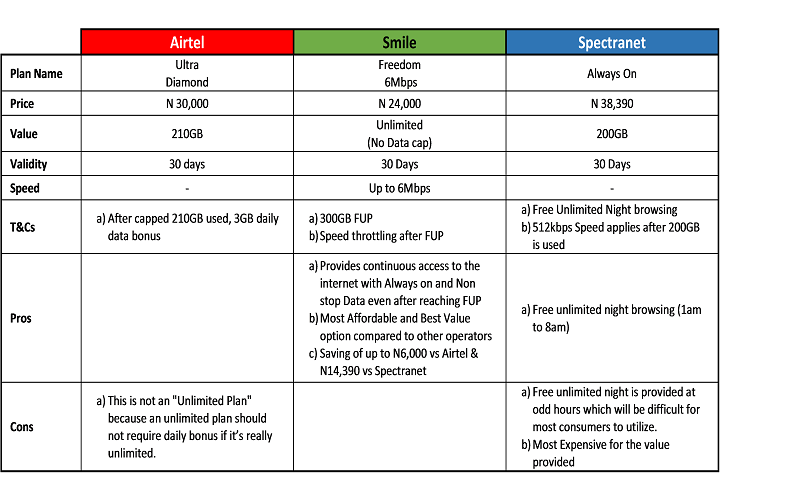 The above table compares the mid-range Unlimited 30-day plans from various operators.
Airtel's Ultra Diamond plan cost N30,000 and has an FUP of 210GB, 3GB daily bonus with a validity period of 30 days. The 3GB daily bonus sums up to 90GB over a 30  day period making a total of 300GB data available for use on that plan after which customers will no longer have Internet access.
Cheapest 30-day Unlimited plan Comparison by Operator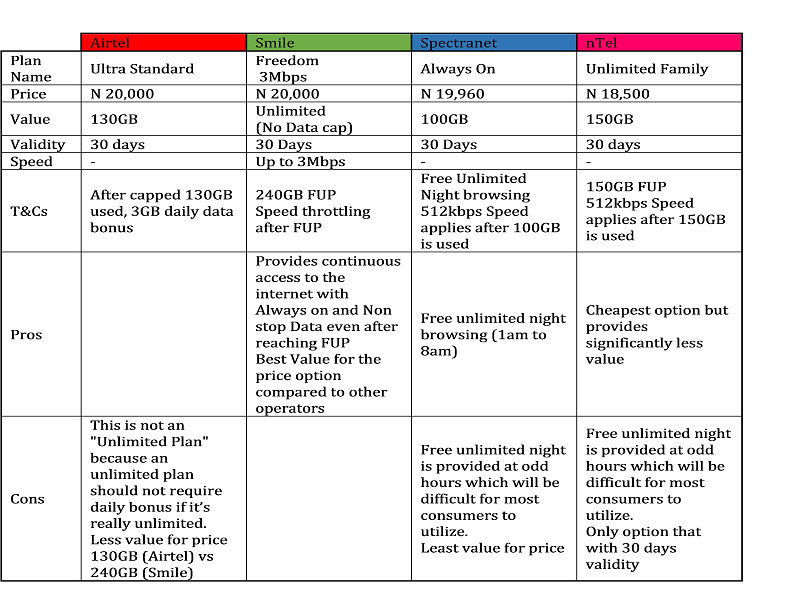 The above table compares the cheapest Unlimited 30-day plans from various operators.
The Unlimited Family from Ntel, their only option for subscribers with a validity of 30 days having 150GB FUP; despite being the cheapest unlimited plan at the cost of N18, 500 gives the customer about 8.1GB per N1, 000 cost as against the 12GB per N1, 000 cost on related Freedom3Mbps plan from Smile. So, the subscriber gets more data for going with Freedom3Mbps plan from Smile. The customer also gets more speed up to 3Mbps on the Smile's option than on the Ntel's Unlimited Family whose FUP speed is just 512kbps.
The Freedom3Mbps plan from Smile with speed up to 3mbps and no data cap when put side by side with the Spectranet Always On 100 at the cost of N19,960, shows a more data offering of 140GB on the N40 extra cost from Smile, not minding the unlimited night browsing from Spectranet. This is an additional benefit to the customer in terms of data value.
Apparently, Smile's unlimited data plan products are designed to serve the purpose of cost-effectiveness, speed and affordability. With the Smile's Freedom plans revolution, the customer enjoys seamless internet for 30 days and remains always connected.
It is, therefore, safe to conclude that Smile offers Unlimited plans that are truly unlimited. That cannot be said for Airtel Unlimited plans for instance. Evidently, only Smile is actually offering unlimited plans via its Freedom plans. A notable drawback is just that Smile's Freedom plans are available in the 8 major cities in which Smile operates (Lagos, Ibadan, Abuja, Kaduna, Benin, Port-Harcourt, Asaba and Onitsha).
Overall, it became apparent from the survey and direct customers' experience that the most pocket-friendly unlimited data plans in the Nigerian market are those offered by Smile Communications. Also, in terms of utilitarian value, the Smile unlimited data plans offer the most and therefore the best value to the customer. Next in the pecking order in terms of price is Ntel, which offers the cheapest unlimited plan while Airtel is the first runner up in terms of value to the customer. The other networks, in spite of their respective strong showing, bring up the rear both in terms of price and value.
Smile Nigeria Excites Customers With More Data, Same Price Plans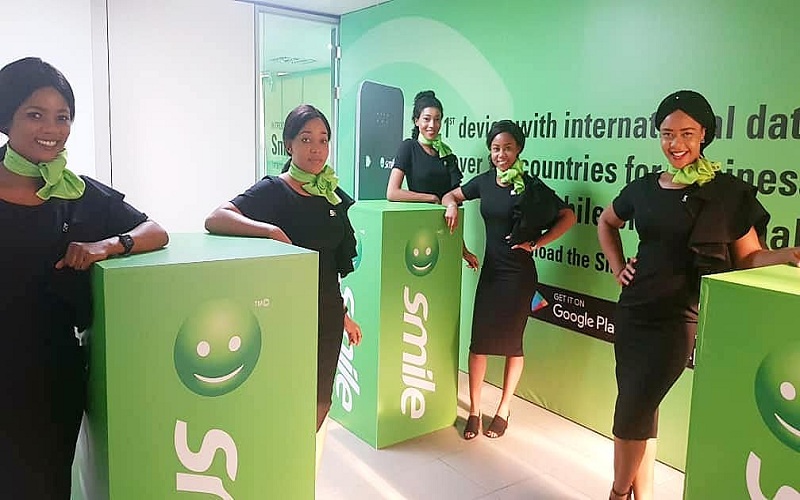 The internet broadband market in the country is once again set to explode as the leading Broadband Service Provider, Smile Nigeria has revamped some of its data plans, thereby giving its numerous customers more value for their money.
Abdul Hafeez, Chief Marketing Officer, Smile Nigeria, noted that the revamped data plans are amazing as they benefit both the low-end users and heavy users.
Included in the data plans are most of the Bigga plans and the Unlimted plans, with the apparent icing on the cake being the introduction of a new Jumbo plan.
Hafeez enthused that Smile will stop at nothing in always availing its customers of the best data plans in the market.
He explained that the quartet in the Bigga plans series have been padded with more data while their prices remain the same with the same 30 days validity.
These are the 8GB Bigga now 10GB Bigga, 12GB Bigga now 15GB Bigga, 15GB Bigga now 20GB Bigga and 20GB Bigga now 25GB Bigga.
For the old 8GB Bigga at N3,000, the customer will get 10GB Bigga thus getting an additional 2GB of data.
The former 12GB Bigga is now 15GB Bigga, a 3GB more data at the same N4,000.
The then 15GB Bigga now comes with an additional 5GB to peak at 20GB Bigga for the same old price of N5,000.
Any new purchase of the old 20GB Bigga will ensure for the buyer an additional 5GB of data, being 25GB Bigga at the same old price of N6,000.
Hafeez further disclosed that the Unlimited plans have had their FUPs significantly increased with a very small increase to the cost while still retaining the 30 days validity period.
The plans affected under this category are the UnlimitedLite and the UnlimitedEssential.
For the UnlimitedLite plan, the customer will now enjoy 40GB of data at N12,000 as against the previous 35GB data at N10,000. This means that at an additional cost of N2,000, a corresponding 5GB data is at the customers' disposal.
The new UnlimitedEssential plan now goes for N18,000 with a 100GB data bundle as against the 70GB. This offers the customer an additional 30GB of data at an additional cost of just N3,000.
To cap it all, a new plan has been introduced in the Jumbo family. The latest addition is the 400GB Jumbo which is very cost-effective at only N50,000 and valid for 6 months.
Market watchers believe that this newest Jumbo family plan comes with a lot of value for the customer.
An innovative company, Smile, launched the first 4G LTE network in West Africa in Nigeria in 2014 revolutionising the way Nigerians access the internet.
The company was the first to launch VoLTE on its network and has continued with its innovation, having introduced SmileVoice, which is a free mobile app that enables customers with any Android or Apple iPhone device (including those which are not VoLTE-enabled) to make SuperClear voice calls over Smile's 4G LTE network.
It was also the first to introduce an unlimited offering, which enables SuperFast data and SuperClear voice, all on one bundle.
MTN Joins Smile To Reinvigorate VoLTE Service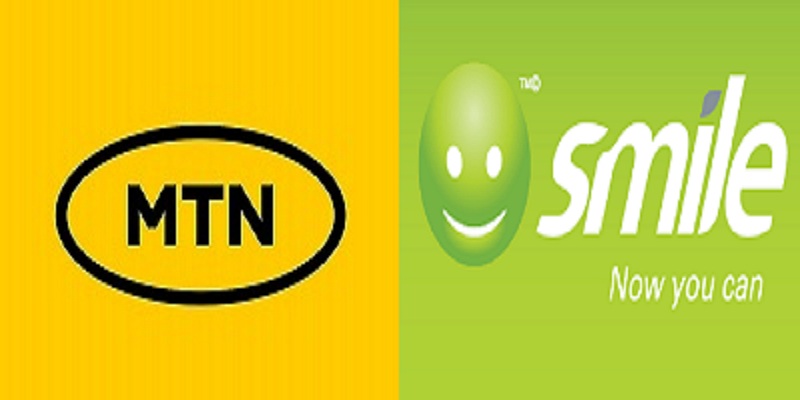 Since the famed telecommunications revolution in Nigeria in 2001, the telecommunications sector has remained pivotal to national economic growth and development.
It has also remained outstanding by the innovative products and services which its leading lights like Airtel, MTN, Glo, 9mobile, nTel, Swift Networks and Smile have made second nature.
One of the most cherished innovations from telcos is the Voice over LTE (VoLTE) introduced in Nigeria by Smile Communications in 2016 and enlivened six years later by the recent launch of the service by MTN in April 2022.
In gifting Nigeria its first VoLTE service via a test run in 2015 and full-service commercialization early in 2016, Smile ensured that Nigerian subscribers were availed of up to three times more voice and data capacity than the existing older 3G UMTS and up to six times more than 2G GSM.
Voice over Long-Term Evolution (VoLTE) is a LTE high-speed wireless communication standard for mobile phones and data terminals, including Internet of things (IoT) devices and wearables. VoLTE calls are voice calls made over the 4G LTE network.
Apparently, with its eyes partly on VoLTE offering, Smile launched West Africa's first 4G LTE network in Nigeria in 2014.  The historic launch evidently revolutionized the way people access the internet in Nigeria.
VoLTE provides superior audio quality to regular phone calls made over the standard voice network and enables the consumer to talk and use 4G LTE data simultaneously. It is also enabled for up to six-way conference calls.
At its introduction in Nigeria in 2016, Smile pledged to, through the Voice over LTE (VoLTE), give Nigerians the best speed in voice and data connectivity. The company noted the rapidly growing Nigerian market that is moving much faster in the broadband direction and pledged to offer voice quality that will definitely beat the existing benchmark in the Nigerian market.
Six years after, Smile has not fallen short of its promise as Nigerians now experience SuperClear voice calls on its 4G LTE network. Designed to delight its subscribers to no end, the Smile Voice is cheaper than normal voice calls.
To enhance an inclusion that extends numerous benefits at a nominal fee, Smile customers can use one Smile Data Bundle for SuperClear, Reliable voice, video calls and SMSs to call anyone on any network, anytime, anywhere, using the SmileVoice App or putting a Smile SIM into a compatible VoLTE phone.
The uniqueness of Smile Voice also allows customers to make calls from their data bundle, which can be shared both for calls and data browsing.
Assured of extensive usage and unrestricted range, Smile customers do not need to worry about roaming abroad, for even when travelling internationally the customer can still enjoy local call rate when he calls home.
All that is needed is to connect the mobile to a local WiFi or data network service and call home at a local per second call rate. In essence, Smile Voice can be used in any country using the data in one's Smile account.
Similarly, the MTN VoLTE service is said to enable a subscriber to make very clear voice calls with reduced background noise on the 4G LTE network. The MTN VoLTE call service will be charged at regular call rates.
It will be available to all customers with VoLTE-enabled devices such as Tecno Phantom X, Infinix Zero X and Infinix Zero X Pro smartphones. Other device models from Samsung, Nokia, Apple and Tecno will be supported soon. The company is hopeful that with VoLTE, it will continue to enhance Nigerian lives with innovative technology.
The Smile earlier offering and the recently launched MTN offer speak to an innovative streak that is gradually becoming synonymous with the telecoms sector.
Invariably, the stellar performance of the telecoms sector stems from a viable market provided by Nigeria and Nigerians, effective regulation provided by the Nigerian Communications Commission (NCC) and impressive service provided by the major operators skippered by Smile and MTN.
Prices Of Data Plans Among Telcos Show Smile Emerging The Most Pocket Friendly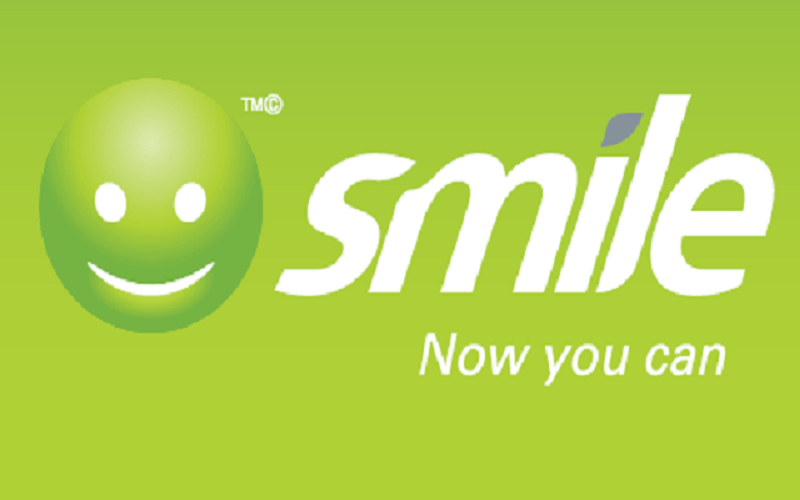 Close your eyes for a moment and imagine how you can fare in today's world without being "mobile", not just on the move but living without your telephone or allied tablets.
Invariably, modernity has predisposed most people to be largely dependent on telephony and data transmission. Today, the average Nigerian could be said to need four essentials namely food, shelter, clothing, and telephony.
More than most things, the Nigerian has embraced telephony with utmost gusto. Nigeria has the highest teledensity in Africa. And not even the recent revelation by the Nigeria Communications Commission (NCC) that almost twenty-five million lines are dormant could detract from the country's high teledensity.
Neither is it indicative of a dwindling appreciation of telephonic services by Nigerians. If anything, the appetite for telephony and data transmission remains huge among Nigerians who embrace the major network operators largely for their reliability, network integrity, and value-adding services.
In recent times, there has been a noticeable upsurge in the deployment of broadband networks and extension of broadband services by Telcos. This has led to an increase in the number of users and consumers of broadband services.
Other ancillary factors also contributed to the growth. For instance, the growth recorded in January 2022 is on the back of the NCC's lifting of the ban on new SIM card sales and activation after a temporary halt on sales to allow for the National Identification Number (NIN) and SIM card integration exercise.
Also, the imperative of the COVID-19 pandemic compelled more individuals and organizations to resort to working remotely. The trend for virtual operations still subsists amongst workers who have embraced the virtual option and sundry users who rely on the internet to get things done.
To function effectively, these individuals and organizations require fast and reliable internet connectivity. Telecoms operators, including core Internet Service Providers (ISP), have continued to offer different data plans.
The recent countrywide survey, conducted by Factsmill Consulting Limited, shows that Nigerians' love for broadband services is on the increase. The survey showed, among other things, that the favourites of the Nigerian telephone user are Voice and Data.
The leaders in the voice segment of the market are MTN, Airtel, Globacom, and 9mobile. These four-voice leaders are in the Tier 1 category. Also making a strong showing in voice are some Tier 2 category players, the likes of Smile Communications, Spectranet, and nTel that offer Voice over LTE (VoLTE).
The reverse seems to be the case as it pertains to Data. Here, the major front-runner is Smile Communications, a pioneer 4G LTE operator renowned for its innovative and value-adding broadband services.
In a clime where the cost of living least of them broadband services is skyrocketing by the day no thanks to inflation, Smile is the only operator that often increases the Data volumes for the same price. However, the major telcos continue to make a strong showing. Collectively, they dominate the turf of data services.
Each of them is strengthened in its data coverage by the depth and breadth of its national reach. Other operators making a strong showing in the provision of data are core broadband service providers notably Spectranet, Swift Networks, and nTel. Bringing up the rear are the likes of Tizeti and FibreOne.
The Survey focused mainly on the current Data plans offerings by notable Telcos with emphasis on core data providers. It reviewed some specific data plans on offer. It utilized the Questionnaire method and Oral Interview technique. It employed the sample population technique with emphasis on Focused Groups.
These focused groups comprised more small and medium scales organizations. The mapping territories were four major Nigerian towns including Lagos, Port Harcourt, Kaduna, and Abuja.
Comparative Analysis of the Current Data Plans Offerings among Major Broadband Service Providers (in tabular form):
Most of the respondents were in unison that currently, the data plans from Smile, especially the revamped Bigga and UnLimited packages along with the new 400GB Jumbo plan are the most preferable as they offer more value for money.
For instance, the 10GB data bundle with a validity of 30 days is a common offer from most Internet service providers. Tizeti Communications, one of the new entrants in the broadband market, offers its 10GB at N2, 000.
Smile Communications, which pioneered 4G LTE service, offers its 10GB Bigga data bundle at N3, 000 as against that of Spectranet, one of the older internet service providers that offer its own 10GB doMORE plan for N3, 750.
On the 15GB data plan with a validity of 30 days, more respondents thought that the new Smile's 15GB Bigga is the favourite as it costs the lowest at N4,000. Spectranet's 15GB doMORE Value Plan costs more at N5, 300. On the other hand, nTel's 4K data plan and Swift Economy offer only 12GB, 3GB lesser for the same N4, 000 costs.
It is also more rewarding for subscribers to go for the 20GB Bigga plan, valid for 30 days from Smile Communications at just N5, 000 compared to the Spectranet's 18GB doMORE Value Plan, though for the same 30 days validity but costing N1, 500 more at N6, 500.
It was further observed that for a 30 days validity period, where Spectranet's 25GB doMORE Mega Value Plan cost N7, 500, Smile also has the corresponding 25GB Bigga data plan offer at a lower price of N6, 000 only. The Swift Essential Mini option from Swift Networks at the cost N6, 000 comes with only 20GB, a 5GB shortfall.
Smile, at the price of N12, 000, provides customers with an UnLimited Lite data plan of 40GB. However, Swift Networks offers the same 40GB data bundle but at a higher cost of N12, 790. The closest plan from Spectranet is the doMORE Mega Value Plan of 35GB goes for N10, 500. Discerning subscribers, therefore, tilt towards the 40GB UnLimited Lite data plan from Smile.
For the 100GB data bundle, the analysis revealed that the UnLimited Essential plan from Smile cost the lowest. It goes for N18, 000 only as against the doMORE Mega Value Plan from Spectranet at N21, 500 and Swift Elite Plus Special at N27, 640 respectively. This translates to a higher corresponding cost of N3, 500, and 9,640 from Spectranet and Swift Networks respectively.
For the high-end users, feedback from our research indicated that no other broadband service provider offers the 400GB Jumbo data plan option with up to 180 days validity aside from Smile. Smile offers the 400GB Jumbo for N50, 000 only.
Conversely, Spectranet's Smart Value, valid for 180 days, with only a 108GB data bundle costs N38, 600. Relatively, the Swift Quarterly Data Plan of 200GB valid for 90 days cost N32, 000 meaning double the price and the bundle will make N62, 000 for 400GB with 180days validity.
A summary of the findings of the survey showed that respondents highlighted the issue of data depletion. The perceived high data depletion rate has continued to be a major source of worry to subscribers. The Nigerian Communications Commission (NCC), the telecoms industry regulator, has confirmed this across all networks.
It had promised to institute a forensic audit to find out the reason for the fast data depletion across the network providers. Data depletion however is believed to be largely dependent on data usage and consumption by the subscriber.
Conclusively, with a margin of error of 4% on a scale of a 100, the Survey is adjudged very reliable, and yielded the following results:
All the major Telcos have data plans; of the Unlimited and Revamped data plans variety that inevitably compete among themselves.
The majority of the customers utilize data plans and deem the plans very useful for their official and private chores.
Urban-based young adults ranked highest among the active users, and are mostly influenced by Price and Product.
The audience favourite as far as the revamped data plan is concerned is the stable of Smile with a 43% rating, then Spectranet with 27%, Swift Network with 20%, nTel with 8%, and Tizeti with 2%.
Smile's innovative streak remains largely unrivaled.
Smile Communications is the only operator that increased the data volumes for the same price despite the challenging operating environment.