Trump Banned From YouTube Over Concerns Of 'Ongoing Potential For Violence'
President Donald Trump has been banned from uploading videos on YouTube "in light of concerns about the ongoing potential for violence", the platform said.
YouTube, which is owned by Google's parent company Alphabet, said it had removed new content from the president's channel on Tuesday for violating its policies, according to a report in Sky News.
Trump will be unable to upload anything "for a minimum of seven days," a spokesperson said.
1/ After review, and in light of concerns about the ongoing potential for violence, we removed new content uploaded to Donald J. Trump's channel for violating our policies. It now has its 1st strike & is temporarily prevented from uploading new content for a *minimum* of 7 days.

— YouTubeInsider (@YouTubeInsider) January 13, 2021
This means he will not be able to post any YouTube videos to his 2.76 million subscribers before Joe Biden replaces him on 20 January.
The president uploaded eight new videos on Tuesday, including one which saw him telling reporters that "Big Tech had made a terrible mistake" by barring him.
2/ Given the ongoing concerns about violence, we will also be indefinitely disabling comments on President Trump's channel, as we've done to other channels where there are safety concerns found in the comments section. https://t.co/1aBENHGU5z

— YouTubeInsider (@YouTubeInsider) January 13, 2021
The YouTube ban follows similar ones by Twitter, Facebook and Instagram, which have all suspended Mr Trump's accounts over fears he may incite further violence following the riots on Capitol Hill last Wednesday.
Google and Apple were also forced to remove alternative website Parler from their app stores this week over concerns the far-right friendly platform may have been used by the president to spread misinformation.
MultiChoice Returns Special Step Up Offer On DStv, Discount On GOtv Max This January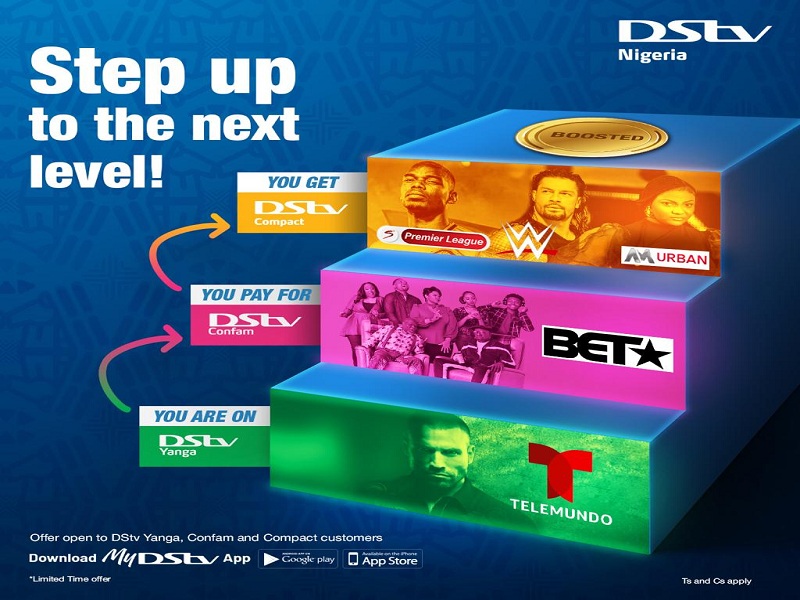 MultiChoice said it is delighted to bring back the hugely popular Step Up campaign offer to its DStv and GOtv customers this January.
The Step Up campaign offer gives all active and disconnected DStv Compact, Confam and Yanga customers the opportunity to pay for a package a step above their current package and get a boost to view programming on the next higher package.
While customers on GOtv Jolli and Jinja can upgrade to enjoy GOtv Max for less at a special discount of N2,999 instead of N3,600 per month, all the upgrades are scheduled to happen within 48 hours and will be available from Thursday, 14 January till Wednesday, 31 March 2021.
"Through the Step Up and Max for Less campaign offers, we are giving our DStv and GOtv customers something to get excited about this January," said Martin Mabutho, Chief Customer Officer, MultiChoice Nigeria.
Mabutho further said: "We started this special offer back in 2019 as a way of giving customers on the lower packages a chance to enjoy quality video entertainment on our higher DStv and GOtv packages for less.
"We are pleased with the popularity and acceptance of the offer, so we are making it available once more to both new and existing customers. It promises to be even more exciting as customers who take advantage of this offer will be exposed to even more great entertainment starting this January."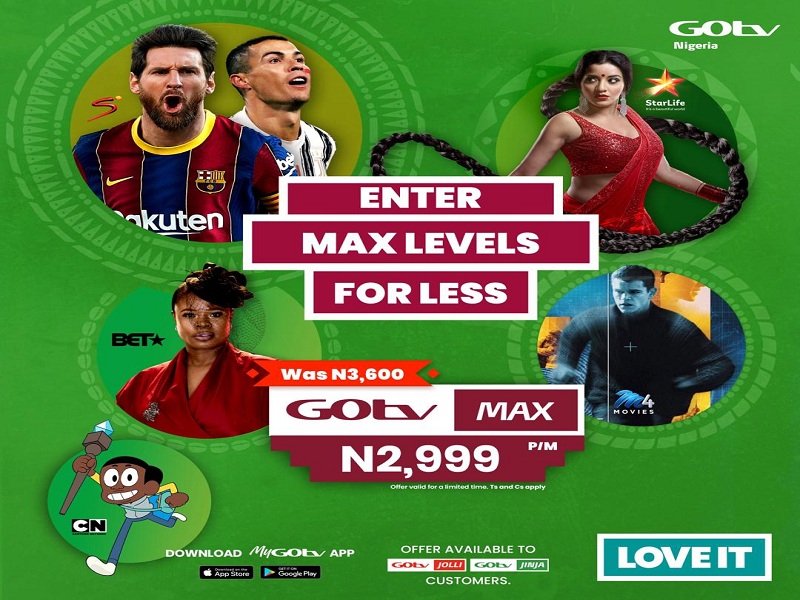 DStv customers on the Yanga package can pay N4,615 for Confam package and then get a boost to view programmes on the next higher package, Compact; while customers on the Confam package can pay N7,900 for Compact and instead view Compact Plus package programming. Likewise, Compact customers only pay N12,400 for Compact Plus package and in turn, get Premium package worth N18,400 per month.
January is booked with different exciting programmings such as brand new seasons of exciting shows and drama series on Africa Magic starting with Date My Family S2 premiere on Sunday, 17th January at 6 pm on AM Showcase; My Siblings & I S3 on Monday, 18th January at 6:30 pm on AM Urban and Unmarried S2 on Wednesday, 20th January at 9 pm on AM Showcase.
Launch of the M-Net Movies 007 James Bond Pop-Up Channel 111 on Friday, 22nd January to Monday, 31st January 2021 on DStv Premium, Compact Plus and Compact.
The 2020/21 Football Season continues with the best leagues and cup tournaments on SuperSport as Liverpool plays Manchester United on Sunday 17th January at 5:30 pm and Manchester United vs Liverpool on Saturday, 23rd January at 4 pm on SuperSport Premier League.
Emirates FA Cup 4th round match between Leicester City vs Chelsea on Tuesday, 19th January at 9:15 pm on SuperSport Premier League.
In Serie A, Sunday, 17th January at 8:45 pm is Inter Milan vs Juventus on SuperSport Variety 3 on DStv SuperSport Select 1 on GOtv while in La Liga, Real Sociedad vs Real Betis will air on Saturday, 23rd January at 6:30 pm and Athletico Madrid vs Valencia on Sunday, 24th January at 9 pm on SuperSport La Liga.
Exclusive GOtv Max content including all La Liga, Serie A, twice as more Premier League and UEFA Champions League matches, M-Net Movies 4, BET, Cartoon Network, StarLife, ROK 2, CBS Reality and more.
The Step Up and Max for Less offer is open to both active and disconnected DStv Yanga, Confam and Compact customers and GOtv Jolli and Jinja customers.
COVID-19: Young Nigerians, Other African Filmmakers Back UN Anti-Misinformation Initiative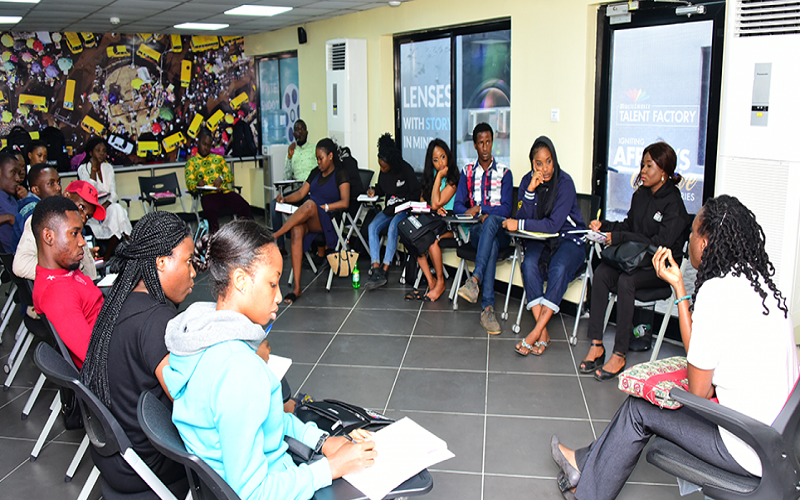 Seven short films aimed at combating COVID-19 misinformation have been produced by the 2020 cohort of the MultiChoice Talent Factory Academy, putting the talent of young African filmmakers to work on one of the world's current biggest challenges.
The films are part of the United Nations' Pause campaign, a wider behaviour change campaign that aims to create a new social media norm to help combat the rising impact of viral misinformation.
The short films will air on MultiChoice channels between 9 and 31 December 2020. The MultiChoice Group is providing the airtime as part of its ongoing support of the campaign.
The filmmakers, who are from Nigeria, Mozambique, South Africa, Uganda, Zambia and Zimbabwe, tackled the subject through a variety of approaches, often using humour and slang to deliver vital and punchy lifesaving messages that appeal to local viewers.
"We recognise the transformative power of media and the critical role we play to educate audiences about the dangers of misinformation through these short films, which have enabled us to share hyperlocal information with our audiences," says Caroline Oghuma, Executive Head: Corporate Affairs, MultiChoice Nigeria
The MultiChoice Talent Factory (MTF) is MultiChoice's flagship shared-value initiative launched in 2018 to ignite Africa's creative film and TV industries through training and skills development.
The MTF Academy is a 12-month fully funded training programme aimed at upskilling the next generation of passionate young film creatives.
As the first touchpoint of the shared-value initiative, the MTF Academy's one-of-a-kind curriculum is expertly executed under the guidance of regional Academy Directors Njoki Muhoho (East Africa hub), Berry Lwando (Southern Africa hub), Femi Odugbemi (West Africa hub) and Bobby Heaney (South Africa hub).
The Pause campaign is part of Verified, an initiative launched in May by the United Nations to communicate accessible science-backed health information in compelling formats and sharing stories of global solidarity around COVID-19.
Pause is the first global behaviour change campaign on misinformation to mobilise experts and researchers, governments, influencers, civil society, businesses, regulators and the media under a single message.
It is aimed at increasing media literacy to enable social media users to spot misinformation and stop themselves from passing it on.
The campaign is based on research that indicates that a brief pause significantly lessens the inclination to share shocking or emotive material thereby slowing the spread of misinformation.
It aims to reach a global audience of 1 billion globally, online and through partnerships, by the end of December.
"We cannot successfully tackle the pandemic without also addressing online misinformation. We're thrilled to be working with the talented young African filmmakers at the MultiChoice Talent Factory, who have brought such creativity and passion to this project.
"We hope young people across Africa will see themselves in these films and take action to help break the chain of misinformation by pausing before they share," said Robert Skinner, UN Senior Adviser for Global Communications.
GOtv Nigeria Refreshes Brand With Bold New Look, Pay-Off Line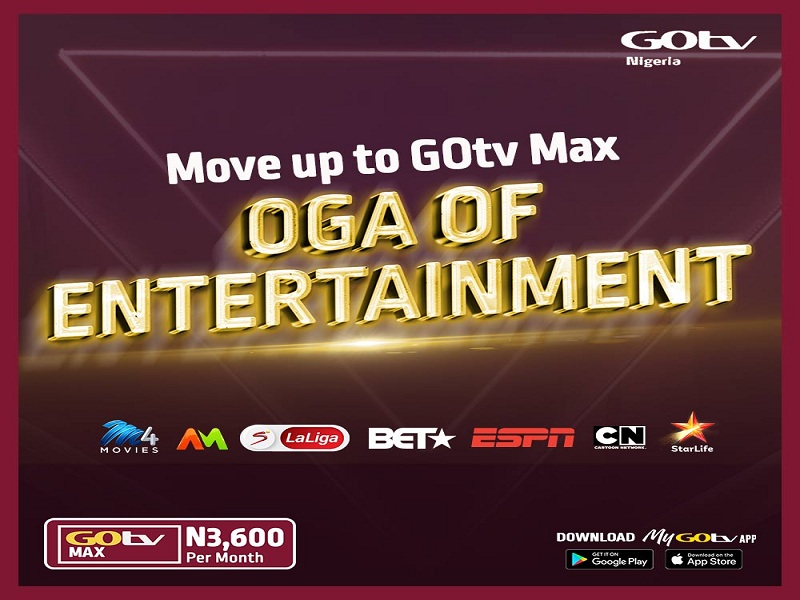 Nigeria's aspiration to digitise her television broadcasting began in 2008 when the then government announced a plan to implement digitisation of the country's analogue television signal by 2015.
This was of course in line with the global deadline given by the International Telecommunications Union, an arm of the UN responsible for telecoms technology.
Since then, the country has witnessed a public awareness campaign for the transition from analogue to digital in television transmission.
GOtv, the pay-TV offering of MultiChoice on the Digital Terrestrial Television (DTT) with its advanced DVB-T2 technology has been at the forefront of the country's campaign towards digital migration.
The impact of GOtv in the DTT space has given Nigerians in the middle- and lower-income categories have access to a wide range of informative and entertaining content on subscription plans that best fit their needs and budget.
Quality and affordable digital entertainment for the whole family has been the brand's proposition and nine years after, GOtv (now GOtv Nigeria) has refreshed its brand identity in keeping with its promise of giving customers more value for money.
When the DTT service first started in 2011, it had 'Entertaining Africa' as its pay-off line to reflect the core of its mission in the continent.
The Pay-TV service provider has recently repositioned to give its customers a stronger sense of control with a variety of exciting local, kids, news and sports content across several packages.
The brand changed its pay-off line to 'Live it. Love it'- an apt phrase to capture the intention of the brand for its present and potential customers because GOtv Nigeria is more than just entertainment.
And now, the brand has streamlined this to 'Love it' – a crisp and succinct call to action for customers to enjoy the TV entertainment they love with family and friends.
GOtv Nigeria assets also spot a bolder look with modern geometric design elements for an added visual interest and identification.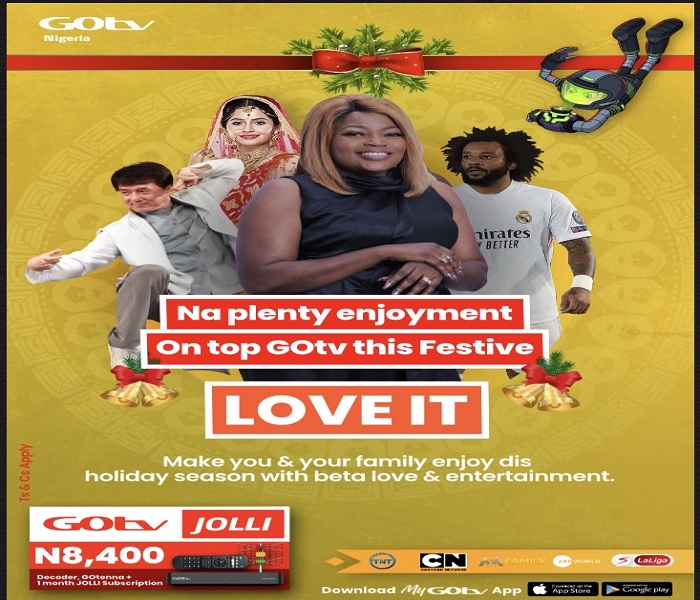 The primary colour palette – red, green and yellow – has also been refreshed and extended with a secondary palette that includes orange and turquoise, to create a more aesthetically pleasing design on all communication materials.
These work together to create a memorable brand in the hearts and minds of its customers.
Since its inception into the Nigerian market, the brand has launched a series of campaigns to woo and impress its customers. Some of the recent campaigns include GOtv Top Up which, like the name implies, topped up the customers' subscriptions on lower packages for an opportunity to experience the exciting premium content available on GOtv Max.
There was also GOtv Golden Window, which guaranteed new customers access to 3 months of uninterrupted access to quality entertainment.
With the COVID-19 pandemic, the 'We Dey Your Side' campaign offer in April was particularly soothing for Nigerians during the lockdown as the campaigns ensured the upgrade of the customer's package to the next higher one. Many customers said the lockdown period was tough for them but also mentioned that it could have been tougher without these campaigns.
When it comes to local programming, GOtv parades the popular Africa Magic Channels – AM Family, AM Epic, AM Yoruba, AM Hausa, AM Igbo – which showcase a variety of great popular Nigerian series and top-notch dramas such as The Johnsons, Halita, My Siblings & I, Flatmates amongst others.
GOtv is as proudly Nigerian as it can ever get. It has enhanced the Nigerian spirit of resourcefulness and industry as it has been able to create jobs for thousands of Nigerian youth with the GOtv Sabiman Initiative, a door-to-door customer service scheme that ensures customers enjoy maximum value from its service.
Nobody can gainsay the fact that unemployment is a major problem in most African countries. MultiChoice, the owners of GOtv provides training for the participants in, among other things, installation of GOtv, resolution of customers' complaints, and customer service. This invariably means the bigger the reach of GOtv, the more employment opportunities for Nigerians.
The real deal, of course, is in the local and international programming Nigerians enjoy from the comfort of their homes and offices and the brand is more than ever before committed to delivering the best when it comes to family entertainment in Nigeria. The various packages now available are designed to meet each family's needs, tastes and pocket.
There is also the Nigerian flavour in the naming of the packages. Back in November 2019, MultiChoice expanded the entertainment offering on GOtv with the introduction of two new packages with 'Naija centric' names – GOtv Jolli and GOtv Jinja.
These new packages according to the company were exclusively and specially curated for the Nigerian market and came upgraded with new channels and fresh content for a more enhanced viewing experience. With the new package names, the brand has been able to gain a level of stickiness with customers as the names are part of Nigerians' colloquial and everyday language.
An overview of GOtv packages reveal options that customers can choose from depending on affordability and their needs, a move by the company not to compromise on quality and variety offered.
With just NGN 3,600 per month, customers can get GOtv Max which offers great variety with over 72 international and local channels. GOtv Max is the home of La Liga and Serie A, local and international programming and a variety of kids and educational channels.
Next is GOtv Jolli which costs just NGN 2,460 per month and with this, customers have a broad selection of over 68 local and international channels across all genres.
Also available is GOtv Jinja which costs just NGN 1,640 per month and affords the customers access to over 47 quality channels.
Without a doubt, the GOtv Nigeria brand has evolved over the years. With a presence in 24 states and close to 50 cities in the country, the brand continues to push the envelope within the DTT space with different creative campaigns that are geared towards giving Nigerians top-class television entertainment delivered via the most modern broadcast technology platform whilst entrenching itself in the fabrics of the society with its socio-economic programmes and reward schemes.
It's safe to say that hundreds of thousands of households are living in the unforgettable world of GOtv, and they are loving it!