Winners Emerge At Lagos Smart Meter Hackathon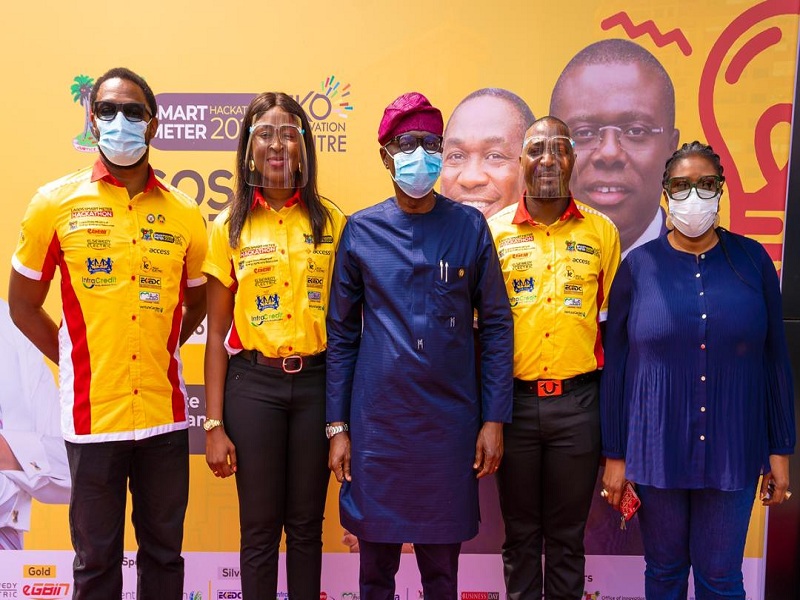 …As Sanwo-Olu Takes Giant Strides towards Affordable Electricity 
Two winners have emerged from the 3-Day finals of the Lagos Smart Meter Hackathon organized by the Lagos State Ministry of Energy & Mineral Resources, in collaboration with Eko Innovation Centre.
The two winners are Team Power Bit Crunchers from the hardware category and Team Zeena Platform from the Software group.
The two winners earned a combined prize money of N10 Million.
The winners and runners-up will also get working space at Eko Innovation Centre, while all ten (10) finalists will get mentorship opportunities, among other consolation prizes.
Mr. Olonma Ibrahim and Peter Okonma represented the hardware team, while Oluwasemi Oreoluwa and Adenitire Ayonikun represented the Software Team at the event.
Governor of Lagos State, Mr. Babajide Sanwo-Olu who spoke on the significance of the initiative at the announcement ceremony at Eko Innovation Centre, Ikoyi, Lagos, on Friday, September 18th 2020, said: "Today is a true hallmark in our administrations pursuit to improve the welfare of our people.
"As you are aware, a key pillar of our administrations T.H.E.M.E.S agenda is to make Lagos a 21st century economy and this Lagos Smart Meter Hackathon fits perfectly as it combines innovation, creativity and local capacity to deliver solutions that will improve access to electricity in Lagos."
Sanwo-Olu said that the settings, the mood and the aura at the ceremony "inspires creativity and innovation," and that he saw in the participants, vibrant energetic youthfulness "that inspires hope of brighter and bigger roles that technology and digitization would play in the country."
Speaking further, he said Smart Meter Initiative "is another demonstration of promise kept" by his administration as "it aligns with the administrations' T.H.E.M.E.S agenda to make Lagos a 21st century economy," noting that the result of the initiative would drive local capacity that would find home grown solutions to solve our challenges, which "is a great move in transforming the electricity sector in the state."
Governor Sanwo-Olu promised that his administration would continue to support this initiative and that the outcomes of today's programme has inspired his administration to do even more to drive local capacity and find home grown solutions, while taking advantage of global opportunities to solve our challenges.
"The young people in Lagos and Nigeria have proven to be hardworking and brilliant and we will do all we can to support them through our various ministries, agencies, enabling policies and incentives," he stated.
He encouraged all participants, especially those that were not declared winners to never give up.
"Everyone," he said, "is a winner, someone must just be declared winner to fulfill all righteousness."
He urged them to continue to persevere and improve, as his administration, through mentorship and other incentive, "is always ready and elated to support and collaborate in creative and innovative ideas that would improve living standards and grow the economy."
Deputy Governor of Lagos State, Dr Kadiri Obafemi Hamzat, in his own remarks, noted that "The Lagos Smart Meter Programme is an important way for the Lagos government to demonstrate its commitment to improving access to reliable and affordable smart meters to increase the living conditions of our people.
"Therefore, the Lagos Smart Meter Hackathon which is driving local talents to explore innovative and affordable ways to deliver smart meters for Lagos and Nigeria is a key priority for our administration and we truly appreciate the support of all the sponsors and partners of this initiative."
Doja Ekeruche, Advisory Board Member of Eko Innovation Centre, disclosed that curating the Hackathon is in line with the centre's purpose of leveraging innovation and technology in solving poverty and other challenges in Africa.
She stated that the output of the Hackathon will contribute significantly to solving the challenges of the power sector, while also serving as an inspiration to local tech-talents in Nigeria to develop innovative solutions that will transform the future of Nigeria.
Ekeruche highlighted that local solutions are needed to help the country solve its challenges locally rather than consistently looking for foreign ideas which do not necessarily fit our local situation.
In this vein, she assured that Eko Innovation Centre would not rest on its oars in unveiling innovative minds and remains resolute in taking local ideas from concept to commercialisation.
Participants described the three-day final as quite revealing and exciting, a position affirmed by the judges, participants and attendees.
According to Mr. Ade Bajomo, Executive Director, IT and Operations of Access Bank, representing the Managing Director, Mr Herbert Wigwe, "the great efforts by the Lagos State Government at improving access to electricity has  received a major boost by this initiative."
Wigwe, who said that Access Bank would always support creative and innovative ideas, stated that he "is excited as Africans were striving hard to find local solutions to local problems, leveraging on local solutions."
He said "this is a revolution that should not be missed, adding that all of us must all come together to support and nurture it."
On the journey that climaxed in the finals, winners emerged after a competitive pitch process which saw five finalists from both hardware and software categories respectively compete for the combined prize money.
Although Lagos state Government initially committed the sum of 7million Naira to appreciate the winners for their efforts before progressing to commercialization, Governor Babajide Sanwo-Olu, Engr. Kola Balogun, Chairman, MOMAS Electricity Meters Manufacturing Company Limited and Bunmi Akinyemiju, CEO, Venture Garden Group, all contributed N1 million each to raise the total prize money to N10 million. Chantelle Abdul, CEO MOJEC International also contributed N2 million for the runners-up.
Launched July 30th, 2020 by the Lagos State Governor, Babajide Olusola Sanwo-Olu, the Lagos Smart Meter Hackathon is an initiative of the Lagos State Ministry of Energy & Mineral Resources aimed at providing affordable electricity meters to the populace by facilitating the design and production of meters that will accelerate efforts towards achieving improvement in energy distribution, monitoring and prevention of revenue leakage.
Over 60% of Lagosians and Nigerians are estimated to be unmetered due to unavailability and the high cost of meter acquisition, explaining why the Lagos State Government is therefore, leveraging bright local talents to design and produce affordable smart electricity meters.
The convener of the Lagos Smart Meter Hackathon, the Honourable Commissioner for Energy & Mineral Resources, Lagos State, Mr. Olalere Odusote said that the Hackathon received 274 registrations, 127 of which bid in hardware category, as against 147 competed in software group.
Impressively, 65 hardware and software prototypes were submitted by applicants.
The shortlisted five finalists from hardware category were: Cosmo Automation, Smart Energy, Techwizard, Power Bit Crunchers and Gadozz Electricals.
The five software finalists were: Vectorians, Zeena Platform, Magnitronics Chosen Soft Tech and Gideon from Lagos, Enugu, Kaduna, Benin and Oyo State respectively.
Speaking on the high points of their respective prototype designs, Team Zeena Platform stated that their smart meter software solution could fix tariffs and usage restrictions to guide electricity consumption by users.
"Administrators can control pricing, check working meters, energy consumption and perform oversight functions. Our database will run on blockchain technology and data security of users is assured," the team said.
Power Bit Crunchers, winners in the hardware category team explained that their prototype smart meter can be monitored and controlled remotely, with additional tamper proof functionalities which protects against bypass and other fraudulent activities.
The Lagos Smart Meter Hackathon 2020 received entries from across the country and was convened by the Lagos State Ministry of Energy & Mineral Resources and curated by Eko Innovation Centre.
It was sponsored by Access Bank Plc, Egbin Power, Ikeja Electric Distribution Company, Mojec International, Eko Electric Distribution Company, MOMAS Electricity Meters Manufacturing Company, ElSewedy Electric, Royal Power & Energy, Venture Garden Group, and InfraCredit, Axxela Limited.
It was supported by The Lagos State Office of Innovation and Technology, Lagos State Employment Trust Fund (LSETF), Africa Fintech Foundry (AFF), the Nigerian Electricity Management Services Agency (NEMSA), the Nigeria Energy Support Program (NESP) implemented by the German International Development Corporation (GIZ), Oracle, IBM, General Electric, Business Day and Accelerate TV.
How LG Is Leading Next Generation Of ACs With ThinQ Technology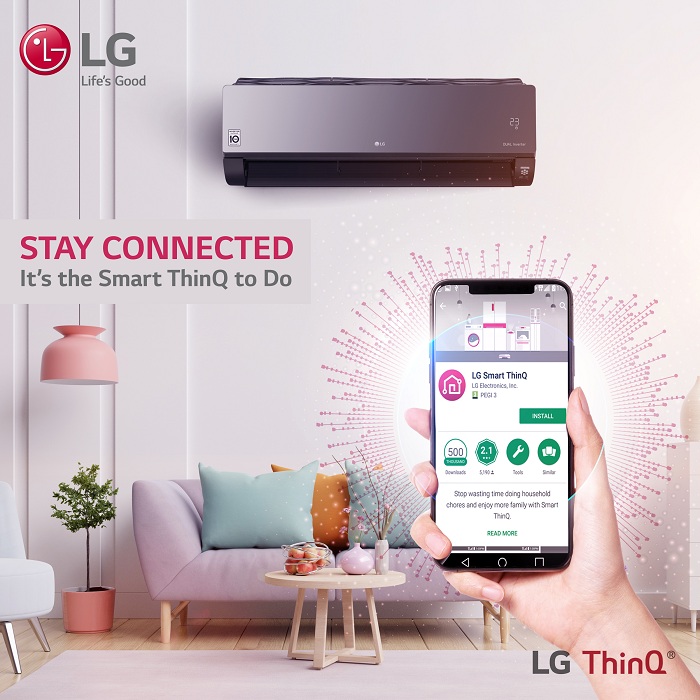 With the recent increase in the number of people working from home, the demand for energy-efficient and powerful cool air conditioners has risen exponentially across Africa due to unbearable heat caused by the weather, especially during the dry season.
But LG Electronics has remained one company that has been at the forefront of the next generation of innovative Residential Air Conditioning (RAC).
With a vision to provide differentiated customer value, LG over the last 20 years, has pursued earth environment preservation, sustainable social advancement, and improved the quality of life of all its stakeholders.
Based on customer needs, the electronics giants have varieties of Air Conditioner namely: GenCool, ArtCool and DualCool Premium Air Conditioners.
A few years ago, LG introduced its GENCOOL Inverter V that can work efficiently with small capacity generators. Specially designed for the Nigerian market, the AC comes with benefits such as affordability, energy efficiency and durability.
Unlike the conventional AC (i.e. ON/OFF types) which requires a big-sized generator to start the AC due to their high start-up electric power, LG's GEN COOL AC can be started with smaller generators due to LG's innovative inverter technology.
According to LG, for the normal mode, 1HP AC needs a 1.5 KVA generator while 1.5 HP requires 1.7KVA and 2HP needs 2.2KVA.
Thus, the LG GEN COOL Air Conditioner comes with the GEN Mode which allows for the use of a small capacity generator in areas where electric supply is insufficient, eliminating the need for a large generator. So with the AC's GEN Mode feature, you can minimize startup electric requirements.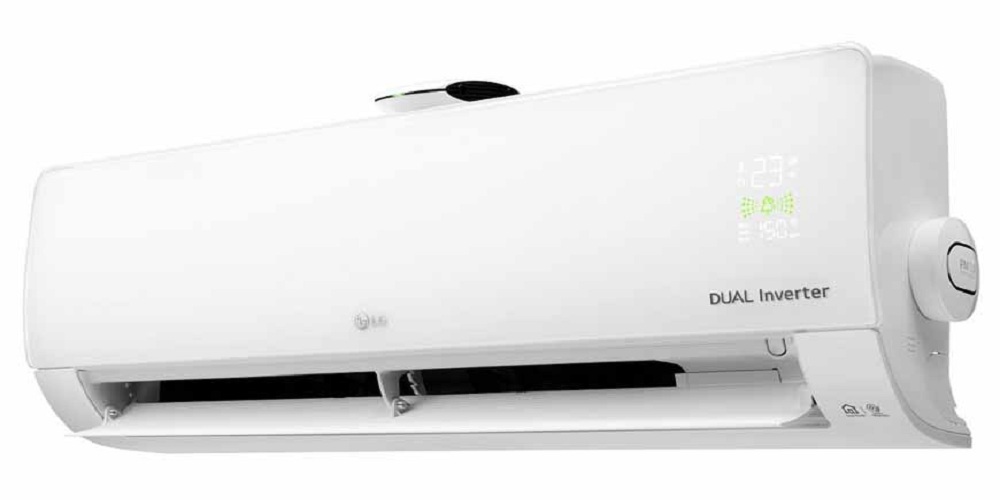 LG Smart AC features
The electronics giant has equipped its ACs with Smart ThinQ technology, which, as per the company, allows the users to control and monitor ACs at any time and from anywhere with an app on the phone. Apart from control, consumers also get filter cleaning notification and control multiple home appliances through smart ThinQ.
Hari Elluru, Head of Corporate Marketing, LG Electronics, West Africa Operations, said, "We have more number of future-ready ACs with Smart ThinQ (Wi-Fi) along with Amazon's Alexa and Google Assistant compatibility.
"We aim to offer the best air conditioning solutions to our consumers through a robust product portfolio supported by effective after-sales service. Which gives us the confidence to continue our last year's and the industry's first initiative of same-day installation."
Energy efficiency coupled with powerful cooling
The GenCool AC comes equipped with a Smart and Dual Inverter Compressor which reduces energy consumption by up to 60 and 70 per cent respectively.
The Dual Inverter Compressor motor has a wide rotational frequency and a higher speed cooling range than a conventional compressor, allowing the Air Conditioner to cool more quickly, last longer and run more quietly.
So no matter how high the temperature, the Air Conditioner distributes cool air immediately to every corner of the room. The unit has a 25 per cent larger skew fan which expels powerful blasts of air through its large outlet, optimally designed to fill spaces with cool air faster and farther.
Due to their twin-rotor, there is a faster cooling at a wider operating frequency or 'broader tonnage'. Hence, a dual inverter offers better cooling in terms of precision in temperature control due to variable tonnage and speed of cooling.
Optimal comfort and health care
Powerful cooling does not come at the expense of the user's comfort. With just a click of the "Comfort Air" remote button, the GenCool AC adjusts the vane angle to ensure that the out-flowing air does not blow directly to the user and cause sudden drops in body temperature.
The disturbance is also not an issue as the Air Conditioner operates at the world's lowest noise level thanks to LG's unique BLDC motor, skew fan technology and Active Low Vibration Control (ALVC) feature. It also maintains an incredible capacity for dehumidification to provide the most comfortable environment.
Health is one of LG's core considerations when creating new products. The Art Cool AC offers top-quality features in favour of the user's health and sanitation. Plasmaster Ionizer Plus, which disseminates over three million ions to sterilize and deodorize not only the air going through the AC but all surrounding harmful substances.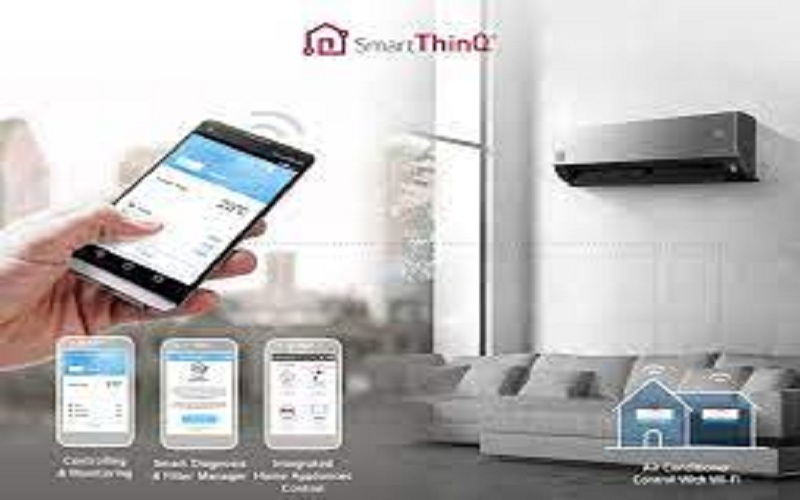 Next-level convenience
The installation has never been easier with the delicately designed installation elements of LG's Air Conditioner: simple packaging, installation plate improvement, installation support clip, wider tubing space, detachable bottom cover and a quick button for running tests.
Less Noise
Ordinary inverter AC uses a single cylinder-shaped rotary compressor. Since the operation of a single compressor requires high-speed rotation, it tends to generate a lot of vibration. This increases noise levels, especially when the shaft of the AC is whirring at full capacity.
The twin-rotary compressors in dual inverter ACs turn with a phase difference of 180 degrees, which promotes more stability when they are operating at full capacity. More stability means fewer vibrations and whirring and ultimately lesser noise.
Consistent with this strategy, LG provides a wide range of products for heating, ventilating and air conditioning. The company's industry-leading variable refrigerant flow (VRF) technology minimizes efficiency losses, provides sustainable energy savings and offers some of the lowest life cycle cost of any system on the market today.
NITDA Celebrates World Backup Day, Urges Nigerians To Back Up Their Data Regularly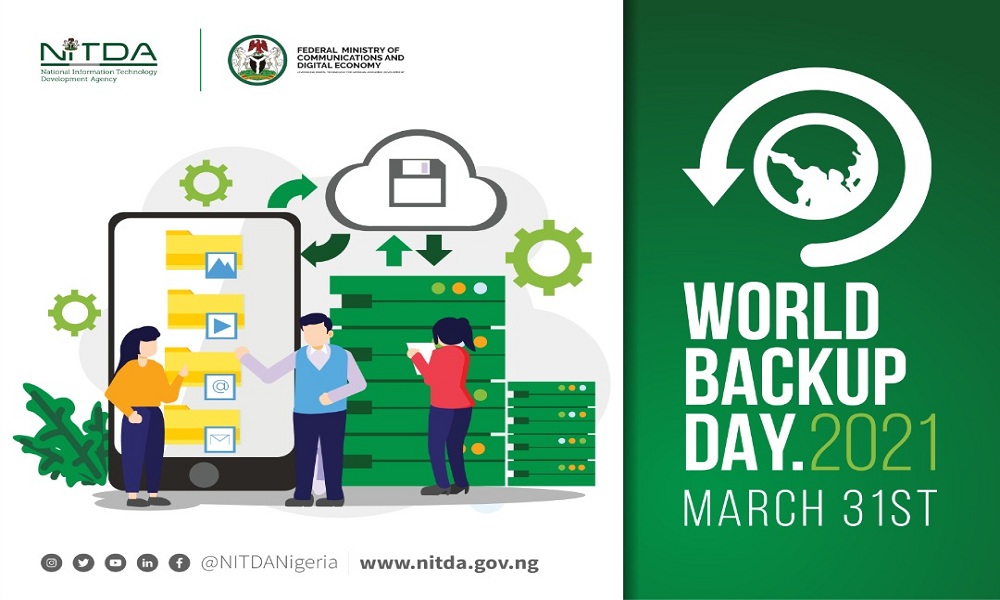 As the National Information Technology Development Agency (NITDA) joins the public in celebrating WORLD BACKUP DAY, Nigerians have been urged to be sure to back up their data regularly and encourage their family, friends, and colleagues to do the same.
World Backup Day (31st March each year) which originally began as World Backup Month was initiated by a hard drive company (Maxtor), which was later acquired by Seagate Technology.
Mrs Hadiza Umar, Head, Corporate Affairs and External Relations of the National Information Technology Development Agency (NITDA) said in a statement Tuesday night that this year's event is timely because reminders of data protection are needed more than ever due to the sudden global shift to work-from-home.
"Furthermore, World Back-up Day aims to raise awareness concerning the role of data in our lives and consequently the importance of undertaking regular data backup.
"Data backup is the process of keeping a clean second copy of any important digital content to guarantee availability; even when a computer crashes, cell phones or tablets get lost, data becomes corrupted, or gets destroyed by a virus," Umar said.
She said that with Nigeria's drive for a vibrant Digital Economy, which intends to encourage both Public and Private Institutions to promote their services online, there is potential to generate a massive amount of data.
"Therefore, making a backup copy of your valuable data can make all the difference when data loss or a compromise occurs.
"NITDA encourages the public to safely store backup copies of all valuable data from servers, personal electronic devices such as computers, smartphones, and tablets regularly," she stated.
NITDA, therefore, advised individuals and indeed the general public to back up data daily to an external storage device like Flash Drive, Memory Card, HardDisk Drive (HDD) or Solid State Drive (SSD), or Cloud Storage.
They should also follow the 3/2/1 backup rule with three copies of their data, two on different media types, and one remote copy (cloud storage).
GSMA Says Mobile Money Accounts Grew To 1.2 Billion In 2020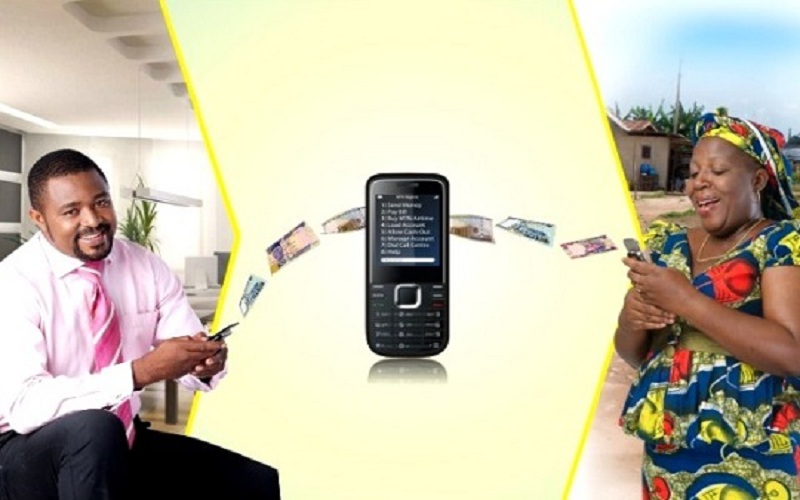 GSMA has published its annual 'State of the Industry Report on Mobile Money' which revealed a dramatic acceleration in mobile transactions during the COVID-19 pandemic as lockdown restrictions limited access to cash and financial institutions.
The report found that the number of registered accounts grew by 13 per cent globally in 2020 to more than 1.2 billion – double the forecast.
The fastest growth was in markets where governments provided significant pandemic relief to their citizens.
To minimise the economic toll of COVID-19, many national governments distributed monetary support to individuals and businesses.
The value of government-to-person payments quadrupled during the pandemic, with the mobile money industry working hand-in-hand with administrations and NGOs to distribute social protection and humanitarian payments quickly, securely, and efficiently to those in need.
Facilitating this type of direct income support payments is one example of how mobile money provides a financial lifeline to underserved communities.
Mobile money providers have also provided in-kind support, including the distribution of personal protective equipment (PPE) and hand sanitising gel at agent counters.
"We see that mobile money is a powerful tool for expanding the financial inclusion of women in low- and middle-income countries," said John Giusti, the GSMA's Chief Regulatory Officer.
"This year's report, however, found that across markets, women are still 33 per cent less likely than men to have a mobile money account. The GSMA and its members are committed to closing this gender gap by addressing the barriers that prevent women from accessing and using mobile financial services."
Closing the gap requires a collaborative and concerted effort. Many providers have committed to increasing the proportion of female customers. One example of an innovative approach to this is launching micro-entrepreneur products that can be used in markets where women represent the majority of vendors and customers.
For the first time, more than $1 billion was sent and received in the form of remittances globally every month via mobile money.
Despite early fears that transactions would decline as people worldwide suffered job losses and income cuts during the pandemic, it remains clear that diasporas continue to support family and friends back home.
As a result, the total value of transactions increased by 65 per cent to an annual total of $12.7 billion in 2020.
In working towards achieving the Sustainable Development Goals (SDGs), the GSMA remains committed to reducing inequalities among countries when sending money internationally.
According to GSMA's research, mobile money provides an affordable channel for connecting people to vital financial resources.
The mobile money ecosystem has been strengthened by an increasing number of strategic partnerships established between money transfer organisations and mobile money providers.
As the COVID-19 pandemic negatively impacted people's lives and weakened economies, regulators responded with a variety of measures aimed at reducing the impact.
The research found that the pandemic gave fresh urgency to the need for regulatory change to facilitate greater digitalisation. In many markets, transaction limits were increased to allow more funds to flow through mobile money.
Additionally, as demand rose for non-physical payments, some regulators classified mobile money agents and their supply chains as essential services.
Over 50 per cent of mobile money agents were continuously active throughout the pandemic, which was crucial for service continuity and maintaining liquidity.
While some of the regulatory reforms made in response to the pandemic have been positive for customers and providers, the implementation and extension of fee waivers have had a negative impact on mobile money providers' core revenue stream.
Mobile Money providers depend mainly on transactional revenues to sustain their business. Regulators are strongly encouraged to work closely with the industry to ensure sustainability going forward.