Winners Emerge At Lagos Smart Meter Hackathon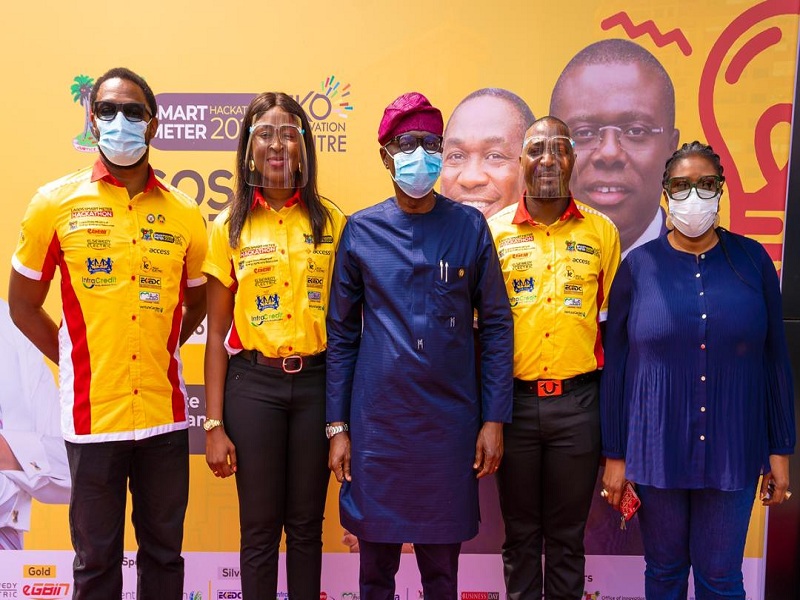 …As Sanwo-Olu Takes Giant Strides towards Affordable Electricity 
Two winners have emerged from the 3-Day finals of the Lagos Smart Meter Hackathon organized by the Lagos State Ministry of Energy & Mineral Resources, in collaboration with Eko Innovation Centre.
The two winners are Team Power Bit Crunchers from the hardware category and Team Zeena Platform from the Software group.
The two winners earned a combined prize money of N10 Million.
The winners and runners-up will also get working space at Eko Innovation Centre, while all ten (10) finalists will get mentorship opportunities, among other consolation prizes.
Mr. Olonma Ibrahim and Peter Okonma represented the hardware team, while Oluwasemi Oreoluwa and Adenitire Ayonikun represented the Software Team at the event.
Governor of Lagos State, Mr. Babajide Sanwo-Olu who spoke on the significance of the initiative at the announcement ceremony at Eko Innovation Centre, Ikoyi, Lagos, on Friday, September 18th 2020, said: "Today is a true hallmark in our administrations pursuit to improve the welfare of our people.
"As you are aware, a key pillar of our administrations T.H.E.M.E.S agenda is to make Lagos a 21st century economy and this Lagos Smart Meter Hackathon fits perfectly as it combines innovation, creativity and local capacity to deliver solutions that will improve access to electricity in Lagos."
Sanwo-Olu said that the settings, the mood and the aura at the ceremony "inspires creativity and innovation," and that he saw in the participants, vibrant energetic youthfulness "that inspires hope of brighter and bigger roles that technology and digitization would play in the country."
Speaking further, he said Smart Meter Initiative "is another demonstration of promise kept" by his administration as "it aligns with the administrations' T.H.E.M.E.S agenda to make Lagos a 21st century economy," noting that the result of the initiative would drive local capacity that would find home grown solutions to solve our challenges, which "is a great move in transforming the electricity sector in the state."
Governor Sanwo-Olu promised that his administration would continue to support this initiative and that the outcomes of today's programme has inspired his administration to do even more to drive local capacity and find home grown solutions, while taking advantage of global opportunities to solve our challenges.
"The young people in Lagos and Nigeria have proven to be hardworking and brilliant and we will do all we can to support them through our various ministries, agencies, enabling policies and incentives," he stated.
He encouraged all participants, especially those that were not declared winners to never give up.
"Everyone," he said, "is a winner, someone must just be declared winner to fulfill all righteousness."
He urged them to continue to persevere and improve, as his administration, through mentorship and other incentive, "is always ready and elated to support and collaborate in creative and innovative ideas that would improve living standards and grow the economy."
Deputy Governor of Lagos State, Dr Kadiri Obafemi Hamzat, in his own remarks, noted that "The Lagos Smart Meter Programme is an important way for the Lagos government to demonstrate its commitment to improving access to reliable and affordable smart meters to increase the living conditions of our people.
"Therefore, the Lagos Smart Meter Hackathon which is driving local talents to explore innovative and affordable ways to deliver smart meters for Lagos and Nigeria is a key priority for our administration and we truly appreciate the support of all the sponsors and partners of this initiative."
Doja Ekeruche, Advisory Board Member of Eko Innovation Centre, disclosed that curating the Hackathon is in line with the centre's purpose of leveraging innovation and technology in solving poverty and other challenges in Africa.
She stated that the output of the Hackathon will contribute significantly to solving the challenges of the power sector, while also serving as an inspiration to local tech-talents in Nigeria to develop innovative solutions that will transform the future of Nigeria.
Ekeruche highlighted that local solutions are needed to help the country solve its challenges locally rather than consistently looking for foreign ideas which do not necessarily fit our local situation.
In this vein, she assured that Eko Innovation Centre would not rest on its oars in unveiling innovative minds and remains resolute in taking local ideas from concept to commercialisation.
Participants described the three-day final as quite revealing and exciting, a position affirmed by the judges, participants and attendees.
According to Mr. Ade Bajomo, Executive Director, IT and Operations of Access Bank, representing the Managing Director, Mr Herbert Wigwe, "the great efforts by the Lagos State Government at improving access to electricity has  received a major boost by this initiative."
Wigwe, who said that Access Bank would always support creative and innovative ideas, stated that he "is excited as Africans were striving hard to find local solutions to local problems, leveraging on local solutions."
He said "this is a revolution that should not be missed, adding that all of us must all come together to support and nurture it."
On the journey that climaxed in the finals, winners emerged after a competitive pitch process which saw five finalists from both hardware and software categories respectively compete for the combined prize money.
Although Lagos state Government initially committed the sum of 7million Naira to appreciate the winners for their efforts before progressing to commercialization, Governor Babajide Sanwo-Olu, Engr. Kola Balogun, Chairman, MOMAS Electricity Meters Manufacturing Company Limited and Bunmi Akinyemiju, CEO, Venture Garden Group, all contributed N1 million each to raise the total prize money to N10 million. Chantelle Abdul, CEO MOJEC International also contributed N2 million for the runners-up.
Launched July 30th, 2020 by the Lagos State Governor, Babajide Olusola Sanwo-Olu, the Lagos Smart Meter Hackathon is an initiative of the Lagos State Ministry of Energy & Mineral Resources aimed at providing affordable electricity meters to the populace by facilitating the design and production of meters that will accelerate efforts towards achieving improvement in energy distribution, monitoring and prevention of revenue leakage.
Over 60% of Lagosians and Nigerians are estimated to be unmetered due to unavailability and the high cost of meter acquisition, explaining why the Lagos State Government is therefore, leveraging bright local talents to design and produce affordable smart electricity meters.
The convener of the Lagos Smart Meter Hackathon, the Honourable Commissioner for Energy & Mineral Resources, Lagos State, Mr. Olalere Odusote said that the Hackathon received 274 registrations, 127 of which bid in hardware category, as against 147 competed in software group.
Impressively, 65 hardware and software prototypes were submitted by applicants.
The shortlisted five finalists from hardware category were: Cosmo Automation, Smart Energy, Techwizard, Power Bit Crunchers and Gadozz Electricals.
The five software finalists were: Vectorians, Zeena Platform, Magnitronics Chosen Soft Tech and Gideon from Lagos, Enugu, Kaduna, Benin and Oyo State respectively.
Speaking on the high points of their respective prototype designs, Team Zeena Platform stated that their smart meter software solution could fix tariffs and usage restrictions to guide electricity consumption by users.
"Administrators can control pricing, check working meters, energy consumption and perform oversight functions. Our database will run on blockchain technology and data security of users is assured," the team said.
Power Bit Crunchers, winners in the hardware category team explained that their prototype smart meter can be monitored and controlled remotely, with additional tamper proof functionalities which protects against bypass and other fraudulent activities.
The Lagos Smart Meter Hackathon 2020 received entries from across the country and was convened by the Lagos State Ministry of Energy & Mineral Resources and curated by Eko Innovation Centre.
It was sponsored by Access Bank Plc, Egbin Power, Ikeja Electric Distribution Company, Mojec International, Eko Electric Distribution Company, MOMAS Electricity Meters Manufacturing Company, ElSewedy Electric, Royal Power & Energy, Venture Garden Group, and InfraCredit, Axxela Limited.
It was supported by The Lagos State Office of Innovation and Technology, Lagos State Employment Trust Fund (LSETF), Africa Fintech Foundry (AFF), the Nigerian Electricity Management Services Agency (NEMSA), the Nigeria Energy Support Program (NESP) implemented by the German International Development Corporation (GIZ), Oracle, IBM, General Electric, Business Day and Accelerate TV.
#EndSARS: Smile Nigeria Urges Safe Conduct, Introduces New Online Recharge Channels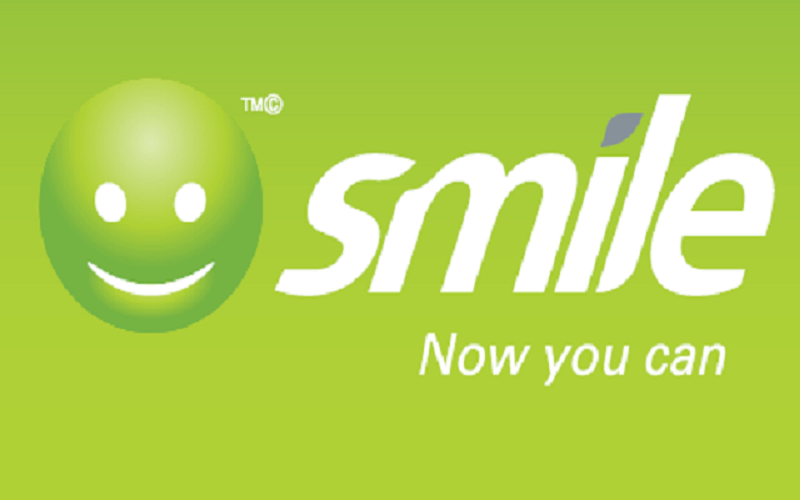 Smile Nigeria has urged Nigerians especially the youths to remain steadfast in their quest for a better society but to always eschew violence.
The company noted in a statement that it is the responsibility of everyone to ensure that peace and progress reign.
It, therefore, reiterated its commitment to be of service to Nigerians at all time.
Towards this end, Smile Nigeria has unveiled different platforms and e-channels through which customers can always recharge.
The platforms include MySmile App, Smilevoice app, Quickteller and a host of other banks e-channels.
To recharge via MySmile app, the customer needs to Launch "MySmile App", Click
"Recharge "at the bottom of the App, Select your preferred mode of recharge, "Data Voice or Airtime", Browse and "Select "your preferred "Data plan, Voice Plan or Airtime Amount", Click "Pay now."
Select your Payment Method via available channels, Enter your card details, 4 digit card PIN and One Time Password, Confirm the successful transaction and View your balance on "Home Screen."
For recharge via website xpresscharge, type www.smile.com.ng on your browser, Click on Recharge, Click XpressRecharge, Select the preferred bundle from the list of available bundles.
Enter a registered email address, click 'Show my Account'  and select account to be recharged then Click on proceed to payment, Enter card details, 4 digit card PIN and One Time Password for payment and Confirm the successful transaction.
To recharge via MySmile, launch  a browser and type www.smile.com.ng/scp, log in with your username, SmileVoice number or email address and password, Select preferred account and Click "Recharge."
For Airtime purchase, select Smile Airtime, Enter  Airtime amount, For bundle purchase, select preferred bundle, Select payment via any of the available gateways, Redirect  Page to complete payment, Enter card details, 4 digit card PIN and One Time Password and Confirm the successful transaction.
For purchase via Airtime, select the amount to be debited, Confirm selected bundle and Make a payment.
To recharge via Smilevoice App, launch Smile voice app and click the three horizontal lines, Select "Recharge", Select the intended bundle to recharge, Type your registered email address with smile and click "submit and go to payment."
Then enter card details, 4 digit card PIN and One Time Password for payment and Confirm the successful transaction.
Quickteller  www.quickteller.com recharge entails typing "Smile" in the Search Bar or Select "pay bills", "Internet services" and "smile", Enter email address, smile account ID and preferred bundle. In the Next page, enter Card details and Card PIN and One Time Password followed by Transaction confirmation.
For those desirous to recharge via Access bank formerly Diamond bank, launch your Diamond bank app, log in with your ID and password and click Continue, Click on the "HOME' symbol at the top left, Select Airtime and Bill Payment.
Select Internet Services, Select SMILE, Click Bundle and continue, Select your preferred bundle, Enter Smile Account number to recharge then Enter PIN then click  continue and you will have the Transaction notification
Customers who prefer to recharge via Guaranty trust bank only need to launch your GT bank mobile app, log in with your ID and password, Select "Airtime and Data."
For Airtime purchase, click Mobile To-Up, Select "Smile" and manually enter "Airtime amount".
For Bundle, select "Data bundles" then Select Smile Account ID and mobile number and click "Continue", Confirm all the details and click "Continue", Enter your GTB app transaction PIN and Transaction notification
To recharge via Paga (www.mypaga.com), log in with your registered credentials (email or phone number), click on "Pay bill or merchant", On select Merchant, Select Smile, Enter your smile account number, select the bundle of your choice/airtime, and your name and click on continue, Click on "pay" and select either to pay via Paga wallet or Mastercard.
For recharge via FCMB MOBILE APP, launch your FCMB " Mobile app", Log in with your "ID and password", Click the menu bar "three horizontal lines" at the top left corner of your screen, click "Pay bills", Select" Internet services", Select "Smile bundles", Select "Debit account" and enter Smile account details, click on the "drop-down arrow" on "Select product", Select your "preferred bundle" and Click on "make payment".
Recharge via UBA mobile app will include the launch of UBA APP, log in with your password, Select PAYMENTS, Select Pay bills, Choose SMILE, Select the preferred Bundle, Enter Smile account Number and Confirm payment with your bank PIN/TOKEN.
To recharge via FIRST BANK MOBILE APP, launch First Bank app, log in with ID and password, Select Pay bills, Select Internet services, Select Smile Bundle, Select bundle of choice and enter Smile account number and submit.
Digital Economy Growth: Pantami Inaugurates NCC, USPF, NITDA Projects
Nigeria's Minister of Communications and Digital Economy, Dr Isa Ali Ibrahim Pantami has commissioned more projects executed by the Nigerian Communications Commission (NCC) and the Universal Service Provision Fund (USPF) aimed at advancing the digital economy vision of the government.
The projects include the NCC's Emergency Communications Centre, Ado –Ekiti; the Digital Awareness Programme (DAP) for Secondary Schools, whose beneficiaries are Methodist Girls' High School, Yaba, Lagos State and Bishop Okoye Girls' Secondary School, Ukpor, Anambra State; as well as the School Knowledge Centre (SKC) at Ijaloke Grammar School, Ado-Ekiti, Ekiti State, executed by the USPF.
The Minister also flagged off the National Adopted Village for Smart Agriculture (NAVSA) initiative located at the Jewel's Suite, Okoe Urejee, Ado Ekiti, Ekiti State, which was executed by the National Information Technology Development Agency (NITDA).
While speaking at the 7th phase of the virtual commissioning of digital economy projects for a digital Nigeria by agencies under the Ministry on Tuesday, October 20, 2020, at the NCC's Communications & Digital Economy Complex, Abuja, Pantami said the NCC's ECC project is critical to enhancing the security of lives and property of Nigerians.
The Minister also said that the DAP by USPF is an initiative designed to expose students to Information and Communication Technology (ICT) awareness and usage.
"The DAP is a programme by which the NCC, through the USPF, contributes to the digital economy by ensuring inclusive growth of human capacity development as well as economic development of the Nigerian population."
Pantami said the SKC is very key to the digital economy agenda of the Federal Government.
"This is because FG understands that demand for jobs in the nearest future, as predicted by the World Economic Forum (WEF), would change completely.
"As such, job demands would be more on soft skills such as critical thinking, collaborative thinking, agility and adaptability among others, all of which can be aided by ICT."
While stating that the NAVSA project by NITDA is also in line with the Federal Government's economic agenda to diversify the economy by driving agriculture with ICT, the Minister said the projects, altogether, were a demonstration of accountability and transparency on the part of the government for ultimate promotion of a digital economy in Nigeria.
Special guest of honour and Minister of State for Health, Senator Adeleke Mamora, as well as the Governor of Ekiti State and Chairman, Nigerian Governors Forum (NGF), Dr Kayode Fayemi, commended the Ministry and its agencies for the ICT projects and expressed optimism that the projects would help in human capital development through driving innovations in the ICT sector.
Fayemi, who doubled as the chairman of the occasion, expressed satisfaction at the various ICT initiatives implemented in his state.
With respect to the ECC project, he said the "the ECC will help in strengthening the security architecture of the state and we will put it to utmost use"
Mamora said the various ICT initiatives introduced in the wake of the COVID-19 pandemic have been very helpful to the Federal Executive Council (FEC).
Stripe Acquires Nigeria's Payment Giant, Paystack In A $200m Deal
Stripe, the online payments provider that is one of Silicon Valley's most valuable private companies, is expanding into Africa for the first time with the acquisition of Lagos-based payments company Paystack, according to a report in the Financial Times (ft.com).
Paystack has been at the vanguard of a group of companies that have made Lagos the hottest fintech ecosystem in Africa, as investors seek to tap into a severely underserved market of 200m Nigerians, tens of millions of whom lack bank accounts.
While terms were not disclosed, a person familiar with the deal said Stripe would pay more than $200m in cash and stock for the five-year-old start-up.
Nigerian fintech companies including Flutterwave, OPay, Interswitch and PalmPay have together raised hundreds of millions of dollars in funding over the past 12 months, despite lingering concerns about the regulatory risks of operating in the market.
Stripe's interest in the region follows that of Jack Dorsey, co-founder of Twitter and Square, who had planned to spend several months living in Africa this year before his plans were derailed by the coronavirus pandemic.
"It's very clear a significant fraction of any internet company's future — Stripe's included — is going to lie on the African continent," said Patrick Collison, Stripe's co-founder and chief executive.
"Already today Africa is growing — by any relevant metric — significantly faster than the rest of the world."
Stripe, which investors valued at $36bn in April, has grown rapidly by providing a software program that allows businesses to accept online payments, and it has recently expanded into lending.
The San Francisco-based company offers payments services to businesses in more than 40 countries, including across Europe, south-east Asia and Latin America, but it has rarely done so through acquisition.
But Mr Collison suggested that Stripe was unlikely to make many more purchases to enter new markets.
"Unfortunately there just aren't many Paystacks in the world," he said, given its strong fit in terms of technology and team.
Paystack had been the first Nigerian company to join Silicon Valley's influential Y Combinator accelerator programme, said its co-founder and chief executive, Shola Akinlade, and it now processes about half of all online payments in Nigeria.
"We are really trying to accelerate payments and commerce in the continent," he said. "It's like Stripe for Africa."
As Africa's largest economy, Nigeria makes an ideal launching pad for companies with pan-African payments ambitions, giving start-ups access to a huge market while only having to deal with one government.
Mobile payments remain relatively rare in Nigeria — roughly 95 per cent of transactions are still done in cash — in sharp contrast to east Africa, where Safaricom's M-Pesa dominates.
Across the continent, BCG has estimated that African eCommerce will grow to $27bn this year. However, Nigeria's long history of problems with money laundering presents a potential risk for Stripe as it enters the market.
Some traditional banks remain wary of operating in the region. "International payment groups operating in Nigeria and elsewhere across Africa are opening themselves up to very significant risk," said Charles Delingpole, chief executive of ComplyAdvantage, a provider of money laundering monitoring technology.
"The thinking is perhaps, with better technology and data, that Silicon Valley can somehow enter markets and deal with challenges that those classed as banks failed to overcome," he added.
Stripe has spent years developing its own anti-money laundering systems. Its months-long due diligence before acquiring Paystack included an audit of its AML processes, Stripe said.
Despite the risks, venture capitalists continue to pour money into Nigerian fintechs, which last year took in a quarter of all funding raised by African start-ups.
In a single week last November, nearly $400m poured into payments companies based in Lagos, including a $200m Visa investment into Interswitch, which has become the dominant infrastructure through which digital payments are made.
Paystack's earlier backers also include Visa and China's Tencent, as well as Stripe itself, which led an $8m investment round in the company in 2018.
Paystack will continue to operate as an independent brand following the acquisition.