Four Nigerians, 8 Other Africans Selected For Facebook Community Accelerator Programme
Facebook Tuesday announced the 12 African community leaders, including four Nigerians who have been selected to join Facebook's Community Accelerator, a six-month programme that aims to equip communities with the training, mentorship, and funding they need to grow.
The announcement forms part of its focus in bringing people together and building communities.
The four Community leaders selected from across Nigeria are:
Hauwa Ojeifo, She Writes Woman – In 2016, Hauwa created "Safe Place Nigeria" to provide a stigma and judgment-free space for young people to talk about mental health-related issues. It has become a community for young people to learn, feel connected, get support and feel a sense of belonging.
Tony Onuk, The Root Hub – Roothub was started in 2014 to provide a safe space for youths to build their ideas, grow their businesses, and access support.
Eyitayo Ogunmola, Utiva – Utiva is a decentralized ecosystem that helps Nigerians access technology skills and trainings regardless of their location and internet barrier.
Abiodun Adereni, Helpmum – started in 2017, HelpMum tackles maternal and infant mortality in remote rural areas in Nigeria, and provides Clean Birth Kits for hygienic delivery to pregnant women, immunization reminders and health information to nursing mothers.
Meanwhile, the Community Accelerator programme, part of the global Facebook Community Leadership initiative launched in 2018, invests in leaders who are building communities around the world, including bringing people together, offering encouragement, and driving change.
Following the call for applications in March 2020, 77 community leaders from around the world were chosen, with 12 selected from Sub-Saharan Africa.
Awarding up to $3 million, selected community leaders will receive up to $30,000 in funding.
In the first three months of the programme, these leaders will learn from experts and coaches, whilst developing customized curriculums focused on growing their own communities.
The following three months will then be focused on iterating and executing their plans, with funding and continued support from their network, as well as from a dedicated programme team.
The Community Accelerator will then culminate in an event with community leaders to showcase their communities and progress to external funders and partners.
Kezia Anim-Addo, Head of Communications for Sub-Saharan Africa said: "We're delighted to be welcoming 12 African community leaders to Facebook's first Community Accelerator. We've seen time and again the power of communities in bringing people closer together and feeling more connected.
"We know community leaders can do extraordinary things when they have adequate support from others, tools to get the job done, funding to grow and belief in themselves.
"The Facebook Community Accelerator will enable these great communities to make an even greater positive impact in the world, and we hope that through the support of the programme, these communities will have an extraordinary impact, even in extraordinary times."
The other eight Community leaders from Kenya and South Africa as part of the Facebook Community Accelerator include:
Bright Shiitemii, Mental360 (Kenya) – Mental 360 was started in 2016 to give youth a safe platform to learn about mental health and illness and to access affordable holistic solutions. It is a non-partisan non-discriminatory space where youth can grow their emotional wellness, grow their network and get peer support.
Lauren Dallas, Future Females (South Africa) – founded in 2017 with a mission to increase the number of female entrepreneurs and support their success. They have become the go-to destination for aspiring and early-stage female entrepreneurs to receive the inspiration, education and support needed to build profitable businesses online.
Esther Mwikalii, Metta NBO (Kenya) – founded in 2015 as an entrepreneurs' network with the goal of bringing together founders, policymakers and investors to collaborate.
Refilwe Nkomo, Visual Arts Network South Africa (South Africa) – established in 2007 as a support point and development agency for contemporary art practice in South Africa. It aspires to be a dynamic and resilient network-based organisation contributing to growth, innovation and opportunities in the arts.
Naadiya Moosajee, WomEng (South Africa) – a social enterprise aimed at attracting, developing and nurturing the next generation of women engineering leaders.
dillion phiri, Creative Nestlings (South Africa) – Launched in February 2011, dillion s. phiri founded Creative Nestlings to connect young African creatives to each other, to opportunities and to resources, democratizing how young African creatives connect, get paid, learn and grow.
Rufaro Mudimu, Enke (South Africa) – "enke", meaning 'ink' in SeTswana, started in 2009 to bridge socioeconomic inequality by bringing young people together and equipping them with the skills and experiences to improve their lives. "enke" connects, equips and inspires young people to make their mark, authoring a positive future for themselves and their communities.
Tariro Bure, MINDS (South Africa) – MINDS was founded in 2010 as a platform rooted in cultural heritage and knowledge systems for youth to reclaim their African identities and transform the continent. It has become a movement of youth and crucial stakeholders which aspires to shape policy, foster economic development, and enhance the evolution of African institutions.
Abiodun Aldereni, Founder of HelpMum said: "I feel excited to be selected among the Facebook community accelerator cohort and I look forward to growing our community of pregnant women, nursing women and traditional birth attendants  with the help of Facebook's expert team."
ALX Offers Software Engineering Skills To 50,000 Women Across Africa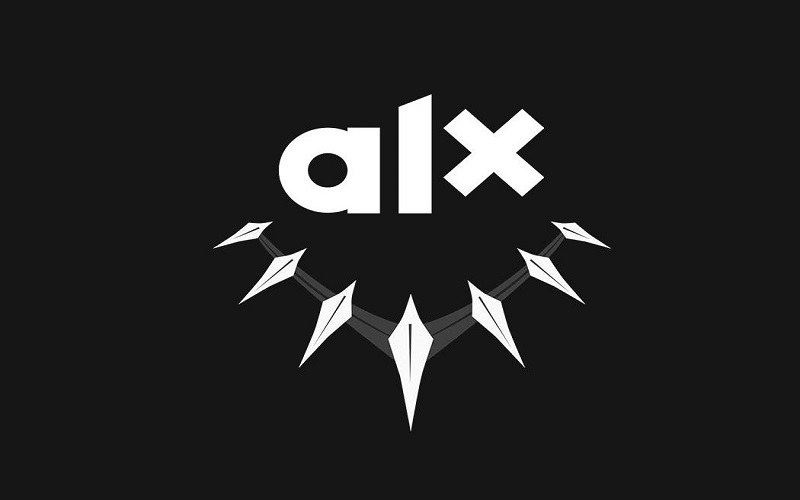 ALX, a leading global provider of training in the tech industry has its first dedicated Software Engineering cohort for women in Africa.
The cohort forms part of ALX's 'WomXn and Tech' initiative and is set to benefit up to 50,000 women across Africa.
The company says the initiative was inspired by the United Nations IWD theme of 'DigitALL: Innovation and technology for gender equality.'
ALX is showing its commitment to bridging the digital gender divide in Africa, increasing the representation of women in the technology sector and driving the participation of women to innovate and create solutions for a diverse world.
This cohort will provide a launchpad for women to grow their careers in one of the most exciting and in-demand fields in the world.
Part of African Leadership International (ALI), ALX is a leading technology training provider that offers world-class programmes to thousands of young people across Africa, equipping them with both the professional and technical skills that enable them to thrive in high-growth industries.
The statistics make for grim reading. Women comprise just 5% of global software engineers.
Considering that there are an estimated 690,000 software engineers in Africa, even applying the global average means that there is a significant gender divide that must be addressed.
It is through this female cohort that ALX will take the steps necessary to reduce this considerable disparity.
Thanks to its partnership with the Mastercard Foundation, ALX is offering sponsored placements to thousands of young women who meet the eligibility requirements for this programme.
"ALX knows that our collective future depends upon a female voice, a female brain, and her perspective in devising solutions for the world of tomorrow.
"Through 'WomXn and Tech', we are boldly proclaiming our call to action for women across the continent and the rest of the world to not just have a seat at the table, but to redesign the table.
"This 100% female software engineering cohort we are introducing helps to accomplish this," says Fred Swaniker, Founder and CEO of ALI.
The programme has been made possible following the recent acquisition by ALI of a leading Silicon Valley institution, Holberton Inc.
ALX is now one of the largest software engineering trainers in the world, which aligns with the organisation's mission to develop Africa's human capital at scale and enable women with best-in-class digital skills and excellence.
NITDA, UNICCON Sign MoU To Promote Indigenous Content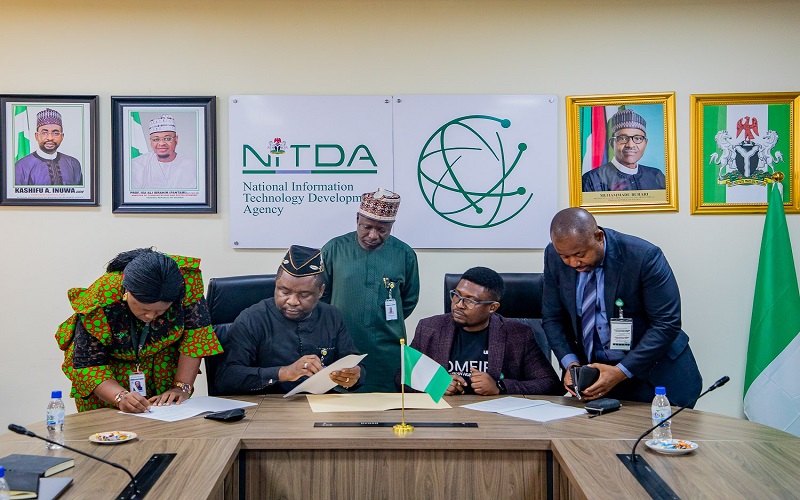 The Federal Government has taken a significant step towards promoting indigenous content in the country, with the signing of a Memorandum of Understanding (MoU) between the National Information Technology Development Agency (NITDA) and the UNICCON Group of Companies.
NITDA said this latest step aims to foster the development and growth of local content in the Nigerian technology industry.
Under the terms of the MoU, NITDA and UNICCON, a company that unveiled Africa's First Humanoid Robot, Omeife, will collaborate to develop and promote local content in Nigeria through various initiatives.
The initiatives include capacity building, skills development, and the creation of an enabling environment for local content producers and developers.
The partnership will also focus on supporting local startups and SMEs in the technology industry, providing them with access to funding, mentorship, and other forms of support that will enable them to grow and compete on a global scale.
Speaking during the formal signing, the Director General of NITDA, Kashifu Inuwa, represented by the Head of Legal Unit of the Agency, Barrister Emmanuel Edet, recounted that during the unveiling of "Omeife" last year December by the Vice President, Prof. Yemi Osinbajo, the Hon. Minister of Communications and Digital Economy, Prof. Isa Ali Ibrahim (Pantami), had urged NITDA to work with Uniccon Group on ways to commercialise Omeife.
"We plan to have an application that everyone can use to take advantage of Omeife. At NITDA, we have had the Learning Management System (LMS) for a long time, and it can be integrated into API provided by the UNICCON group, thereby extending our elements to take advantage of it," he said.
Inuwa stated that leveraging on Omeife (robot) will deepen the penetration of digital literacy across the country, providing a platform for shared knowledge in Pidgin, Igbo, Hausa, and Yoruba, adding that this will provide a framework and platform for exposure of Nigeria's indigenous content internationally.
"Our greatest dream is to nurture startups and companies that will occupy the global space and also be as competitive as possible for the growth of the economy.
"Digital Economy is a great alternative to oil, which serves as a means of income and an opportunity for us to compete because the entry-level is intellect and we have a lot of that across the country," the DG asserted.
The Chairman/CEO of UNICCON Group of Companies, Mr. Chuks Ekweme during his remarks commended the Minister of Communications and Digital Economy, Professor Isa Ali Ibrahim (Pantami), and the DG of NITDA for the policies and initiatives implemented towards the digital transformation of the country.
He assured that the UNICCON Group of Companies will support the government towards the actualisation of policies and initiatives, and do their best to contribute their quota towards the implementation drive for the growth of the country.
Ekweme emphasised the importance of the AI project in Africa, stating that statistics show that no African country can boast of having 60% AI by 2030, with most countries falling below this percentage.
"Therefore, the signing of the MoU is a crucial step towards bridging this gap and positioning Nigeria as a leader in AI development," he said.
Pantami Inaugurates Nigeria Startup Act Implementation Committee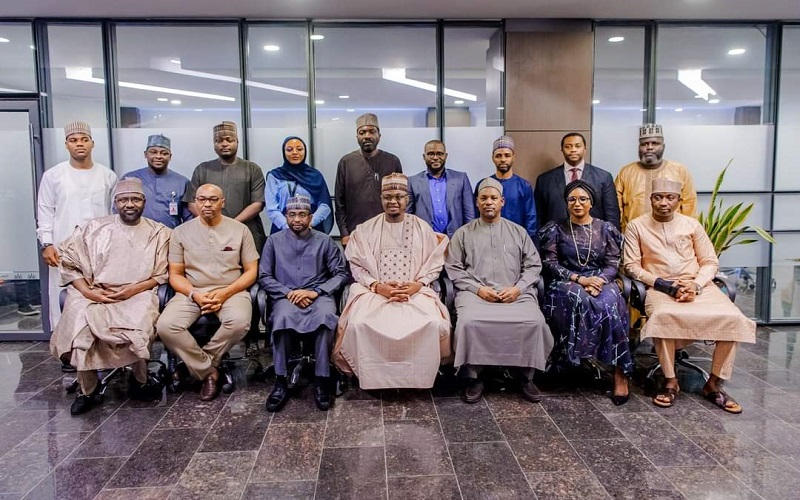 The Federal Government has inaugurated a 27-member committee to implement the Nigeria Startup Act 2023 (NSA). 
The inauguration is part of efforts at fostering the growth of the digital innovation and entrepreneurship ecosystem in the country and consolidating the achievements made by the Ministry of Communications and Digital Economy.
Minister of Communications and Digital Economy, Prof. Isa Ali Ibrahim (Pantami) inaugurated the committee on behalf of His Excellency, President Muhammadu Buhari in a hybrid event at the Digital Economy Complex, Mbora, Abuja.
Giving a historical overview of the journey so far from the conceptualization of the bill to its enactment into law by the President on 19th October 2022, the Minister stated that the Nigeria Startup Bill was first drafted and formulated in 2021 with inputs from relevant and critical stakeholders.
He stated that Ministries, Departments, and Agencies (MDAs) of government, private sectors, industry players, young innovators, and stakeholders from the academia were engaged in town hall meetings organised in the six geopolitical zones of the country with the purpose of collecting their inputs, constructive criticisms and recommendations to create a robust and credible document.
Describing the inauguration of the NSA implementation committee as a milestone achievement towards the attainment of a digital Nigeria, Pantami urged the committee members to coordinate operational plans and establish the baseline for the ecosystem in terms of digital innovation and entrepreneurship.
"In this implementation committee, we have brought together relevant stakeholders, some from government, some from the private sector, some from the ecosystem, some from the academia, some from legal institutions, and many more to come together and provide the leadership that is required for the technical implementation of this very important law," he stated.
While noting that economies globally are driven by technology, knowledge, digital innovation, and entrepreneurship, Pantami stated that priority and preference should be given to a knowledge-based economy rather than a resource-based economy in the country.
He further stated that countries like the United States of America, China, Japan, Germany, India, and the United Kingdom which are the major contributors to the global Gross Domestic Product of 101.6 trillion US dollars are leading economically because they give preference to a knowledge-based economy.
"According to statistics as of December 2022, digital enterprises are directly and indirectly contributing a minimum of 53 trillion US dollars to the global GDP. By implication, you can safely say that more than half of the global GDP depends on technology, digital innovation and digital entrepreneurship," he said.
"Today, digital entrepreneurship, digital innovation and knowledge-based activities are building the global economy and we need to invest in our youths that have innovative ideas," he added.
He further stated that Nigeria is blessed with so many talents and innovators and that young Nigerians have been making the country proud by winning prizes at global ICT events in UAE, Barcelona, the USA, and Saudi Arabia.
While emphatically stating that the NSA would consolidate the achievements of startups in the country by providing legal frameworks as well as technical and financial backing to further encourage them, the Minister said that "Today in the Act, there is a provision of supporting them financially. The government will set aside a minimum of 10 billion naira annually in addition to other sources of funding that have been captured in the law."
Prof. Pantami also noted that it will consolidate the achievements made thus far by the Ministry in terms of broadband penetration, 4G penetration, development of policies for digitalization, digital ID in Nigeria, and government revenue generation amongst others.
Announcing the Director General of the National Information Technology Development Agency (NITDA), Kashifu Inuwa as the secretary of the committee, the Minister urged all the members to expend their time, energy, knowledge and experience to support the ecosystem so as to reduce importation in the country and prioritise production.
Earlier, in his welcome address, Kashifu Inuwa appreciated all members of the committee for agreeing to contribute their expertise to the national assignment of implementing the NSA.
He stated that the committee is responsible for creating an enabling and sustainable environment for young and talented people to develop more profitable and innovative-driven enterprises for national development.
While noting that startups are critical drivers for economic growth, Inuwa asserted that implementing the NSA will be a game changer that will help create a legal and institutional framework to develop the Nigerian startup ecosystem.
"I wish to sincerely appreciate your acceptance to serve on this committee and I have no doubt that our collective expertise and experience will help us implement the NSA successfully," he concluded.