The 2020 edition of the Consumer Electronics Show, CES, which was held in Las Vegas, the United States of America, between January 7-10, 2020, as usual, lived up to expectations, bringing together all those who thrive on the business of consumer technologies. For 50 years, CES has served as the proving ground for innovators and breakthrough technologies, where next generation innovations are introduced to the marketplace.
While CES is preparing the global community for the imminent tech revolution occasioned by the continued emergence of exponential technologies especially coming from the West and Asia, the Digital Africa Conference & Exhibition, acclaimed as Nigeria's flagship technology gathering has continued to provoke the consciousness of Africans and their leaders to key into this global revolution.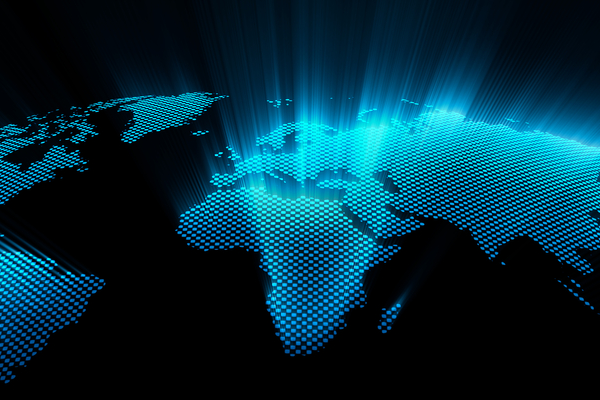 Recall that only late June, last year, the Digital Africa Conference & Exhibition had its 7th edition in Abuja, Nigeria's Federal Capital, with the theme: Africa Tech Renaissance: Preparing Africa for the Age of Abundance. Participants were reminded that people now live in age when the average middle class person living in a third world country has access to a life far more luxurious than the richest man in the world, 200 years ago.
Chairman of Digital Africa Group, Dr. Evans Woherem while explaining the choice for the theme of the Conference noted that since the dawn of the industrial age, humanity has unlocked so much wealth and abundance, raising global standard of living even though a great number of people were left in extreme poverty.
Dr. Woherem said the coming age of abundance is a time in which technological process would bring about enormous amount of energy and resources for the global population but added that the optimistic statistics are bugged by a sad reality manifesting in the fact that while global poverty rates are falling, it is rising in Sub-Saharan Africa.
"A renaissance is a time of rediscovery. It is a time when the latent powers, knowledge and abilities in a people are unlocked. The European Renaissance was the catalyst of the industrial age and by extension the information age that we live in today," he said.
Africa he said needs to be part of the 4th Industrial Revolution since it missed out in the previous great leaps in human innovation, arguing that it was time for Africa to make the right choices in order to also be able to create and enjoy abundance in the continent and be truly a part of the world.
"We at Digital Africa are playing our part in getting individuals, organisations, Nigeria and Africa at large, ready for the 4th Industrial Revolution. There is Internet 2.0, Web 2.0, and Spatial Internet. Facebook just introduced Libra, a Cryptocurrency service. Africa should be ready, and what we are doing at Digital Africa is that we stretch the minds of people in Africa so that people will be ready," Dr. Woherem stated.
The 2020 edition of Digital Africa Conference & Exhibition, the 8th in the series, which will once more hold at the Baze University, Abuja on June 23-25, is themed: "Building a new Africa with AI and Blockchain," and is expected to holistically explore the positives in deploying artificial intelligence and blockchain in building a new continent ready for the Fourth Industrial Revolution.
Back to CES 2020, many nations in the world were represented at this year's show, but glaringly absent is the participation of member countries of Africa. This characterizes another missed opportunity for the Continent to show readiness in much-anticipated shoulder-to-shoulder participation on the technology stage with its advanced counterparts and to showcase its contribution to the technological advancements defining the unfolding dispensation of 'human and things'- Convergence.
In this year's event, 175,000 participants, representing industry analysts, media, thought leaders, traditional tech companies and more were in attendance.
Apple and Samsung made their stand clear that they recognized they have a role to play on the rising concerns for 'privacy and security' as antecedents to trust. The need to build the 'trust' dynamics better with these stakeholder groups was a key takeout at these sessions.
This rings true that the only way to defend the turf in the future marketplace is to become a solutions company delivering product with technology enabling convenience, dynamic choice, changing preferences and ensure availability. We also have Panasonic, which has moved heavily into smart mobility space with connected vehicle communication and entertainment, a comfortable leap for them having ruled the home and car audio and stereo market strongly over time.
This is the pattern that we are seeing today where companies are infusing the exponential capabilities of technology relevant to their consumers and use cases to deliver their core capabilities avoiding disruption by outside technology solutions. We are seeing partnerships across these lines and further expansion opportunities for these market leaders.
On Sunday, Samsung President and CEO, H.S. Kim delivered the first CES 2020 keynote focused on the "Age of Experience," which he described as the dawn of human-centric innovation and personalized experiences, highlighting the latest advances in intelligent robotics, AI, 5G and edge computing and the ways in which these technologies will come together for richer and more adaptive experiences for consumers.
During his speech, he introduced the surprise robot named 'Ballie' (no release date yet) which he described as the new face of personal companion or personal buddy. Ballie uses sensors and cameras to hang around its user, listen and respond to their movements and conversation. It was like a good pet that responds intelligently to each cue.
The Russian's self-driving car, 'Yandex' rode itself through the city of Las Vegas! It was effortlessly smooth. This was not the only self-driving car at the CES; there were tons of them, and people got a chance to be in one of the Aptiv cars with their Lyft ride on the App. Due to its Radar/Lidar hybrid sensors, they are much safer than human drivers. The hands and legs-free nature of this type of autonomous vehicle will do well for those with disabilities, driving anxiety or when needing a quick rest, meal or (a nap if you could) after a long tiring drive.
We cannot talk about autonomous cars without gravitating on to smart cities technologies. The Smart Cities pavilion was setup in the Westgate Convention and it showcased companies and organizations including the Department of Transportation, Hitachi and Siemens, highlighting products that will help build sustainable cities and communities as needed in the unfolding era. This is perfectly in line with the UN 2030 agenda.
Also present to unveil their new offerings were transportation and vehicle technology outfits. Audi, BMW, Daimler (Mercedes), FCA, Ford, Honda, Hyundai, Nissan and Toyota and more than 150 vehicle tech exhibitors unveiled the latest in connected cars, self-driving vehicles and concept cars. Products included the Mercedes Vision AVTR concept car, Audi's AI/ME and the Sony Vision S.
CTA, the organizers of the CES Convention has also partnered with the World Bank Group for a Global Tech Challenge, calling for companies around the world to create solutions focused on three key areas: health, gender inequality and technologies that enable communities to be resilient.
The Health Tech Challenge category is accepting applications through February 25 to connect innovators with healthcare providers in East Africa. This is in line with one of the themes for this year's event- 'Technology for Global Good.' Other products in the digital health spectrum were 'Humetrix' and 'InBody.'
Similar prototypes were the 'Oval Home' smart sensor for monitoring the indoor atmospheric conditions, like temperature, light, humidity and movement; motion capture technology for improved poses, called 'Yoganotch' and caregiver gadget with sensors that track movement and patterns to provide caregivers reassurance and patients with more independence at home- 'Smart caregiver solution'.
As usual, investors and inventors turned out in droves all within their different categories for a total representation of participants from 161 countries of the world.
Nigeria, touted as the giant of Africa, with one of the largest numbers of highly skilled human capital in the world, was notably absent. The reason for the notable and consistent absence of Africa and the position of Africans in diaspora in this type of global techies' meetup is not clear. What is glaring is that this has become a regular feature at nearly all major technology conventions across the Western world.
Hopefully, this narrative will change in the near future and Africa's pavilion can be enacted to feature our take on the technological stage with our own products and services and ideas competing strongly against these major contenders. Then we can have our techno-entrepreneurs and inventors take their rightful stand to show off the nation's advances.
At the Eureka Park with more than 220 exhibitors, including 98 startups, myriads of inventions stole the show. First on my list was the Case Western University which has consistently shown up for the annual event for seven consecutive years! They always have an impressive array of inventions yearly and with the largest output of any University in the country.
Three of their current students launched startups with services in the areas of location mapping, gaming interaction, end-user robotics audio technology and VR platforms for virtual reality (VR) and augmented reality (AR) for deploying healthcare staff training. Alumni students and staff members also presented innovations in the area of smart nutrition.
The much talked about first ever third-party app for Microsoft HoloLens called 'HoloAnatomy' also debut at the show. It is noteworthy that these remarkable student inventions were fostered by the positioning this institution had attained through its consistent showings at this global event and from major sponsorship advancing these research efforts. Additional ones were the 'Source Hydropanel' – a device that can extract water from air and electricity; a smart bathmat that tracks weight, BMI and posture; a service robot for those with disabilities; AR/VR software that shows before and after workout results and a smart thermometer that measures and adjusts oven temperature.
Our political leadership needs to take a cue from these burgeoning group of 'techpreneurs' and strongly advance infrastructure development like a digital lab for high-tech indigenous innovations that can get us recognition in emergent technologies. With indigenous concepts, we can take these promising youths out on the national stage to leverage investment and partnership opportunities for the local tech industries.
The government of Nigeria and interested private investors need to support these types of ventures and the CBN must have the mandate to provide the right finance eco-systems to allow them to grow. It is not a sustainable strategy for the CBN to be looking only for the unicorns, there is no idea too small or too big, the goal should be igniting the energy for creativity and inventiveness and changing the culture of 'consumption' to one of 'creation'.
Let these innovators have the enabling conditions to prosper. Shower them with praises and recognition. If Amazon was measured by how quickly it could break even and return the investments, we would not have the outcome we have today. If you can imagine the tax revenue the business is generating for America, try to imagine the many business partnerships and eco-systems that it has built with supply chains and in new technologies globally. Imagine also, the intergenerational wealth of knowledge, data and resources that it had developed in the process. The value is incalculable.
Let us therefore, make a paradigm shift from this culture of parsimony towards entrepreneurial undertakings. This philosophy has done enough damage to Africa, for example, the current educational process facilitates the development and investment in a workforce waiting for the country to 'fix' them up with ready-made jobs, rather than an enabled, confident team of creative thinkers and fixers that is badly needed in Africa.
These 'old school' ideas must be replaced with sustainable ones. In this era of sustainability, we cannot continue to promote mediocrity and expect to build inter and intra-generational equity.
**Shade Adepeju-Joseph, a Policy and Technology Strategist, is a PhD researcher at the UCL, Bartlett, London, United Kingdom