HP Unveils Smart Tank 5000 Series Printing Solution In Nigeria
…The sustainably designed HP Smart Tank 5000 series delivers a smarter, more connected, and intuitive tank experience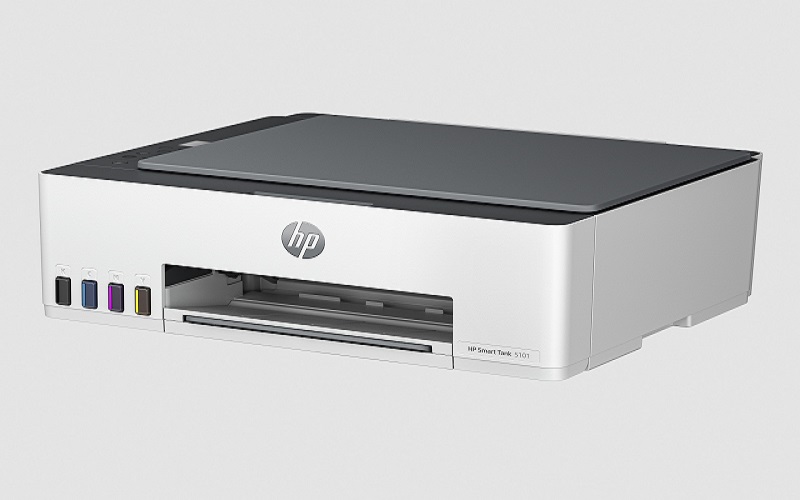 HP on Wednesday unveiled a new Smart Tank printer series, the latest ink tank in HP's tank portfolio, designed for the everyday needs of home users looking for an easy-to-use, sustainable printing solution. 
"As individuals and families strive for more environmentally-conscious lifestyles and households, they want smart, eco-friendly experiences for their printing needs – from school projects to work documents," said Emmanuel Asika, Country Head at HP Nigeria.
"With the addition of the HP Smart Tank 5000 series, people who print a lot at home have access to a range of high quality, reliable and sustainable printing solutions, tailored for their exact needs."
Sustainably designed, using 45% post-consumer recycled content, the new HP Smart Tank 5000 series comes with EPEAT Silver and Energy Star certifications.
It also boasts of energy-saving Auto On/Off Technology – with no extra effort needed from users and has a no-waste tank and spill-free recyclable bottles.
In addition, the Best-In-class HP Smart App offers intuitive smart-guided buttons to guide through everyday print, scan, copy, and fax tasks. As one of its key features, it automatically detects IDs and prints with the ID copy button.
The new printer also comes with self-healing Wi-Fi and better mobility with Smart App and Smart Advance, getting faster and more reliable connections.
Equipped with convenient ink management, the Smart Tank printers easily monitor and maintain ink levels with ink sensors and have an in-built HP Wolf Essential Security to protect sensitive information.
OPPO Launches Reno8 T Series In Nigeria
-Dubbed "The Portrait Expert, the Reno8 T is available in 5G and 4G variants.
-Customers can pre-order the Reno8 T smartphones for as low as 30,000 Naira, till 25th March 2023.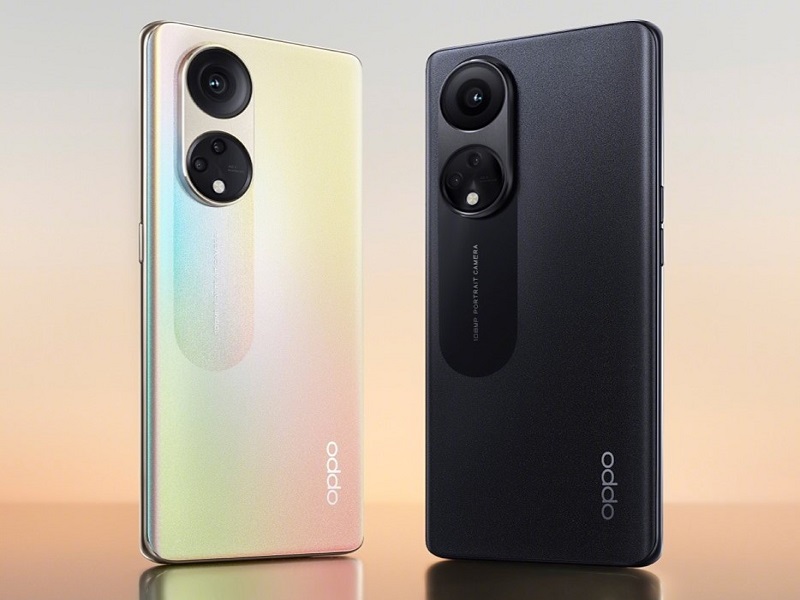 OPPO Nigeria has announced the launch of the highly anticipated Portrait Expert, the Reno8 T Series. The virtual launch event which was streamed live on YouTube was hosted by sensational host Jimmie Akinsola and featured Nollywood star Bimbo Ademoye and notable industry personalities – popular Tech YouTuber, Eric Okafor and fast-rising photographer August Udoh.
With significant upgrades made in its design, camera, charging and performance, the Reno8 T series comes in 5G and 4G variants and has been designed to bring users one step forward to an unmatched leveled-up experience in innovation and style.
Commenting on the launch, Folashade Omonijo, Marketing Manager for OPPO Nigeria, said, "At OPPO Nigeria, we believe that innovation and style should go hand in hand, and that's what we have delivered with the RENO8 T series.
"We are excited to launch these devices today and are confident that they will elevate the smartphone experience of our customers, enabling them to level up with the ever-increasing demands of smartphone usage in their daily activities, be it for work or fun."
"The Reno8 T series is a testament to OPPO Nigeria's commitment to providing our customers with the best technology at the most competitive price points. Even with such impressive, premium and flagship specifications, our customers wouldn't have to go deep into their pockets to own any of the Reno8 T smartphones. We encourage everyone to visit our website or social media pages to pre-order these devices," She further added.
One Step Forward in Design
Running on the latest ColorOS 13 Operating System, the Reno8 T 5G features a 6.7-inch, 120Hz 3D curved screen – a very rare feature in mid-range smartphones. Cased in a seamless hyperbolic, micro-curved dual design, Reno8 T 5G not only delivers a next-level luxurious visual experience, but it also fits perfectly into the user's hand, creating a natural feel and sleek appearance.
Inspired by luxury leather goods, the Reno8 T 4G on the other hand comes in an Ultra-Slim Retro Design with Fiberglass-Leather back, giving a premium flagship feel. Reno8 T 4G users can also customize based on their preferences and mood, the colours of the popular Orbit Light that provides notifications for new messages, charging status and more, on the back of the phone.
One Step Forward in Camera
Donning OPPO's first 108MP Camera, users get to enjoy an ultra-high resolution portrait camera on the Reno8 T 5G. This enables users the ability to capture every moment, especially portrait photos, with utmost clarity and detail.
The Reno8 T 4G variant dons a 100MP Portrait Camera that produces equally exquisite image clarity that allows for unprecedented editing and cropping abilities.
Both variants also feature the AI Portrait Super Resolution designed to enhance portrait images and give them amazing effects using various features such as the Bokeh Flare, AI Colour, AI portrait retouching and Selfie HDR.
The Flash Snapshot feature allows for capturing super-clear photos while the subject is in motion. And thanks to the 40x Microlens, users can get creative with these high-quality photos by cropping and editing them without losing their clarity, discovering new details and previously hidden aspects of the photos taken.
One Step Forward in Battery Charging
Reno8 T 5G features the lightspeed 67W SUPERVOOCTM charging technology that delivers 5.5 hours of call time on a 5-minute charge and enables the 4800mAh battery of the 5G variant to charge fully in just 44 minutes, which means users spend significantly lesser time charging and allowing for more time on the things that matter the most.
A Battery Health Engine (BHE) helps to keep the battery at top performance, preserving the lifespan of the phone's battery for up to 4 years by intelligently controlling charging currents and voltage. The 4G variant is powered by a 5000mAh battery on a 33W SUPERVOOCTM charger.
One Step Forward in Fluency, Speed & Performance
5G Processor: The Reno8 T 5G's Qualcomm Snapdragon™ 695 5G processor enables lightning-fast processing of tasks and 5G speed capabilities, guaranteeing a super-smooth experience during phone usage.
48-Month Fluency Protection: OPPO also guarantees unparalleled fluency protection for as much as 4 Years of constant use. This means that even after several years of work and play, the Reno8 T smartphones can start, operate, and run as many apps as if brand new.
8GB RAM + 256GB Storage: Memory and storage are very critical to users and the Reno8 T series delivers on that with its 8GB RAM + 256GB Storage configuration. What's more, the RAM expansion feature allows users to double the RAM size on their smartphones by converting unused storage space to operating memory, therefore guaranteeing smoothness and zero-lag when using several apps simultaneously and switching between them.
The Reno8 T 5G is available for pre-order at N289,900.00 and comes in the iconic OPPO Glow shimmering colours – Sunrise Gold and Classic Midnight Black, while customers also get to choose between the Sunset Orange or Midnight Black colours on the Reno8 T 4G variant, starting from N219,900.00. Both devices will be available at authorized retail stores for purchase starting from 26th March 2023.
OPPO To Debut 5G Mid-Range Reno 8T Series In Nigeria
Dubbed "The Portrait Expert" OPPO's Reno 8T 5G is perhaps the most advanced mid-range smartphone and aims to disrupt the Nigerian smartphone market.
World's fourth largest mobile phone brand, OPPO has announced plans to unveil its latest mid-range smartphone series, the Reno 8T, in Nigeria come March 15, 2023.
The announcement was made in a post on the brand's Instagram page.
Following successful international launches in India, the Philippines, and Kenya, Nigeria is set to join the growing list of markets shipping the Reno 8T series to customers.
Launching in 2 models – the Reno 8T 5G and the standard Reno 8T (4G), massive upgrades have been made in key areas of the new smartphones, especially in photography, design, and Charging.
The Reno 8T 5G for instance will feature OPPO's first-ever 108MP Camera, worthily nicknamed "The Portrait Expert".
Other key features include a 120Hz 3D Curved AMOLED Screen to deliver an amazing next-level visual experience and a stunning 67W SUPERVOOCTM Charger that ensures over 5 hours of call time on a 5-minute charge and from 0-100% in 44 minutes of charging the Reno 8T 5G.
Also, as it has become somewhat of a signature, OPPO's iconic glow design shines forth on the Reno 8T 5G. Impressive specs.
The Reno 8T 4G on the other hand spots a 100MP Portrait Camera, Fiberglass-Leather Design (which we really love by the way), and 5000mAh Battery with a 33W SUPERVOOCTM charger.
Not forgetting to mention the expandable RAM, dual stereo speakers, and 48-Month Fluency Protection, amongst many other features on both smartphones.
All information and specifications of the Reno 8T Series have also been made available on the brand's official website, an indication that the devices are ready to hit the market immediately after launch.
Most interestingly will be the price of the smartphones. For the excellent specifications that promise a stellar performance on the Reno 8T series, Oppo is launching the devices as mid-rangers.
Interesting yeah? Well, prices for the Nigerian market have not been confirmed, but based on other markets the devices have been launched and are already available, prices are expected to fall within the USD $350 – $450 range.
These are speculations though until the brand launches and officially makes known the prices for the Nigerian market.
The launch will be a virtual event, and anyone can take part by visiting OPPO Nigeria's YouTube page and joining the Live stream on the 15th of March 2023, at 11 am.
OPPO Showcases Future Smart Lifestyles With Series Of Living Innovations @MWC 2023
-OPPO is actively meeting sustainable development goals in accordance with its commitment to achieving carbon neutrality across its global operations by 2050 while strengthening its global position with professional, reliable products and services.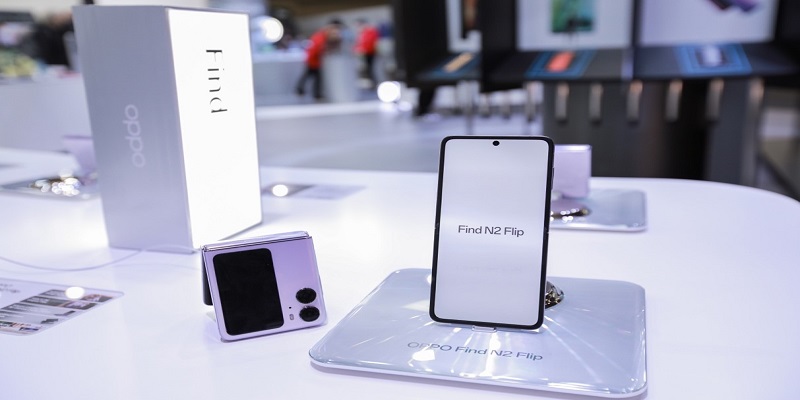 OPPO showcased a range of its latest innovative technologies at the Mobile World Congress 2023 (MWC2023).
During the event, OPPO not only showed a selection of flagship devices including the pocketable OPPO Find N2 Flip but also introduced a number of industry-leading innovations based on its four Smart Initiatives – smart entertainment, smart productivity, smart health, and smart learning.
The Smart Initiatives include OPPO Wi-Fi 6 Router AX5400, OPPO Zero-Power Tag, MariSilicon Y Bluetooth audio SoC, OHealth H1 family health monitor, OPPO Air Glass 2 and more.
By delivering enhanced, connected experiences through these virtuous innovations, OPPO is reinforcing its position as a future-focused company that seeks to unlock new possibilities for smart living.
"As the world's fourth largest mobile phone brand, OPPO has showcased a series of innovations at MWC23, from folding flagship phones to the latest technology behind the Internet of Experience.
"By bringing new technology breakthroughs to market, we are unlocking new possibilities for smart living to better serve our users worldwide," said Billy Zhang, President of Overseas Sales and Services of OPPO.
Focusing on Smart Living Initiatives, OPPO showcases milestones in "Virtuous Innovation".
Based on its four internal Smart Initiatives: smart entertainment, smart productivity, smart health, and smart learning, OPPO has brought a number of technology breakthroughs to the event, providing more ways to empower smart, connected experiences in the future.
In "smart productivity," OPPO has further expanded its communication technology product portfolios. OPPO Wi-Fi 6 Router AX5400 is OPPO's first Wi-Fi router product, supporting the Wi-Fi 6 AX5400 standard, and is capable of providing a 2.4GHz+5GHz dual-band Wi-Fi signal at the same time.
The combination of its high-gain antennas, OPPO's self-developed anti-interference algorithm, and network directional speed-up technology enable Wi-Fi with wider coverage, enhanced stability, and faster speeds.
OPPO Zero-Power Tag is the first prototype device based on OPPO Zero-power Communication technology.
Leveraging key technologies such as RF signal harvesting, backscattering, and low-power computing, it harvests radio waves from the surrounding area to power its own functionality and communicates battery-free in order to meet the diverse needs of IoT in the coming 6G era.
This is the first time that OPPO has demonstrated the OPPO Zero-Power Tag's capabilities in item identification and positioning, and data collection from temperature sensors, both powered by RF energy.
OPPO is also showcasing its extensive achievements across other Smart Initiatives, such as OPPO's first self-developed flagship Bluetooth audio SoC, MariSilicon Y, the new-generation, ultra-light AR glasses, OPPO Air Glass 2, OPPO's first family health monitor concept device OHealth H1, and OPPO's first end-to-end power management chip SUPERVOOC S, etc.
In addition, OPPO is also jointly demonstrating a number of technological milestones with different partners, including select proposals from the OPPO Research Institute Innovation Accelerator: EEG Hearables from IDUN Technologies and Cynteract's glove designed to help people with hand injuries to recover more effectively; hardware accelerated ray tracing technology on the Snapdragon®8 Gen 2 Mobile Platform; innovative Android features like Nearby Share and Fast Pair on OPPO flagship smartphones, and trails of Google One and YouTube Premium for up to 6 months, with selected OPPO devices.
Revolutionizing the vertical foldable experience, OPPO Find N2 Flip will turn flips into users' first choice.
OPPO Find N2 Flip, OPPO's first vertically folding phone recently launched globally in London, has become a major draw to OPPO's booth. OPPO Find N2 Flip and Find N2 have both been appointed as Official Smartphones of the UEFA Champions League.
UEFA Champions League Ambassadors and football stars, Michael Owen and Luis Garcia both joined OPPO on the first day of MWC, becoming the first global users to experience the incredible OPPO Find N2 Flip.
Actively practicing corporate social responsibility, OPPO has committed to achieving carbon neutrality across its global operations by 2050.
Under its corporate mission of "Technology for Mankind, Kindness for the World", OPPO has taken action to integrate sustainability into its long-term development strategy. By the end of 2022, OPPO managed to reduce the greenhouse gas emissions from its operations by 6,000 tons annually.
Starting with the European market in 2023, OPPO will remove virtually all plastics from the external packaging of its mobile phone products and will ensure that all packaging materials are made from 100% biodegradable materials.
On the opening day of MWC2023, OPPO also published its first <OPPO Climate Action Report>. The report proposes OPPO's goal of achieving carbon neutrality across its global operations by 2050 and outlines its future blueprint for low-carbon development.
With these plans, OPPO will transform its entire business into a low-carbon enterprise.