Smile Offers Customers Free Streaming Data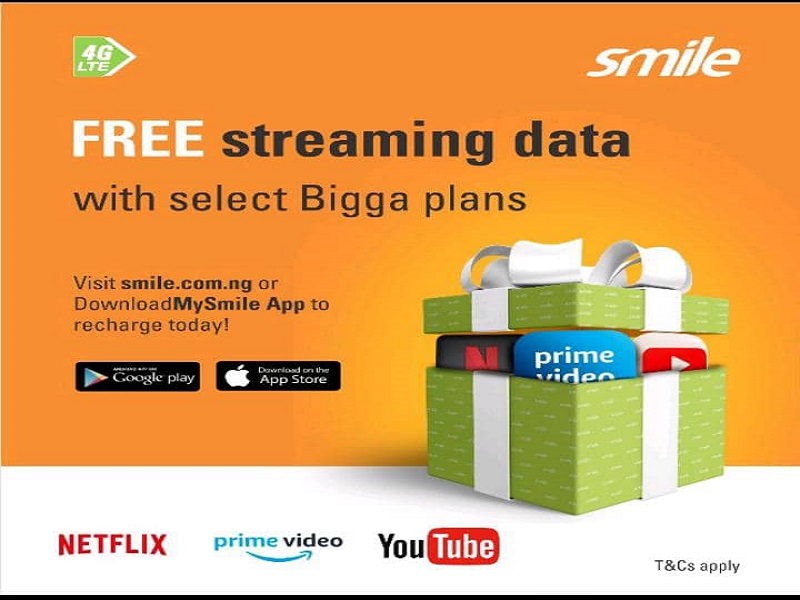 Smile Communications, Nigeria's foremost and leading mobile broadband provider has introduced a new offer to its teeming customers.
The new offer allows for FREE Streaming data for consumers to stream their favourite content on YouTube, Netflix, and Amazon Prime Video absolutely FREE.
Abdul Hafeez, Chief Marketing Officer, Smile Nigeria, said of the offer, "We are giving our customers so much more when they purchase any of our select Bigga plans with FREE streaming data, so they can have fun engaging with their favourite entertainment and social media services for longer."
All Smile customers who recharge a Bigga plan, from 1.5GB to 20GB, priced from N1,000 to N5,000, will get an additional 3GB to 5GB FREE streaming data to use between 11 pm and 6 am on YouTube, Netflix, and Prime Video.
Smile said in a statement that with this offer, consumers get access to FREE Youtube, FREE Netflix, and FREE Amazon prime video when they subscribe to any of the select Bigga plans from Smile.
"We are still a consumer-centric organisation that understands the huge financial responsibilities associated peculiarly with the first quarter globally and want to cushion these effects with extra value for our consumers while encouraging other Nigerians to get on the Smile network to enjoy this and many other goodies from Smile," Hafeez concluded.
Smile communications led in voice call acquisitions in the past year and are poised to enter new markets, as well as deliver several firsts within the telecommunications operating space as the year progresses.
Industry watchers are of the opinion that Smile is a brand to look out for in 2023.
Buhari Expresses Delight Over Unveiling Of Starlink In Nigeria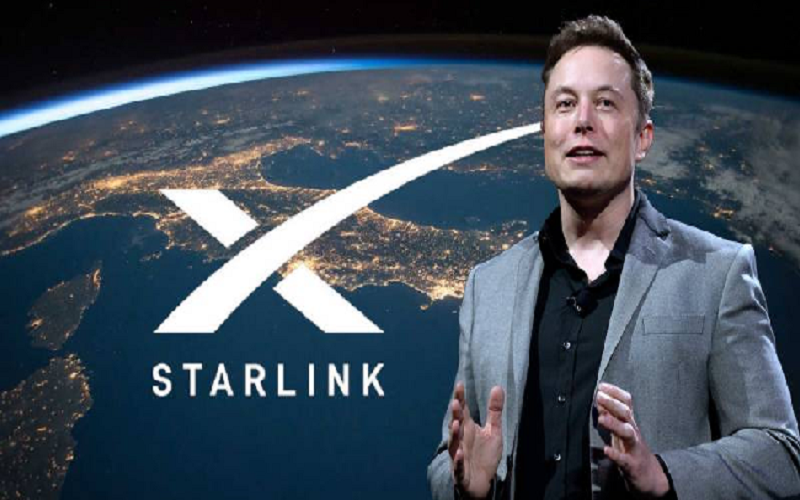 President Muhammadu Buhari has expressed delight over the unveiling of Elon Musk-owned SpaceX's broadband service Starlink in Nigeria.
The President noted that with the commencement of Starlink's operations in Nigeria, the country now has 100 per cent broadband penetration, adding that Nigeria is the first and only African country so far to enjoy Starlink rollout.
The President's position was contained in a post tweeted to his verified Twitter page Thursday night.
"We are delighted that Starlink services have been deployed in Nigeria, making us the first African country — and the only one so far — to enjoy this rollout. With this deployment of Starlink, we now have 100 per cent broadband penetration in Nigeria," Buhari said.
Recall that SpaceX confirmed the deployment of Starlink in Nigeria in a tweet on Monday, stating that Nigeria was the first African country to enjoy its services.
It tweeted, "Starlink is now available in Nigeria – the first African country to receive service."
Starlink seeks to deliver a global broadband network, using a constellation of Low Earth Orbit to provide high-speed internet coverage with the capacity to penetrate rural and geographically isolated areas.
Israel, Italy Record Lowest Mobile Internet Costs
Mobile internet traffic almost doubled in the last eight years, and today, more than 60% of all website traffic comes from people using mobile devices. But, as the global mobile data coverage gap continues to narrow, the price gap remains wide.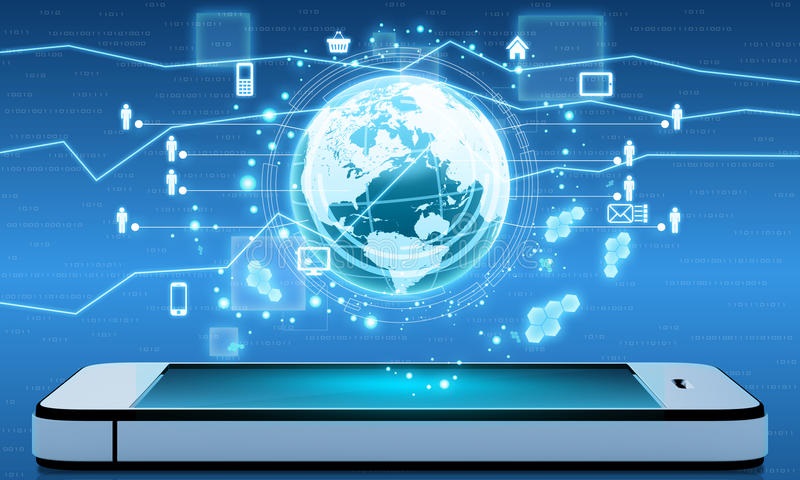 According to data presented by CasinosEnLigne.com, Israel and Italy have the cheapest mobile internet in the world, while Japan, the US, and Switzerland are among the most expensive countries globally.
Many of the cheapest countries have excellent mobile and fixed broadband infrastructure, which allows providers to offer large amounts of data at reasonable prices, reports ITOnline.
In some countries, economic outlooks also dictate the price, which has to remain low so people can afford it.
According to data from the UK-based price comparison website cable.co.uk, which analysed almost 5 300 mobile data plans across 233 countries, Israel has by far the cheapest mobile internet, with one gigabyte of data costing an average of $0.04 in 2022.
Italy placed second in the global ranking, with a low cost of $0.12 per 1GB. India, France, China, and Spain follow, with $0.17, $0.23, $0.41, and $0.60, respectively.
Although six times more expensive than Italy and almost 20 times more than Israel, the United Kingdom ranked somewhere in the middle of this chart with a cost of $0.79 per 1GB.
On the other hand, Japan, the US, and Switzerland have some of the costliest plans among developed countries.
For instance, 1GB of mobile data in the US costs an average of $5.62, which is seven times more than in the UK, 13 times more than in China, and 46 times more expensive than the average cost in Italy.
The price difference in Switzerland is even worse, with the average cost of mobile data being 61 times larger than in Italy and nine times the UK average cost.
Japanese mobile data plans are also much more expensive than in other countries. Last year, 1GB of mobile data in the country cost an average of $3.85, nine times the price the Chinese paid and 16 times the average cost in France.
Regionally, North America is the most expensive overall, with an average cost of $4.98 per GB, way above the global average of $3.12. Statistics show Canada is the most expensive country in the region, with a cost of $5.94, followed by the US.
The average cost of mobile internet in Western Europe was far below these figures. Last year, Europeans paid an average of $2.72 per 1G of mobile data, or 45% less than in North America and 12% less than the global average.
That is still far more expensive than the price seen in Asia, which had an average cost of only $1.47 in 2022.
Africa's Broadband Connectivity Receives Boost As 2Africa Subsea Cable Lands In Eastern Cape
The cable system, measuring 45 000km in length with a design capacity of 180 Tbps, will interconnect Europe (eastward via Egypt), the Middle East (via Saudi Arabia) and Africa. Essentially, 2Africa will connect 19 countries in Africa and 33 countries in total.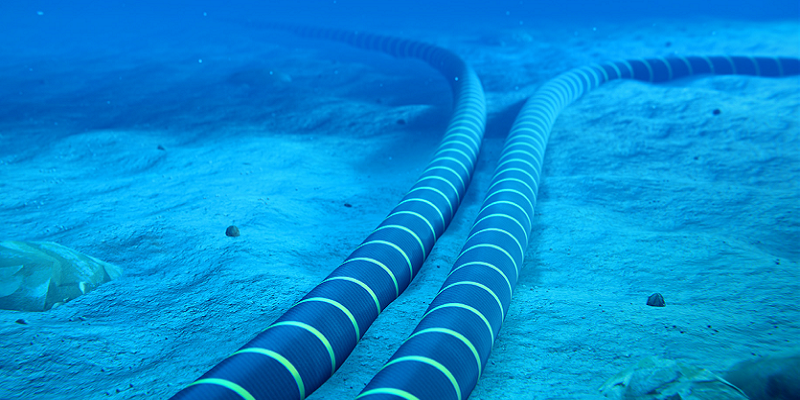 World's largest subsea cable system, 2Africa subsea cable, has landed at the Vodacom network facility in Gqeberha, promising improved broadband services in Africa, according to a report on ITOnline.
The news platform reports that this is the first submarine cable landing in the Eastern Cape region, promising greater internet capacity and acceleration of connectivity across the province.
The 2Africa Consortium includes eight international partners, China Mobile International, Meta (Facebook), MTN GlobalConnect, Orange, center3 (stc), Telecom Egypt, Vodafone/Vodacom and WIOCC, who have partnered to build 2Africa.
Launched in May 2022, the subsea cable project aims to significantly increase the capacity, quality, and availability of internet connectivity between Africa and the rest of the world.
The Gqeberha landing is the 2Africa project's third on the coast of South Africa, following two recent landings in the Western Cape by MTN GlobalConnect, Vodacom is the designated landing partner, providing facilities for the cable's installation at an existing site in the Summerstrand area.
"This latest 2Africa cable landing affirms Vodacom's commitment to driving digital inclusion in Africa by increasing access to quality internet services and investing in the network infrastructure to support this goal.
"We cannot achieve this alone, and collaboration between other industry stakeholders and the public sector is critical in enabling more citizens across the continent to be connected," says Diego Gutierrez, Vodacom Group chief officer: international markets.
Through the 2Africa landing at Gqeberha, service providers will be able to obtain capacity on a fair and equitable basis, encouraging and supporting the development of a healthy internet ecosystem.
Direct international connectivity can then be provided to data centres, enterprises, and wholesale customers.
Once the fibre cable system has been deployed, businesses and consumers will benefit from improved quality, reliability, and lower latency for internet services, including telecommuting, high-definition video streaming and advanced multimedia and mobile video applications.
The cable system's landing in the Eastern Cape will also offer the potential for much-needed regional job creation in sectors that rely on direct international connectivity, such as data centres, call centres and software development.
This employment opportunity can help contribute to local and national socio-economic development.
The 2Africa project underpins further growth of 4G, 5G and fixed broadband access by providing improved connectivity to underserved and rural areas; and network resilience from the Eastern Cape to the rest of South Africa.
As a gateway to international connectivity, the cable's landing at Gqeberha will help to develop telecommunications networks in the Eastern Cape and surrounding provinces.
Submarine cable systems, which provide international networks between continents and countries, form an integral part of the connectivity value chain and increase internet capacity to meet the current and future demands of growing digitalisation in Africa while catalysing economic growth.
In an RTI study, 2Africa is predicted to spur economic impact worth $26,2-billion to $36,9-billion, equivalent to 0,42% to 0,58% of Africa's GDP, within two to three years of becoming operational.
Alcatel Submarine Networks (ASN) is responsible for manufacturing and deploying the 2Africa cable, due for completion in 2024.
The cable system, measuring 45 000km in length with a design capacity of 180 Tbps, will interconnect Europe (eastward via Egypt), the Middle East (via Saudi Arabia) and Africa. Essentially, 2Africa will connect 19 countries in Africa and 33 countries in total.
The system has four landings in South Africa and two each in Mozambique, Kenya, Nigeria, Somalia and Egypt, so a total of 27 landings in Africa and 46 landings in total.
Delivering more than the total combined capacity of all subsea cables serving Africa today, 2Africa will provide much-needed internet capacity and reliability across much of the Middle East, India, Pakistan and Africa, supporting the growth of 4G, 5G, and fixed broadband access for hundreds of millions of people.
The 2Africa East cable system, of which the Gqeberha branch is part of, will go live by and be ready for service by the fourth quarter of 2023.
Gutierrez adds: "Vodacom Group is pleased to be working with our partners in the 2Africa project to bring faster, more reliable internet to local businesses and consumers while helping to build an inclusive digital society on the continent and around the world.
"The subsea cable system enables more communities to access transformative online resources, from education and healthcare to jobs and financial services, and experience seamless connectivity's economic and social benefits."