The Association of Telecommunications Companies of Nigeria (ATCON) has announced a new date for the National Dialogue on Telecommunications and ICT Sector in Nigeria.
The event will now hold on Thursday, October 15, 2020, at NAF Conference Centre, Abuja, FCT.
With a well-researched theme: "Harnessing the Digital Resources for the building of our National Economy," this well-thought-out event, according to a statement by ATCON President, Mr Olusola Teniola, is positioned to grow the entire sector of the Nigerian economy exponentially as thought leaders in the sector are expected to come up with brilliant ideas as to what the public and private sector can do to maximize the benefits inherent in the digital economy such that the recent fall in Nigeria's GDP can be reversed.
The recent Index of Digital Quality of Life positioned Nigeria in the pursuit of the digital economy and ranked 20th position at the beginning of the survey (Nigeria is currently ranked 81st).
Very important personalities confirmed to grace the event include Dr Isa Ali Ibrahim Pantami, Honourable Minister, Federal Ministry of Communications and Digital Economy; Rt. Hon. (Dr.) Simon Bako Lalong, Executive Governor, Plateau State; Prof Umar Garba Danbatta, EVC/CEO, Nigerian Communications Commission (NCC); and Mr Kashifu Inuwa Abdullahi, Director-General/CEO, National Information Technology Development Agency (NITDA).
Others are Mr Shubham Chaudhuri, Country Director (Nigeria), World Bank; Mr Segun Ogunsanya, Managing Director/CEO, Airtel Networks; Mr Alan Sinfield, Managing Director/CEO, 9mobile; and Mr Trevor Liuyan, CEO, Huawei Nigeria and many others.
ATCON said that the National Dialogue on Telecoms and ICT is targeted at changing the structure of the country's development through the maximum utilization of digital resources such that Federal Government, State Government and other key stakeholders in the Agriculture, Education, Oil & Gas, Health, Industry, Trade and Investment, Security and Defence Sector would leverage on the outcome of the event to improve their contributions to the nation's GDP.
The preposition, the organisers said in the statement, is based on effective collaboration amongst the different sectors of the economy especially against the background that collaboration is the new competition.
"The supply side which is comprised of Telecom and ICT Companies and the demand side which is made up of all the Ministries, States, Local Governments, Nigerians and Non-Nigerians are expected to have a higher level of productivity on the condition that they adopt and leverage on the opportunities presented by the digital economy to improve their output.
"This strategic dialogue plans to bring together the Presidency, National Assembly, relevant Federal Ministries, State Governors, ICT State Commissioners, Telecom and ICT Operating Companies, World Bank and other international relevant agencies," Teniola said inn the statement.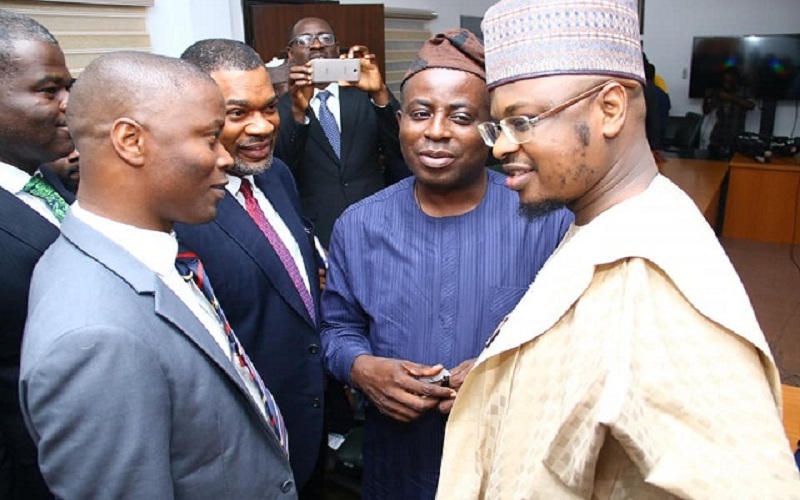 Strategic objectives
Teniola listed some of the strategic objectives of the proposed National Dialogue to include:
-Intentionally channelling collaborative positive efforts toward Nigerian Digital Economy with the sole aim of accelerating her economy's performance in relation to other leading African countries
-Serving as a forum to discuss the recently launched documents on Digital Economy and take stakeholders input for implementation.
-Optimally X-raying the factors that have worked for and against the telecom and ICT sector in Nigeria.
-Discussing regulations and policies around AI, IoTs and Blockchain and the rest.
The statement added that thought leaders in the industry have been invited to do justice to the following panel sessions: Digital Economy in Nigeria: Challenges and Opportunities; and Private Public Partnership and Development of Mechanism for the seamless Management of Inter-Ministries and Agencies: an imperative for Broadband Infrastructure Development in Nigeria.
Others are National Funding and Investment Strategy for Broadband Infrastructure and Digital Economy: The Importance of Education and Awareness; and Regulation on Emerging Technologies (AI, IoT, Robotics, Blockchain, etc): Leveraging on Nigerian Young Population's Innovation and Creativity for National Development.
The statement added that there shall be a special sectoral discussion tagged "Harnessing Digital Resources for Sectoral Effectiveness and Efficiency for National Development."
Personalities billed to lead discussions at the special session during the event include Mallam Adamu Adamu, Honourable Minister, Federal Ministry of Education; Dr Osagie Ehanire, Honourable Minister, Federal Ministry of Health; and Alhaji Mohammed Sabo Nanono, Honourable Minister, Federal Ministry of Agriculture and Rural Development.
Others include Major General Bashir Salihi Magashi (Rtd), Honourable Minister, Federal Ministry of Defence; Chief Timipre Sylva, Honourable Minister of State, Federal Ministry of Petroleum Resources; and Otunba Richard Adeniyi Adebayo CON, Honourable Minister, Federal Ministry of Industry, Trade and Investment.
The panel session will also include Alhaji Muhammad Musa Bello, Honourable Minister, Federal Capital Territory Administration; Mr Rotimi Ameachi, Honourable Minister, Federal Ministry of Transportation; and Mr Babatunde Raji Fashola, Honourable Minister, Federal Ministry of Works and Housing.
"One of the overriding deliverables of this national dialogue on telecoms and ICT sector is that the adoption of digital resources by all aforementioned sectors would lead to development which would eventually make Nigeria to join the league of the top 20 global economies," Teniola said in the statement.