Pula, African InsureTech Platform Closes $6mn TLcom-Led Series A Fundraise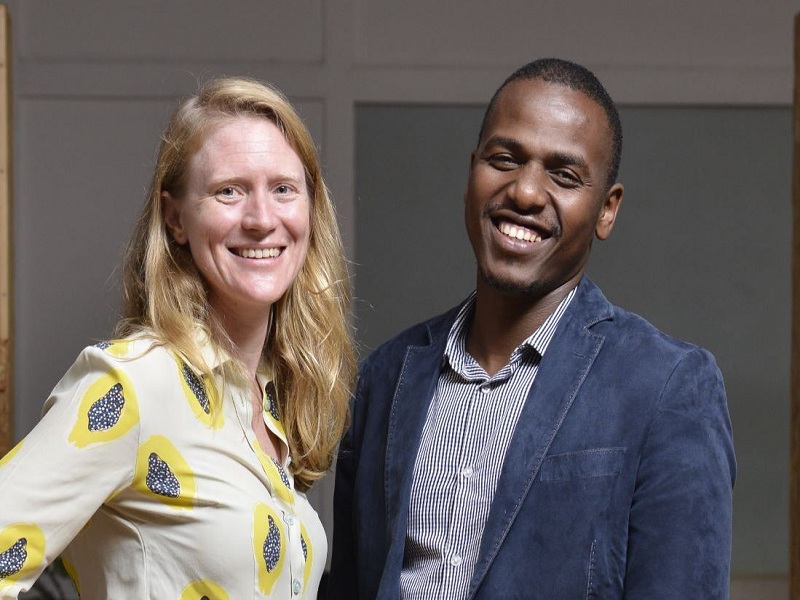 Pula, an African InsureTech service provider startup that specialises in digital and agricultural insurance to derisk millions of smallholder farmers across Africa, has closed a $6mn Series A fundraise led by TLcom Capital, with the participation of Women's World Banking.
The new investment will be used to scale up operations in the company's existing 13 markets across Africa.
Currently, Pula has impacted over 4.3mn farmers on the continent and the new funding will also help propel its expansion into Asia to power resilience and profitability for Asian smallholder farmers.
Launched in 2015 by Rose Goslinga and Thomas Njeru, Pula designs and delivers innovative agricultural insurance and digital products to help smallholder farmers endure climate risks, improve their farming practices and bolster their incomes over time.
For smallholder farmers in emerging markets, the traditional method of calculating insurance through farm visits is often unaffordable for farmers, meaning these farmers are often neglected from financial protection against climate risks.
Through its Area Yield Index Insurance product, Pula leverages machine learning, crop cuts experiments and data points relating to weather patterns and farmer losses to build products which cater for a variety of risks including drought, excessive rainfall, pests and diseases.
The company's key clientele include the likes of the World Food Programme, Central Bank of Nigeria, Zambian Government & the Kenyan Government.
Pula has also launched an NDVI Livestock insurance as an offering for livestock farmers.
Co-Founder and Co-CEO at Pula, Rose Goslinga, says "When Thomas and I launched Pula in 2015, we had one goal in mind – to build and deliver scalable insurance solutions for Africa's 700mn smallholder farmers and with our latest funding, now is the time to break into new ground.
"In our five years since launching, we've built strong traction for our products but the fact remains that across Africa and other emerging markets, there are still millions of smallholder farmers with risks to their livelihoods that have not been covered.
"In the midst of a global pandemic, farmers need assurances now more than ever and with this in mind, it's time to scale up. Having TLcom Capital and Women's World Banking along on the journey with us opens up many more opportunities as we build across the continent and beyond."
Through its partnerships with banks, governments and agricultural input companies, Pula is at the centre of an ecosystem which provides insurance to smallholder farmers and has amassed 50 insurance partners, as well as six reinsurance partners.
In December 2020, the startup was named as the "InsurTech of the Year" at the African Insurance Awards 2020 held in Lagos, Nigeria.
As part of the new fundraise, TLcom's Senior Partner, Omobola Johnson will join Pula's Board.
Maurizio Caio, Managing Partner and Founder at TLcom Capital, states: "In Pula, we found a company addressing a hugely underserved market in one of Africa's key drivers of growth and with this, an opportunity for major economic upside.
"The potential for the insurance market for smallholder farmers in Africa is huge and under the leadership of Rose and Thomas, Pula has rapidly established a strong presence throughout the continent and has a number of high-profile clients on their books.
"We are confident of Pula's potential for growth in spite of the pandemic and look forward to partnering with them as they execute the next phase of their journey."
Christina Juhasz, CIO at Women's World Banking, also states that "Given the legions of women engaged in small-hold farming and securing the food supply for communities around the globe, Women's World Banking is delighted to partner with Pula Advisors in providing them financial safety nets against the risks of pests, disease and climate change".
In 2018, Pula announced the close of its $1mn seed round from Rocher Participations with support from Accion Venture Lab, Omidyar Network and several angel investors.
Previous funders have included the Bill & Melinda Gates Foundation, Mulago Foundation and Mercy Corps Social Ventures and the company presence in Africa currently extends to Senegal, Ghana, Mali, Nigeria, Ethiopia, Madagascar, Tanzania, Kenya, Rwanda, Uganda, Zambia, Malawi and Mozambique.
Nigeria Recorded Over 1.4 million Cyber Attacks On 2023 Guber Elections Day- Pantami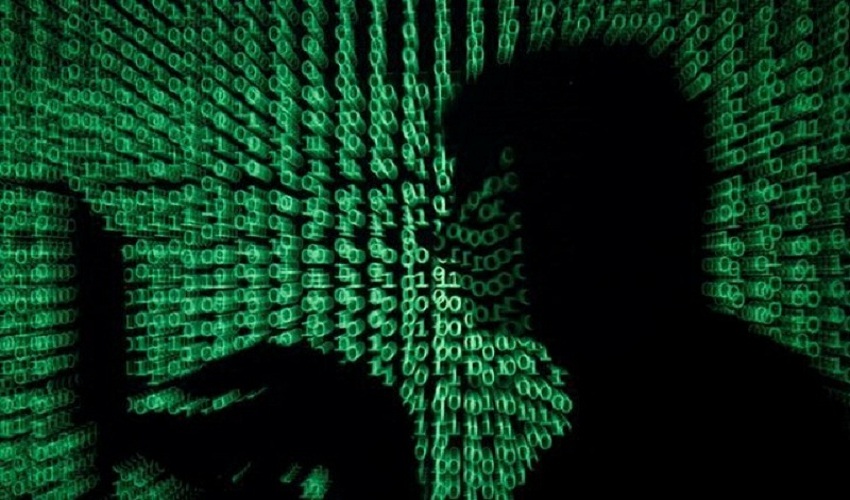 The Minister of Communications and Digital Economy, Prof. Isa Ali Ibrahim Pantami on Wednesday disclosed that Nigeria recorded a total of 3,834,244 cyber-attacks before, during and after the gubernatorial election of March 18, 2023, out of which over 1.4million was recorded on election day.
In a release signed by Dr. Femi Adeluyi, Senior Technical Assistant (Research and Development) to the Honourable Minister, Prof. Pantami provided the breakdown of the attacks as follows:
| | |
| --- | --- |
| Friday 17th March 2023 | 1,046,896 |
| Saturday 18th March 2023 | 1,481,847 |
| Sunday 19th March 2023 |    327,718 |
| Monday 20th March 2023 |    977,783 |
"During this period and as previously reported, a series of hacking attempts were recorded, including Distributed Denial of Service (DDoS), email and Internet Protocol Spoofing (IPS) attacks, SSH Login Attempts, Brute force Injection attempts, Path Traversal, Detection Evasion, and Forceful Browsing, originating from both within and outside Nigeria," the Minister disclosed.
Recall that on March 14, 2023, the Office of the Honourable Minister of Communications and Digital Economy released a Press Statement regarding the activities of the Ministry and its parastatals before, during and after the Presidential and National Assembly elections.
"As a follow up to that and in line with the Ministry's mandate as well as in our efforts aimed at supporting the initiatives of securing the Nigerian cyberspace, the Honourable Minister directed the Ministerial Standing Committee on Advisory Role for the Protection of Nigerian Cyberspace and ICT Infrastructure to further enhance the cyberspace surveillance activities of the three cybersecurity Centres of the National Information Technology Development Agency (NITDA), Nigerian Communications Commission (NCC) and Galaxy Backbone Limited (GBB)," the statement further read.
The statement disclosed that based on the Honourable Minister's directives, the Committee provided close oversight on the activities of the cybersecurity Centres, from Friday 17th March 2023 to Monday 20th March 2023.
The statement further quoted the Minister as saying that the activities of cyber threat actors on Nigerian cyberspace during the Gubernatorial and State Assembly elections were much lower than those during the Presidential and National Assembly elections.
"This is neither surprising nor unexpected as, Nigeria being Africa's largest democracy, the Presidential and National Assembly elections are bound to attract more attention of everyone, including cyber threat actors, than during the Gubernatorial and State Assembly elections," the Minister stated.
Recall also that the Committee, inaugurated by the Honourable Minister on the eve of the Presidential and National Assembly elections, was charged with the following responsibilities, among others:
Monitoring of Telecommunication Infrastructure for the successful conduct of the 2023 General Elections;
Developing and implementing plans to enhance the resilience of critical digital infrastructure against cyber threats;
Designing procedures and using technologies to prevent, detect, and respond to cyber-attacks, as well as developing the ability to quickly recover from any damage that is done;
Developing a comprehensive risk assessment, analysing the nation's current cybersecurity capabilities, and identifying gaps that need to be addressed; and
Providing professional advice to the Government on the effective utilisation of digital technologies in the conduct of the 2023 General Elections.
Prof. Pantami who expressed confidence that the implementation of some recommendations as well as measures taken to fortify Nigeria's cyber defence mechanisms might have helped in this, reiterated that these attainments would not have been possible without the continued support of President Muhammadu Buhari, in particular, and the administration in general, towards ensuring Nigeria's successful transition into the digital economy.
Effective Collaborations Will Enhance Stronger Africa IT Ecosystem- NITDA DG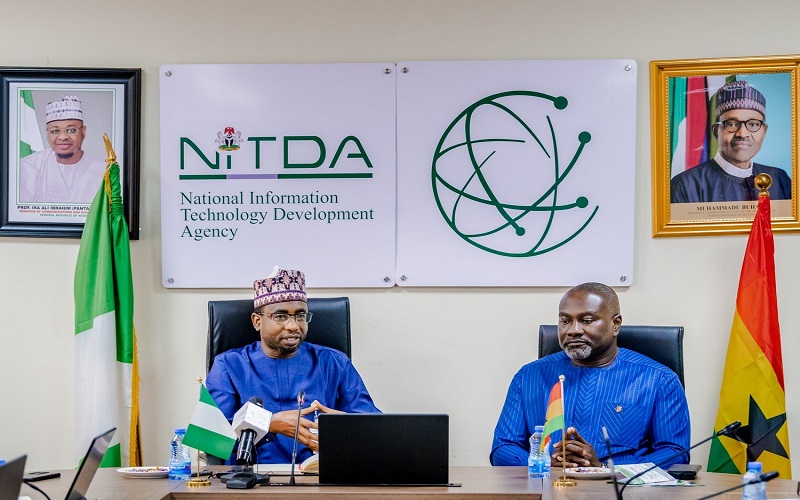 The Director General of the National Information Technology Development Agency (NITDA), Kashifu Inuwa has expressed the belief that effective collaborations among the nations in the continent would build a formidable and greater Information Technology (IT) ecosystem.
Inuwa's belief is hinged on the consideration of the immense natural and human resources inherent in Africa, which can be leveraged to enhance technological advancement in the continent.
The NITDA Director General expressed this belief at the corporate headquarters of the Agency in Abuja during day one of the 3-day working visit of the Ghanaian National Information Technology Agency (NITA) delegation led by its Director General, Mr. Richard Okyere Fosu to understudy Nigeria's IT regulatory instruments, policy documents and seek possible areas of collaboration.
Describing the visit of the delegation from Ghana as a step in the right direction towards the development of Africa's IT ecosystem, Inuwa stated that it was an imperative collaboration needed to achieve a common goal.
Stating that no one can succeed in isolation, he asserted that "if we really want to succeed as a continent, we need to collaborate, we need to work together. We need to learn from our experiences and share expertise so that we can work and grow together".
He noted further that the Nigerian government has transcended from enforcing regulations on the ecosystem but has rather identified collaboration as critical, in creating an enabling environment for the ecosystem to thrive and flourish.
Stating that IT is borderless, the NITDA boss said that the agency had developed various regulatory instruments, policy documents, and initiatives to create an enviable IT ecosystem in the country, which has been making huge impacts within the continent and globally.
While confidently stating that Africa has a competitive advantage of talent and population in the fourth industrial revolution, Inuwa opined that a symbiotic relationship between the two countries would engender disruptive innovations that will solve many challenges pervading the continent.
"This kind of visit will strengthen the relationship between our two agencies and build a stronger IT ecosystem in Africa. We are doing well in Nigeria but we want everybody to do well when it comes to technology", he noted.
The NITDA Director General then proceeded to make a presentation on an overview of the Agency, its guiding strategies, and strategic initiatives which have been instrumental in driving economic growth and prosperity with a focus on creating a knowledge-based economy that can compete with the best in the world.
In his presentation on the regulatory environment and various regulatory instruments, the Agency's Head, Legal Unit, Barrister Emmanuel Edet made reference to the Startup Act and Code of Practice in which the agency uses intelligent frameworks to develop regulations towards a sustainable digital economy.
In his remark, Mr. Fosu appreciated the efforts being made by NITDA in fortifying and fostering the nation's IT ecosystem toward a sustainable digital economy.
He disclosed that NITA's supervising ministry has similarly expanded its mandate to include digitalization and is now known as the Ministry of Communications and Digitalisation which in his opinion has brought out the importance of digitalisation.
While giving assurances of keying into NITDA's regulatory instruments and implementation of policy documents, Fosu expressed his agency's commitment to work closely with NITDA in bridging the gaps identified in Ghana and Africa as a whole.
"This is not a one-time visit but we will definitely come back. We have come to learn and hope that we can make the needed impact in Ghana," he stated.
The NITDA DG then took the Ghanaian delegates on a tour of the agency's Computer Emergency Readiness and Response Team (CERRT) unit.
OPPO Launches Reno8 T Series In Nigeria
-Dubbed "The Portrait Expert, the Reno8 T is available in 5G and 4G variants.
-Customers can pre-order the Reno8 T smartphones for as low as 30,000 Naira, till 25th March 2023.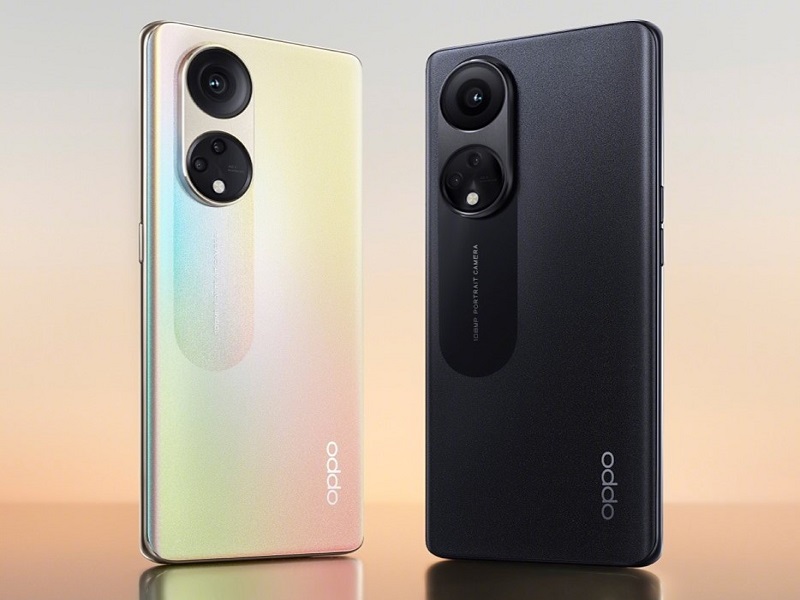 OPPO Nigeria has announced the launch of the highly anticipated Portrait Expert, the Reno8 T Series. The virtual launch event which was streamed live on YouTube was hosted by sensational host Jimmie Akinsola and featured Nollywood star Bimbo Ademoye and notable industry personalities – popular Tech YouTuber, Eric Okafor and fast-rising photographer August Udoh.
With significant upgrades made in its design, camera, charging and performance, the Reno8 T series comes in 5G and 4G variants and has been designed to bring users one step forward to an unmatched leveled-up experience in innovation and style.
Commenting on the launch, Folashade Omonijo, Marketing Manager for OPPO Nigeria, said, "At OPPO Nigeria, we believe that innovation and style should go hand in hand, and that's what we have delivered with the RENO8 T series.
"We are excited to launch these devices today and are confident that they will elevate the smartphone experience of our customers, enabling them to level up with the ever-increasing demands of smartphone usage in their daily activities, be it for work or fun."
"The Reno8 T series is a testament to OPPO Nigeria's commitment to providing our customers with the best technology at the most competitive price points. Even with such impressive, premium and flagship specifications, our customers wouldn't have to go deep into their pockets to own any of the Reno8 T smartphones. We encourage everyone to visit our website or social media pages to pre-order these devices," She further added.
One Step Forward in Design
Running on the latest ColorOS 13 Operating System, the Reno8 T 5G features a 6.7-inch, 120Hz 3D curved screen – a very rare feature in mid-range smartphones. Cased in a seamless hyperbolic, micro-curved dual design, Reno8 T 5G not only delivers a next-level luxurious visual experience, but it also fits perfectly into the user's hand, creating a natural feel and sleek appearance.
Inspired by luxury leather goods, the Reno8 T 4G on the other hand comes in an Ultra-Slim Retro Design with Fiberglass-Leather back, giving a premium flagship feel. Reno8 T 4G users can also customize based on their preferences and mood, the colours of the popular Orbit Light that provides notifications for new messages, charging status and more, on the back of the phone.
One Step Forward in Camera
Donning OPPO's first 108MP Camera, users get to enjoy an ultra-high resolution portrait camera on the Reno8 T 5G. This enables users the ability to capture every moment, especially portrait photos, with utmost clarity and detail.
The Reno8 T 4G variant dons a 100MP Portrait Camera that produces equally exquisite image clarity that allows for unprecedented editing and cropping abilities.
Both variants also feature the AI Portrait Super Resolution designed to enhance portrait images and give them amazing effects using various features such as the Bokeh Flare, AI Colour, AI portrait retouching and Selfie HDR.
The Flash Snapshot feature allows for capturing super-clear photos while the subject is in motion. And thanks to the 40x Microlens, users can get creative with these high-quality photos by cropping and editing them without losing their clarity, discovering new details and previously hidden aspects of the photos taken.
One Step Forward in Battery Charging
Reno8 T 5G features the lightspeed 67W SUPERVOOCTM charging technology that delivers 5.5 hours of call time on a 5-minute charge and enables the 4800mAh battery of the 5G variant to charge fully in just 44 minutes, which means users spend significantly lesser time charging and allowing for more time on the things that matter the most.
A Battery Health Engine (BHE) helps to keep the battery at top performance, preserving the lifespan of the phone's battery for up to 4 years by intelligently controlling charging currents and voltage. The 4G variant is powered by a 5000mAh battery on a 33W SUPERVOOCTM charger.
One Step Forward in Fluency, Speed & Performance
5G Processor: The Reno8 T 5G's Qualcomm Snapdragon™ 695 5G processor enables lightning-fast processing of tasks and 5G speed capabilities, guaranteeing a super-smooth experience during phone usage.
48-Month Fluency Protection: OPPO also guarantees unparalleled fluency protection for as much as 4 Years of constant use. This means that even after several years of work and play, the Reno8 T smartphones can start, operate, and run as many apps as if brand new.
8GB RAM + 256GB Storage: Memory and storage are very critical to users and the Reno8 T series delivers on that with its 8GB RAM + 256GB Storage configuration. What's more, the RAM expansion feature allows users to double the RAM size on their smartphones by converting unused storage space to operating memory, therefore guaranteeing smoothness and zero-lag when using several apps simultaneously and switching between them.
The Reno8 T 5G is available for pre-order at N289,900.00 and comes in the iconic OPPO Glow shimmering colours – Sunrise Gold and Classic Midnight Black, while customers also get to choose between the Sunset Orange or Midnight Black colours on the Reno8 T 4G variant, starting from N219,900.00. Both devices will be available at authorized retail stores for purchase starting from 26th March 2023.