The Drama Returns As MultiChoice Nigeria Announces #BBNaija Season 5
Season 5 Premiere set for July 2020

Auditions to now hold online and start Wednesday, May 20
Following the success of the fourth season of the biggest and most viewed event on African television, Big Brother Naija, MultiChoice Nigeria has announced that the fifth season of the show will premiere in July 2020.
For its fifth season, the BBNaija show will run an online audition process starting Wednesday, May 20 till Saturday, May 30, 2020.
Potential contestants are expected to record a two-minute video of themselves stating why they should be picked to be a Housemate in season 5 of Big Brother Naija.
Following this, they are to log on to www.africamagic.tv/BBAudition to fill out the online registration form and upload their videos.
The online audition is free and open to interested male and female participants who are of Nigerian nationality with a valid Nigerian passport and must be 21 years of age by June 1, 2020.
Speaking on the return of BBNaija, the Chief Executive Officer of MultiChoice Nigeria, Mr. John Ugbe said, "Big Brother Naija has been widely regarded as one of Africa's biggest entertainment exports, being the biggest showcase of Nigeria's diversity outside of core Nollywood.
"This fifth season promises to be more adventurous, exciting and entertaining, and will undoubtedly be the biggest thing on African television in 2020."
With the Big Brother Naija reality show, MultiChoice Nigeria is committed to providing premium content and entertainment on its DStv and GOtv platforms.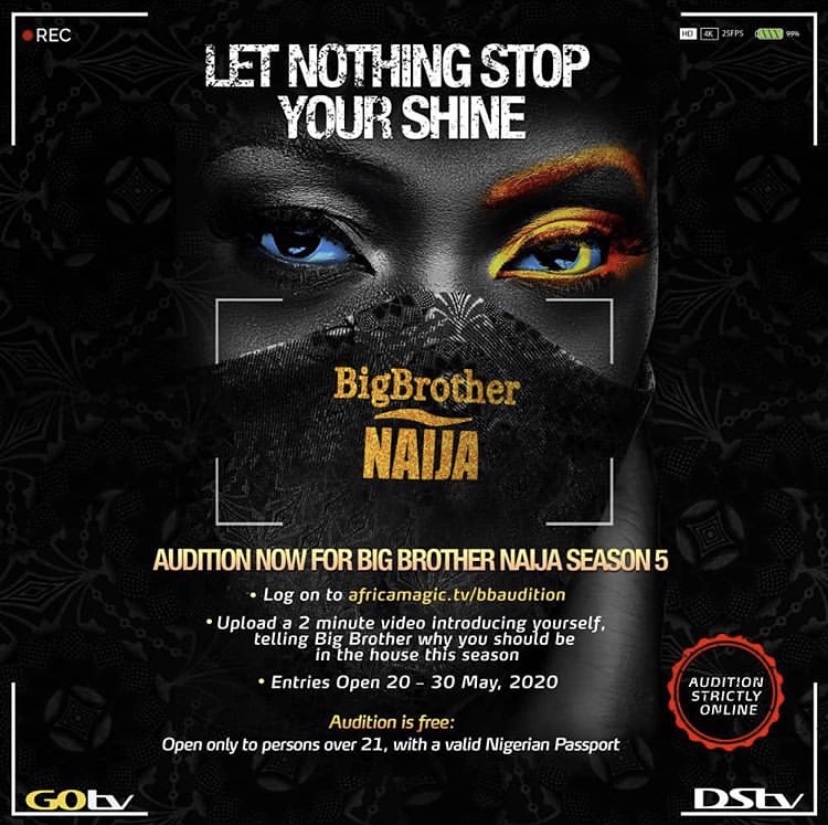 As the new edition draws near, fans and viewers can get ready for the excitement and entertainment this season will bring as they enjoy weeks of unending drama, intrigue, romance, Friday night games, the famous Saturday night parties and an overall battle of wits as the Housemates vie for the ultimate prize.
Ugbe added: "The timing of the show is also particularly important, given the dominance of the COVID-19 pandemic; auditions for the fifth edition will now hold online and viewers and stakeholders alike can rest assured knowing that global best practices, precautions and preventive measures will be followed throughout the show, even as we guarantee the premium entertainment BBNaija is renowned for."
The Big Brother Naija reality TV show continues to produce some of the country's biggest TV personalities and pop culture influencers since its maiden edition in 2006.
Some of these personalities include Ebuka Obi-Uchendu, Gideon Okeke and more recently, Mercy Eke, Mike Edwards, Miracle Ikechukwu, Tobi Bakre, Cynthia "Cee-C" Nwadiora, Bamike "BamBam" Olawunmi, Tunde "Teddy A" Adenibuyan, Efe Ejeba, Bisola Aiyeola and Tokunbo "Tboss" Idowu.
Meta To Spend $14million On Mark Zuckerberg's Personal Security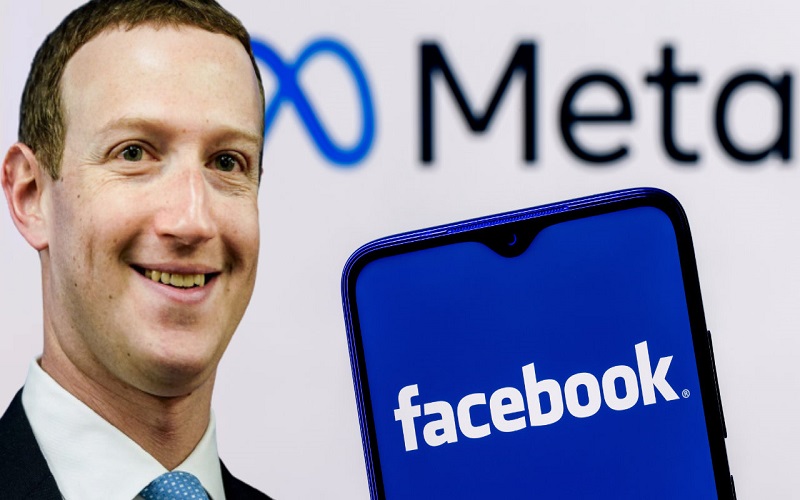 Meta says it is increasing the amount of money it spends on Mark Zuckerberg's personal security by $4 million, taking the total to $14 million.
Techspot reports that this comes as the company eliminates thousands of jobs and its CEO talks about 2023 being the "year of efficiency."
Meta revealed in a filing with the Securities and Exchange Commission that the annual pre-tax allowance to cover Zuckerberg's security costs has increased from $10 million, which had stayed the same since 2018, to $14 million.
Last week, Meta's board of directors decided that the 40% increase was "appropriate and necessary under the circumstances."
Meta said that the higher amount was "to address safety concerns due to specific threats to his safety arising directly as a result of his position as Meta's founder, Chairman, and CEO."
The $14 million per year is to pay for "additional personnel, equipment, services, residential improvements, or other security-related costs" for Zuckerberg and his family.
That's a lot of money, but the final figure for keeping Meta's CEO safe will be even higher as the filing doesn't include other security expenses.
Last year, the company spent $16.8 million protecting Zuck on top of the $10 million allowance for a total of $26.8 million, and it spent $23.44 million protecting its founder in 2020.
Most big tech companies spend a lot of money keeping their CEOs and other top execs safe, but Zuckerberg's costs exceed all others by a wide margin.
Meta spending millions of dollars to keep its boss and his family safe is unlikely to please the 11,000 people the company has laid off recently, a move that the CEO took accountability for.
Zuckerberg's talk of Meta becoming leaner while calling 2023 the "year of efficiency" now rings slightly hollow, too.
Meta's filing also notes that its founder has a salary of just $1 per year, but his shares in the company mean his earnings are much higher.
Zuckerberg might not be in Bloomberg's top ten billionaires list anymore, but his $64.2 billion fortune makes him the 18th richest person in the world.
Yahoo To Cut 20% Of Its Workforce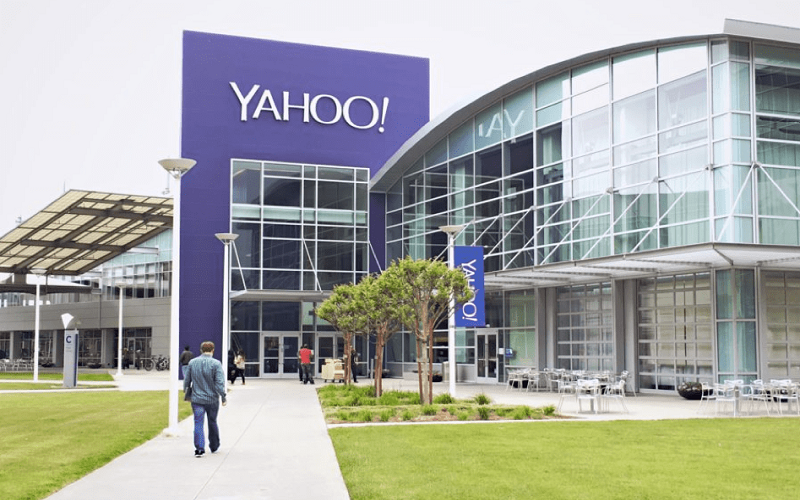 Yahoo plans to lay off more than 20% of its total 8,600 workforce as part of a major restructuring, according to a BBC report on Friday.
The veteran tech company is reorganising its advertising unit, which will lose more than half of the department by the end of the year.
Nearly 1,000 employees will be affected by the cuts by the end of the week.
Yahoo is the latest tech firm to announce job losses as firms struggle with a downturn in demand, high inflation and rising interest rates.
"These decisions are never easy, but we believe these changes will simplify and strengthen our advertising business for the long run while enabling Yahoo to deliver better value to our customers and partners," a spokesperson told the BBC.
Yahoo, which has been owned by private equity firm Apollo Global Management since a $5bn buyout in 2021, added that the move would enable the company to narrow its focus and investment on its flagship ad business called DSP, or demand-side platform.
The layoffs are part of a broader effort by the company to streamline operations in Yahoo's advertising unit.
It comes as many advertisers have pared back their marketing budgets in response to record-high inflation rates and continued uncertainty about a recession.
The re-focus signals an intention by the firm to stop competing directly against the likes of Google and Facebook's Meta for digital advertising dominance.
The Yahoo spokesperson added: "The new division will be called – simply – Yahoo Advertising.
"In redoubling our efforts on the DSP on an omnichannel basis, we will prioritise support for our top global customers and re-launch dedicated ad sales teams towards Yahoo's owned and operated properties – including Yahoo Finance, Yahoo News, Yahoo Sports and more."
Layoffs in the US hit a more than two-year high in January, as the technology industry, once a reliable source of employment, cut jobs at the second-highest pace on record to brace for a possible recession, a report showed on Thursday.
Companies including Google, Amazon and Meta are now grappling with how to balance cost-cutting measures with the need to remain competitive, as consumer and corporate spending shrink amid high inflation and rising interest rates, after the pandemic.
Meta chief executive Mark Zuckerberg said recent job cuts had been "the most difficult changes we've made in Meta's history", while Twitter cut about half its staff after multi-billionaire Elon Musk took control in October.
WhatsApp Adds New Status Features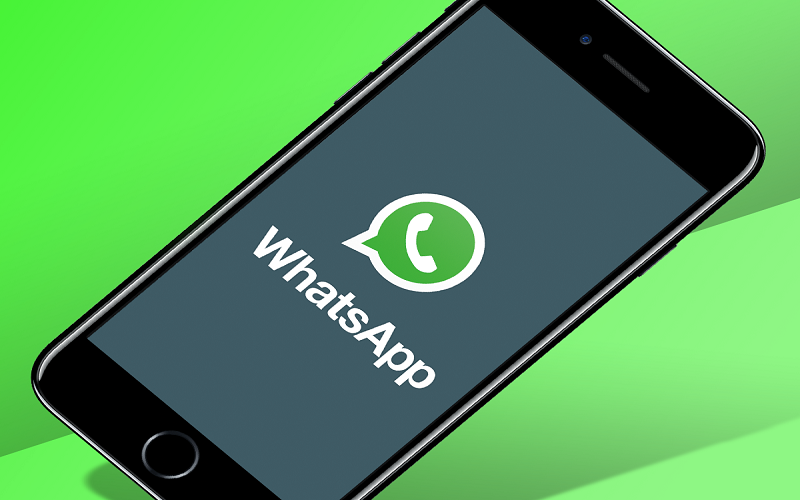 Meta is adding several new features to WhatsApp status, which lets users post disappearing pictures and other media, reports The Verge.
Once the features roll out over the coming weeks, you'll be able to react to people's posts with an emoji, limit who can see your status, and post voice messages.
According to an announcement post, the status emoji reactions work similar to how they do on Instagram; when you swipe up on the post, you get the option to choose from one of eight emojis. (The options are 😍,😂,😮,😥,🙏,👏,🎉, and 💯.)
While a WhatsApp blog post calls emoji reactions the No. 1 requested feature after it launched the ability to react to messages last year, analysts feel the Private Audience Selector is the most useful addition announced today.
The feature lets you change who can see your statuses, with the option to show it to everyone, hide it from certain contacts, or only show it to specific people.
According to Meta, the options you pick will be the default for the next status you post, but you'll be able to change it without changing the visibility of past statuses.
Other features are small quality-of-life improvements. Statuses that include links will also be more visually appealing — Meta says there'll now be previews for the site or page that the link will take you to.
WhatsApp is also trying to make it clearer when people post status by adding a ring around their profile picture in the chat lists, group participant lists, and contact info screens.