Trader Reveals How KongaPay Saved Her Life Amid Naira Scarcity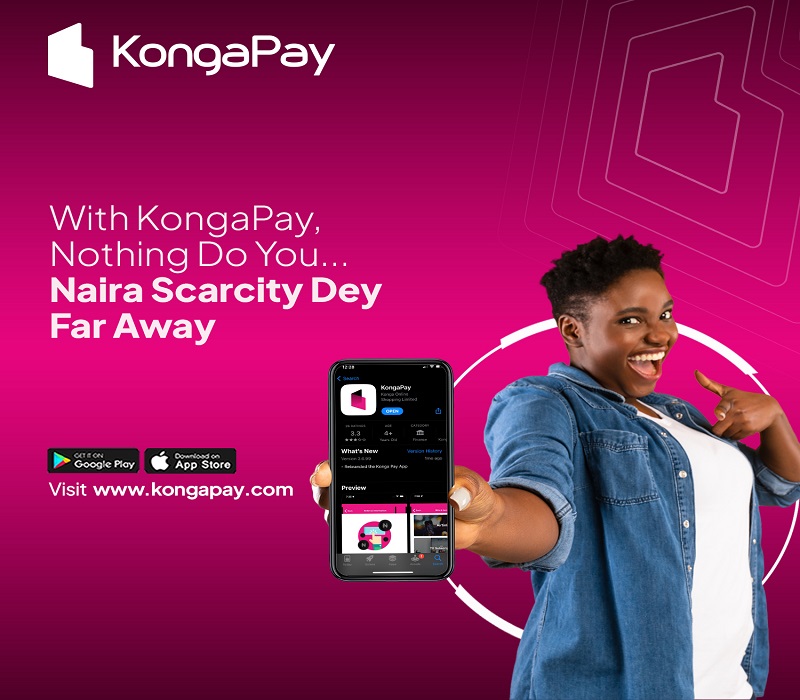 A petty trader, Mrs. Bolade Inuwa, has narrated how she was spared huge embarrassments and inconveniencies in the wake of the recent policy pronouncement on the redesign of select denominations of the national currency – the Naira.
She specifically referenced how KongaPay, a mobile money wallet operated by Nigeria's leading e-commerce giant, the Konga Group, came to her rescue.
Nigerians from all walks of life have had to contend with severe difficulties in the wake of the announcement by the Central Bank of Nigeria (CBN) which initially pegged January 31, 2023, as the deadline for the return of old series of 200, 500 and 1000 Naira notes.
Amid concerns raised in various quarters, the CBN had stuck to its guns, insisting there are no plans to shift the deadline, prompting some businesses to stop receiving the old series of affected denominations even ahead of the deadline for their return.
In a video from a media briefing held on January 24, 2023, after the apex bank's Monetary Policy Committee (MPC) meeting in Abuja, CBN Governor, Godwin Emefiele, was quoted as saying: "I must say here that unfortunately, I don't have good news for those who feel that we should shift the deadline. My apologies.
"The reason is that just as the president has said on more than two occasions, and even to people privately, that for us, 90 days — in fact, we feel it's 100 days — is enough for anybody who has the old currency to deposit the money in the banks.
"And we took every measure to ensure that all the banks were open or remain still open to receive all old currencies; 100 days, we believe is more than adequate…''
However, the CBN later revised its earlier stance, announcing a 10-day extension of the deadline for the use of old naira notes across Nigeria.
Emefiele, who disclosed he had received the approval of President Muhammadu Buhari for the extension, revealed that the new deadline is now 10 February 2023 instead of the former 31 January deadline, while adding that those who are yet to change their naira notes from the old to new ones, now have an opportunity to do so.
Furthermore, the CBN Governor had urged Nigerians to utilise the opportunity because the deadline will not be extended again.
In the wake of this development, events quickly escalated.
Nigerians had intensified the process of returning their old currencies to the banks, but the new/redesigned denominations were not so forthcoming or readily available, resulting in a scarcity that saw many resort to desperate measures.
Point of Sales (POS) terminal operators led the charge, hiking their service charges astronomically for the new denominations and even the old notes, blaming the excess charges on the difficulties they face in getting cash.
A few banks also had to shut down some of their branches as a result of insufficient cash to treat the deluge of visitors who throng the halls daily, some as early as the wee hours of the morning, in search of cash. Some branches were also subjected to attacks by increasingly desperate customers.
Owing to the associated pressure from a growing number of Nigerians who now sought refuge in online transfers, several bank apps consistently recorded failures, leaving many stranded and frustrated.
Mrs. Inuwa was one of the millions of Nigerians affected.
''When I learnt of the deadline for the return of the old notes, I immediately notified my family members and made plans to have all the affected denominations with me lodged in the bank even before the initial January 31 deadline.
"It proved to be a costly move as I was now virtually cashless and unable to access either the old currencies or the new notes. For five consecutive days, I had to leave the house very early to go and queue up at a bank in my vicinity, yet I was unable to withdraw any money.
"The queues were very long and before you know it, a representative of the bank would come out to announce that they have exhausted the cash sum for the day.
''Patronizing the POS operators around me also proved to be another very costly venture. Some of them were charging as high as N1000 for N5000 worth of the old notes and even higher for the new notes.
"Transfers initiated to and from various commercial banking apps were also failing and at best, erratic. My kids could not go to school and my business was suffering. It was not just a frustrating experience but one of the worst times I have experienced.''
Succour, however, came the way of Mrs. Inuwa when a friend of hers introduced her to KongaPay.
''I stumbled across KongaPay at a party late last year when one of my colleagues used it to process a transfer to the hosts. Back then, everyone had commented on how swiftly the transfer went through and the seamless experience. So, when my friend cited how KongaPay has helped her navigate the difficulties with cash scarcity and failing bank transfers, I saw light at the end of the tunnel.
''It was very easy signing up for an account at www.kongapay.com and upgrading my account after complying with the KYC document requirements. Thereafter, I was able to not only say goodbye to the challenges of failed transfers, but I was amazed at all the other things I could do with my KongaPay account, including purchasing airtime, paying for DSTV bills, recharging my prepaid meter line, all without extra charges. It was indeed an eye-opener.
''Most importantly, I have been able to pay my suppliers and resume my business after signing up as a merchant, while my children have also been able to return to school. Surprisingly, I have processed well over 90 transfers since I started using KongaPay in early February and I am yet to experience one failed transfer. I can also access and generate my statement of account with ease. It has been a gem of a discovery,'' she concluded.
Launched in 2015, KongaPay debuted as a pilot product in partnership with Nigerian commercial banks in response to concerns expressed by customers about the confidentiality of their details while trying to make payments for products on the Konga website.
Since its inception, the platform has grown immensely and under the drive of the new management of Konga, is leading the new-found appetite for digital payments among e-commerce patrons and other subscribers, processing tons of transactions on a daily basis.
KongaPay was recently identified as the leading provider of digital payment services for e-commerce transactions in Nigeria. The rating came from Statista, a globally renowned market and consumer data firm.
Konga, Verve Extend Free Shopping Vouchers To Customers In Season Of Rewards

Konga, Nigeria's leading composite e-commerce platform has partnered with Verve International to reward customers with free shopping vouchers.
Tagged Season of Rewards, the campaign, which kicked off on March 1, 2023, will see shoppers receive free vouchers when they shop on Konga.com with their Verve cards.
The partnership underpins the commitment of both brands to add value by providing useful incentives for customers who make payments with their Verve cards.
Consequently, Verve cardholders who shop on www.konga.com are in for great rewards, with free shopping vouchers made available to them within a 24-hour period which they can immediately use on their next shopping on the Konga platform.
The vouchers can also apply to any category of product that catches their fancy, ranging from Mobile Phones, Computing, Electronics, Fashion, Home & Kitchen, Groceries, etc.
"We are delighted to partner with Verve to bring this exciting offer to shoppers on the Konga platform," disclosed Gideon Ayogu, Group Head, Marketing & Communications, Konga Group.
"We are confident that this would deliver more value to Verve card holders in their shopping experience, while also encouraging them to shop more.''
Also commenting on the development, Chidi Oluaoha, Group Head, Growth Marketing Payment tokens and Financial Inclusion Services, Interswitch said Verve is committed to creating rewarding experiences for Verve cardholders while supporting their lifestyle needs.
"Our customers are at the heart of everything we do, and we are always looking for ways to reward them with invaluable payment experiences. It is for this purpose we are partnering with Konga to bring this exciting offer to Verve cardholders while giving them seamless, swifter and more secure payment solutions," he said.
He further urged new and existing Verve cardholders to take advantage of this opportunity to enjoy the benefits of shopping on Konga and earning free shopping vouchers.
Through this Season of Rewards promo, Konga and Verve are confident of giving Verve cardholders more reasons to use their cards for e-commerce transactions and avoiding the ongoing hassles with cash availability.
Both companies are also committed to improving financial inclusion and convenience for millions of Nigerians.
For more on the Season of Rewards promo and to win a free voucher, please click HERE
Konga Thrills 12 Shoppers To VIP treatment
-It was an unforgettable weekend mentorship with Ekeh, Zinox boss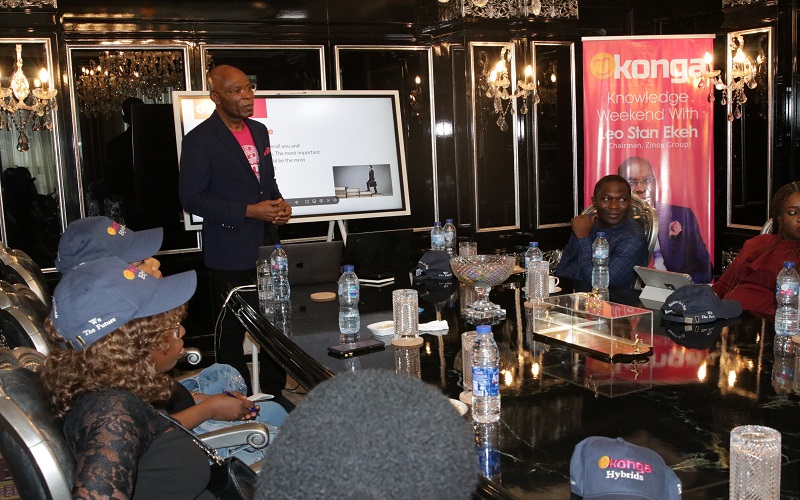 It was a weekend of excitement, filled with a huge dose of useful business success tips and powerful insights from a carefully selected cast of resource persons and spiced with loads of fun and surprises as Konga, Nigeria's leading e-commerce giant hosted 12 lucky shoppers to an all-expense paid weekend with the Chairman, Zinox Group, Leo Stan Ekeh.
Spanning from Friday, February 10 through Sunday, February 12, 2023, the 12 participants had been exposed to a series of mind-blowing and exciting initiatives which commenced from their arrival and reception at the grand Lagos Continental Hotel and culminated in a lunch date with Ekeh at his residence in the heart of Ikoyi, Lagos on the final day.
Tagged Knowledge Weekend, the 12 selected participants had been rewarded with the exclusive mentorship programme with Ekeh, a Forbes Best of Africa Leading Tech Icon, after emerging from a random pool of shoppers drawn from the recently concluded Konga Jara promotion.
Among the list of 12 lucky shoppers that graced the exclusive weekend event are Mrs. Molayo Jebutu, Mr. Joshua Emmanuel, Mr. Olanrewaju Ogunkunle, Mr. Henry Idugala, Mr. Adeyemi Oyewale, Mrs. Stella Ezeonwuka, Mrs Sonia Omatedjor, Mr. Chris Godwin, Mr. Soliu Saad, Mrs. Amaka Michael, Mr. Olatomide Idowu and Mrs. Maureen Okeke.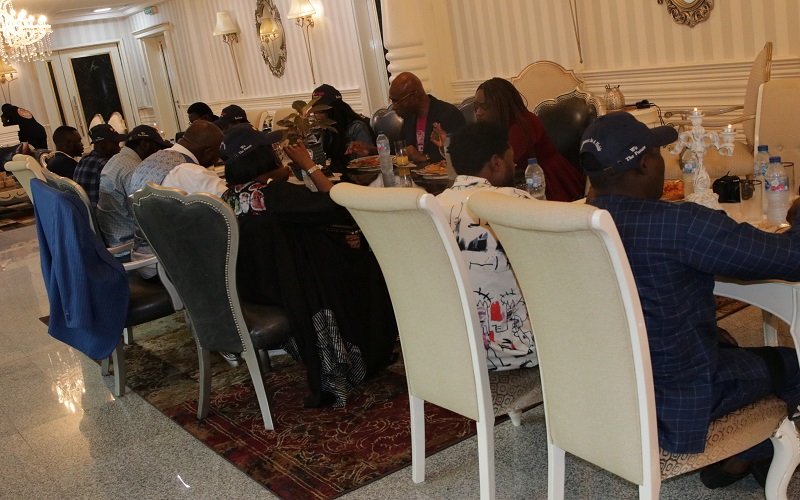 Following their arrival to a VIP treatment at the five-star Lagos Continental Hotel on Friday evening, the management of Konga had proceeded to surprise the guests with a welcome package delivered to their respective rooms, setting the tone for what turned out to be a weekend of delightful surprises and treats for the beneficiaries. A sumptuous buffet dinner soon followed suit, bringing a fitting end to proceedings for the day.
Saturday, February 11, 2023, opened with an intense aerobics session involving the guests in the hotel gym. This was supervised by a certified fitness instructor who put the participants through their paces. From there, the lucky shoppers were hosted to a smart breakfast in the hotel before being conveyed in a custom-fitted limousine bus to the imposing Yudala Heights on Idowu Martins Street, Victoria Island, Lagos, the venue of the day's activities. From here on, it was a roller-coaster ride of extensive learning as a rich faculty of resource persons took turns to deliver masterclasses for the benefit of the guests.
The highly interactive masterclasses cut across personal financial planning delivered by Okezie Akaniro, Senior Vice President, Konga Group and a finishing school expertly imparted by Managing Director, Task Systems Ltd., Mrs. Gozy Ijogun. Also exciting to the guests was a thought-provoking session on the link between discipline and goals/results presented by Dr. Anthony Oguike.
A Mechanical Engineer by profession but an entrepreneur, innovator and philanthropist at heart, Dr. Oguike is the Founder and current Group Managing Director, The Future Concerns Group, a group of productive and well-respected companies specializing in corporate HSE and Oilfield Engineering Services within the Oil, Gas and Allied Industry.
Also, featuring was Chief Operating Officer (COO), Konga Group, Dave Omoriege, who took the guests through the remarkable story of Konga's rise to dominance in the Nigerian e-commerce space.
The high point of Saturday's learning was a much-awaited session with Ekeh, the Zinox Chairman, who exposed guests to the New Mega Wealth, a major topic of interest for the participants. Ekeh's engagement with the guests formed the theme of further expositions on Sunday at his residence where the selected participants received additional insights on new/potential business ideas and success tips for navigating the pitfalls-ridden landscape of the contemporary business space.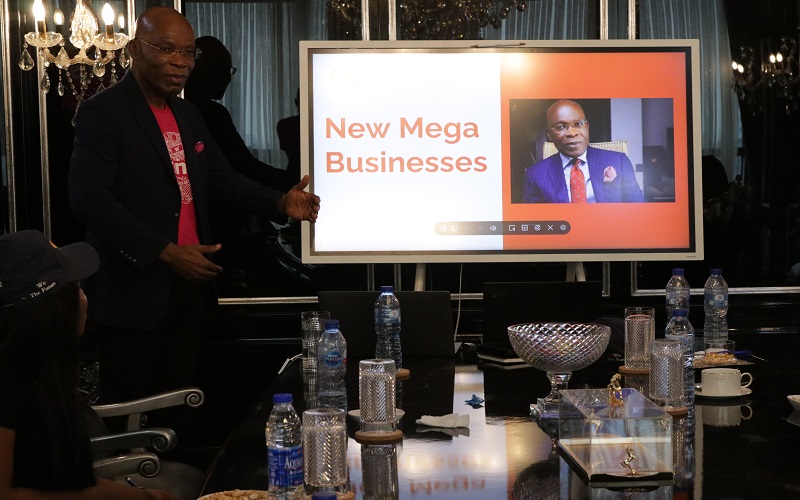 Meanwhile, Saturday night heralded another surprise for the lucky Konga shoppers as they were treated to a VIP night out at a high-brow lounge in Victoria Island. It was a time for the guests to make merry and unwind to premium entertainment, marked by choice wine and food in an atmosphere of utmost conviviality, fun and leisure.
With Sunday morning came breakfast in the hotel and a trip to Ekeh's residence where a prayer session opened up the day's proceedings. Thereafter, Chief Executive Officer (CEO), Konga Group, Prince Nnamdi Ekeh anchored a lively feedback session with the guests. Afterwards, the concluding part of the direct engagement with the Zinox Chairman took centre stage, culminating in a special lunch date which featured meals recommended by a dietician. Before departure, the 12 lucky shoppers were treated to another surprise, with each of them receiving a high-spec tablet courtesy of Ekeh.
Expressing their gratitude to the management of Konga for the weekend treat, the guests took turns to heap praises on the e-commerce brand, while also hailing the Zinox Chairman for sparing time from his schedule to personally mentor them.
''I am so excited. It's been a very beautiful and amazing experience and I am grateful to Konga for the opportunity. By and large, my experience from this event cannot be quantified,'' said Mr. Ogunkunle, one of the participants.
Another participant, Mr. Henry Idugala was effusive in citing the engagements with Ekeh as a major highlight. ''We got to hear from one of the great captains of industry first-hand on his own personal values, principles and even some advice that we can take to ensure that we live the best life,'' he disclosed.
Also speaking was Mrs. Ezeonwuka, who said ''I consider it a privilege to be honoured by Konga with this all-expense paid weekend. Wonderful! It was extremely wonderful. I had value-added and I am so happy. I look forward to this again and again.''
The winners were selected randomly from shoppers who participated in the recently concluded edition of the Konga Jara promotion which ran from Tuesday, December 13, 2022, till Tuesday, January 31, 2023.
The mentorship programme, an initiative of Konga Kares, the Corporate Social Responsibility (CSR) arm of the Konga Group, is part of efforts to empower budding entrepreneurs with the right business success tips and strategies to create new wealth in the 21st Century.
Trends That Will Shape Nigeria's e-Commerce Industry This 2023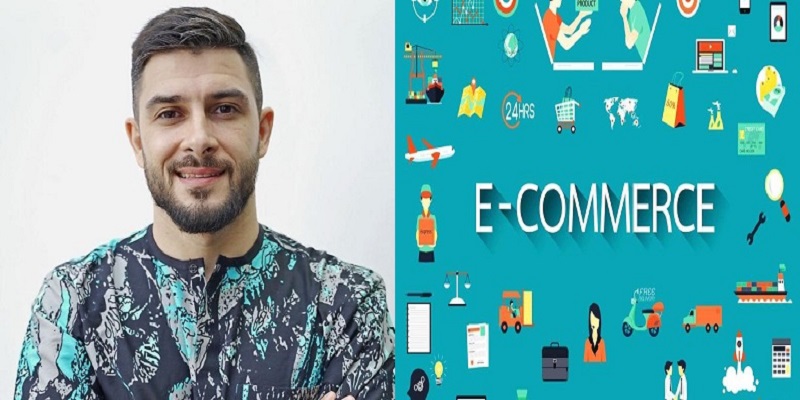 Digital commerce is becoming the fastest-growing commerce in the Nigerian market, as immense growth has been recorded in this sector in recent years.
This growth is driven by the increasing adoption of technology and the rise of online payment platforms in Nigeria.
According to statista.com, the e-commerce sector of the Nigerian economy is expected to peak at $9.02bn in 2023 with an annual growth rate of 11.74 per cent, resulting in a projected market volume of $14.06bn by 2027.
Although the Nigerian e-commerce industry faces several challenges including poor infrastructure, payment infrastructure, a general lack of trust in online transactions, non-reliable logistics, and delivery networks, these challenges have in no way hindered the growth experienced in the industry.
In a recent chat with Yuliy Shenfeld, Director of African Operations Jiji Africa, while discussing the significance of this Industry in the growth of the Nigerian market, said "E-commerce has the potential to play a significant role in the development of the Nigerian market by offering increased accessibility for business owners and Job creation in areas such as software development, marketing, logistics, and customer service.
"It is a major growth driver that would improve the competitiveness of the Nigerian market on the global stage."
The following trends are expected to shape the Nigerian e-commerce sector this 2023:
Increased Adoption of Mobile Technology:
More Nigerians are using their devices to make online purchases with the rise of smartphones and other mobile devices. According to the National Communication Commission (NCC), 89% of internet users make purchases online, with another 24% planning to do so in the near future.
Growing Interest in Online Payments:
Trust in online payment platforms is growing in Nigeria, making it easier for consumers to make purchases online. This trend has continued this 2023, as more consumers are becoming comfortable with digital transactions and online payment options.
Emergence of Social Media Commerce:
Weetracker.com reports that the global social commerce market is set to reach a whopping $604.5 billion by 2027, with social media attracting high engagement levels from a wide audience. Hence, Social media platforms will continue to provide a convenient way for consumers to discover and purchase products.
Focus on Customer Experience:
E-commerce companies are placing greater emphasis on providing seamless and personalised customer experience, from browsing to delivery and beyond. This 2023, e-commerce companies have continued this trend as they strive to differentiate themselves from their competitors and build customer loyalty.
Peer-to-Peer Commerce:
This is fast becoming a thing in the Nigerian e-commerce space where buyers are able to easily connect directly with sellers to transact. A typical example is the Jiji platform where people are able to convert unwanted or used items to cash by selling them directly to buyers. One huge benefit of this is that customers are able to easily raise funds to finance their projects, businesses, education, or even japa expenses.
The Nigerian e-commerce industry is poised for continued growth this year, even as these trends continue to shape the industry and play an increasingly important role in the growth of the Nigerian Market. We would be excited to crunch the numbers when this plays out.