Paint Roxettes Signs Nollywood Actor, Yul Edochie As Brand Ambassador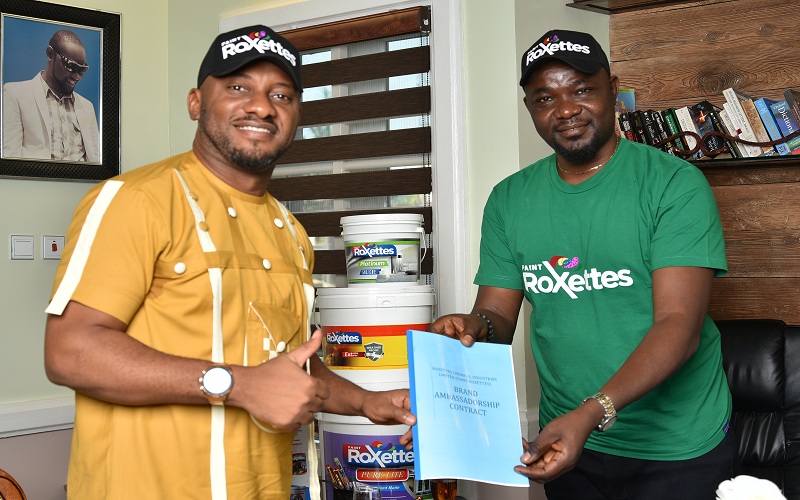 Paint Roxettes, Nigeria's pace-setting brand in the Paints and Coating industry, today, announced the signing of ace Nollywood actor, Yul Edochie for a one-year endorsement deal as the company's Brand Ambassador.
Paint Roxettes is a member of the K.KH-ROXETTES GROUP comprising of K.Kh Contractors Ltd, Roxettes AutoElectrics, K.KH Doors & Fittings Ltd, Homirox Budget Paints, Roxettes Oil & Gas Ltd, Prodlincs B2B Consults, K.KH Properties & Homes Ltd, K.Kaycee Habitations Nig. Ltd, and Roxettes Chemical Industries Ltd.
The deal signing ceremony which took place at Paint Roxettes head office, GRA Enugu, Enugu State was witnessed by the management and staff of Paint Roxettes, prominent Nigerians, the company's customers and a cross-section of the media.
Chief Executive Officer of Paint Roxettes, Arc Kaycee Orji, while speaking at the event, said the company's choice for the Nollywood actor as its brand ambassador was borne out of its conviction that Yul will not only add value to the company but will serve as a powerful and veritable tool to raise Paint Roxettes' product awareness.
"Our choice for Yul as our brand ambassador is in line with our vision of providing our teeming customers with high-end painting and decorating services and unparalleled customer service. We do this because we want to remain the only source for the best products in terms of quality and colour options, affordability and quality control among the premium paint industries in Africa.
"Besides bringing enormous value to our brand, Yul is hardworking. This is exemplified in the achievements he has recorded in Nigeria's entertainment industry and the fact that he is an inspiration to young Nigerians who watch him on TV screens every now and then. Indeed, we at Paint Roxettes are proud to have Yul as our brand ambassador," Orji said.
Orji noted that as a paint manufacturing company making unprecedented waves in Nigeria today, Paint Roxettes unique feature stems from the fact that it is a 5 hightech-in-1 Eco-friendly quality paint company with premium quality paints specifically formulated for Africa.
"While we continue to uphold our core values of integrity, respect, imagination, innovation and passion, let me reiterate that our service is the value that bridges our past and future. It reflects our reliability, quality and excellent performance for our clients. Our goal remains to make Paint Roxettes the most innovative and respected brand in the building and paint industries.
"Even as we are delighted to endorse Yul as our brand ambassador, we at Paint Roxettes are also pleased to offer a wide variety of painting services, and hire only the best painters to take care of your residential house. We value both the technical and artistic sides of our job in every Showcase," he said.
He stated that at Paint Roxettes, a contract is not only seen as an agreement between business and its customers but between partners that wish to create a close and mutually beneficial long-term relationship and promised that the company will continue to provide its customers painting services in the most timely manner with an ongoing compressive quality.
Responding, a visibly elated Yul Edochie described his appointment as a brand ambassador of Paint Roxettes as an honour, stressing that his decision to take up the assignment was because of his respect for the company that has brought enormous innovation and technology advancement in the coating industry in Africa.
"I accepted this assignment because I see in Paint Roxettes, a carefully and well-packaged product desirous of making the difference. I must say that I am not in any way surprised about the way the product is dominating the market because even before coming on board as a brand ambassador, I have heard a lot about Paint Roxettes.
"Let me pledge here and now that I will not disappoint; I will be an ambassador you will all be proud of. You have all known the kind of passion I bring into whatever I elect to do especially in entertainment and politics; I am going to bring same passion in driving the Paint Roxettes brand to greater heights," Yul said.
Anambra State-born Yul Chibuike Daniel Edochie is a Nigerian actor, named after popular Russian actor, Yul Brynner; he is the son of popular Nigerian actor, Pete Edochie.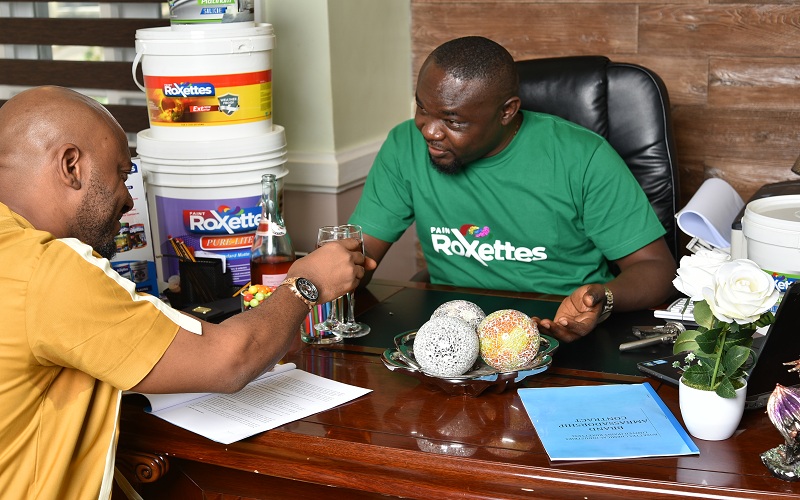 Yul who was raised both in Lagos and Enugu, and is the last of 6 children, got married at the age of 22.
Yul's academic journey began at Lillians' Day Nursery School and Robinson Street Primary School, Enugu between 1984 and 1992. His secondary education started from 1992 to 1998. In those 6 years he went to Marist Brothers' Juniorate, Uturu, University Secondary School Enugu, Ecumenical Community Secondary School Enugu and New Haven Boys Secondary School Enugu Respectively.
He attended the University of Port Harcourt, where he received a Bachelor of Arts in Dramatic Arts.
Yul's acting career started in 2005 when he joined Nollywood in his first film titled "The Exquires" alongside the Late Justus Esiri and Enebeli Elebuwa. He, however, got his break in 2007 after featuring alongside Genevieve Nnaji and Desmond Eliot in the movie "Wind Of Glory."
As a result of the presumed decline in quality and professionalism of upcoming Nigerian actors and actresses, Yul opened a film academy in Lagos in 2015.
In 2017, he ran for governor of Anambra State and made a tremendous impact in the political space. Since then till date, Yul had remained a very powerful voice for positive change in Nigeria and a figure that the youths look up to in terms of progressive, peaceful and united leadership.
The ceremony was graced by notable Nigerians including Musician J. Martins, Justice Amah, CEO De Blast Naija Productions; Mr Magnus Ezeh, Bureau Chief, Sun Newspapers; MC Igbokwe, Dream FM Presenter; and Mr Emma Acha of the News Agency of Nigeria (NAN).
At Cool-C Car Mart, Quality Cars And Affordable Prices Stand Us Out- Izuh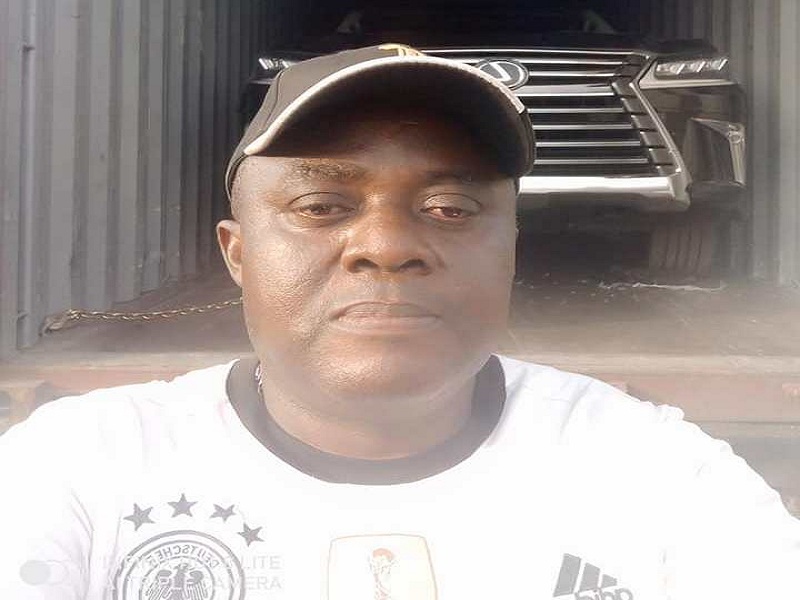 Cool-C Car Mart is a marketplace for virtually all brands of foreign used (Tokunbo) cars ranging from Mercedes to Toyota, Honda, Volkswagen, Lexus, and Nissan amongst others.
Located along 7th Avenue, Festac Town, Lagos, Cool-C Car Mart does not only boast of an array of brand new-looking cars, it is a place where auto lovers can get their dream cars- Saloons and SUVs in particular, at very cheap and affordable prices.
Mr Chinwuba Izuh, Chief Executive Officer of Cool-C Car Mart, told digitaltimesng.com that his firm has contributed in no small way in helping Nigerians own their dream cars in spite of the harsh economic realities.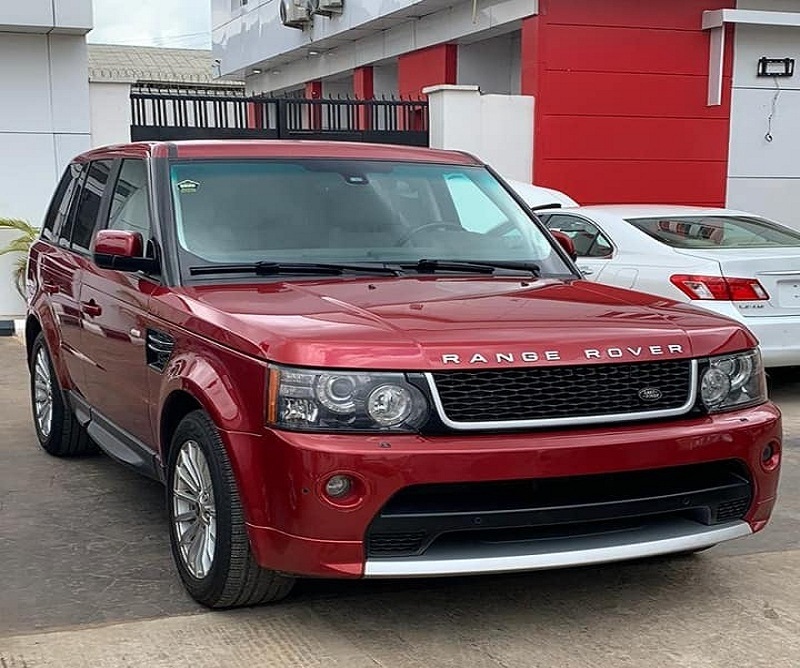 "We are a company built on integrity and quest for quality products. That is why we've never had any after-sales issue with any of our customers because we ensure that what we import into this place are well tested, quality automobiles.
"In spite of this integrity and quality assurance, we still rank the Number 1 when it comes to affordable pricing. We do this, not because we are covering the cost of importation but because we feel the pains Nigerians are going through. We know what Nigerians are passing through and the desire to own their dream cars.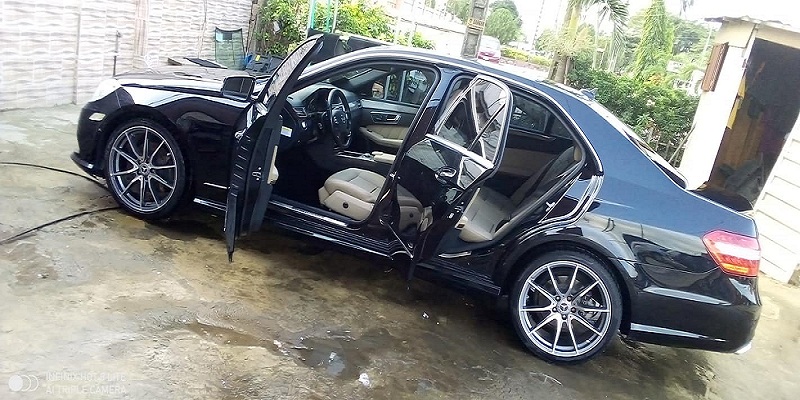 "What we have here is a combination of quality and affordable products. Our mission here is to ensure that Nigerians willing to have their dream cars are not denied such necessity and luxury as a result of the high cost of automobiles," Izuh said.
The CEO stated that in the past when the Nigerian economy was booming, Nigerians were purchasing brand new cars because they could afford them then, regretting that unfortunately, that regime is now history.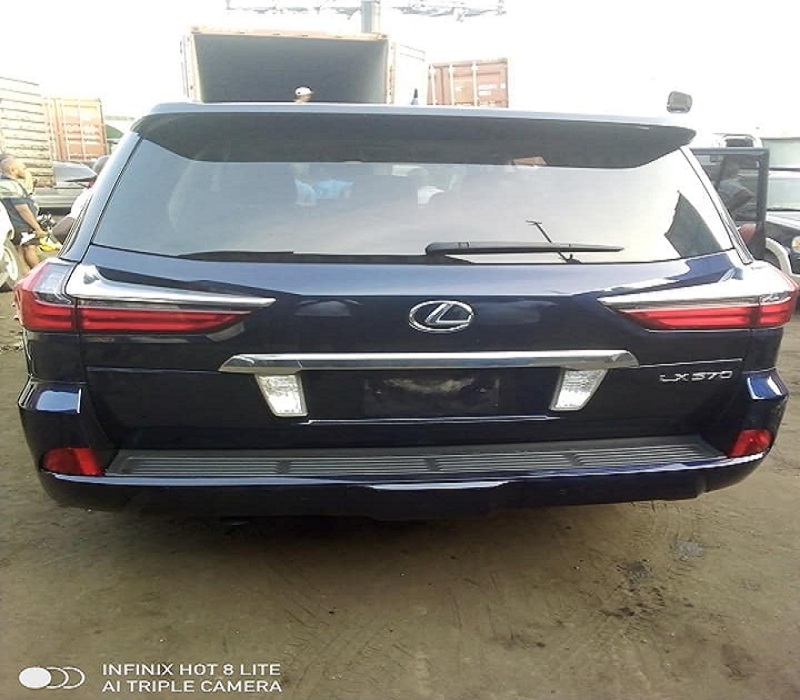 According to him, "In those good old days when the country's economy was buoyant, new car purchases were not only common but thrived. However, with the worsening economic downturn, brand new (or 'tear rubber') cars have become too expensive for many. Today, foreign used cars have become an alternative because they come neat, solid and cheaper."
"The National Bureau of Statistics (NBS) released a report last year showing that Nigeria spent a whopping sum of N148 billion to import used vehicles in the first quarter of 2019. It showed that used vehicles are the third most imported goods in the country, behind Laboratory glassware and motor spirit."
He noted that the company plans to get into aggressive marketing of its products by commencing online sales via the website, Instagram, Facebook, YouTube and other social media platforms, stating that that imported foreign used cars known as Tokunbo has till date, remained a phenomenon.
"You know that with the advent of the Internet, particularly social media, there has been an emergence of online car shopping sites making the purchase and sale of cars easy for Nigerians with just smartphones and access to mobile data.
"In addition to giving Nigerians the opportunity of coming to our ultra-modern showroom in Festac Town, we are going to open up the virtual platform for our existing and prospective customers to sit in the comfort of their homes and make orders for cars of their choice," Izuh said.
On what stands out Cool-C Car Mart, Izuh said apart from its affordable prices, its customers are allowed to properly scrutinize the specifications of the car of their choice, mileage covered as well as a mandatory test driving to ascertain the state of health of the car.
Konga Website Records Huge Traffic As Shoppers Grab Black Friday Offers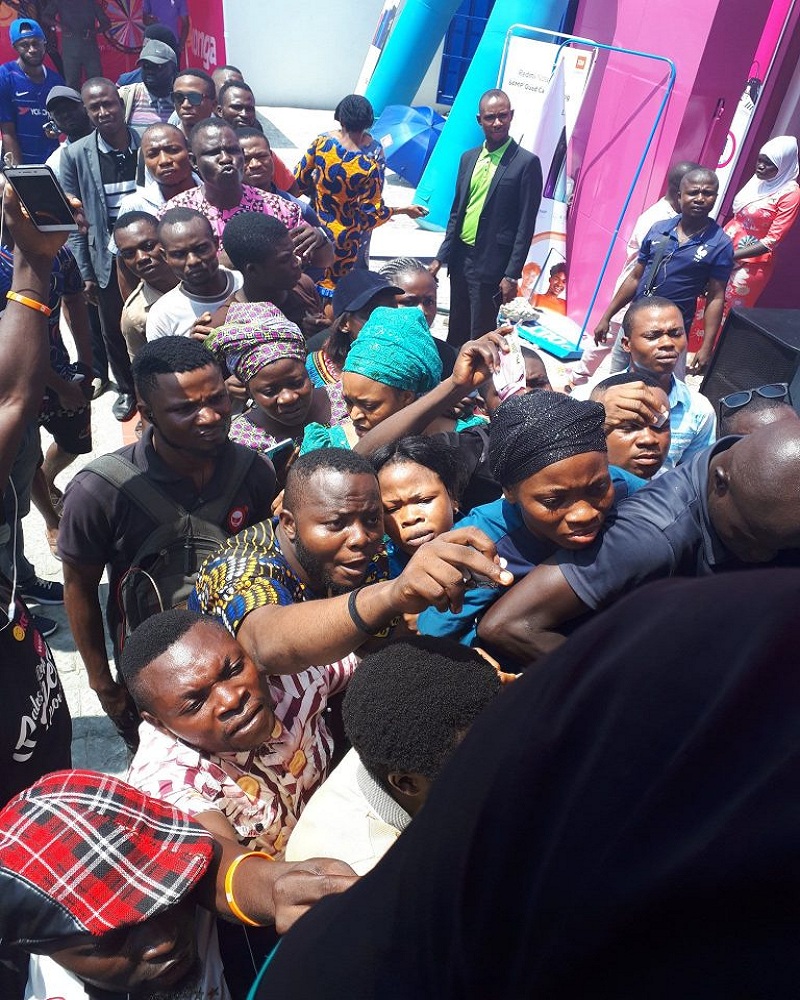 Indications have emerged that Konga, Nigeria's foremost composite giant, witnessed a massive surge from bargain-hungry shoppers who kept vigil on its website in the early hours of today to grab the Black Friday deals on offer.
The development comes as the world marks the global celebration of the 2020 edition of Black Friday today, Friday, November 27.
Investigations reveal that the traffic spike on www.konga.com was recorded from midnight when Konga rolled out its exclusive offers for Black Friday.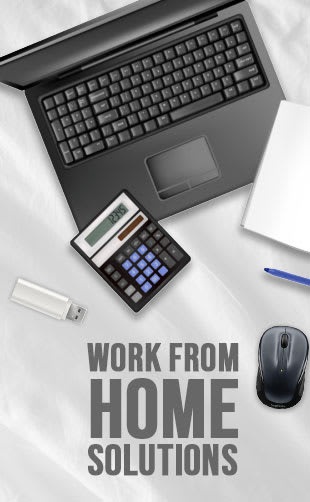 Computing products such as laptops and Tablet PCs, among others, mobile phones, electronics, Home & Kitchen appliances and Fast Moving Consumer Goods (FMCG) were among the categories that witnessed the highest patronage from shoppers.
Earlier, Konga had announced the release of 35,000 units of laptops, Personal Computers (PCs), tablets and complimentary printers through Konga Bulk – a development that is bound to have contributed to the heavy traffic witnessed on its website from midnight.
Also, Konga Bulk is making the devices available at unbelievable prices, unmatched anywhere else in the market, as a way of easing the pain of many Nigerian consumers and in line with the spirit of this year's Black Friday.
Meanwhile, more eager shoppers are expected to join the hunt for Black Friday deals at Konga this morning, with the company's chain of retail stores across Nigeria also expected to record significantly higher footfalls from walk-in customers.
Equally important, traffic to the Konga website will expectedly maintain an upward spike today.
The e-Commerce giant has lined up a number of offers to make today's Black Friday event a remarkable one for its customers.
These include price slashes across major product categories, flash sales, treasure hunts and other freebies, even as it assures customers of swift deliveries of their orders.
Konga Bulk Offers 35,000 Laptops, PCs, Others At Huge Discounts Friday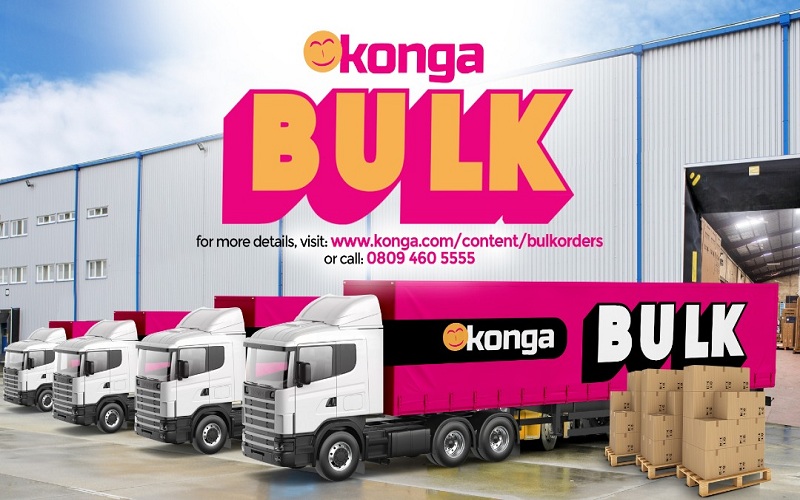 Konga, Nigeria's foremost e-Commerce giant, is set to make available over 35,000 units of laptops, Personal Computers (PCs), tablets and complimentary printers at giveaway prices for Nigerians through Konga Bulk, its innovative, bulk purchasing platform for those buying large quantities while also offering the same opportunity to retail buyers as well.
Konga unveiled the special prices for the devices at 12am-midnight for the Black Friday celebration today while at the same time, assuring of swift deliveries to all customers.
The products range from devices for kids, students, educational institutions and major corporate high-end users.
Brands on offer are Lenovo, HP, ASUS, Dell, Zinox and Samsung tablets, among others. All devices are brand new and latest models of Laptops, Desktops, Tablets PCs and complimentary HP Printers.
The devices can be accessed via https://www.konga.com/content/bulkorders
This development is bound to come as a much-needed respite for Nigerian consumers, corporates and educational institutions who have been paying over the odds for scarce computing devices in the face of a prevailing global scarcity occasioned by supply disruptions as a result of the COVID-19 pandemic and which are being projected by major OEMs to persist till June 2021.
Furthermore, Konga Bulk is making the devices available at unbelievable prices, unmatched anywhere else in the market, as a way of easing the pain of many Nigerian consumers and in line with the spirit of this year's Black Friday which will be marked globally today, Friday, November 27.
Kalu Johnson, Vice President, Strategic Business at Konga, says it is an offer that is worth taking advantage of.
''As the largest source of computing and other digital devices in Nigeria, it is rewarding to know that we have earned the trust of global OEMs at this point of the critical need for Nigerians. Yes, it may not be enough for the country but we have commitments from our major partners for additional inventory for Nigeria at this period of scarcity. Interestingly, we have for all ages and all needs.
''We have taken into consideration the inconveniences and huge pain being borne by Nigerians, many of who are paying excessively exorbitant prices for scarce computing devices. This is why we have decided to make these devices available at highly discounted prices via Konga Bulk for bulk buyers.
"It is a once in a lifetime opportunity for individual users, resellers, business owners, cooperatives, corporate organizations and educational institutions to take advantage of giveaway prices to stock up on their essential needs,'' he disclosed.
Konga Bulk is a mega platform which has been touted a potential game-changer, offering manufacturers, distributors, resellers as well as Small and Medium Enterprises (SMEs) an opportunity to take advantage of Konga's world-class assets including its secure regional warehouses, smart offices, cutting-edge technology, advanced digital logistics capabilities through an internally-owned subsidiary, Kxpress and its Central Bank of Nigeria-licensed Mobile payment platform known as KongaPay.