Access Bank Emerges 'Best Digital Bank In Africa' 2020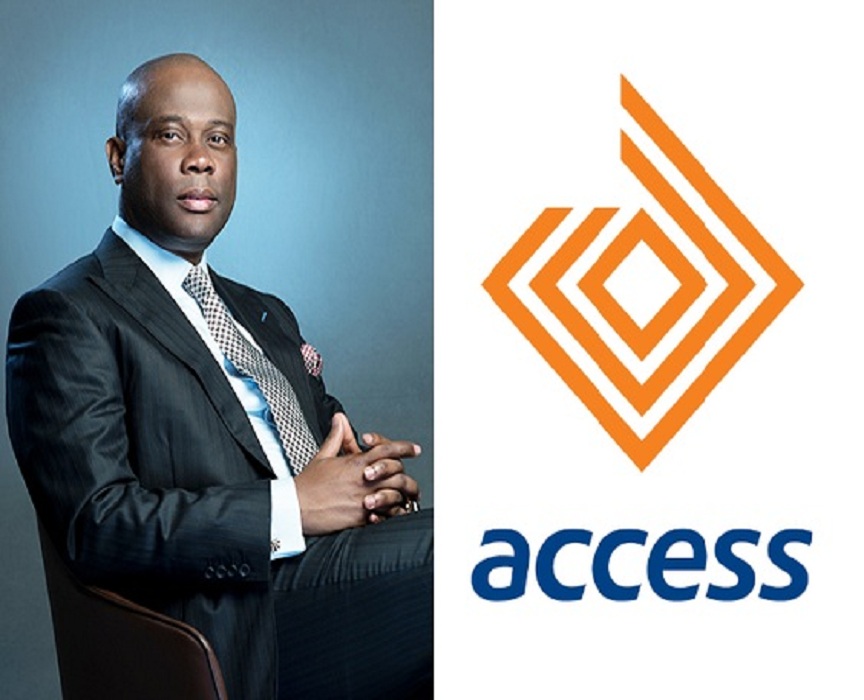 Africa's largest retail bank, Access Bank PLC has been recognized as the 'Best Digital Bank in Africa' by Asian Banker in what analysts described as the bank's continued investment in digital innovation.
The recognition was announced at the Asian Banker Middle East and Africa Regional 2020 Awards virtual ceremony.
Over the years, Access Bank has leveraged technology including advanced analytics, cloud computing, artificial intelligence, machine learning and robotics process automation to reform business operations and drive performance.
Herbert Wigwe, the Chief Executive Officer of Access Bank PLC, commented on the award saying, "We are delighted to receive this award, which recognizes our contribution towards revolutionizing the practice of digital banking in Africa.
"This award serves as an encouragement for us to consolidate our efforts towards becoming a truly digitally-led bank. We always ensure that customers enjoy secure, seamless and convenient services across multiple channels."
Access Bank has invested heavily in leading technological evolution in the African banking sector through its strategic partnership with the Africa Fintech Foundry to nurture the next generation of innovative fintech startups.
The Bank has also employed the use of technology to help achieve its sustainability targets. It has developed a portal that helps to monitor its environmental footprint, especially its carbon emissions.
Ade Bajomo, Access Bank's Executive Director, Information Technology and Operations added: "The peculiarities of the global community today, have called for more digitally-driven banking services.
"Through our multiple offerings including our USSD *901#, advanced mobile banking application 'Access More' and our recently unveiled facial biometric payment solution, Access Bank has continued to offer best-in-class technology-driven solutions to all customers.
"Access Bank will continue to defy the negative stereotypes attributed to Africa, and make strides toward becoming 'Africa's gateway to the world'."
Just recently, Ade Bajomo, was appointed the new President of the FinTech Association of Nigeria (FintechNGR), further buttressing Access Bank's thought leadership in digital transformation, use of advanced analytics, cloud computing, artificial intelligence, machine learning and robotics process automation to sustain banking and improve customer experience.
Bank Wars: Access Bank, Standard Chartered, FCMB Off To Winning Start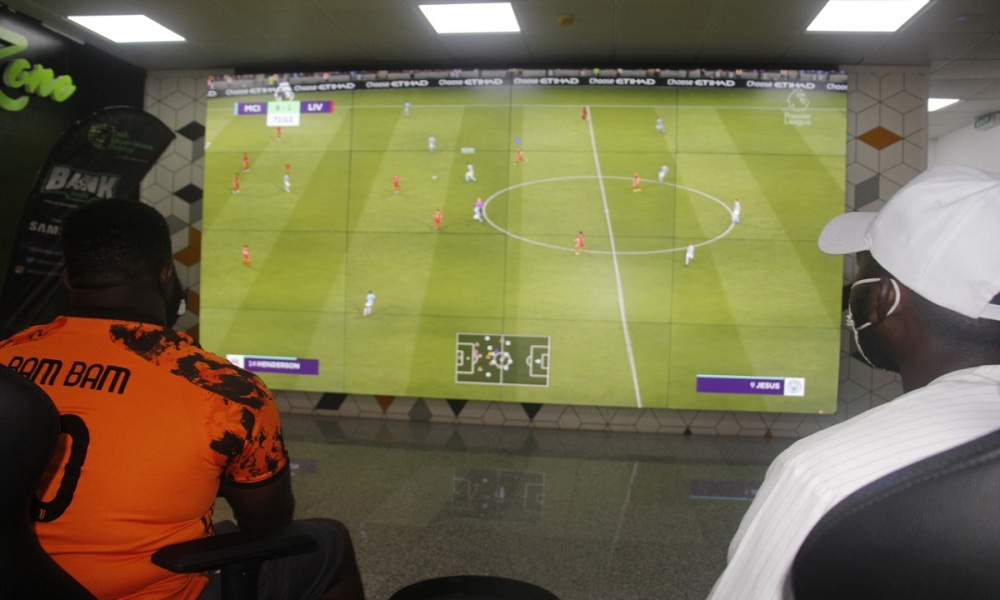 Visitors to the Tech Experience Centre, Africa's cutting-edge technology and lifestyle hub on Saturday, May 8, 2021, were treated to exciting, high-scoring matches on the opening day of Bank Wars, a FIFA 21 Gaming competition featuring leading Nigerian banks.
Sponsored by Samsung, a foremost Original Equipment Manufacturer (OEM), Banks Wars seeks to crown the best side among the competing banks for the FIFA 21 tourney.
The first day of the event, hosted at the Tech Experience Centre, saw a number of excited spectators converge on the impressive building located at Yudala Heights, 13A Idowu Martins Street, Victoria Island, Lagos, to witness the banks in action.
As expected, the competing teams did not disappoint, serving up goals-filled matches to the delight of attendees as hostilities in Group A got underway.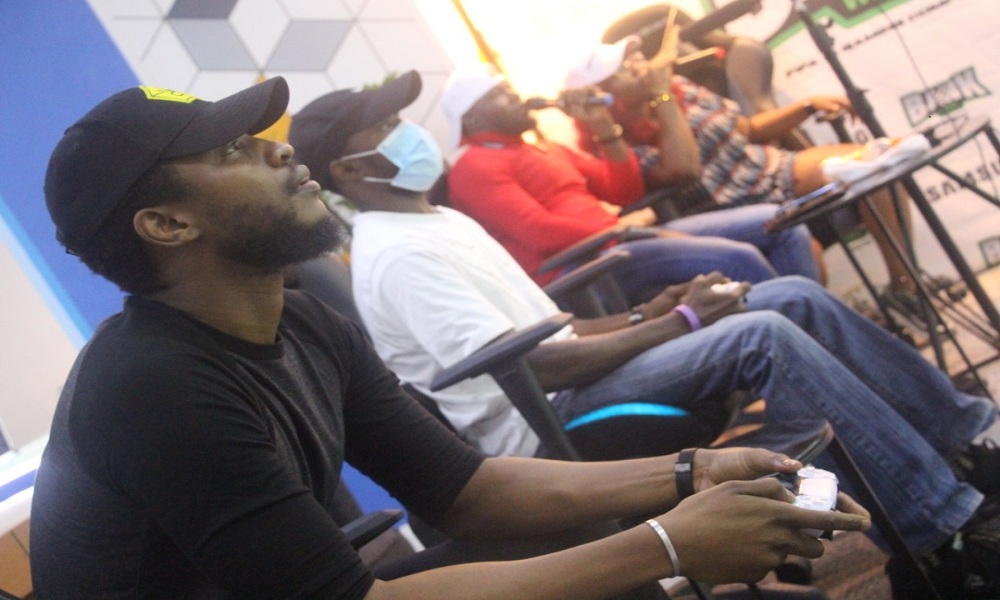 Access Bank got the ball rolling on the day with a 7-2 drubbing of First City Monument Bank (FCMB).
The match, which was played at 1 pm, saw Olabamaji Emmanuel Ojo, an Assistant Banking Officer dominate his opponent, Taiwo Oluwafemi of FCMB's Brand Management Unit to claim all three points at stake.
In the second game, Standard Chartered Bank pipped Zenith Bank 4-3. Representing the victorious team was Bajeh Israel, a Wealth Management Analyst, while Zenith Bank was represented by Abdulwahab Emmanuel, a Relationship Manager.
Taking to the FIFA 21 pitch in the third match in Group A, Access Bank cemented its place as one of the early favourites with an impressive 11-2 thrashing of Zenith Bank, while FCMB made up for its initial loss to Access Bank by beating Standard Chartered Bank 7-4.
From the results on the first day of the competition, Access Bank occupies the leadership position in Group A with six points, followed by FCMB and Standard Chartered Bank with three points each. Zenith Bank brings up the rear, with no point to its name after the first round of matches.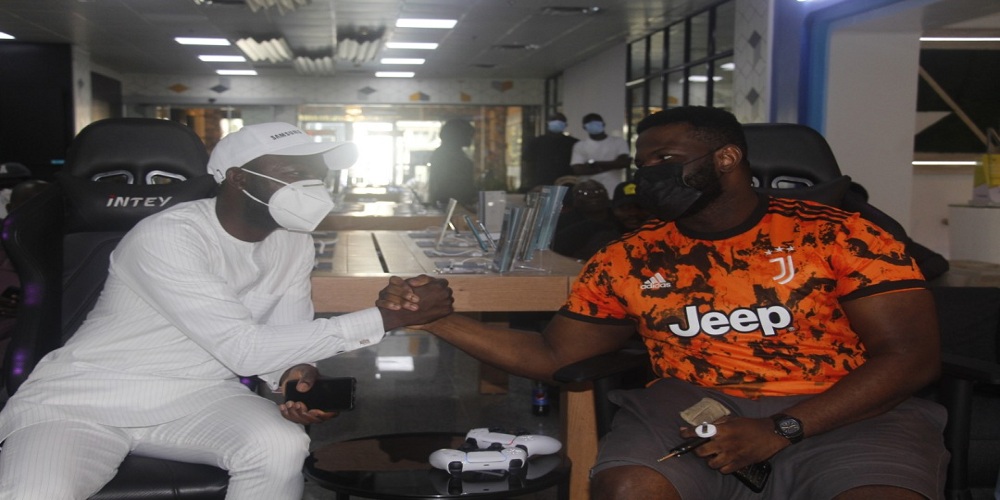 Meanwhile, all eyes will be on the quartet of Sterling Bank, Guaranty Trust Bank (GTB), Union Bank and Fidelity Bank in Group B on Saturday, May 15, 2021, which is billed as the second matchday of the competition.
In the day's opening match, Sterling Bank will trade tackles with Union Bank by 1 pm.
Also, GTB and Fidelity Bank will do battle in the second game by 1:30 pm while Sterling Bank and GTB will contest the third game by 2 pm. The day's action in Group B will come to a close when Fidelity Bank and Union Bank lock horns. The match is scheduled to kick off by 2:30 pm.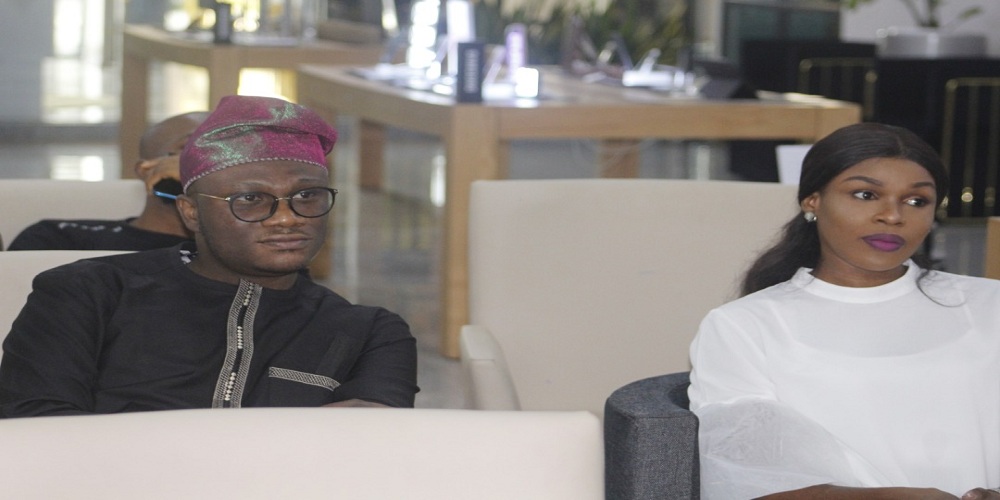 Bank Wars is expected to run for five Saturdays until June 5, 2021, with winners of the FIFA 21 Gaming competition expected to smile home with some mouth-watering prizes, courtesy of Samsung.
A Samsung 55-inch TV awaits the first prize winner while the runner-up will go home with a massive Samsung Refrigerator.
Also, the third-best team will claim a Samsung Washing Machine. In addition, there are prizes for individual representatives of the competing teams while the best goal of the competition (to be determined by votes) will fetch the scorer a Samsung 49-inch TV.
Wema Bank Unveils Hackaholic 2.0 Bootcamp Winners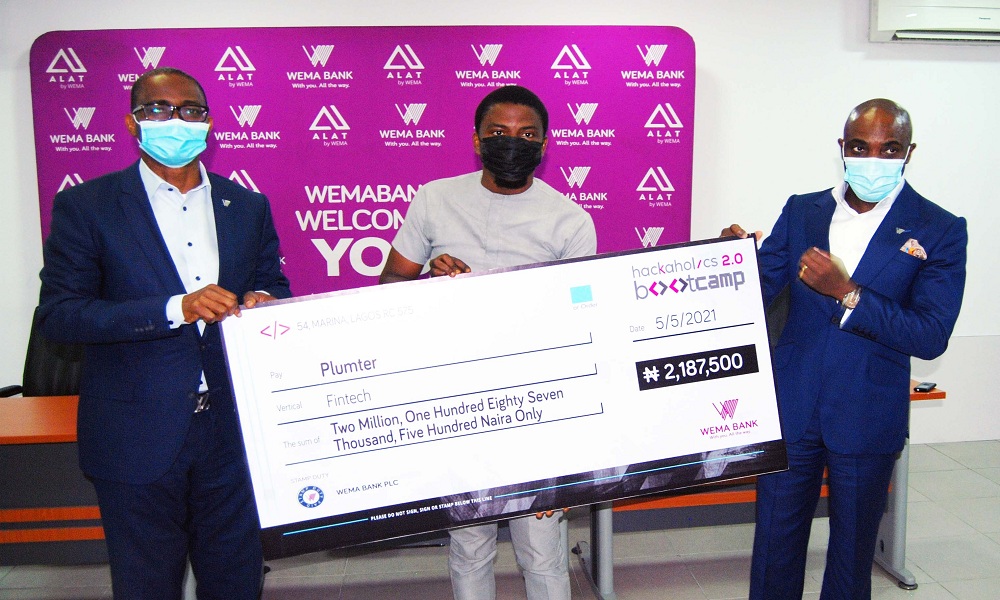 Wema Bank's Hackaholics 2.0, an acceleration aimed at helping startups scale and gain entrance into the market, came to an exciting end as the finalists were unveiled on Wednesday, May 5, 2021, at the Bank's corporate head office in Marina, Lagos.
Themed, "Connecting Worlds" the Acceleration Program was a two-day virtual pitch which ran from October 30 – 31, 2020, for 20 participants across five industry pillars – Fintech, Agritech, Edutech, Gaming, and Healthtech, who qualified from a pool of over 100 entries received.
The Bank presented four startups comprising two people each with N2,187,500.00 startup fund. The winners emerged across each industry after a four-week Bootcamp under the supervision of a best-in-class acceleration curriculum delivered by seasoned faculty and tech specialists from GreenHouse Capital, official partners of the event.
Managing Director/CEO of Wema Bank, Ademola Adebise congratulated the winners and expressed satisfaction with the quality of competition and the entire process.
"We are happy to see the winners emerge and are positive that you guys will be the unicorns of tech solutions in the next couple of years," he said.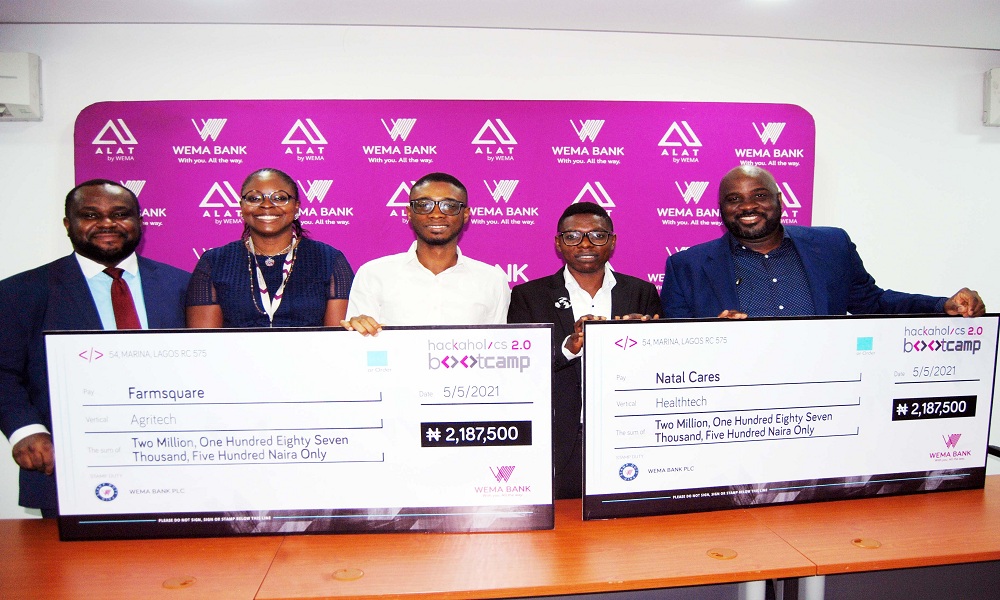 "For us at Wema Bank, we will continue to support innovations and innovative ideas, support our youths, and support our women to thrive. We believe that is the way to go and significantly grow and support the economy," Adebise said.
The winning start-ups include:
Fintech Category: Oladayo Awotukunbo of Plumpter, a Fintech brand that created a marketplace for secure payments to foreign parties and quick banking.
Gaming/Betting Category: Ernest Akinlola and Obayemi Okubajo of My Lotto Hub, a digital startup pioneering the aggregation of lottery operators and enabling lottery punters to manage all their operations in a single platform.
Agritech Category: Aderinola Amole and Olamide Oyinlola of FarmSquare, a brand that focuses on using the e-commerce model to simplify the demand and supply of Agricultural inputs in Nigeria.
Healthtech Category: Uche Udekwe and Joy Chioma of Natal Cares, a startup with a product that optimizes the healthcare value chain to reduce the high mortality rate for pregnant women and children.
Speaking at the event, Chief Financial Officer, Wema Bank, Tunde Mabawonku, reinforced the internal and external growth integration stance of the bank saying, "We realized very early that financial service delivery has moved beyond bricks and mortar physical interactions, hence, at Wema Bank, we repositioned internally, invested strategically and heavily in technology to drive Digital Optimization of our services."
"Second, we realized we can't innovate all from within, we need to drive innovation from outside. We then created "Hackaholics" the Wema Bank Hackathon. The idea is to bring fresh minds, fresh ideas, fresh insights, into solving day-to-day societal problems leveraging technology. We are also working with third-party resource providers we can invest in to grow the solutions for societal impact". Mabawonku added.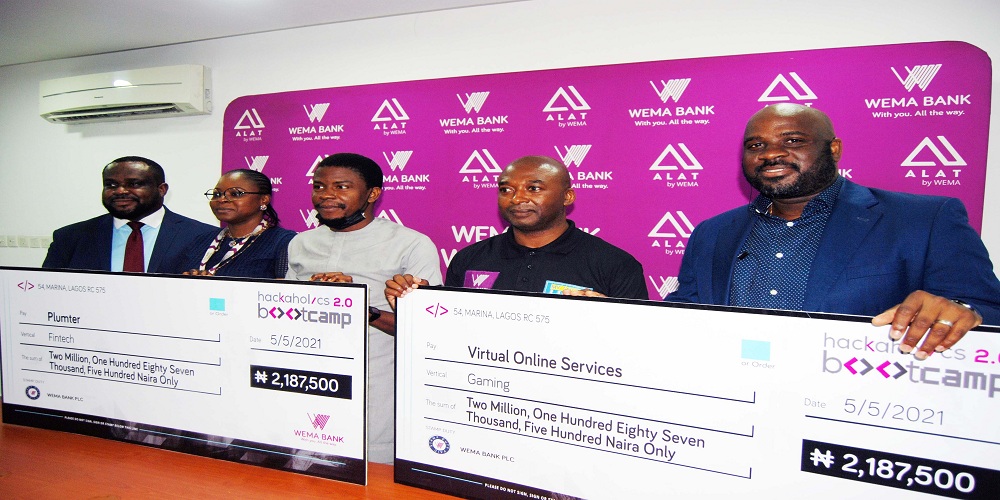 Chief Digital Officer, Wema Bank, Segun Adeniyi emphasized the importance of the Bank's sustainability footprints. "We aim this initiative at deepening the impact of innovation in the ecosystem and create an opportunity to drive that ecosystem. There is a plethora of start-ups and innovators out there who don't have the right environment to upscale those ideas into commercial value."
"What we have done is giving some seed to them in funding, and more importantly, we have given them advisory. We have helped them to look at the ideas they have, flesh them into commercial value, help them articulate the problem, identify unique areas where and how they can solve those problems, and identify their target market."
The winning startups all expressed gratitude to Wema Bank for the seed fund and commended the bank for the initiative. They said the Hackathon Bootcamp has broadened their horizon. They expressed that the seed funding from Wema Bank will help to upscale their businesses to the desired place.
"For us at Wema Bank, this is not just CSR. It is creative self-disruption. We are attuned to what is going on in the ecosystem, we are keen to be part of it, we are enthusiastic about sharing our own experiences with the start-ups. It is part of why we stay vibrant and relevant as an organization," Adeniyi concludes.
Trustbank Selects ICS BANKS Islamic From ICSFS
Trustbank is the first bank in Uzbekistan to launch Islamic Banking services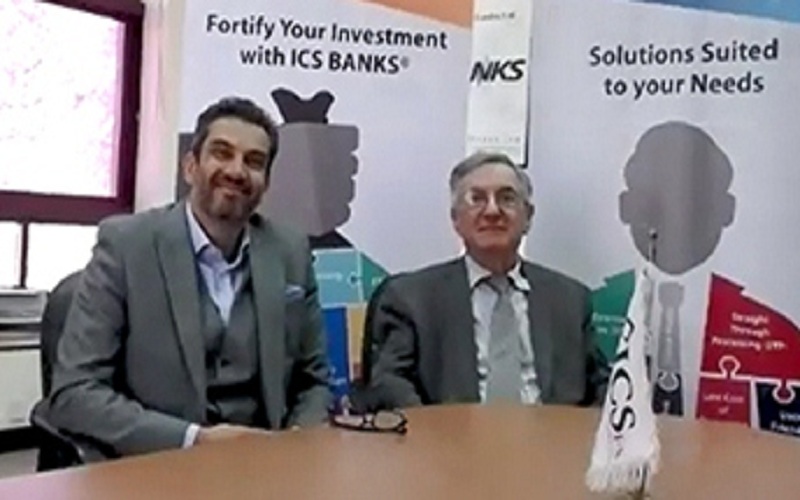 Trustbank, one of the leading banks and the first private bank to be providing Islamic banking services in Uzbekistan, has selected ICS BANKS Islamic Banking software solutions from ICS Financial Systems (ICSFS), the global software and services provider for banks and financial institutions.
A virtual signing ceremony was conducted recently, between Trustbank and ICSFS with the participation of ICD (the Islamic Corporation for the Development of the Private Sector).
The ceremony was attended by Deputy Chairman of Trustbank, Kamil Gabbazov, Head of Islamic Financing of Trustbank, Mukhammadfayoz Ibadov; Deputy Director of the International Relations Department of Trustbank, Aleksey Kim.
Others are Managing Director of ICSFS, Robert Hazboun; Executive Director of ICSFS, Wael Malkawi; CIS Territory Manager of ICSFS, Nidal Bashaireh; PMO Head of ICSFS, Mohammad Omari; Project Manager of ICD, Muzaffar Nizamidinov and Project Management Office Consultant – IT & Fintech Specialist of ICD; Ibrahim Al-Saywed.
Chairman of the Management Board of Trustbank, Sardor Normukhamedov said, "As one of the leading banks of the Republic of Uzbekistan, it is our privilege to be the first in adding Islamic Banking products to our services.
"We strive for becoming the best in providing high-quality modern banking services as well Islamic banking services in the Uzbek's banking sector, and with this new joint milestone with ICSFS and ICD, which is the very first of its kind, we are creating history!"
Deputy Chairman of Trustbank, Kamil Gabbazov stated during the signing ceremony: "First, I would like to start by thanking the devoted teams for conducting this special event. We have started our cooperation with ICD back in 2018, and in this short period of time, we have received generous funds in the amount of USD 19 million that were provided in a Shariah-compliant line of financing to further support the private sector in the country.
"We are very happy for choosing ICS BANKS Islamic from ICSFS as an Islamic Window IT solution provider and look forward to starting this collaboration."
Managing Director of ICSFS, Robert Hazboun stated that "It is our honour to be the first business technology company to enter the Islamic banking sector in Uzbekistan. With ICSFS' strong track record in implementing its ICS BANKS Islamic software solutions, Trustbank will have a smooth launch of its new Islamic products, and will be offering holistic Islamic services to its customers."
Muzaaffar Nizamidinov of ICD said, "On behalf of the ICD team, I would like to congratulate both ICSFS and Trustbank for signing the first Islamic IT solution contract in Uzbekistan history.
"We trust that Trustbank will be a pioneer in launching the first Islamic banking window in the country, and hope that Trustbank will be converted into a full-fledged Islamic Bank in future. We wish you all the success in the implementation of the solution, in Sha'a Allah."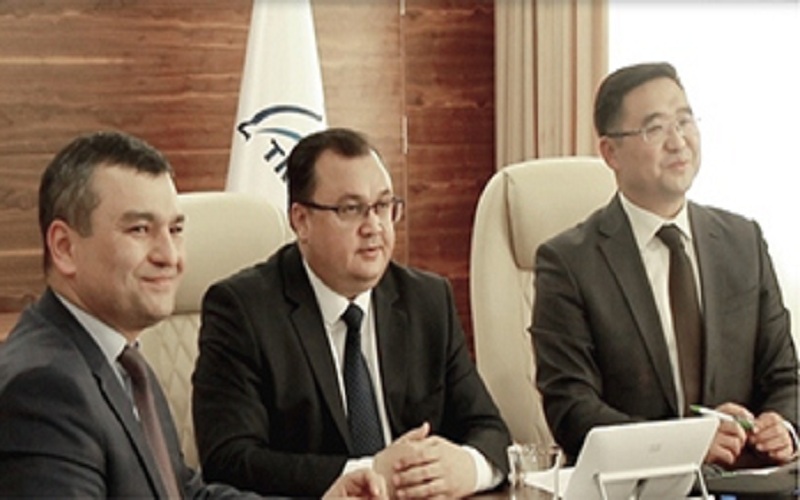 Weal Malkawi, Executive Director of ICSFS stated, "We are very happy to be part of this breakthrough – to see Islamic Banking kick-off in Uzbekistan, and to see Trustbank as one of the leaders and pioneers in providing Islamic banking services.
"I would like to thank the bank and ICD, as without them we couldn't have reached this historical milestone. We welcome Trustbank to our ICS BANKS community, and salute them for achieving this milestone, as it takes courage to be the first bank in Uzbekistan to lead in launching Islamic Banking Window."
Trustbank is one of the leading banks of the Republic of Uzbekistan, which provides its clients with a full range of banking products and services.
The history of the bank reflects the dynamics of intensive development of the country's banking sector during the years of independence.
Trustbank will leverage ICS BANKS Islamic's agile software solutions including Islamic Core banking, Murabaha, Ijarah, Mudaraba, Musharaka, Salam, Qard Hassan, Islamic Treasury and Investment, Trade Finance, Credit Facilities & Risk Groups, Istina'a and Parallel Istisna'a, Profit Distribution, and Time Deposit.
ICSFS invests in its software suites by utilising modern technology in launching new products, constructing a secured and agile integration, and keeping pace with new standards and regulations worldwide.
ICS BANKS software suite future-proof banking activities by providing a broad range of features and capabilities with more agility and flexibility, to enrich customers' journey experience, hence improving the trust and confidentiality between the customer and the bank.
ICS BANKS has always been a pioneer in utilising the latest technology to serve financial institutions. In addition to its embedded Service-Oriented-Architecture (SOA), the system can be deployed on-premises or on the cloud.