HP Engineers Extreme Performance With Z By HP Workstation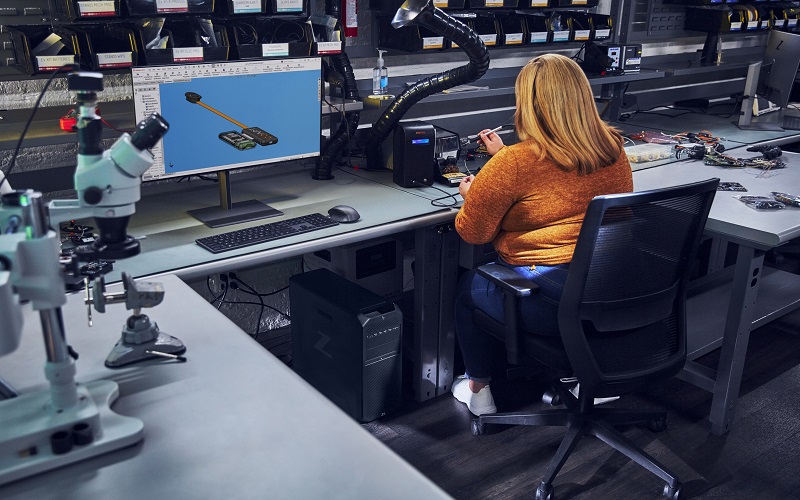 HP Inc. has announced its new Z by HP high-performance workstation desktop lineup, engineered to change what is possible within complex, data-rich workflows.
HP is advancing hybrid workforce management with the HP Anyware Remote System Controller, a device that gives IT departments the management capabilities to support high-performance devices from anywhere.
The complex workflows in industries spanning media and entertainment, data science, and engineering mean increased time pressure and the need for more computing power to deliver faster results.
They also highlight a need to iterate with remote teams and push creative boundaries to deliver more accurate results.
The new Z by HP Z4, Z6, Z8, and Z8 Fury desktops, powered by Intel®, deliver the scalable balance of CPU and GPU computing needed to fuel new levels of speed, accuracy, and creativity.
"Z by HP is dedicated to delivering the best possible computing experience to fuel new levels of speed, accuracy, and creativity," said Jim Nottingham, Vice President and General Manager, Z by HP.
"HP's design engineering, together with the power of Intel and NVIDIA, provide the performance, scalability, and security our customers require to meet their evolving needs."
"Intel® and Z by HP represent the future of high-performance workstation computing," said Roger Chandler, Vice President and General Manager, Intel.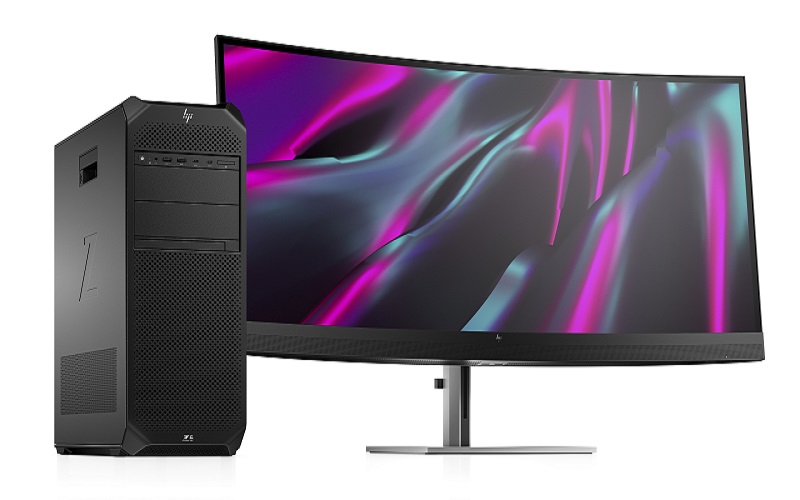 "With Intel® Xeon® W, users can expect breakthrough performance, advanced security features, and the scalability they need to tackle the most demanding workloads."
Z by HP innovations start with the customer to deliver the performance benefits needed whether it's importing and working with large models and assemblies, running complex simulations, or training complex deep learning and machine learning models faster.
The latest Z workstation desktops include up to 56 CPU cores and four high-end GPUs in the Z8 Fury G5.
The Z4, Z6, Z8, and our all-new Z8 Fury, provide a variety of configurations to meet every workflow challenge for each of these segments.
From its best-selling workhorse, the Z4, to the extreme performance of the Z8 Fury, Z by HP has the right workstation for every workflow.
The Z8 Fury G5 delivers powerful performance while staying cool and quiet under high-performance workflows with up to 56 cores in a single CPU and unleashing the power of four high-end double-wide GPUs with 2TB of DDR5 memory due to transformative single socket technology.
Now you can breeze through even the most complex deep learning, virtual production, and VFX.
The HP Z4 G5 tackles advanced workflows from machine learning to advanced video editing with an evolutionary advancement of up to a 24-core CPU, two high-end GPUs, up to 512GB of RAM.
The Z4 G5 accelerates a wide range of professional apps to advance intensive workflows and provides plenty of room to expand as workflows evolve.
The HP Z6 G5 accelerates graphics-intensive workflows with multiple GPUs based on the increased PCIe expandability of the latest Intel® Xeon® W-3400 processor architecture.
With up to 36 processing cores, three high-end graphics cards, and 1TB of DDR5 memory, the Z6 G5 delivers significant performance for users demanding a machine that scales with their increased model and dataset complexity.
The HP Z8 G5 is designed for users who demand the most processing compute for CPU-intensive workflows to accelerate rendering with real-time ray tracing, data visualization, and model training while providing plenty of room to expand as demands change.
With a dual-socket workstation, designed to utilize 4th Gen Intel Xeon, it delivers up to 64 system cores and supports 2x high-end graphics cards with 1TB of DDR5 memory.
The HP Anyware Remote System Controller provides IT administrators a single dashboard with the ability to launch a kernel-based virtual machine (KVM) session and perform out-out-of-band management tasks such as pre-boot access, BIOS updates, and re-imaging from anywhere.
Through a single interface, IT administrators can now manage a fleet of devices, access secure systems information like model numbers and BIOS versions, receive reports, and develop insights, to optimize their infrastructure to resolve issues before they affect users.
HP is designing this hardware and software based on strong security industry standards, completing extensive testing, third-party reviews, and certifications to ensure maximum security.

OPPO Launches Reno8 T Series In Nigeria
-Dubbed "The Portrait Expert, the Reno8 T is available in 5G and 4G variants.
-Customers can pre-order the Reno8 T smartphones for as low as 30,000 Naira, till 25th March 2023.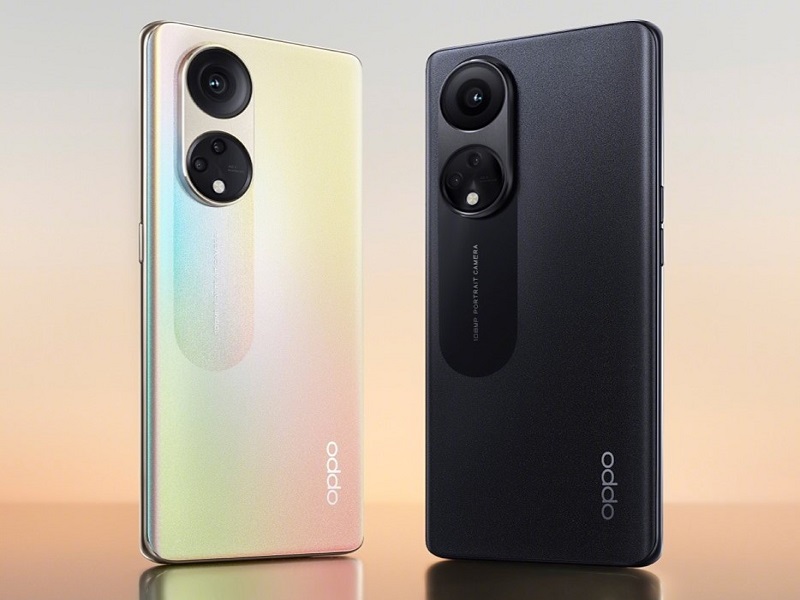 OPPO Nigeria has announced the launch of the highly anticipated Portrait Expert, the Reno8 T Series. The virtual launch event which was streamed live on YouTube was hosted by sensational host Jimmie Akinsola and featured Nollywood star Bimbo Ademoye and notable industry personalities – popular Tech YouTuber, Eric Okafor and fast-rising photographer August Udoh.
With significant upgrades made in its design, camera, charging and performance, the Reno8 T series comes in 5G and 4G variants and has been designed to bring users one step forward to an unmatched leveled-up experience in innovation and style.
Commenting on the launch, Folashade Omonijo, Marketing Manager for OPPO Nigeria, said, "At OPPO Nigeria, we believe that innovation and style should go hand in hand, and that's what we have delivered with the RENO8 T series.
"We are excited to launch these devices today and are confident that they will elevate the smartphone experience of our customers, enabling them to level up with the ever-increasing demands of smartphone usage in their daily activities, be it for work or fun."
"The Reno8 T series is a testament to OPPO Nigeria's commitment to providing our customers with the best technology at the most competitive price points. Even with such impressive, premium and flagship specifications, our customers wouldn't have to go deep into their pockets to own any of the Reno8 T smartphones. We encourage everyone to visit our website or social media pages to pre-order these devices," She further added.
One Step Forward in Design
Running on the latest ColorOS 13 Operating System, the Reno8 T 5G features a 6.7-inch, 120Hz 3D curved screen – a very rare feature in mid-range smartphones. Cased in a seamless hyperbolic, micro-curved dual design, Reno8 T 5G not only delivers a next-level luxurious visual experience, but it also fits perfectly into the user's hand, creating a natural feel and sleek appearance.
Inspired by luxury leather goods, the Reno8 T 4G on the other hand comes in an Ultra-Slim Retro Design with Fiberglass-Leather back, giving a premium flagship feel. Reno8 T 4G users can also customize based on their preferences and mood, the colours of the popular Orbit Light that provides notifications for new messages, charging status and more, on the back of the phone.
One Step Forward in Camera
Donning OPPO's first 108MP Camera, users get to enjoy an ultra-high resolution portrait camera on the Reno8 T 5G. This enables users the ability to capture every moment, especially portrait photos, with utmost clarity and detail.
The Reno8 T 4G variant dons a 100MP Portrait Camera that produces equally exquisite image clarity that allows for unprecedented editing and cropping abilities.
Both variants also feature the AI Portrait Super Resolution designed to enhance portrait images and give them amazing effects using various features such as the Bokeh Flare, AI Colour, AI portrait retouching and Selfie HDR.
The Flash Snapshot feature allows for capturing super-clear photos while the subject is in motion. And thanks to the 40x Microlens, users can get creative with these high-quality photos by cropping and editing them without losing their clarity, discovering new details and previously hidden aspects of the photos taken.
One Step Forward in Battery Charging
Reno8 T 5G features the lightspeed 67W SUPERVOOCTM charging technology that delivers 5.5 hours of call time on a 5-minute charge and enables the 4800mAh battery of the 5G variant to charge fully in just 44 minutes, which means users spend significantly lesser time charging and allowing for more time on the things that matter the most.
A Battery Health Engine (BHE) helps to keep the battery at top performance, preserving the lifespan of the phone's battery for up to 4 years by intelligently controlling charging currents and voltage. The 4G variant is powered by a 5000mAh battery on a 33W SUPERVOOCTM charger.
One Step Forward in Fluency, Speed & Performance
5G Processor: The Reno8 T 5G's Qualcomm Snapdragon™ 695 5G processor enables lightning-fast processing of tasks and 5G speed capabilities, guaranteeing a super-smooth experience during phone usage.
48-Month Fluency Protection: OPPO also guarantees unparalleled fluency protection for as much as 4 Years of constant use. This means that even after several years of work and play, the Reno8 T smartphones can start, operate, and run as many apps as if brand new.
8GB RAM + 256GB Storage: Memory and storage are very critical to users and the Reno8 T series delivers on that with its 8GB RAM + 256GB Storage configuration. What's more, the RAM expansion feature allows users to double the RAM size on their smartphones by converting unused storage space to operating memory, therefore guaranteeing smoothness and zero-lag when using several apps simultaneously and switching between them.
The Reno8 T 5G is available for pre-order at N289,900.00 and comes in the iconic OPPO Glow shimmering colours – Sunrise Gold and Classic Midnight Black, while customers also get to choose between the Sunset Orange or Midnight Black colours on the Reno8 T 4G variant, starting from N219,900.00. Both devices will be available at authorized retail stores for purchase starting from 26th March 2023.
HP Unveils Smart Tank 5000 Series Printing Solution In Nigeria
…The sustainably designed HP Smart Tank 5000 series delivers a smarter, more connected, and intuitive tank experience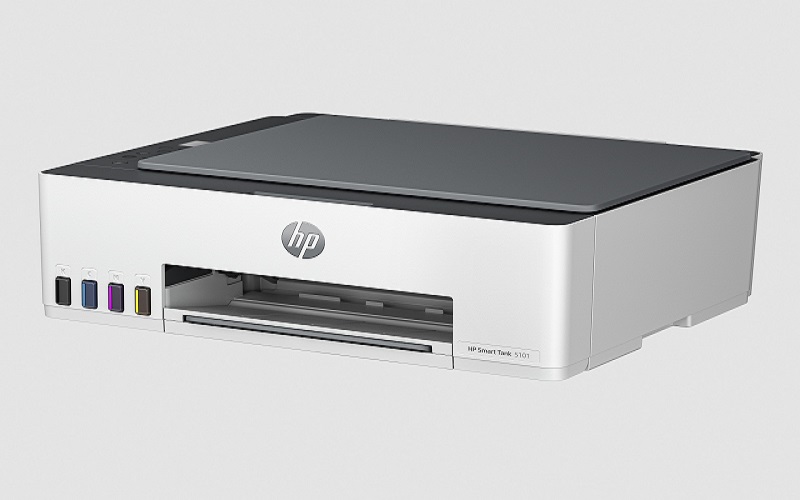 HP on Wednesday unveiled a new Smart Tank printer series, the latest ink tank in HP's tank portfolio, designed for the everyday needs of home users looking for an easy-to-use, sustainable printing solution. 
"As individuals and families strive for more environmentally-conscious lifestyles and households, they want smart, eco-friendly experiences for their printing needs – from school projects to work documents," said Emmanuel Asika, Country Head at HP Nigeria.
"With the addition of the HP Smart Tank 5000 series, people who print a lot at home have access to a range of high quality, reliable and sustainable printing solutions, tailored for their exact needs."
Sustainably designed, using 45% post-consumer recycled content, the new HP Smart Tank 5000 series comes with EPEAT Silver and Energy Star certifications.
It also boasts of energy-saving Auto On/Off Technology – with no extra effort needed from users and has a no-waste tank and spill-free recyclable bottles.
In addition, the Best-In-class HP Smart App offers intuitive smart-guided buttons to guide through everyday print, scan, copy, and fax tasks. As one of its key features, it automatically detects IDs and prints with the ID copy button.
The new printer also comes with self-healing Wi-Fi and better mobility with Smart App and Smart Advance, getting faster and more reliable connections.
Equipped with convenient ink management, the Smart Tank printers easily monitor and maintain ink levels with ink sensors and have an in-built HP Wolf Essential Security to protect sensitive information.
OPPO To Debut 5G Mid-Range Reno 8T Series In Nigeria
Dubbed "The Portrait Expert" OPPO's Reno 8T 5G is perhaps the most advanced mid-range smartphone and aims to disrupt the Nigerian smartphone market.
World's fourth largest mobile phone brand, OPPO has announced plans to unveil its latest mid-range smartphone series, the Reno 8T, in Nigeria come March 15, 2023.
The announcement was made in a post on the brand's Instagram page.
Following successful international launches in India, the Philippines, and Kenya, Nigeria is set to join the growing list of markets shipping the Reno 8T series to customers.
Launching in 2 models – the Reno 8T 5G and the standard Reno 8T (4G), massive upgrades have been made in key areas of the new smartphones, especially in photography, design, and Charging.
The Reno 8T 5G for instance will feature OPPO's first-ever 108MP Camera, worthily nicknamed "The Portrait Expert".
Other key features include a 120Hz 3D Curved AMOLED Screen to deliver an amazing next-level visual experience and a stunning 67W SUPERVOOCTM Charger that ensures over 5 hours of call time on a 5-minute charge and from 0-100% in 44 minutes of charging the Reno 8T 5G.
Also, as it has become somewhat of a signature, OPPO's iconic glow design shines forth on the Reno 8T 5G. Impressive specs.
The Reno 8T 4G on the other hand spots a 100MP Portrait Camera, Fiberglass-Leather Design (which we really love by the way), and 5000mAh Battery with a 33W SUPERVOOCTM charger.
Not forgetting to mention the expandable RAM, dual stereo speakers, and 48-Month Fluency Protection, amongst many other features on both smartphones.
All information and specifications of the Reno 8T Series have also been made available on the brand's official website, an indication that the devices are ready to hit the market immediately after launch.
Most interestingly will be the price of the smartphones. For the excellent specifications that promise a stellar performance on the Reno 8T series, Oppo is launching the devices as mid-rangers.
Interesting yeah? Well, prices for the Nigerian market have not been confirmed, but based on other markets the devices have been launched and are already available, prices are expected to fall within the USD $350 – $450 range.
These are speculations though until the brand launches and officially makes known the prices for the Nigerian market.
The launch will be a virtual event, and anyone can take part by visiting OPPO Nigeria's YouTube page and joining the Live stream on the 15th of March 2023, at 11 am.